Home

The Joy of Sewing & Embroidery Service
About this Vendor
Alterations & More! See website for appointments!
Offering services: (but not limited to) Alterations (formal/prom/homecoming/bridesmaid/wedding, etc.), Embroidery (lettering/logo), Home Décor (curtains/valances, etc.), & More. Conveniently & Easily Schedule your Own Appointment by going to my website and clicking on the "Schedule Appointment Now" or "Online Scheduling" Link. Feel free to schedule a "MEASUREMENTS" appointment. This allows you to know your measurements before heading out to shop and it gives you a chance to meet me right from the start and be there for you. Then when you have found your dress select service "ALTERATIONS - INITIAL BRIDAL CONSULTATION" Choose a Date/Time and Submit information. I look forward to getting to know and work with you to make this a fun process! #Seamstressjustasimportantasothervendors
Details
Alterations, Bridal Stylists, Custom Designs
Contact Info

Reviewed on

5/04/2017
Paula H
I met with Ms. Joy regarding alterations for my wedding dress. To say the least she was indeed a joy & a pleasant seamstress to work with for my wedding dress which she did fabulous work on.
---
Reviewed on

10/31/2016
Liz S
Joy is absolutely amazing! If. I could give her 10 stars, I would! She has the best ideas and can create beautiful masterpieces! She is extremely organized which can be appreciated by all brides! She will not only be your seamstress, but she will become a friend for life. I... Read More promise you that you will not be disappointed, and you will love her work and personality so much that you will send everyone you know her way after your very first appointment!
---
Reviewed on

10/30/2016
Stephanie C
I can't say enough about Joy and her professionalism. Choosing which person or company to have your wedding dress alterations done is very overwhelming, and somewhat scary. You've never met this person before, and despite seeing work on their website or FB page, you'll still be... Read More a ball of nerves until you get to their studio or workspace, and go through the appointment. After only getting references of 2 alteration services, I read reviews, took a chance and went with Joy. I am so glad that I did! Not only was she professional, but she was funny and my girlfriends & I could be our goofy selves around her and I'm pretty sure she was entertained by us. She never rushed us, answered all of our questions, and even went out of her way to show us several different bustle ideas because I wasn't sure which I wanted. Her website is also very easy to navigate, and you can schedule your bridal alterations, and bridesmaids alteration through her website and pick your own time (if it's available). How awesome is that? I could've easily chosen the other person since they were closer to me, but I am so thrilled that I chose Joy to work on my dress. I will keep referring her to everyone needing some type of alteration, wedding related or not!
---
Reviewed on

9/13/2017
Erin B
Finding a seamstress to work on my bridal gown was definitely a difficult decision. Joy was an ansokute blessing! When I was full of stress in bridal prep, I am felt completely at ease after my initial consultation. Joy was so bubbly, kind hearted, and knowledgeable that I knew... Read More I was in good hands. Even though my dress was very detailed and had many layers, joy nailed th alterations and I can't thank her enough! I felt gorgeous on my big day!
---
Reviewed on

9/12/2017
Kris F
Alterations were flawless. Extremely professional, well organized and smooth process. Bent over backward to help us with scheduling. Very personable. Adorable workshop and fitting area. Highly recommend! Excellent work.
---
Reviewed on

8/04/2017
Vicki M
Joy is an amazing lady! Very organized and talented. Down to earth and easy to work with! So happy to have someone in my area to go to for alterations and embroidery that supercede my personal sewing talents. She is a treasure!
---
Reviewed on

3/28/2017
Sarah L
Joy did a fantastic job on my ALL lace dress. She fit me even with a tight deadline and really made each of my visits worth it. My dress ha d a defect from the manufacturer and Joy made it as if it was never there! Fantastic to work with
---
Reviewed on

10/31/2016
Roxanne W
Joy took my wedding dress and turned it into my son's baptism outfit, truly amazing. Great attention to detail and amazing custom work. I highly recommend her!
---
Reviewed on

10/31/2016
Trish M
I wanted to say how wonderful Joy was a few months ago for a June wedding. I had called her to get a gift certificate for a family member cause I was unable to make her shower and pay her final payment. She assisted me getting a gift certificate I had filled all the... Read More information out and took a picture and sent to the bride to let her know it would be waiting for her on her next appointment date. She was so happy and excited one less stress she would have to worry about. Also, the day of the wedding we were having issues bussleing the dress so we were able to FaceTime her and she walked us thru step by step how to. The bride was so happy and very pleased that just goes to show the awesome service Joy provides and she takes 100 percent pride in her work. I will definitely recommend her in the future. Thank You Once Again You Rock Trish
---
Reviewed on

10/30/2016
Linda O
Joy was a delight to work with. As the mother of the bride I could not have asked for a better experience in getting our daughter's wedding gown hemmed and altered to fit her like a dream! Joy was professional and knowledgeable and I would not hesitate to recommend her to anyone... Read More needing alterations of any kind.
---
Reviewed on

10/29/2016
Kelly B
I can't say enough good things about working with Joy. From beginning to end, it was an effortless process having my wedding gown altered. To begin, her prices are affordable, she is transparent and will not try to nickel and dime you. She was thorough and attentive, made sure... Read More that everything was done just as I liked, she genuinely enjoys her work and it shows in the results. She is very warm and inviting, and made everything so easy and I actually looked forward to my fittings. I could go on and on, but you'll just have to experience it for yourself to fully appreciate it! Go see Joy for any alteration needs - you won't regret it!
---
Reviewed on

10/29/2016
Amanda R
Joy is absolutely amazing! I was hesitant about alterations because my dress had a lace overlay. I was having anxiety attacks about it getting ruined but when I walked into my first appointment there was another brides beautiful dress on a maniquin and I knew my dress was in... Read More good hands. I needed a hem and the bustle on my train and what she did was amazing! And the train was super easy for my girls to bustle up after pictures. I got compliments on my dress all night and how gorgeous the bustle was. I'm a line dancer and of course I was going to line dance at my wedding. She made sure that I was able to do that and did! She is so sweet and very professional. She made me feel so calm and comfortable which is exactly what I needed. I will always recommend her to anyone who needs help with their dress. She does beautiful work and is a sweetheart!
---
Reviewed on

10/29/2016
Alan J
Joy was a pleasure to work with when alterating my wedding gown! I could not have been happier with how it turned out. She is very personable and affordable. I highly recommended Joy!
---
Reviewed on

10/28/2016
Marina T
Joy is fantastic, so friendly and talkative. She has in taken in a few of my dresses, always does great work. She even squeezed me in her schedule for an emergency fit in the week of a weeding I was in and did a great job.
---
Reviewed on

10/28/2016
Marina T
Joy is fantastic, so friendly and talkative. She has in taken in a few of my dresses, always does great work. She even squeezed me in her schedule for an emergency fit in the week of a weeding I was in and did a great job.
---
Reviewed on

10/27/2016
Amy W
Joy was absolutely amazing she did an excellent job over, over the top on everything. She took her time and made sure my dress was outstanding an fit perfectly. Joy was very accommodating and a pleasure to work with. Thank you
---
Reviewed on

10/27/2016
Rebecca S
Joy did an amazing job on my dress. She does excellent work and her prices are very affordable. It is nice that she is local and has varies appointment times available.
---
Reviewed on

10/27/2016
Jen U
Personal and professional services! Joy is truly a JOY to work with. She did a wonderful job altering my wedding gown, most importantly she listened attentively and was polite and informative. She knows her stuff! I've been so pleased with other projects I've brought to her... Read More since my wedding, most recently some embroidery work for my business. She hit another home run! Please keep in mind that Joy is a 'one woman show' so you've got to give her time to work her magic, but trust me you will be pleased! I continue to recommend The Joy of Sewing, faithfully.
---
Reviewed on

7/20/2016
Kelli W
Let me start by saying that Joy is very kind and I felt very comfortable working/talking with her. Despite these feelings, the over all experience could have been better. As her website requests, I sent her pictures of my gown and spoke with her on the phone prior to receiving... Read More a quote. Her estimate was reasonable and maybe even on the lower end, compared to other estimates that I had received and I decided she was a good fit as my seamstress. Upon my first fitting, we went over the adjustments to be made (taken in, straps adjusted, cups, bustle, and possible hem). She took measurements and everything went great. Upon my next fitting, the dress needed to be taken in more (I could look down the front of the dress and see my belly button) and the straps weren't quite right. More measurements were taken. I returned for the third/final fitting, just TWO weeks before my wedding. I could still see my belly button by looking down the front of my dress and if I moved wrong, my nipple would be exposed. Needless to say I was concerned (cried, actually). Joy was kind and reassuring that the dress was ordered in the correct size and that it wasn't her abilities, but rather the style of the dress that was the problem. Joy explained that because the dress had a low back, it makes it really difficult to take-in and that there's only so much a seamstress can do. Plus she explained that the cups/corset that designers build into their dresses are a standard size (which wasn't the right size for me) so there was nothing she could do about that either. I ended up leaving her office very upset and left her my dress to try and make further adjustments. After doing some reflection, I ended up calling her and requesting that I pick up my dress ASAP to attempt to bring it elsewhere to have it fixed. Joy had me return to get my dress. At this point, I had already paid in full for my alterations. Joy refunded SOME of the money for things that hadn't been completed (bustle and steaming). At this time she also showed me how she should've charged me for additional times of taking-in the dress and therefore, reduced the amount that she would refund me for the extra times of taking it in, even though the dress still needed to be take-in even more. In my opinion, had the dress been taken-in enough the first time, I wouldn't have had to continue requesting that it be taken in more. This is also a good time to add that I was not actively trying to lose weight and only weighed 1 pound less from my first fitting to my last fitting. At this point, I'm not sure if the problem was lack of skill or If it was indeed the style of the dress. With that said, I wish that Joy would've been straight forward with me from the beginning. Joy gave zero inclination that my dress would be challenging to alter. She should have explained that low back dresses can not be altered to fit someone's exact shape (the front of my dress did not touch my skin from my chest to just below my belly button). Had she explained this to me, I would've returned my dress to the store and picked out a new one. Instead, I was dress shopping two weeks before my wedding and ended up "settling." That is not the way any bride wants to feel about her wedding gown.
---
Reviewed on

5/27/2016
Heather W
Joy was a miracle worker for our wedding party! My wedding dress had a lot of lace and beading, which needed taken in at the bust and shortened quite a bit. Joy hand-picked and re-stitched the lace-and-bead appliqués and made my dress fit like a glove. My bridesmaid dresses... Read More needs an array of alterations, from letting seams out, to reinforcing bust-lines, to getting the material to lay nicely on a pregnant belly. Everyone looked and felt beautiful by the time Joy was finished. Joy is highly recommended by me!
---
Reviewed on

5/12/2016
Rachael F
Joy is great! She altered my wedding dress and everything went perfectly. My fabric was a bit of a challenge but the results were amazing and she is so knowledgable and easy to work with! She'll help you with any questions or concerns and have your dress looking great.
---
Meet The Owner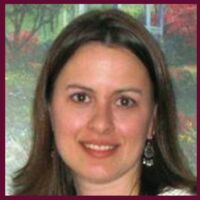 Joy Pelt
I am a mother of 2 wonderful children and married for 16+ years. I started this service in the September 2000 because I love helping people achieve the look they want and deserve at affordable prices. ​ When I got married I knew that I wanted to grow my business to helping brides enjoy the process of alterations. My Initial Bridal Consultation allows for my brides to receive personalized attention to go over the details of their dress so they "Don't Stress Over the Dress". Every bride knows the steps their dress is going to go through, we set up a schedule for fittings and have fun.