Home

The Lake House
About this Vendor
Exclusive Waterfront Catering
Opening Summer 2017, The Lake House was designed and built to capture unsurpassed lake views from every seat. Situated on over 19 private acres, privacy and sophistication adorns you from the moment you arrive. Steps away from its own private lake, the two ballrooms have walls of glass, soaring 14 ft. ceilings and access to an all season terrace. With the capacity of hosting events from 50 to 300 guests, The Lake House offers the finest service and cutting edge cuisine to satisfy the most discerning of palates. Whether you are celebrating a wedding, bar/bat mitzvah or a special social event, let The Lake House cater to your every need. To view the progress of our brand new facility visit our construction gallery at TheLakeHouseCatering.com
Amenities + Details
Amenities
Bridal Suite

Handicap Accessible

Liability Insurance

Indoor

Outdoor - Covered

Outdoor - Not Covered

Reception Area

Wireless Internet
For more details about amenities, please message the Venue.
Bar + Drinks, Cakes + Desserts, Food + Catering, Planning, Service Staff
Contact Info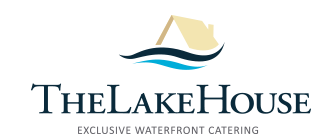 Just met with Kelli......
Reviewed on

4/14/2015
Patricia G
Have to say as a first stop on my search for a dream event I was so happy to come across this venue. To find a facility like this in our own backyard is amazing. To hear that the caterer will do all the work on our special day even as small as taking the lead in asking our... Read More friends and family what they want to eat when they sit for dinner. The service sounds second only to their creative menu. The grounds and lake are breathtaking. Keith and I are so excited to get married here.
---
Reviewed on

5/08/2017
Suzanne G
We decided on this venue for a 2018 wedding after meeting with Kelli and touring the "bones" of the structure being built. She is extremely knowledgeable and has worked in the CT wedding industry for many years. I can already tell she will be easy to work with as the planning... Read More proceeds. The vision for the venue is amazing, and we look forward to following the progress as the construction is completed and the first event is held in the Summer 2017.
---
Reviewed on

6/16/2016
I would like to share my experience with The Lake House and Kelli as my wedding also had to be cancelled. While I was disappointed, I felt the Lake House was upfront with me and my fiance . The general manager, Kelli went above and beyond helping me find a new venue. My... Read More deposit was refunded promptly and she apologized. My father is in construction so I am aware that things like happen especially with a new building. I am sorry others felt the need to bash this venue, , but I really felt they did the best they could. Kelli returned all my calls and emails and I never had an issue with her contacting me. Kelli has great ideas and has given me some wonderful suggestions for my future wedding and she didn't have to do that. Kelli and The Lake House I feel were very professional in how they handled this unfortunate situation and I look forward to seeing what they have to offer in the future.
---
Reviewed on

7/25/2017
Melinda N
The owner Paul was very rude when I contacted him about having my traditional Asian wedding here. He didn't think they were the right fit for us because they host high class events. He was very rude and disrespectful. Shame on them for bad business!
---
Reviewed on

5/26/2017
lindsey g
Do not book here unless the building is built, functioning and permits have been secured. When we first got engaged in February 2016 we wanted of course a beautiful, memorable wedding but also a unique wedding and when we found the Lake House we were beyond excited after... Read More hearing about the attention to detail, amazing food selection and of course that view. Upon our first meeting we were told the demolition and new venue would be completed by August 2016 but after coming by for a surprise visit in July we found that was no longer true. The completion date went from August to February to March to May 12 to May 18 until finally there was no completion date. Delay after delay we stayed on, believing there would be months worth of weddings before ours and that we had time for our June 10th wedding until 4 weeks before our wedding we were told that touch ups would be done the week of or even possibly the day of which was completely unacceptable. It's hard to tell who is to blame for the countless push backs, is it the Lake house? Is it the construction company? Did ownership get in over their heads? We will never know but what we do know is we wanted more than anything to get married at the Lake House and a month out had to finally cancel. We're sure once the construction is actually completed it will be a wonderful venue with many beautiful weddings but until then our recommendation is to find another place. If it wasn't obvious from reading this, it was a terrible experience.
---
Reviewed on

4/06/2017
Melissa S
I'm getting married April 2018. The Lake House and Kelli won us over. When we went to go see the Lake House it was just the foundation and the frame. It didn't matter to us, we saw the beauty in this venue. After speaking with Kelli, we knew this was our spot. This is not like... Read More all of those wedding factory venues that are out there, we saw a lot of these, The Lake house and Kelli really care about making your wedding day special and perfect. I couldn't be happier with our decision. Don't go on all of these negative reviews. See it for yourself, you wont be disappointed.
---
Reviewed on

9/28/2016
Lorinda R
My wedding was supposed to be in June 2016 when i contracted with them. There was no building and no construction in December 2015 when we finally decided the lies about It will be done couldn't be trusted and we found a different fabulous venue. No one called us to say, we... Read More are behind schedule. We found out when we were standing in an empty parking lot with our installment check in hand. Had we waited we would not have had a place for our June wedding. They hadnt even started work on our wedding date. It might be beautiful if it ever gets built but you can't trust them to do what they say. Wait until its built or you could be sorry.
---
Reviewed on

6/20/2016
Marlene F
What a disappointment!! I was so excited to book with the lake house based on the information we received and how beautiful the venue was going to be until our wedding was canceled. I booked with the Lake house in January for a wedding in Oct 2016. Our wedding was canceled... Read More because they hadn't even started construction. They gave so many promises and assured my fiancé and I the venue would be ready on time. Within that time we received no updates or communication that there was a problem until we drove by the venue and saw nothing…no construction had been started! My fiancé contacted the General Manager and she told us it would be ready by the end of August but we were skeptical so my fiancé ask for updates the following week on construction which we did not get.... 3 weeks later my fiancé called again and we were finally told the lake house would not be ready for our October wedding. It also took the lake house nearly 1 MONTH to give us our deposit back. I would not recommend any bride to book with this venue until they are fully functioning...
---
Reviewed on

6/15/2016
joel p
Where do I start! At SOME point this place may be the ideal destination they sell it as, but in life it is what you deliver and not promise that counts. They are AWFUL at delivering. We booked the venue in January and they were to break ground FEB 1. They took our $2000... Read More with no issues and said not to worry they were experts and this would be done well before our date. I was VERY nervous about unexpected issues that can happen with a new building and pushed them to move the date to October JUST IN CASE. They allowed us to do this, but it didn't help. I asked Kelli for the critical dates of the build and she said that was a good question and she would get it from her contractor. She's the GM mind you overseeing this venue and she didn't have this on hand. Red flag but still went with it as my fiancee fell in love with the picture they were selling. I asked Kelli to keep me up to date and let me know if any issues as I need to find alternatives and the later this goes the more difficult. She said she would check in with me every 2 weeks. She never called or emailed me as to progress. 4 weeks later I drive by and see NO progress (this is now March) and she hasn't called me? I then call her and asked for progress and she said if we want our money back she will refund it. It was so rude to do this in this fashion when all I want to know is if they will deliver and what they are doing to accomplish the goal they promised. She said they just got a permit and would be starting next week. 2 weeks later I call and she then tells me another permit issue and now they might not be complete. I asked WHEN she was going to proactively tell me this. Why I am having to drive by their building and follow up with her on this? I ask her to refund me the deposit. I have relatives flying over seas who have bought their flight so I then have to rush and find an alternative venue on the same date. Very stressful to say the least. 2 weeks go by and I call to find out where my check. She then tells me it is being "processed". You are a one man shop...how do you not cut the check you owe me the minute you cannot deliver. I come to find out they have been at bridal shows since 2014 selling this venue! How the hell do you sell a venue you don't even have permits to start construction. We are spending over 30K on 5 hours so you not delivering is a HUGE deal. At some point they may get their permits and act together, but wait for them to finish the building and have a few positive reviews before even thinking of using them. As I told the owner all you have now are promises and a picture of a building. Nobody starts a business saying they are going to be mediocre, but at this point mediocre would an achievement.
---
Reviewed on

3/26/2016
Samantha R
Kelli never showed up to our appointment today. That wasn't the worst part. There is no building, it is complete rubble and there is no sign of any construction being done. I don't see this venue being available in 2016 or 2017 for that matter. Looks like they ran out of... Read More money. Please don't waste your time like we did.
---