Home

The Lenox Hotel
About this Vendor
Timeless Elegance in Back Bay, Boston
The Lenox specializes in creating a memorable experience that blends impeccable service, world-class cuisine and thoughtful amenities amid beautiful surroundings bringing historic character to your special event. We offer customized menus prepared by our Executive chef and an on-site Wedding planner
Amenities + Details
Amenities
Handicap Accessible

Liability Insurance

On-Site Accommodations
For more details about amenities, please message the Venue.
Ballroom, Historic Venue, Hotel, Restaurant
Food + Catering, Planning
Contact Info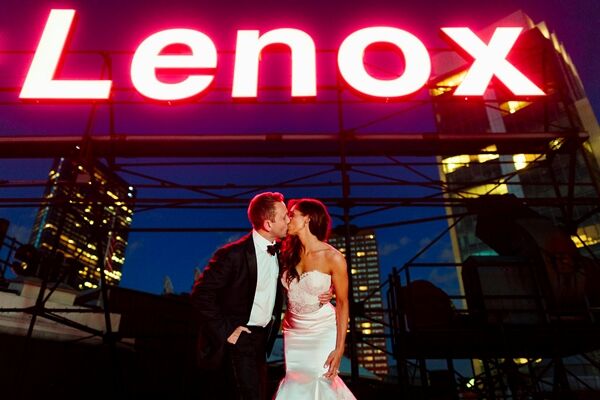 61 Exeter Street at Boylston, Boston, MA
Amazing!
Reviewed on

11/20/2014
My daughter was recently married and her reception was held at The Lenox Hotel Dome Room in Boston. If I could give this wedding venue 10 stars I would! The Lenox Hotel, staff and especially Alison Majka were wonderful to work with. From the minute my daughter and her fiancé walked into the beautiful lobby at the hotel and then saw the Dome Room they knew they wanted their reception at The Lenox. While weddings can be stressful at times to plan, that was never the case with The Lenox. Working with Alison was a pleasure. There was not a single detail that we requested that was not met and all of our guests raved about the venue, service and the food. Alison always answered my inquiries, either by phone or email, promptly. She went above and beyond when she found a beautiful cake stand for my daughter's wedding cake, at no additional charge. Everything on the day of the wedding went perfectly, in large part to Alison's attention to every detail. The entire staff at The Lenox was welcoming and attended to our every need. The City Bar, City Table and Solas bar also worked perfectly for our guests both prior to and after the wedding reception. The wedding package that The Lenox offers can't be beat, it is the best value with a five star plus quality. I could go on and on listing all the small details and extras that The Lenox Hotel did to make this such a special day for my daughter and her husband, but suffice to say that you will not be disappointed if you choose The Lenox Hotel for your wedding venue. Run, don't walk to book your date!
---
Exceptional Experience at The Lenox!!
Reviewed on

7/20/2013
Vanessa L
The Lenox is an ideal location for an intimate and elegant wedding. The Back Bay location was a perfect setting to show our out of town guests the best of Boston. The ambiance of the hotel is very regal, from the lobby to the hotel rooms, and has an old world charm mixed with modern amenities that few hotels have. However, what truly made our wedding exceptional was the staff at The Lenox. Every person we interacted with was accommodating and professional. Our wedding coordinator, Alison, was tremendous. She was extremely responsive, attentive to every detail, very thoughtful, and held everything together resulting in a great wedding. We had both our ceremony and reception at The Lenox and the transformation of The Dome Room was incredible. In keeping with the excellence in all aspects of our experience, the food was delicious. We've all been to weddings where the food is lacking, but everything from the hors d'oeuvers to the main course was very good. I cannot recommend The Lenox enough for anyone to host an incredible wedding. The food, venue, and especially the staff made for a night I will never forget.
---
Outstanding Wedding Venue
Reviewed on

8/04/2012
Lindsay B
After researching many wedding venues in Boston, we ultimately chose the Lenox Hotel as the best venue for our ceremony and reception, which took place on 7/28/12. One week later, we couldn't be happier with our decision! Alison Majka, our dedicated wedding planner at the Lenox, worked closely with us throughout the entire planning process to ensure that our wedding weekend ran smoothly. I can't say enough positive things about working with Alison. She is incredibly well-organized, warm, responsive, and more than capable of handling the many (big and small) issues that come up in planning a perfect wedding day. Additionally, Alison is very thoughtful- so much so that she sent us a special gift to celebrate both our bachelorette weekend in Las Vegas and our honeymoon in Cape Cod. Overall, she is just a joy to work with, and she made our wedding day truly special. The rest of the staff at the Lenox also went above and beyond to make us and our 112 wedding guests feel welcome and ready to celebrate. Having attended weddings at other upscale wedding venues in Boston, it's safe to say that the warmth of the staff distinguishes the Lenox from the other upscale options. By the end of the weekend, Jimmy (one of the bellmen) was on a first name basis with my new father-in-law and the valet gave us congratulatory hugs (and dog treats for our two dogs!) after packing an absurd amount of luggage and wedding gifts in our too small vehicle. In addition to the outstanding staff at the Lenox, we also were impressed with the beauty of the newly renovated Dome Room, the delicious food, the potent cocktails, and the amount of value you get for your money. In short, we enthusiastically recommend the Lenox Hotel as an excellent wedding venue.
---
Wonderful!
Reviewed on

5/30/2015
Lauren F
The Lenox Hotel was an amazing venue for my wedding! They were so attentive and professional. I felt so special every time I went there. My guests are still talking about how magical the whole night was. For everything that they provide, the price was great!
---
An Amazing Venue for Small Boston Weddings
Reviewed on

11/18/2014
Clara R
As a long-distance bride (living in Florida and planning a wedding in Boston), I knew that my venue choice would be the most important wedding decision I would make. My choice proved to be excellent! Alison and the staff at the Lenox made wedding planning as painless as possible, and gave my husband and I a perfect wedding day. Alison in particular made everything a breeze, and she was extremely flexible with my travel schedule and the many changes I requested in the week before the wedding. They took care of all the little details I couldn't be bothered with - like menus, table settings, and staffing. Many of our guests traveled over 1000 miles to join us, and The Lenox offered the perfect backdrop to a Boston wedding weekend. Many said this was the best wedding they had been to - the food was amazing, and the setting unforgettable. The staff treated us and our guests like royalty. My husband and I do not consider ourselves "fancy" individuals, and I was worried that this choice wouldn't fit us. The great thing about The Lenox is it is a small, classy hotel that is far from stuffy. In the end, they gave us and our guests a day we will cherish forever. I'd also like to point out the relative affordability ("relative" being the key word) compared to other hotels in Boston. They include all taxes and fees, and the wedding package is truly a steal. What they provide is worth every penny and then some. Thank you to Alison and everybody at The Lenox Hotel!!
---
Highly Recommended
Reviewed on

3/27/2014
Tiffiny A
The entire hotel staff was so helpful and nice to not only me but every single guest. The service was excellent and everything went smoothly. Terrific location for out of town guests and anyone wanting to take pictures at nearby city landmarks. Highly recommend the Lenox!
---
Can't say enough about The Lenox!!
Reviewed on

11/19/2013
Haley M
I can't say enough about The Lenox Hotel and their absolutely amazing staff. I honestly don't know where to start…the elegant and old world charm of The Lenox Hotel, the sheer beauty of the Dome Room or the unbelievable group of people we got to go through the planning process with…but we could not have asked for a better place to host our wedding ceremony and reception on Oct 19, 2013! Our wedding coordinator, Alison, was beyond amazing. There was not a single detail she overlooked and our ceremony and reception were evidence of that…it was truly perfect!! Our guests are still raving about the beautiful hotel, the delicious food, the outstanding service and everything in between! From the moment we arrived for our wedding weekend, every person we encountered went above and beyond to make sure my husband and I, as well as our guests, felt special and that our experience was absolutely perfect...and it was! I would recommend The Lenox to any bride who is looking for a classy, elegant and beautiful wedding in Boston!
---
Dream Wedding Venue
Reviewed on

10/29/2013
Laura
I cannot say enough about the Lenox Hotel. From the first day we came to look at The Dome Room, the entire staff went out of their way to make sure we were happy. I cannot recommend them highly enough! Great location, gorgeous room, the food was out of this world and the price, while expensive, was all-inclusive and a good deal for Boston!! I wish I could get married there again!
---
Perfect Hotel for a Small(ish) Boston Wedding
Reviewed on

8/21/2013
Katie P
We were married at the Lenox Hotel on July 27, 2013. We had 125 people and the room was perfect for this size. We were taken care of from the moment we walked in the door and didn't have to think about one thing. All of our guests raved about the the service and are planning to go back to the hotel in the future. The packages they offer are comparable if not less expensive than other Boston hotels and they offer much more for the $. The Lenox Hotel offers the charm of a historic hotel right in Back Bay with all your guests need to enjoy themselves. Making sure our guests felt comfortable and taken care of was really important to us and the hotel did just that. People often talk about what they would do differently if they could do the wedding over again and I wouldn't change one thing. The hotel offered a classy, elegant atmosphere that wow'ed our guests from beginning to end. I couldn't have asked for anything more.
---
Beautiful Hotel in Boston
Reviewed on

7/31/2013
Paula M
The Lenox was not only beautiful and ideally located, but the staff were incredibly accommodating.
---
Kayla & Aj DiNuccio Wedding Day
Reviewed on

7/17/2013
Kayla G
We cannot thank Alison and the entire staff of The Lenox Hotel enough. Our daughters wedding was amazing and flawless. Every guest raved about the beautiful hotel, thoughtfulness of the staff and attention to detail I must say again they were outstanding! We chose The Lenox immediately after meeting Alison and reviewing the wedding package. Included in our package was a one hour open bar, choice of five hors devours, cheese / fruit spread and a signature cocktail as the guests entered the cocktail hour. Dinner was superb with an appetizer, salad, choice of three entrees, wine service, beautiful wedding cake and chocolate covered strawberries Alison and her staff made each and every guest feel special taking care of each individuals needs, notifying them of a post wedding brunch, delivering a welcome gift to each guests room. They treated every detail as if it was their own wedding They are a class act. We could not have been happier choosing The Lenox Thank you again Paul & Lisa Longo
---
Not your typical hotel wedding!
Reviewed on

8/26/2012
Trish L
We just held our wedding at The Lenox Hotel in Boston and it was amazing! The food was incredible (everyone commented to us), staff was great, incredible wedding planner- Alison, and the location itself is beautiful. I would highly recommend to anyone looking for a unique, gorgeous, full service, reception venue at an affordable price in Boston.
---
Perfect Venue!
Reviewed on

7/16/2012
desirae j
My husband and I were married June 2, 2012 at the Lenox. We opted to hold both our ceremony and reception onsite and it couldn't have been a more perfect day! We were planning the wedding from out of town, and because of this we had to do a lot of planning via email. We were blessed to work with Alison who was the most reliable (and patient!) coordinator you could imagine. She worked with us on every detail, and she went above and beyond to provide a memorable experience not only for us, but for all of our out of town guests that stayed the weekend. We held a rehearsal happy hour the night before in Solas, and our guests enjoyed City Bar as well. The food was amazing, the drinks were even better. The staff went above and beyond and we couldn't be happer with the end result!
---
Loved our reception at the Lenox Hotel!
Reviewed on

11/17/2011
Lynne W
My husband and I got married on 10/22/11, and we had our reception at the Lenox Hotel. I really wanted a wedding with a downtown, old-Boston feel and the Lenox was perfect for that. The hotel is gorgeous and the domed reception room is really elegant and unique. The reception hall is not that big and I would not recommend having more than 100 guests there (We had 85 and it was perfect). The service was great- our wedding coordinator, Amy Fleury, was quick to answer any questions we had, and everyone did everything they could to accommodate our wishes. Everything about the experience was classy and elegant. I would definitely recommend it.
---
Most beautiful ballroom in Boston.
Reviewed on

10/24/2011
Rachel B
I was in love with The Dome Room from the moment I saw it. The night of the wedding it was breathtaking. If you are going for an intimate and classic feel, this ballroom will not disappoint!
---
Fabulous Venue for a Wedding in the City
Reviewed on

8/23/2011
Tenley B
Our wedding coordinator was amazing and executed our wedding plans to the "T". The hotel was the perfect setting for a classic, city wedding. We loved that the hotel was built in 1900 and it was in the heart of Boston, the city where our love began. From the girls at the front desk to the servers during the reception, we couldn't have asked for better service and always with a smile. I would recommend this venue to anyone!
---
Awesome!
Reviewed on

8/08/2011
ALEXANDRA W
We got married a year ago at the Lenox. Everything there was perfect! The location is in Back Bay, the elegant Dome Room with a round dance floor was spectacular, the staff very accommodating and flexible, and the extras provided in the package were a great bonus - chivari chairs, free vendor and kid's meals, delicious and beautiful cake, candles, piano player during cocktail hour, etc... Definitely make an appointment with them and make this one of the places you check out if you want an elegant wedding in Boston!
---
Beautiful and Elegant
Reviewed on

8/23/2010
Alex W
After looking at numerous locations in and around Boston to find that perfect venue for our wedding, we decided on the Lenox Hotel. The location is perfect, right on Boylston St in the Back Bay. The hotel is beautiful, the staff very helpful and accommodating, and the price was just right. The day of the wedding we had the entire second floor of the hotel all to ourselves. The cocktail hour was held in two rooms, right across the hall from the Dome room where the reception took place. The Dome room is absolutely beautiful with a dome ceiling and a round dance floor. The gilded detail and lighting in the room is very classic and elegant, definitely not gaudy. We fit ten ten-person tables in the room and probably could have had a couple more without the room feeling too tight. We used a DJ, but a small band would fit as well. Just to the right of the room, there is a separate space for a bar so that it doesn't crowd up the main room where all the dancing took place. The food was great as well! Quality of a four or five-star restaurant! Based on the package you choose you have a variety of options for meals and extras, which are always nice (cheese and bread display, signature drink, etc...). The event planner on site, Lorna, was just great! She allowed us to customize our package so that it was just right for what we had envisioned. Our cake was included in our package from "Icing on the Cake" in Newton, and it was delicious and looked beautiful! I highly recommend the Lenox to anyone with a guest count of 120 or less! If you're looking for city venues, definitely make an appointment with Lorna to see the space!
---
Review for Lenox Hotel
Reviewed on

5/10/2010
Jessica S
The room was the perfect size for our small wedding of 95 guests. We didn't want a partition put up and this was the perfect size, felt like the wedding was bigger. Also, the food was fabulous, the tasting was out of this world. The hotel is very historic and close to where I live. It gave my wedding a very 'Boston' feel, which is what I wanted.
---
Review for Lenox Hotel
Reviewed on

5/10/2010
Christine G
For Boston the prices were reasonable the food was excellent and they were very accommodating. The Dome Room is one of the most beautiful ballrooms in the city.
---
Review for Lenox Hotel
Reviewed on

5/16/2009
Brenna S
The wedding coordinators were extremely helpful and made it effortless to have my wedding there.;It's for small weddings only. Under 120.
---
Send Message