Home

The Manor House at Kings Charter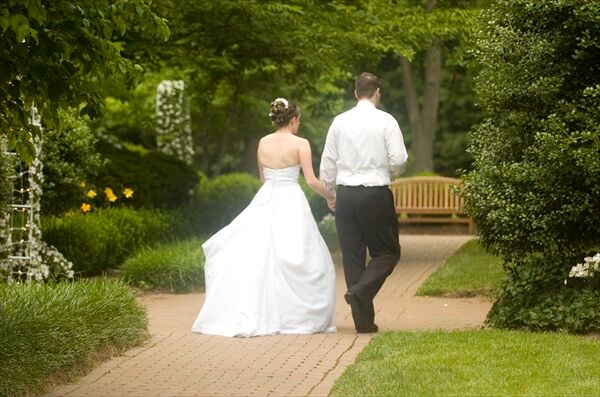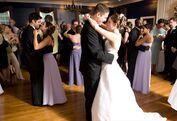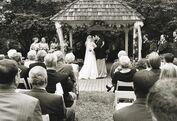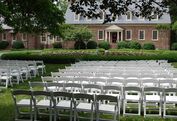 About this Vendor
Richmonds Best Wedding Address
Let the manicured lawns, expansive fields and formal gardens surround you. Exchange your vows in the gazebo of the Upper Garden surrounded by blooms or by the fireplace in the ballroom. Ceremonies & Receptions are welcome at The Manor House. We provide most all you need! You choose caterer & time
Amenities + Details
Amenities
Bridal Suite

Indoor

Reception Area
For more details about amenities, please message the Venue.
Contact Info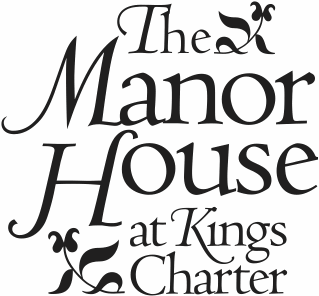 9400 Charter Crossing, Mechanicsville, VA
Don't just look at their website for pictures, go see The Manor House in person! Pictures do not do it justice!
Reviewed on

5/28/2014
Sarah S
We just got married at The Manor House at King's Charter about 2 weeks ago. The venue is SO MUCH better IN PERSON. Don't just judge the venue by the pictures you see on The Knot or on their website, go visit them and see it for yourself! It is so much better in person, and... Read More also be sure to check out their Facebook page as they typically post newer pictures on a more regular basis. The venue is also VERY affordable! This venue is so beautiful with the house and the gardens and offers so many different places to choose as your ceremony site that are both indoor and outdoor. A rain/back up plan is included in your price as well as if you want to take any pre-wedding photos. There are no fees associated with using the grounds for engagement/bridal photos before your event. Mary Jane was our consultant and she was fantastic! She can also be hired to perform Day of/Day Before Coordination (for a very reasonable fee!) services for your event, and you will be stress free on your wedding day as she will be handling vendors, making sure they know where to set up, make sure everyone is where they need to be for the ceremony, and SO MUCH MORE. I don't know what we would have done without her. The Manor House also has great relationships with many other wedding vendors in the Richmond area, and on some occasions I was given a better rate as a Manor House bride. They can provide a list to you of all of their preferred vendors, and no, you ARE NOT CHARGED to bring in new vendors, but it is more of a piece of mind factor to hire vendors who have successfully worked there before. 90% of our vendors had done many successful events there in the past which was SO comforting! I was also able to just sit upstairs and enjoy my time getting ready with my bridesmaids because I knew Mary Jane had everything covered down stairs. We had such a wonderful experience with The Manor House at King's Charter! Definitely consider them for your big day!
---
Beautiful May Wedding :)
Reviewed on

10/29/2013
Jessica R
I'd give this place a million stars if it was an option :)!! My husband and I had the most amazing experience with the Manor house at Kings Charter! We worked with Mary Jane and she was absolutely incredible from the day we booked the venue to the very end of our wedding. She... Read More gave us amazing recommendations that made our whole wedding experience perfect! She worked so hard to make everything flow the way it was supposed to! I would not have changed one thing about my wedding day! The outdoor gardens are so beautiful we had to have our ceremony outside! The best part was having the option of an indoor ceremony incase of rain... which we had TONS OF! We got to decide one hour before whether to have the ceremony outside or inside! We chose outside and the rain stopped! :) It was perfect!! I would recommend this venue to any and everyone! Our wedding experience was perfect and we wouldn't have been able to do it without the Manor House at Kings Charter or Mary Jane! :)
---
The Manor House at Kings Charter
Reviewed on

10/22/2013
Madelyn T
The Manor House at Kings Charter is perfect for a small intimate wedding. We had about 100 guests that was able to fit outside in the gazebo or inside the main room of the manor house. My husband and I had Beth as our mistress of ceremonies. She was AMAZING! She decorated the... Read More venue with all of the flowers we brough so perfectly! She kept everyone in order. Our rehearsal went smoothly. We had a backup plan in case it rained, which it did. I was nervous about flipping over the main room of the manor house from the ceremony to the reception, but Beth and Sam Edward Catering did it quickly and perfectly. I have no complaints about this venue. Beth was so good that when my cupcakes came withour a cake topper she called my husband immediately to make sure that was correct, which it turned out was forgotten by the cupcake shop. The venue was gorgeous. I originally wanted my ceremony outside at the gazebo, but I loved it even more inside the manor house. I was intimate and beautiful in front of the fireplace with candles placed inside of it. I highly recommend Beth and the Manor House!
---
Absolutely Wonderful!
Reviewed on

6/12/2015
Lindsay H
The Manor House was amazing! Andrea and Mary Jane were so sweet and went completely out of their way to make sure everything was as close to what I wanted if not exactly what I wanted. It was everything I ever wanted in a venue. The house and the gardens are stunning. I can't... Read More wait to go back and visit every once in awhile.
---
Reviewed on

5/02/2015
Our wedding at the Manor House was absolutely beautiful! We had an outdoor ceremony at the gazebo with an indoor reception. The gardens were lovely and were the perfect backdrop to our day. The younger kids had a blast playing at the playground while the adults enjoyed a... Read More great reception indoors. Andrea did an amazing job helping us not only in formulating our plans but also in executing our dream wedding! Being able to provide our own liquor saved a ton of money as did having all the chairs, tables, and other accoutrement provided by the Manor House. The only thing I would say is that we had 75 people at the wedding and I wouldn't go much more than that if planning an inside reception. Plenty of room if you are outside but, the ballroom got a little tight with that many people.
---
Reviewed on

5/01/2015
Jan P
We were married on New Year's Eve (12/31/14), and we could not have asked for a better venue!! We were engaged in October, and decided NYE would be fun, but I received quite a few negative reactions from vendors when I explained that we only had 3 months. The short turn around... Read More time was never a problem with the Manor House, and they assured me they could make it work. We worked with Andrea, and from the moment we toured the site we knew this was the place for us. They are extremely accommodating and affordable. They gave us a list of recommended caterers and provided great advice on other vendors. The BEST thing that we discovered is that you are allowed to bring your own alcohol (as long as you get an ABC license), and this saved us so much money! They also have many supplies (i.e. votives, vases, etc) that you are able to use at no charge. Because it was winter, our ceremony was inside, and we were able to quickly turn the room around to accommodate the reception. I saw another review that said the pictures on The Knot don't do it justice, and I completely agree! It is a beautiful venue with so much character and charm. Andrea was always available to answer any questions that I had, and she was very thorough about making sure the details were handled. She was onsite the day of my wedding and really helped to make sure things ran smoothly. Overall, we were thrilled with our experience at The Manor House and very much enjoyed working with Andrea. Go check it out! You won't be disappointed! Thanks for helping us ring in the New Year with an unbelievable wedding and reception! We can't thank you enough! -Brant and Jan
---
Intimate Garden Wedding Setting
Reviewed on

11/03/2014
Alisha B
The Manor House was the absolute perfect place for our late September wedding. We also used Mary Jane as our amazing on-site coordinator and she was incredible. The day flowed so smoothly and the grounds of the Manor House are so lush and green. I agree with the other reviewer... Read More that said to go see it in person. The photos online just do not show you all the charm this place has to offer! We used the far left lawn for our ceremony, had the reception in the backyard, and brought guests inside to the ballroom for dessert and dancing. It was such a beautiful evening and I am so glad we chose the Manor House!
---
Awesome venue and coordinator available on site!
Reviewed on

7/02/2014
Samantha L
My husband & I couldn't have chosen a better place to get married. The grounds are beautiful in May. Andrea Perkins, a coordinator there, made our engagement period and business with the Manor House so pleasurable. We love her! Definitely worth the money!
---
The Perfect Venue!
Reviewed on

6/30/2014
Patrice G
We absolutely loved everything about the Manor House! We worked with Mary Jane mostly and she was wonderful to work with. My husband and I wanted to DIY most of our wedding and they were very willing to accommodate us. They met every need we had and were willing to meet with us... Read More as many times as we wanted to discuss details for our day. The gardens were stunning and the house provided a unique charm. Our wedding day was perfect and we owe a lot of that to the Manor House. My husband and I were thrilled with our decision to have our wedding there and were even more pleased with the price. I would recommend the Manor House to anyone who is in the process of planning their wedding, you won't regret it!
---
Wonderful!
Reviewed on

6/10/2014
Samantha L
The Manor house was the first and last place I looked at for my wedding venue. As a bride on a budget, this venue was perfect, and I loved that they had chairs and tables included with the option to have an inside or outside wedding. They also had a bridal suite, which was... Read More important to me. And as a bonus the colors in the manor house actually matched my wedding colors. The only catch with them is they have a perfered vendor list for caterers. You can go off the list but it will cost you. It worked out for me though, the vendors on their list are the best in Virginia!
---
Classy, simple, and just the right size!
Reviewed on

10/16/2013
Rebecca M
We loved having our wedding at the Manor House. Our wedding was about 120+ people and they all fit comfortably. At first I was worried about not having all the tables in one room. But it worked beautifully with our buffet style dinner because everyone was moving around and... Read More mingling the whole time. The building is classy and historic. Our ceremony was outside and then the reception flowed indoors. The service is too good to be true. I was so worried leading up to the day but then once I got there I did not have to do a thing. Everything was exactly the way we wanted it! Great event for such a low price!!!
---
Quaint and homey!
Reviewed on

1/18/2013
Anne G
I had my wedding reception at The Manor House at Kings Charter in November and it was beautiful. The newest wedding coordinator there, Mary Jane, who had just joined the staff shortly before my wedding was incredibly helpful both before and the day of. She made sure to keep... Read More things flowing and that my husband and I were taken care of. Her enthusiasm was wonderful. The location itself is set in a sub-division which is kinda odd but the grounds are lovely and the house itself feels very intimate.
---
Our wedding venue
Reviewed on

1/07/2013
Sandra T
I will recommend the house to anybody, their service was excellent!
---
Sandy Saves my Sanity!
Reviewed on

6/25/2011
Sarah B
We used the Manor House for our reception. The house is BEAUTIFUL and they really let you make it your own. They offer tons of decorations (glass candle holders, round mirrors for the table, tulle, glass rocks and more) for free and/or you can bring your own. They have wreaths... Read More and pictures or you can bring your own. It's all amazing and they do everything they can to make your day perfect. I worked with Sandy who made everything run seamlessly. I could call her and ask questions about the location, the way the day could/should go, or even about vendors when I wasn't sure. They have a list of recommended vendors (and if you pick from them you WILL NOT be disappointed) but you can also bring your own vendor in for a small (very reasonable) fee. Their rules are simple and fair (like please don't break windows or put sticky candy on the floor) and Sandy is constantly working behind to scenes to coordinate the day. She made sure the DJ and Caterer were on the same page about when things were going to be done and one thing I didn't know about until after was that a group of teens had showed up to take pictures at the house. Sandy was very kind to them and gently asked them to respect the wedding and maybe wait til the evening when it would be over. They went home and I never noticed them and neither did my guests. I also found out that she ironed all the linens so they'd look great, put out all our table decorations, and of course, she had the gardeners come out the day before the event so everything looked sharp and polished. I chose the Manor House because i loved the location, I'd chose it again because they made things simple and ensured that things went perfectly.
---
I LOVE the Manor House
Reviewed on

12/01/2010
Hillary M
This is a beautiful house, that I fell in love with the second I walked in. With it's old feeling and imported wallpapers it is adorable. It works extremely well with a Marine wedding if they are wearing their blues. Almost the whole inside is blue and red. I love itt!!
---
Indoor/ Outdoor Venue
Reviewed on

11/22/2010
Erin K
This venue served as the perfect indoor/outdoor fall wedding venue. It served as the perfect outdoor ceremony and cocktail hour space and as the night cooled down we moved inside. They were more than willing to assist with decor ideas, last minute details, and ceremony... Read More coordinating. The price also includes many tables/chairs that you would otherwise be paying to rent. It felt great knowing I was in competant hands on our big day!
---
Send Message