Home

The Oscar Event Center
About this Vendor
Oscar Event Center at Jungle Jim's
The stage is set for your event, whether you're having a wedding ceremony and reception, celebrating an anniversary or having a corporate meeting or get-together, The Oscar Event Center is a perfect fit for any occasion.
Amenities + Details
Amenities
Handicap Accessible

Liability Insurance

Indoor

Reception Area
For more details about amenities, please message the Venue.
Bar + Drinks, Cakes + Desserts, Food + Catering, Planning, Rentals + Equipment, Service Staff
Contact Info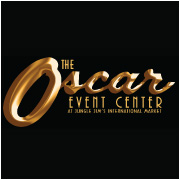 5440 Dixie Highway, Fairfield, OH
not another cookie cutter wedding venue
Reviewed on

10/16/2014
Lauren H
I just cannot even tell you how impressed we were with the reception --- the food, the wine, the space, the service, the staff. Everything was just top notch! My parents live nearby, and Jungle Jims has been a special place to our family for years. My dad shops here every Saturday, we've been to numerous Wine Festivals, and this is our #1 destination when my now husband and I visit from Chicago. Since many of our guests were from out of town, I imagine they were a bit curious when they pulled up to the international supermarket. BUT, don't let yourself be swayed by the Route 4 Location or outdoor giraffes --- this is an unbeatable venue for a wedding reception. We had hoped for a classy yet comfortable and fun party, and that is exactly what we had. Space - it is large, comfortable, and extremely well-kept. The large ballroom for dinner/dancing and separate space for cocktail hour (comfortable chairs & couches!), outdoor terrace and pub area gave our guests so much space to enjoy themselves, take a seat, get a drink or catch some fresh air. We had a "head table" of 24 --- wedding party plus their guests, and with 8 guests to each round table, no one was squished and you could actually walk between the tables! There was plenty of room for dancing and a band - and the acoustics are much better here than in some older venues. Food/drink - for dinner, we selected the International Food Stations with Italian, Asian, African & an "American" carving station. Every single thing was delicious. Even with 250+ people, our guests moved through the "line" (but there was never a line!) surprisingly fast and enjoyed the opportunity to try many different styles of cuisine. Dinner conversation was extra exciting as folks compared dishes. OEC offers a variety of different drink options - you can have an open bar without paying "per hour" which saves a lot of money (even for drinking crowds, which we were) since the bar just keeps a tab based on what actually gets consumed. We worked with Dianna in the Event Center and Ed in the store to select wines in the same price range as the house wines but that were a bit more unique. Service - Leading up to the wedding, we worked with Dianna, who quickly responded to phone calls & emails and happily met with us numerous times. The bar & serving staff were extremely professional, friendly, and helpful. At the end of the evening, a member of the serving staff stopped me to compliment me on the event! A number of guests have said that ours is the best wedding they have ever been to, and the Oscar Event Center played a big role in that!
---
Reviewed on

6/18/2015
Megan C
We had our ceremony and reception at the Oscar Event Center. Our wedding day was such a beautiful and perfect day and we cannot Dianna and the Oscar Event Center Staff enough for making it such! We were very impressed with Dianna's quick responses to all of our questions since last August, as well as her coordination efforts and help during the rehearsal and the wedding day. The staff was beyond helpful anytime we needed something and they went out of their way to make sure our wedding party was taken care of and our guests were pleased. We received so many compliments on the day of and since the wedding from our guests about how beautiful the Oscar Event Center is and how amazing the food was! We honestly cannot thank them enough for making our big day so meaningful and easygoing! We would highly recommend Dianna and her staff and the Oscar Event Center to anyone looking to host a wedding or other event.
---
Absolutely Impressed!!!
Reviewed on

6/19/2014
Elisha H
I had never heard of The Oscar Event Center and then realizing it was attached to Jungle Jim's, my expectations weren't very high. However, as soon as I walked in I was stunned at how gorgeous it was! And it totally fit my Harlem Nights theme. I was planning my wedding from Atlanta with no wedding planner or anything, but Dianna, the event coordinator, was there and so helpful throughout the whole planning process. Whenever I e-mailed her with questions, I had a response within 15 mins. The majority of my wedding party was from out of town so she stayed until the very last second for our rehearsal and the day of she made it there early so that we could finish rehearsing. I had no stress. Everything was taken care of. They dealt with all the vendors. I literally showed up to get ready and had my wedding. And the service and attention to detail was immaculate! After nearly 8 months since the food tasting, I'd forgotten what everything was like so I was kind of worried, but there was no need because is was so good and everyone was really impressed with the food. Our guests were taken care of just as well as we were and we haven't heard anything but compliments even still at 4 weeks out. I wanted to cry I was so happy with everything. I cannot say enough about how great the place, the people, and the service was and they truly made our day special.
---
Wedding
Reviewed on

6/16/2015
I couldnt have been more happy with picking the oscar event center for my wedding cermony and my reception. They were amazing the whole year and a half that inwas doing my planning . Dianna was there when i had any questions and had an answer for everything i asked. When i saw how everything was set up for the wedding when it came for my big day i was ready to cry. Every thing was perfect. The listened to all my requests and everything that i didnt like and what i wanted done. They took care of me and my bridal party the entire night. The food was amazing and the bar tending was awesome. The staff was so friendly. Everyone helped everyone out. If i could marry my husband again i would do it here all over again. Again i am so happy with our choicd and i would recommend them to everyone. They are very affordable and just overall wonderful.
---
Vintage & Elegant Wedding
Reviewed on

4/11/2015
Heather Jo D
The second we walked into the Oscar Event Center we knew it was the venue for us. The ambiance, atmosphere, from the first step through the ceremony and reception spaces was incredible. We had a wine theme for our wedding and there was remarkably little that needed to be added to the space to enhance it - it was so beautiful and elegant on its own. The staff was incredibly helpful - they made sure everything went perfectly on our wedding day, making my wife & me their top priority. I could have done with a little more communication in the months leading up to our wedding - in wedding planning it's incredibly hard to keep track of all of the details, and it was entirely on us to remember when payments were due, menus had to be finalized, etc. However, in the month or so up until the wedding, every question was answered immediately, and they were always willing to help. I would absolutely recommend the Oscar Event Center to anyone looking for an elegant, warm, and still fun wedding venue. The space is beautiful, the food is great, and the staff really takes care of you. When we first toured they told us it was the best kept secret in Cincinnati - and I would have to agree!
---
Oscar Event Center :)
Reviewed on

1/05/2015
Oscar Event Center was without a doubt one of my best choices that I made in planning my wedding. Dianne Hood and her wonderful team helped to make our day even more amazing. During the process of planning, she helped me think of things that I was not thinking of & helped answer all of my questions of how to plan, (when planning the biggest event of your life, haven't planned it before & will not ever plan again-- it is stressful & you need a venue like Oscar Event Center/a person like Dianne!) During the reception, our wedding party had a personal server. She was fantastic! After the wedding, my guests were still raving about the service! They were so attentive! Now let's talk about that food-- DELICIOUS! I have rarely been to a wedding where the food was anything to talk about after. This was not the case with Oscars. It was another response we got from all of our guests. The bar was fabulous too! I love the decor of Oscars. It is different than any other venue I went to see and beautiful! I don't think I can say enough positive things about Oscars :) Check them out and you will agree!
---
Superb Experience
Reviewed on

11/11/2014
Simply amazing! The people at the Oscar Event Center provided superb guidance in planning our daughter's wedding reception as well as delivering outstanding food, service and venue. Our guests greatly enjoyed the space and we received hundreds of complements on the international food offerings, friendliness of the staff and the excellent bar service. The space provides one with the opportunity to host a cocktail hour in the space outside of the main ballroom, thus encouraging your guests to mingle and relax. The food was wonderful! The space looks amazing when set for a reception. The staff was so helpful and accommodating. A fantastic venue.
---
Wish I would've gone somewhere else
Reviewed on

10/31/2014
Brandie T
Pros:The venue is beautiful. They had good food, for wedding food. The staff helps keep things on schedule. I liked that I could order my cake from them. They were very good with keeping under our budget and had creative suggestions to do so. Cons: After the ceremony, the bridal party and I were in a separate room while the guests had cocktail hour. The main woman wouldn't let my grandparents in our room, they told them that it was the bridal party only, even after I said it was fine for them to come into the room! I worked with the same woman from the beginning who always came off a little stand-offish. When my wedding day finally came, I got to meet other people who helped with keeping things on schedule. There was only one person who was actually nice to me, which I told her that day, that she was the first person who worked there who was actually nice. I found out later on that when moving tables around, the staff broke one of my florists vases. They tried to tell me that they are not responsible for the cost of the vase (it was a tall pilsner vase, so it was expensive!). I received an email the next morning from my DJ saying that he was yelled at for going three minutes past our end time (he was just letting the last song play through). I'll quote from his email "I was reprimanded by the woman in charge. She raised her voice and spoke very harshly and to me in front of guests and my employee. Some of whom thought her reaction to a measly 3 minutes past the end time was very inappropriate and rude." Out of my entire wedding planning, vendors and all, I wish I would've picked a different venue. Simply because the people who work here are very rude.
---
Loved it!
Reviewed on

10/14/2014
Caitlin P
We had our wedding ceremony and reception at Oscar and loved it there! Everything was beautiful. We weren't allowed to put anything up ourselves but they had great uplighting and our centerpieces were included (from Adrian Durban!) We paid for our alcohol by consumption and I think we ended up saving a lot of money that way. They had great service, including a woman who was helping just the bridal party with appetizers, food and drinks. I was very nervous in advance as I felt that I had no clue what my wedding would be like, but everything turned out amazing and I don't think it would have been the same anywhere else!
---
Amazing Venue
Reviewed on

9/25/2014
Ashley H
The Oscar was amazing, the staff was very friendly and helpful, the food was amazing and the veune is beautiful. I would not have change one thing about my wedding, the Oscar help me make my dream wedding come true!!!
---
Our Perfect Wedding
Reviewed on

9/08/2014
Christina S
I found that one of the most difficult parts of wedding planning was finding the venue! I researched and visited many places, but the one that I fell in love with was The Oscar Event Center. From the nice open floor plan, the awesome & unique bar area, the ability to have both my ceremony and reception there, the fabulous fancy bathroom to get ready in before the ceremony, the helpful staff, and the all around great atmosphere. I also, really enjoyed being able to get ready at Oscars with my whole bridal party before the ceremony. Make-up and hair was all able to fit in the bathroom with plenty of room for all 10 of the people in my wedding party to get ready. I was able to see everything set up before the ceremony, from the flowers and cake arrive ect. It calmed my nerves after seeing everything come together as I was getting ready. The awesome staff served us complimentary drinks and snacks as well while we got ready. Everyone was so friendly and helpful! Everything was very well organized; the staff was great, which helped make for a perfect day! I was 100% pleased with my decision to have both my ceremony and reception at The Oscar Event Center. With the unique venue and set up, everyone had a great time and raved about how awesome of a place it was. I would highly recommend having both your ceremony and reception there!
---
Excellent venue
Reviewed on

9/01/2014
Kristin C
Diana was exceptional to work with while planning our wedding. She was very flexible and provided excellent recommendations that made our event a memorable one. Very reasonable in price and fabulous ambiance.
---
An outstanding wedding!
Reviewed on

8/29/2014
Wanda C
WOW! I was so impressed with the Oscar Event Center. Everything was above excellent and well taken care of. The rooms were beautifully decorated and it really made for a memorable evening. The food was incredible - no surprise since Jungle Jim's is attached! I was able to provide my guests with a wide selection of tasty food that made everyone happy. Working with Dianna and the other staff was great. When I would get nervous or anxious about something, the staff was cheerful and so helpful. It made planning the wedding much more fun! I would recommend the Oscar Center to anyone looking for an affordable and beautiful place to get married.
---
Smith/Dupre' Wedding- 8/16/14
Reviewed on

8/21/2014
Oscars Event Center is a Fantastic Venue! We had the pleasure of working with the amazing Dianna Hood. She helped with many of the details and made wonderful experienced suggestions for the reception. Dianna and her team cared as much about the wedding as we did! She wanted it right.... and it was! The atmosphere, food and service were great. I received multiple compliments from my 250+ guests who will be Oscars potential customers. This is the place to have your event!! Thank you Oscars... it is a joy to be your customer! Joliea Smith
---
WHY GO ANYWHERE ELSE
Reviewed on

7/23/2014
Abbie R
PERFECTION. The staff did absolutely everything to make sure the day ran smoothly. The whole night was perfect! They all know exactly what they're doing, what you need, and make sure to take care of everything so you feel 100% worry free. No hidden charges, staff tore down, set up, and I could have even kept all the decorations and gifts there until I came back from the honeymoon. They made sure my husband and I had the best day of our lives and they succeeded. We couldn't imagine having a better place. I've recommended it to everyone I know who is getting married.
---
A hidden gem for those who want affordable high class service
Reviewed on

7/15/2014
Corrie W
The Oscar Event Center was an amazing choice for our wedding! The venue itself was beyond beautiful and our space included a lounge for the ceremony, a banquet hall for the reception as well as a separate bar room and outdoor balcony. Every little nook and cranny in the entire venue had hidden details that created strong feelings of warmth and elegance! My husband and I planned our wedding remotely as we both live out-of-state and Dianna, the event coordinator, was great about being flexible. My parents visited the venue and set up a Skype call so that we could all talk about details together which worked fabulously! Dianna was very detail-oriented and accepted nothing less that the best when it came to organizing and setting up our dream wedding. She accommodated all everyone's wishes which included fitting in a photo booth, candy bar, ice cream sundae bar with Graeter's Ice cream (a Cincinnati, OH treat) in addition to cake. We had about 100 guests and a dance floor in the reception hall and with all of the other treat tables and the photo booth, Dianna even extended our space into the other banquet area for free since there were no other scheduled events in that space. This gave us a little bit of extra room to fit everything and also gave guests adequate space to move around the tables. I was very touched by her offer to do this without asking for additional money. For dinner, my husband and I chose to have the food stations (Spanish, Italian and Asian) to capture the international vibe that comes with having your wedding at a venue attached to the world famous, Jungle Jim's International Food Market. The food was beyond anything we could have asked for. It was artfully displayed and equally delicious. The Asian station even came with a variety of sushi rolls which I thought was especially neat. While I missed the appetizers during cocktail hour because of pictures, I did hear that they were equally amazing with options that went above what is typically seen at other places. Once guest commented with excitement that there were cherries on the fruit and veggie display! Patty, the banquet manager and her staff were excellent. They were so cheerful, always smiling and very attentive to everyone's needs. Patty helped make tiny adjustments to the schedule throughout the evening to assure that things ran smoothly and that guests were having fun which was a huge help. All of their help made it very easy for my husband and I to thoroughly enjoy our evening and the memories we have from our special day were all the more memorable because of the wonderful staff at the Oscar! I would definitely recommend this venue to anyone planning a gathering for weddings or other events. The staff goes above and beyond, the food is great and the event center is gorgeous! FIVE STARS all around for the Oscar Event Center!
---
LOVE!
Reviewed on

4/08/2014
Courtney M
Wonderful place and food! Beautiful on the inside and great customer service from the staff and Dianne.
---
Amazing!
Reviewed on

12/05/2013
Sarah H
My husband and I have nothing but wonderful things to say about The Oscar Event Center. It is such an amazing venue and the staff is wonderful! We were married in May and are still receiving compliments! Also, the beef brisket is amazing!!
---
Loved it!
Reviewed on

10/19/2013
Amy B
Loved the venue- beautiful room, great staff, great food & a great coordinator- Dianne was so quick to answer any questions I had
---
Most Perfect and Unique Venue!!!
Reviewed on

9/19/2013
Jacqueline O
My wedding was perfect, and it was mostly due to the amazing people at The Oscar Event Center who made my day go as smoothly as possible. I worked with Dianna prior to the wedding, and she was very responsive and helpful during all the planning, meal tastings, and coordination of our big day. On our wedding day, I worked with Dianna and Patty, who were both super helpful and attentive, making sure I was happy with everything and catered to my every need. My husband and I had our ceremony and reception at Oscars. Both events went perfectly and Patty made sure everything ran on time! She literally acted as my "wedding planner" the day of the wedding and was a tremendous help! We also got rave reviews from all of our guests, stating it was was an amazing venue and that the food was delicious!! I would definitely recommend The Oscar Event Center to any future brides! The space is beautiful and unique, the bar/pub is great...and ofcourse the bathrooms are amazing!! FIVE STARS!!!
---
Oehl / Vollat Ceremony & Reception
Reviewed on

9/19/2013
I couldn't have asked for a better experience for my wedding day. Oscar's also hosted our Rehearsal Dinner the night before in a very intimate setting with wonderful/delicious varieties of food, ambiance, and service. A hidden gem with the Oscar Event Center is "Monorail Terrace." This area is a large outdoor venue in itself that has a roof overhead and open walls with the option to close it off completely. We had our Rehearsal Dinner out on the Terrace with "stations" of different types of food ranging from Italian, Spanish/Latina, and Asian. It was a big hit. The Wedding day was set perfectly. There were no hiccups, speedbumps, or problems at all. The service was friendly, on time with all requests, and almost invisible to us with perfect execution. They also never let a line form at the bar, or let anyone stay thirsty or hungry. The food was the biggest highlight of the night. You never know what to expect with wedding food, but almost ALL of my guests have let me know that it was the best food they ever had at a wedding. The steak (Filet) was cooked PERFECTLY, the chicken was delicious, the appetizers were beautifully displayed and extremely delicious and unique. The staff was extremely professional, the food was outstanding, the venue is beautiful, and our "expensive looking/tasting/experience" was a tremendous value. I could not have asked for more. All of my expectations were met, and over-exceeded. It was the Perfect Weekend.
---
Sizemore Wedding
Reviewed on

9/11/2013
So glad we went with the Oscar. Everything that could have gone wrong on our special day did.Like they say, something always goes wrong but you have to enjoy it and it turned out to be the best day of our lifes. As soon as we got to the venue all of my worries and stress was gone. They made it very special and the staff was very nice and attentive. They were helpful through out the whole planning of the wedding. Very blessed and happy we choose The Oscar Event Center.
---
Oscar Event Center at Jungle Jims in Fairfield, Ohio
Reviewed on

8/08/2013
Our daughter's reception at the Oscar Event center was wonderful. We have had so many of our family and friends congratulate us on a great reception. It was everything we dreamed of for our daughters wedding. The service, the food, everything was first class!
---
Excellent!
Reviewed on

7/16/2012
Amy E
We could not have been more happy with our experience at Oscar's. The staff went above and beyond to make sure we had everything we wanted. The night was fabulous anc the venue as a whole was gorgeous!
---
Awesome Venue!
Reviewed on

1/25/2012
Tiffany M
A well kept secret in the Cinci area! We LOVED our venue! This is such a unique event center and couldn't have been more pleased with our wedding here! We held our ceremony and reception at this venue and it was beautiful! The staff went above and beyond to take care of us that night and the food was STELLAR! I would definitely recommend this venue!
---
Send Message