Home

The Paper Mint Press
Details
Custom Invitations, Paper Goods, Wedding Invitations, Invitations + Paper Goods
Contact Info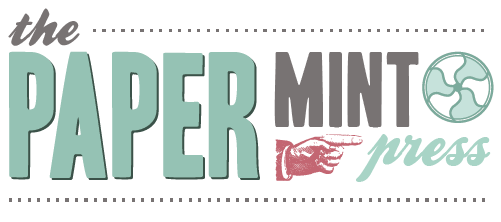 Reviewed on

9/17/2017
Michelle G
Aside from the incredible invitations, of course, what I admire about Kat is her genuine love for what she does. I've seen her earlier letterpress work from 2011, which still amazes me, and it's been so neat "following" her and watching her evolve as a designer. Kat and Emil... Read More make a great team and I'm excited for this business! I met with Kat around February 2017 to talk invites for my August wedding and shared general information with her at first (venues, colors, likes, dislikes, etc.). In April I was able to give her our final colors and inspiration, and then a week later she had a proof for us! I was super, super happy with what she put together. The design was clean, crisp, and elegant! We made some minor changes to our text, but the overall design was golden from the beginning. Two weeks later, we picked up the finished invitations and they were amazing!!! We were able to send our invitations out a little more than 2 months before wedding day and we got so many compliments on them! Kat also designed and digitally printed our ceremony programs, reception programs, menus, and name cards, and everything was just on point. Kat and Emil are so sweet, easygoing, and are just always a pleasure to work with and be around. Kudos all around! I'm a PMP fan for life! Thank you, PMP!
---
Reviewed on

8/13/2017
Heather D
Kat is a dream-maker!!! I went through 5 different companies before I literally called her in the parking lot after a meeting with a woman who told me what I wanted wasn't possible and tried to talk me into things I didn't like. Kat made it happen! She gave me exactly what I... Read More wanted, was organized, had major attention to detail, great communication, she was organized and everything was done in a timely manner. She was also the most affordable and gave me so many options. BUT the best part! she was the sweetest and most delightful person to work with. When I first saw my invitations I literally could have cried- They were so stunning! She has everything perfectly organized too. Thank you, Kat for the best invitations I have always dreamed of! They are Jaw Dropping! I can't wait to order thank you cards!
---
Reviewed on

1/07/2016
SOPHIE
We are so grateful to Kat and Emil for the beautiful letterpress invitations they made for our wedding. From the first email to the last, Kat has been nothing but responsive and accommodating. She has a great artistic eye and guided us in the right direction, but always... Read More respectful of our wishes. The invites came out beautiful thanks to the flawless letterpress imprinted on deliciously thick paper, and the gorgeous design and color just tie everything together. I'm so glad we found The Paper Mint Press and proud to support an up and coming local business! They actually delivered our invites in person! Can't get better than that. Thanks so much Kat. We'll definitely use The Paper Mint Press to mark future milestones in our lives!
---
Reviewed on

7/29/2015
Cole H
Kat is amazing! She is so easy to work with, full of creative ideas and made the entire process fun! She used high quality materials and makes sure everything was exactly as we wanted it. We used a custom photo on the front of our invitation and they turned out perfect! Kat is... Read More really professional, super easy to work with and produces top quality work. I'd recommend her to everyone for wedding stationary, business cards or anything else. She's awesome!
---
Getting compliments on our invites daily.
Reviewed on

2/23/2015
Monique V
Kat and team went out of their way to make our invites absolutely gorgeous. Their attention to detail was obvious and extremely appreciated (as I had designed my own invites), from helping me pick through different shades of white paper to ink color and actual graphic design... Read More touch-ups. Turnaround time was fast and my fiancee was absolutely thrilled as well. Could not recommend enough - I even placed a business card order with them as the letterpress looks incredible no matter the purpose.
---
Extremely happy!
Reviewed on

1/19/2015
Kaely M
Our wedding calligrapher, Kristina, introduced us to Kat over email a few weeks ago, to begin the process of printing our wedding invitations. From the very first email exchange, Kat was extremely professional, sweet, and helpful! She even mailed us color samples the very... Read More next day to choose from, because she knew how we were on a tight deadline to have our invitations mailed out! She also followed up to make sure we received them ok, and she confirmed we were pleased with how the colors looked in person. I have to say I am very satisfied with the entire process of working with Kat, and with the quality of how our invitations turned out! I would highly recommend Kat and Paper Mint Press to anyone who is planning any event (wedding, shower, birthday, etc) and needs invitations made quickly and of high quality. 5/5 stars for sure!!! :)
---
LOVED my invitations so much that I framed them!
Reviewed on

10/02/2014
Kat is an amazing designer that has her own awesome style, but is definitely attentive to the tastes and desires of her brides and grooms! Coming from a management role at an ad agency, I knew what type of invitations I wanted but didn't have the creativity or artistic ability... Read More to bring them to life. Kat did a great job coming up with a few options and then modifying them based on my feedback. The fonts she picked were spot on what I was looking for and the layout was unique and elegantly displayed. EVERYONE that I sent an invitation to commented on how beautiful they were. They really set the mood for our fun, detail-oriented wedding... its so gorgeous that we have one framed in a shadow box on our wall now! I definite recommend Kat and her team at The Papermint Press!
---
Prettiest Invitation!
Reviewed on

8/11/2014
I decided to pay for the invitations as a gift to the bride and groom. I truely believe invitations are the starting point to an amazing wedding. I'm always particular about how things should look and you can say I have a little OCD. Kat meet my expectation and more. She was... Read More very professional and timely. Thank you for making this beautiful invitation.
---
First Impressions
Reviewed on

8/03/2014
Maryjo M
Kat is wonderful and super talented! I always wanted letterpress invitations from the moment I was browsing for invitations. I didn't realize how expensive a piece of paper could be. We needed so many suite pieces to keep with the Filipino wedding traditions. -Invite... Read More -Entourage Card -Reception Card -RSVP & Envelope -Accommodations -Outer and Inner Envelopes with Lining Kat and her company were perfect; from planning, designing, timelines, and staying within budget. Kat took our ideas and visions for a modern grand Cinderella ball and made them a reality. Her attention to detail, flexibility, creativity, and responsiveness made it very easy to hand over control; we all know invitations is the first impression for your wedding. I am more than 100% happy with how our invitations came out. I absolutely love knowing that no one else will have our design and its just not chosen from a pre-template design. From customizing our paper size, all the way down to the color of ink we were going to use. This was by far thee most enjoyable part of wedding planning. I definitely recommend the Paper Mint Press, not just for invitations! Kat is so creative I am sure she can whip anything up!
---
Most proficient and flexible printer we dealt with...
Reviewed on

7/24/2014
Megan O
We used Kat for our wedding invitations. Not only was she friendly and flexible, she saved us time and money!!! She had the best prices out of all the people we received quotes from, and her work was awesome. We loved her so much, we went back to her for our programs, place... Read More cards, and rehearsal invitations. I can go on and on about how great she was but I don't want you to get bored from reading this. If you have any questions, feel free to message me.
---
The Best Letterpress in the OC
Reviewed on

2/17/2014
Kat created my wedding invitations and they came out better than I expected. I wanted something that was unique and different, yet felt like a beach wedding. She hand-painted my invitations and tied it together with a beautiful piece of twine. The letterpress was beautifully... Read More done. I would give her 10 stars if it were possible!
---
Our Guests Said it All: "Best Invitations, Ever."
Reviewed on

2/17/2014
Debbie R
In this day and age where most people print their own invitations or choose from a mass market design, it's refreshing to see real art and talent go into designing a personalized invitation. When we first met with Kat to discuss ideas, my husband (!) and I talked about how... Read More we love music, as well as how we got engaged at the Coachella Valley Music Festival underneath a prominent piece of art that was on display. From there, Kat took off with the design and integrated the iconic Coachella landscape, the art piece, and our love of music. After corresponding back and forth to finalize the wording (I wanted to have a concert poster-type feel), we received a letterpressed wedding invitation that our guests loved. LOVED. Some guests did not want to return their RSVP because they wanted to keep the entire invitation suite. In the end, the invitation represented us so well in a beautiful, fun, artistic way. Here's what made the invitation even more awesome: the design enabled us to incorporate the Coachella theme into our wedding reception. Without Kat's design, our reception as a whole would not have been as amazing as it turned out. If you're looking for a creative invitation that will set yours apart from the mundane, contact Kat at The Paper Mint Press.
---