Home

The Photoboxx
Details
Online Proofing, Digital Files, Photo, On-Site Printing, Photo Props, Photo Booths, Social Media Sharing
Contact Info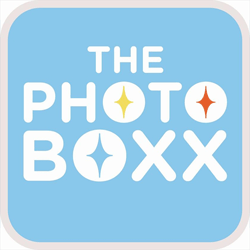 Love having the pictures
Reviewed on

10/31/2013
Heidi
Loved having the Photoboxx at my wedding. They were professional, fun and affordable. I loved looking at all of the photos the next day on the cd we were given. I wish I went with the 4 hour, 3 hours didn't feel like enough time. My guests enjoyed taking their photos home.
---
Perfect
Reviewed on

10/02/2013
Kendal G
The Photoboxx did a fantastic job at our wedding in September. The photo booth is clean looking and isn't an eyesore like a lot of other booths I've seen. The attendant, Mark, was very courteous and many of our guests remarked how nice it was to have someone to put the photo... Read More album together and give instruction for use. I would recommend them in a heartbeat!
---
The Photoboxx = Awesome!!
Reviewed on

8/19/2013
Quality, Personal, Value, and FUN! Mark and Shannon are awesome to work with. They listen to what our needs were and exceeded them! It has been a month since our wedding and our guests are still talking about The Photoboxx! Thank you very much Mark and Shannon for making our... Read More wedding a blast!
---
Photoboxx was a big hit!!
Reviewed on

7/14/2013
Michelle B
We had Photoboxx at our wedding for a few hours and I don't think there was a dull moment in the booth! It was a HUGE hit and all of our guests LOVED it! My husband, family, and I had a blast going through all of the photos after the wedding from the DVD that was given to us.... Read More I would highly recommend a photo booth at your wedding, guests love it and it creates great memories for everyone. Even more, I would highly recommend using Photoboxx! Mark and Shannon were SO helpful before the wedding, and at the photo booth. We have NO complaints! Everything was perfect!
---
Funny memories with Photoboxx!!
Reviewed on

10/31/2012
Lorraine V
Photoboxx was a hit at our wedding! Mark and Shannon were very professional, quality of service was impeccable, responsive, and very easy going; I have nothing but good things to say about Photoboxx! The scrapbook/guestbook is something i personally recommend; theres nothing... Read More like going through pictures of our guests and reliving such a fun and hilarious evening! Thanks again for being a part our awesome day!
---
Best Photobooth in Town!
Reviewed on

10/25/2012
Sarah S
I highly recommend The Photoboxx! I recently used them for my wedding and was very pleased with the service I received, as well as the quality of the product (the custom photo strips and "guest book"). Mark and Shannon were incredibly friendly, organized and attentive to my... Read More needs. I've received a ton of comments from family friends about how fun the props were and what a great time they had snapping pictures. I've been to other events that had photobooths and those didn't have nearly the amount of props that ours had! When my husband and I looked through our final "guest book" on Sunday morning, we were literally in tears from laughing at all our guests' pictures - what an awesome memento to have for the rest of our lives!
---
Wonderful
Reviewed on

8/23/2012
Janelle C
We are so glad we booked them as our photobooth vendor! They did an amazing job from the day we booked them. We loved that they were able to customize our photo strips and that they could print extra copies when larger groups went into the booth. They were also fun and lively as... Read More our guests when up to get their pictures taken. They provided all of the props and posted all of the strip photos and individual photos up on facebook so quickly for us and our guests to see. Our favorite part was that they provided us with a memory book where guests would glue on stip into the book and sign each page! Flipping through that and having that as a memory is so perfect!
---
Best decision EVER!
Reviewed on

8/13/2012
Kristen B
Using The Photoboxxx for our photobooth rental was one of the best decisions we made! They were always prompt on returning our e-mails and they were very affordable! At our wedding they set up and cleaned up without me even noticing and everyone LOVED the photobooth! The man... Read More running the photobooth (forgive me, I don't remember his name) but he was professional yet very friendly! They even had all of our photo strips on facebook the next day and we received our disc of the photos in the mail a few days later. I would HIGHLY recommend The Photoboxxx - I have already referred them to all of my engaged friends :) Thank you again!!!
---
amazing!!!
Reviewed on

8/13/2012
Laura J
We were so glad we booked the photobooth for our Mankato wedding. Everyone, young AND old had a great time with it. My fiance, now husband was a little skeptical but afterward be said he was so glad we got it. Shannon and mike were great to work with and now we have a ton if... Read More great pictures withpeople all decked out un props...sooo fun! Thanks you guys for making an extra memory for our wedding ;)
---
Wonderful!
Reviewed on

7/02/2012
Chandra T
We recently had The Photoboxx at our wedding reception, and it turned out to be one of our favorite parts of the evening! Family and friends of all ages and generations had a fantastic time in the booth, and we heard nothing but positive things from our guests. Mark and... Read More Shannon were great to work with - they were friendly and prompt in their communication (something I found to be very important in the wedding world!) They worked with us to customize our photo strips until they fit in perfectly with our wedding, even going so far as to download and use the same fonts! It was so fun to have our photos available immediately, and we had a great time seeing the funny pictures and messages from our guests only days after the wedding. I would highly recommend The Photoboxx!
---
Fun Reception Activity, Awesome Professionals
Reviewed on

5/25/2012
Kendahl M
We are absolutely THRILLED that we booked the Photoboxx for our Minneapolis wedding. Our guests couldn't stop raving about how fun the Photoboxx was and continued to bring their strips to us to show us the fun throughout the evening. The next morning people were already... Read More requesting to see our guest book. The props were a ton of fun and we walked out of our reception with our guest book and DVD of the images in hand. Mark and Shannon were a true pleasure to work with- they were incredibly responsive to both email and phone calls, let us preview the photobooth in their home, and were very professional during our reception. We had several guests comment on how great Mark was and how this was the first guest book they were excited about writing in. We would highly recommend The Photoboxx for your next event.
---
Loved by all!
Reviewed on

4/15/2012
Ashlie T
The photo booth was a huge hit at our wedding last night! Everyone loved the props and had a great time with it!! Mark was awesome with the guests and him and Shannon were wonderful to do business with! Would recommend their services to anyone!
---
Everything we could have wanted!!
Reviewed on

2/26/2012
Milena S
Mark and Shannon were the easiest people to work with! The party package had everything we wanted. I loved that we were able to have the completed album to take home and laugh about right away, the props were fun, and we were able to design our own photo strips using the font... Read More from our invitations and our colors. Mark was our attendant for the booth and he was on time, a total pro, and a fun guy to have around all night! When my husband and I got engaged the first thing I knew I wanted was a photobooth, and photoboxx filled every criteria when looking for just the right one. Thanks!!
---
Best Idea for a Wedding!!
Reviewed on

1/06/2012
Alisha R
I cannot tell you how much fun everyone had at our New Years Eve wedding, mainly do to us having the photobooth there. Numerous guests told us what a great idea it was and they definitely showed by all of the great pictures that were taken. We were able to use the available... Read More props and also have a photobook for people to sign at an AMAZING price. We will definitely be referring them to friends and family and hopefully use them in the future for our own parties.
---