Home

The Red Barn at Hampshire College
About this Vendor
Rustic yet elegant venue in the Pioneer Valley!
The Red Barn was originally built in 1820 and was acquired when Hampshire College opened in the Fall of 1970. The post and beam space has been the preferred space for Hampshire College events for the past 40 years and a well known wedding destination at the base of the Mount Holyoke range.
Amenities + Details
Amenities
Handicap Accessible

Indoor

Reception Area
For more details about amenities, please message the Venue.
Ballroom, Barn, Loft, Tented
Bar + Drinks, Food + Catering, Planning, Service Staff
Contact Info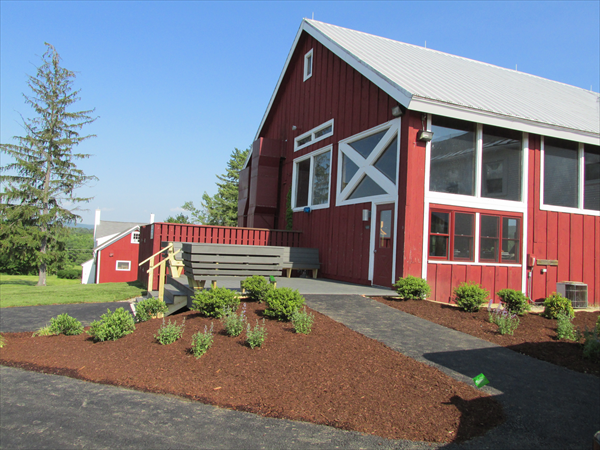 Beautiful rustic wedding!
Reviewed on

8/02/2014
Dorothy S
Getting married at the Red Barn this summer was an incredibly magical experience for me and my husband! We exchanged vows under the picturesque Oak Tree. Walking down the path to the tree, watching birds and butterflies in the wildflower meadow and looking out to see the mountain view in the distance provided the romance and beauty I hoped for. We enjoyed refreshing cocktails and incredibly tasty appetizers on the covered deck, and the children at our wedding enjoyed playing games on the grass. Our reception was in the cool and comfortable barn and our guests truly appreciated the air conditioned setting in the warm weather of June. The food was incredible and there was plenty for everyone! All of the staff at the Red Barn were professional, attentive and friendly and our guests and family felt incredibly well attended during the planning process and event itself. Our day was truly memorable and we thank the Red Barn for making it happen!
---
Fall Wedding 2014
Reviewed on

1/29/2015
The Red Barn was the first and only placed we viewed when looking for a venue for our wedding. We immediately fell in love with everything from the field with the beautiful oak tree to the rustic barn that brought such warmth with its antique floor and ceiling. Our coordinator, Samantha Coulter did a fantastic job and made the day a dream come true! The space was cozy and staff were flexible with accommodating any special requests. The food and drinks were delicious as well. Every last detail was perfect. We'd highly recommend it! =)
---
PERFECT venue!
Reviewed on

10/30/2014
Rebecca A
I cannot believe how perfect this venue was for our wedding. From beginning to end, everyone at the Red Barn was absolutely amazing to work with. They were very flexible for special requests and specific needs. The food was great, the beverages amazing, and the ambience can't be beat. Whatever you want to do for your wedding, the Red Barn will make it work. We wanted string lights across the entire ceiling, and the Red Barn got us in the night before so we could set it up. It looked perfect. All night guests were telling us how amazing the venue was. Seriously, if you're considering this place- STOP LOOKING! You will never regret this choice! It was perfect in every way.
---
Reviewed on

7/31/2015
After searching places after places I knew the red barn was going to be our 1 # choice. My husband and i just fell in love with it,from the fields of tall grass the mountains and that stunning oak tree to the inside of the barn, wow absolutely gorgeous!! We are completely happy we got married there and if we had to do it again we would because the place is absolutely romantic. We just got married on July 19 ,2015 ❤ PS: not were we the only ones happy with the place but our family and friends loved it too and had a blast. Thank you!! Mr & Mrs Morse
---
Reviewed on

7/13/2015
Isabella B
My husband and I were married at the Red Barn this past Saturday, and I just don't feel like there's enough space to write everything I want to about this venue! To keep it simple, if you're looking to have a simple, beautiful, rustic wedding and be surrounded by people who really know what they're doing, this venue is for you. I had a very short amount of time to plan and execute this wedding due to conflicts in work schedules and a relocation that needed to happen quickly, and it was very apparent to me from the get go that the staff at the Red Barn would do whatever they could to make the process smooth and devoid of stress. Mike was my wedding coordinator and without him, I would have never been able to pull this off. He worked with me tirelessly on every little detail and was available to chat at the drop of a hat. He was incredibly thorough and was super flexible throughout the whole planning period. On the day of, he was present and very involved. As weddings will never go exactly as you plan them to, he was better at "rolling with the punches" so to speak than anyone I have ever seen. He was willing to do whatever we needed, from grabbing family or friends I needed to see, to pushing the play button on our music, to making announcements, to staying all night with us if we needed him to. He asked me questions but never made me feel overwhelmed. It's easy to tell he loves what he does, and I am so grateful I got to work with him. The beauty of the venue and the surrounding area speaks for itself. The tree was just the perfect location for our ceremony and embodied everything I wanted in my wedding. We had about 60 guests, so everyone was comfortable and had plenty of space outside, on the deck, and inside the barn (which is also just gorgeous). All in all, I'm still reeling from this wedding. It was better than I could have ever imagined; an absolutely perfect day. I would recommend this venue to anyone; it's every bit worth it.
---
Reviewed on

6/26/2015
Elise K
We loved our wedding at the Red Barn at Hampshire College. The grounds and the barn are beautiful and getting married under an old oak tree was just perfect. Mike and his team made everything about the day easy for us. They were flexible, easy to work with and made the wedding and reception flawless and fun for everyone there (including us!) So many of our guests commented on the quality of the food and we agree that it was even better than expected, and we expected a lot. There is nothing we would change about our wedding day, and I think a big part of that is due to how great our experience with the Red Barn was. We would recommend this venue to anyone.
---
Red Barn
Reviewed on

10/29/2014
heather m
My Husband and I were beyond happy with our wedding at the Red Barn. The venue is amazing, the food is good and our coordinator, Samantha is wonderful and made the whole process smooth. We knew the place was beautiful but that was probably the number one compliment we heard all night. The venue is not the largest, we were worried there wouldn't be enough room but it was perfect for our guests. Go with the Red Barn...You won't regret it!
---
Red Barn Wedding Review
Reviewed on

10/19/2014
Liz K
The Red Barn was an excellent venue for our wedding. All of the personnel from the event planner, to the catering staff were courteous, professional, and worked hard to make sure that our wedding day went as flawless as possible. This venue is an excellent value for the quality of venue, food, and staff assistance. I would recommend this venue to all of my friends.
---
The Red Barn Was Amazing!
Reviewed on

9/28/2014
Amanda J
Almost everything about our day was perfect, the lone exception being the weather. We planned our wedding at the Red Barn all the way from North Carolina, and while any wedding is stressful, the staff made it as easy as possible. From day one they were very completely accommodating. We wanted a more laid back atmosphere, and were allowed to shape the barn and the events of the day to meet what we had in mind. We made our own floor plan and hung our own drapery from the beams. It looked great! Our ceremony took place after the cocktail hour which allowed us to mingle with all of our guests. Although the weather didn't allow us to have the ceremony outside, having it inside the barn may have even turned out better. We wanted the ceremony to be short, sweet, and intimate, and that is what we got. The bridal party walked up walked up from downstairs, and we stood in front of the head table to exchange our vows. The food was delicious, and abundant. Our entrees were buffet style, while the sides were family style on each table. There was plenty of food for everyone to have more than enough. The caterers came by frequently to make sure everyone had everything they needed it. We had the salmon and the prime rib, both were really delicious. We tried to save a little money, so we used an Ipod for our playlists instead of having a dj. We rented out the speakers through the Red Barn and they were more than sufficient. Also the staff helped us out by starting and stopping specific playlists throughout the day when prompted. Everything went great all night. When the time had come from the dancing to wrap up, and for us to break down, the staff was a huge help. Everyone pitched in, and clean-up was fast and we went on to our after party. A big thank you to Mike, Kayla, Katie and the entire Red Barn staff for making our day perfect!
---
Beautiful Red Barn Wedding
Reviewed on

9/15/2014
Lisa S
The Red Barn helped make our wedding day personalized, memorable and fun! From the very start, the Red Barn was very accommodating to our wants and needs. The food was great and they were able to work with us with food choices that were not on their typical menu. We chose a BBQ theme to fit the outdoor, laid-back landscape. They have lots of food and beverages choices (including a Barn Brew, which our guests raved about). Our coordinator was at our beck and call and always did so with a smile. It was very helpful and stress relieving as a bride to have someone to go to and ask questions about anything and everything. What I find very special about this place is they approach your wedding day as it should be - it's a special day for friends and family to celebrate and they want to help make it into all you've ever dreamed about. With all of these great features, the price is also very affordable. I did a lot of research when first looking for venues, and this one was by far the best bang for your buck. In summary, the Red Barn was fabulous and I would highly recommend this to all the brides and grooms out there.
---
The Red Barn, Hampshire College
Reviewed on

9/11/2014
Stephenie F
I cannot have enough good things to say about this venue. Loved being able to have the ceremony and reception at the same location. The outdoor ceremony was perfect. Loved being able to have a covered deck with the lawn during cocktail hour. It enabled people to play lawn games during cocktail hour and gave guests plenty of space to move and mingle. The barn made for such a cozy reception atmosphere. I really appreciated being able to decorate the barn the way I had envisioned. The catering staff provided great help and attended well to all of the guests. The food was delicious (I was most nervous about it because I was unable to come to the food tasting due to planning the wedding from VA). The wedding coordinator that comes with the venue package was extremely helpful and made the wedding planning so smooth. Every guest I have talked to after the wedding commented on how great the food was and how beautiful the venue was. It was a perfect day. I highly recommend this venue!
---
7/11/14 Bride :)
Reviewed on

8/01/2014
Anna B
Everyone at the Red Barn, especially Kate Fields, did everything to make my wedding day beautiful. Everything was perfect, and I thank everyone at the Red Barn for being so kind and gracious.
---
November wedding in western Massachusetts
Reviewed on

11/11/2013
Beth N
The Red Barn is a unique and magical place to be wed. The setting is beautiful, the facility is down-home yet classy, the food is innovative, fresh and tasty and the staff is lovely, creative and a de-stresser. My wedding was at the start of November, which could mean anything from a blizzard to 70 degrees in Amherst. The Red Barn staff was flexible about where the ceremony and cocktails would take place up until an hour before we began. They wanted the best locations for each part of the celebration and were willing to wing it until the last minute. The Amherst/Northampton area is wondrous, and the Red Barn reflects and complements the landscape in its attitude of ease. The staff is highly competent and eager to help with anything they can handle on site or with a task that can be handled with a recommended subcontractor. I recommend the Red Barn as a facility, its staff and catering. I organized the wedding from New York City and it was not stressful at all. Thank you Red Barn for making our wedding day a day to remember.
---
Fall wedding at the Red Barn
Reviewed on

10/05/2013
Sue L
My husband and I fell in love with the Red Barn when we first visited, and we knew it was exactly what we wanted for our wedding day. It was simple, yet had a rustic elegance. It was surrounded by all of nature and greenery, which was beautiful and perfect for the games that we set up and for the kids to play in. The venue brought us such a relaxed/laid-back and at home/backyard type of feeling that we knew this was it for us! We worked most closely with Zoe, who is so great and easy to work with, responsive to emails/calls, and very professional. Everyone we had worked with including Kate, Deanna, and other Red Barn staff were all great as well. Zoe and the Red Barn staff helped us to coordinate all the details the day of, which took much pressure and stress away from us. When we arrived at the RB on our wedding day, the barn was so beautifully decorated! The Red Barn also offered a barbecue dinner menu. We opted for pulled pork and chicken kabobs, which were delicious! Many of our guests mentioned they really enjoyed the venue and the food, and had a wonderful time. We did too, thanks to Zoe and the RB staff! It was perfect, and we're so glad we chose the Red Barn.
---
A non-traditional bride's dream.
Reviewed on

10/04/2013
Elisabeth S
Once upon a time I was a banquet server at a large wedding venue. Over the years, I began to realize that a 200 person wedding was not for me. I wanted something a lot more intimate and to not feel like my wedding was being churned out by a place that could spit out six weddings in a day. Tired of the paisley carpets and ugly floral valences, I set out to find a small facility that would give me the freedom to make my wedding my own, a blank slate. As I searched for places online, I immediately clicked on the Red Barn. It's rustic charm and beautiful view captured my attention. Not wanting to have my ceremony in a church, their ceremony tree was everything I could have hoped for in finding a relaxed and intimate ceremony site. The event coordinators were extremely professional and responded very quickly any time I had questions. They gave great advice and were willing to accommodate me when I needed to stop in and make sure I was on the right track with my decorations. The event coordinator the day of my wedding did a fabulous job of overseeing the wedding as I spent my time with the photographers. I didn't have to worry that my guests were being well tended to and she was vital in helping us stick to our timeline. My guests were blown away by the Red Barn and its service. They loved the back deck and still rave about the food (speaking of which, they use local produce!). The Red Barn truly made my day more than anything I could have dreamt it to be. I highly recommend that you take a drive on a nice sunny day and check it out.
---
Rustic, beautiful and quaint, with a beautiful outdoor space and excellent service
Reviewed on

10/03/2013
Andrea R
We really liked the idea of getting married outside and having our reception in an old New England barn, but what sold us on the Red Barn was that it had great personality AND air conditioning, which was important for our summer wedding! The location near Northampton made an awesome destination for our out-of-town guests, too. The Red Barn staff were extremely helpful in planning the wedding. We sent them a lot of questions and they were always patient and more than willing to help with whatever we needed. We worked the most with Kate, and she was awesome. We were quite happy with the food, as were our guests, and the bartenders and staff were all great. The barn itself is a gorgeous venue. It is old and rustic, but it is also easy to add your own personal touches according to your taste. We also loved getting married under the big oak tree- it made for a gorgeous ceremony. We ended up paying for a third entree menu as part of the buffet (we wanted to offer beef, chicken and a vegetarian option), and we went for the open bar for 5 hours. The total cost of the barn with food and beverages for about 65 guests was $10,000. It was a beautiful venue and we are thrilled with our decision!
---
Perfect
Reviewed on

10/03/2013
Juliana B
We could not have been happier with our experience with The Red Barn. It's a beautiful venue, but still has a laid-back, relaxed atmosphere, since it is a barn after all. It has a perfect balance between authentic feeling rustic-ness and modern comforts -- AC, full bathrooms, etc. We had our ceremony under the tree, which has a very romantic, spiritual feel, and the pictures we took by the tree and in the field came out really well. The staff was great and they took care of so much of the set-up on the wedding day that I didn't have to do a thing or burden my bridesmaids. The food was delicious and a great value. The space is small but was big enough for a great dance party, and it felt cozy and intimate without being cramped. The Red Barn gave us everything we had envisioned for our dream wedding, and we're so grateful to the staff there for making it happen.
---
Could not have asked for anything more!
Reviewed on

8/28/2013
Anya T
My husband and I planned our wedding in just 3 months and confirmed the Red Barn as our vendor about 2 months before the big day. The event staff there did not bat an eye. They answered every single question we had (and there were quite a lot), they found a way to accommodate every request we had, which sometimes required creativity on their end, and they never said no to us. They even organized a special tasting for us since we missed their regular tasting event and were on such a tight planning schedule. On the day of, they made sure things went seemlessly. All of our vendors told us how wonderful Samantha, Zoe and the day-of event staff were to work with. The space was absolutely beautiful, the food was delicious, and I never had to worry about a thing that day. Our guests cannot stop complimenting the food that we served (we had a delicious salmon dish and butternut squash ravioli along with some tasty passed appetizers). It surpassed our expectations. This venue was truly everything we were looking for - with such a short timeline, we didn't want to deal with too many different vendors, but we wanted a barn setting and we got it all with the Red Barn: a beautiful old barn (with A/C!) surrounded by green, rolling hills and complete with a "ceremony tree", and old beautiful oak; on site catering; tables, chairs, glassware, silverware and linens (your choice of colors!) all included and everything at an extremely reasonable price. We were able to stay within our wedding budget with nearly 100 guests. I would absolutely recommend this venue to anyone looking for a rustic and beautiful wedding venue that is also extremely affordable.
---
Perfect Location!
Reviewed on

8/28/2013
Jocelyn S
Couldn't have asked for a better location, it had everything we wanted, rustic with a great outdoor space! Great staff that is easy to work with too.
---
My dream wedding!
Reviewed on

7/23/2013
Noelle S
The Red Barn was the perfect choice for us and I would highly recommend it to other brides who are looking for excellent service, stunning scenery, and a relaxed vibe. We knew that we wanted onsite catering and all the amenities of a typical wedding venue, but we also wanted a rustic aesthetic and outdoor accessibility. This combination wasn't as easy to find as we thought it would be in the Pioneer Valley, so when we visited the Red Barn it was a no-brainer. My husband and I are Hampshire College alumni so it was extra special to have our ceremony and reception at the place where we first met. I was a very detail-oriented and organized bride with a specific vision. The staff of the Red Barn, especially our event coordinator Kate, worked with me to make our dream of an un-fussy, relaxed, rustic, elegant, and fun wedding come true. I can honestly say that in the end, our day was exactly how I had envisioned it during the many months of planning. Being relatively young, I haven't attended many weddings in my adult life and so I had lots of questions which Kate answered immediately and thoroughly. Kate deserves extra kudos for her patience and helpfulness throughout all the planning and including the day-of. We had a last minute family emergency that required making changes onsite, which Kate was happy to help with. The ceremony was amazing - out in front of the most beautiful oak tree, the cocktail hour with our specialty drink was a hit, the food was delicious, and all of the transitions made by the staff throughout the night were smooth and seamless. Guests have told my parents that it was one of the most fun and enjoyable weddings they've ever attended, and well, I agree. :) You should check out the Red Barn for your special day!
---
Beautiful location for service and reception!
Reviewed on

7/20/2013
Amanda S
We got married here in July 2011. The staff at the Red Barn were very helpful and responsive to any questions we had. The interior of the barn was beautiful and required very little extra decoration. The food was really good and the prices here are VERY reasonable! It's not high end, but we really wanted something simple. The Red Barn really let us do a nice mix of DIY, while taking care of food/drinks and the setup. My only issue here was that we had to clean up and be out that night--we were not able to do that the following day. This was a bit annoying and meant that I needed to recruit friends and family to take everything down and load it into our parent's cars after the party.
---
Red barn
Reviewed on

7/11/2013
Birdie B
We had an amazing wedding. Great food, great set up, very rustic feel. The only thing as a bride that was super stressful was trying to set up for the event the same day as the wedding (ie specific decorations I wanted)
---
saw my vision and helped it come true!
Reviewed on

7/10/2013
Katherine B
We used The Red Barn for our ceremony and reception. I had a ton of ideas/questions and they worked with me on every single one without making me feel needy! They were open to try anything and were very helpful in finding me fun items (ie. a popcorn machine for the reception). I would highly recommend using this vendor!!
---
Laid back, very fun wedding...
Reviewed on

7/10/2013
Laura R
I was very happy with my overall experience. They did forget to put candles out on the tables and cleared drink glasses to early before they were finished, but overall I was very happy. It's not a huge space, 120 fills it pretty well. It's really pretty at night. Food was good, nice to be able to have time to decorate. Some aesthetics could be improved, but the price was more than right and I had no regrets and everyone had a really great time.
---
Send Message