Home

The Rhapsody - Wedding and Reception Hall
About this Vendor
Jackson County's Premier Wedding & Reception Venue
*Intimate Garden Ceremony & Elegant Ballroom Reception* Wedding & Reception Packages Include: 12 hour Rental + 1 hour Rehearsal - Tables, Chairs, Set Up & Take Down - Linens - your choice of colors! - Centerpieces in a variety of options: Vases, Candles & Lanterns - On-site Rhapsody Wedding Coordinator - On-site Rhapsody Reception Host - Buffet Room & Catering Kitchen - Bridal Cottage! 6 hours to use on your big day! - Decorated Archways to match your personalized colors - Up Lighting with your personalized colors in Archways & Buffet Room - Free Consultations to Create your Dream Wedding Vision! - Centerpiece Design, Floor Plan Layout & Time Line Planning - FREE Parking, Handicap Parking, Handicap Accessible - PLUS Open Catering! AND Bring in Your Own Alcohol!
Amenities + Details
Amenities
Bridal Suite

Handicap Accessible

Liability Insurance

Indoor

Outdoor - Not Covered

Reception Area

Wireless Internet
For more details about amenities, please message the Venue.
Contact Info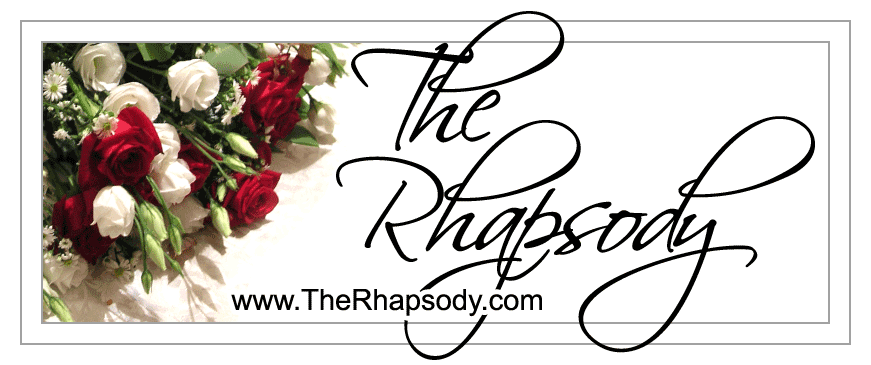 Amazing!
Reviewed on

10/31/2015
Kristin R
The entire staff at The Rhapsody was truly amazing! This place has it all -- onsite DJ, photo booth, coordinator, and even their own centerpieces Bryan, who was our DJ was truly fantastic. I kept getting asked where I found him! He made the reception and dinner and... Read More anything and everything we needed music for wonderful and even worked with all my Disney requests! Fabulous! Brett, who worked the photo booth, the overall photo booth experience was fantastic. We got to keep a strip of every photo taken and people were able to see a stream of pictures as well as the photos went online so everyone could see. It was worth the extra money! Liz was our coordinator. SHE WAS THE BEST THING EVER. She helped with deliveries, crazy requests, last minute details, random questions, and kept everyone calm. Get her if all possible for your wedding! Rita made my centerpieces. It was so easy just seeing what she had and making something beautiful. She hand makes them all and I had so much to choose from! Beautiful purple arrangements with lights and bling. Loved them all! Our ceremony was outside, and it was just truly beautiful. The garden and waterfall was a beautiful back drop. I highly recommend The Rhapsody! Staff is fantastic and easy to work with and to keep you calm on your special day.
---
The perfect day
Reviewed on

10/31/2015
Jean S
I absolutely recommend the Rhapsody to every detail oriented Bride looking for a stress free and memorable day! I am so thankful I chose the Rhapsody. It's a family owned and operated venue so everyone is involved and dedicated to making your day perfect! Rita helped me along... Read More the way with all the details and then some! She's a life savor! Bryan is their in-house DJ. I also highly recommend using him! He will not disappoint. He gets the crowd laughing and up to dance the night away. A DJ can totally make or break a reception and he is top notch!
---
Beautiful And Elegant Venue
Reviewed on

10/26/2015
As parents of the bride we both worried how to make this our daughters dream. That worry was something that Rita of "The Rhapsody" made go away. She and her crew of professionals made that dream happen and turned the whole process into reality. The Venue is both elegant... Read More and beautiful from the Garden Wedding to the dinning and Ballroom area. The DJ was fantastic and ran the wedding dance and reception functions with style. Everyone commented on how much fun they had and wished they could keep the music going even though he had played for more than 4 hours. We highly recommend this Venue, "The Rhapsody" and again "Thank You Rita"
---
Reviewed on

6/21/2017
Daniel S
Over all this business captured perfection on every angle from the beauty of the decorations to the performance driven personality of the D.J. I strongly recommend this venue to any one who is looking for a spectacular event full of breath taking moments for their special... Read More wedding.
---
Reviewed on

6/20/2017
Rachel S
I couldn't be more happy with the job Rhapsody did helping us plan our wedding. Everything was beautiful from the hall to the flowers to the garden. Rita and her staff were friendly and caring. They went the extra mile to assure everything was perfect. All the guests loved... Read More the decorations. Brian the DJ was a lot of fun and kept the party rolling. The coordinators were awesome. We couldn't have done it without them. I highly recommend them. They were wonderful to work with.
---
Reviewed on

6/20/2017
Regie M
Great experience, they handled everything beautifully and worked with us to meet all our needs. All the guests loved the decorations and the venue. Many, many compliments from all the guests. The DJ, Brian, was awesome as were the wedding coordinators. Extremely friendly and... Read More made everything a joy for us, the stressed out parents of the bride. Rita was always available and willing to work with us and keep us on track. She also did the wedding flowers and they were beautiful. Five stars is not enough for the great job they did.
---
Reviewed on

6/18/2017
Jasmine V
My wedding was AMAZING here. I am so happy I chose to work with them because Rita and her staff made sure that my big day was PERFECT. The in house Dj was perfect and very versatile. He knows exactly what he is doing. The coordinator Liz was even amazing and she made sure my day... Read More went smoothly and that I was stress free. I didn't have to worry about anything and that was perfect. I really had nothing to worry about. It is very obvious that ALL of the staff are highly EXPERIENCED. My wedding day was really a fairy tale wedding and the set up was EVERYTHING that I always dreamt it to be. They did an amazing job! Thank you so much. I am OVERLY satisfied. I wish I could give 100 stars.
---
Reviewed on

6/06/2017
Amy O
What a magical and wonderful venue, I was talking the Rhapsody up before my wedding, but after I had even more great things to say about all of the dedicated staff and the beautiful atmosphere that they provided for me and my new husband's big day. I would recommend this venue... Read More to anybody… My husband and I had a year and a half to plan our wedding so I did a lot of research of many different venues all over the Kansas City Metro area and even as far as Lawrence and I couldn't be happier that I picked the rhapsody!
---
Reviewed on

5/24/2017
Jamesha H
Mrs. Rita and Mrs. Elizabeth you guys rock! I couldn't imagine having my wedding anywhere else. Thank you! for helping bring my dream wedding to reality. The entire staff was very pleasant and helpful. Mr. and Mrs. Hawkins 05/20/17
---
Reviewed on

5/06/2017
Lora H
Absolutely amazing
---
Reviewed on

1/08/2017
Ashleigh R
The Rhapsody made planning our wedding reception easy and stress free, and it was better than I ever could have imagined!
---
Reviewed on

10/31/2016
Kennedy K
My sister was the Bride, myself a Bridesmaid. And we were both blown away with the help and services from The Rhapsody-Independence. Rita and the rest of the crew were willing to help with anything and everything to ensure the day was flawless. We loved the DJ, he knew how to... Read More keep everyone up and dancing which was great. Our day was fantastic, mostly due to the help from The Rhapsody. Highly recommend them to anyone searching for a venue with all 9 yards. We'll definitely be back.
---
Reviewed on

10/31/2016
Katey G
They did an awesome job. They were all very very nice people. They were willing to help with anything we needed. Would definitely recommend using them.
---
Reviewed on

10/30/2016
The Rhapsody was an A+ venue. Not only were the owners and staff professional, but kind and caring as well. Would definitely refer to friends and family.
---
Reviewed on

10/30/2016
Kimber K
Our Wedding was absolutely BEAUTIFUL! We are so thankful that we chose the Rhapsody. The Scherer family went so far above and beyond to make our day so much more special than we could have ever imagined! Thank you so much!
---
Reviewed on

10/30/2016
Alesa D
Rita and her team were amazing from the very beginning. I had no doubt that my reception would be great and it was. The Rhapsody took care of the set up, decorations, linens, clean up and bouquets. I just had to tell Rita what I wanted and she took care of the rest. I would... Read More definitely recommend The Rhapsody for any event!
---
Reviewed on

10/27/2016
Jeremy L
We were very fortunate to have the Rhapsody host our wedding on October 1st; with only three months to plan it we didn't think we'd find such a wonderful location. They are incredibly easy to work with and accommodating. Rita put together the most incredible flower arrangements... Read More and centerpieces. Kaci bustled my wife's dress, assisted the wedding photographer, and took care of everything so that our day would be free of worries. Bryan was entertaining and energetic as our DJ and kept everyone on the dance floor until the very end. I will recommend The Rhapsody to anybody who asks, five stars easily. Rebekah and Jeremy
---
Reviewed on

10/26/2016
Kevin H
Absolutely amazing people and venue. Everyone there was so amazingly helpful and did all they could to make our special day amazing. The fact that they were full service and offered many amenities took a lot of the pressure off. They did amazing job decorating the venue and our... Read More flowers it was absolutely stunning. They truly went above and beyond. If I could give them 10 stars they'd deserve every bit of it. I'll never forget how helpful and caring everyone was there on our big day. At the end of it, it felt more like we made friends than a business transaction.
---
Reviewed on

10/26/2016
Jessica H
I normally don't submit reviews, but The Rhapsody deserves every word of praise I can say. This venue is owned by a family, so you can get multiple services from them. We had our floral and DJ through them. Rita took my Pinterest pins and recreated them. She bet all of the... Read More estimates we gave her. She was always willing to help in any way possible, especially when it came to emotional support. Bryan was our DJ and kept the party going until closing time while being professional the whole way. Every time my husband and myself emailed anyone from The Rhapsody, we received a prompt email back. Elizabeth and Anna were our assigned wedding coordinators and they made sure everything went as smooth as possible on our special day. We will truly miss communicating with each and every one of them. Thank you immensely Rita, Bryan, and The Rhapsody family. You will not be disappointed in going with this venue.
---
Reviewed on

10/25/2016
Amanda C
I am so glad that we chose The Rhapsody for our wedding and reception venue! It was hard to believe that we were able to get such a gorgeous place for such an affordable price! The staff was extremely help and accommodating. They showed a lot of enthusiasm and excitement about... Read More our wedding, which really made everything go off without a hitch! They had a backup plan for everything in case something went wrong, but luckily the day turned out to be absolutely perfect. There were even some really cute areas inside and outside the venue for taking wedding photos. I would without a doubt recommend the Rhapsody to anyone looking for a beautiful, stress-free, and affordable wedding experience.
---
Reviewed on

10/24/2016
Tiffany W
I was the wedding coordinator for a friends wedding, the Rhapsody was absolutely great. The decorations was everything the bride wanted and more. The staff was great..I will definitely recommend the Rhapsody to future brides....Great place
---
Reviewed on

10/24/2016
Heather W
I highly recommend Rhapsody! They made everything go smoothly so I didn't have to worry about a thing!
---
Reviewed on

10/24/2016
Shona R
They did such a fantastic job. The entire process went extremely smooth. They provided the wedding planner for the day and she was beyond perfect. Everything was set up perfect. It was a perfect wedding and reception
---
Reviewed on

10/24/2016
Bailey F
The Rhapsody was AMAZING! They catered to our every need and made it so effortless to plan a wedding! Everything was so beautiful. It was better than I ever even imagined it could be!
---
Reviewed on

7/03/2016
Beth C
Absolutely AMAZING!!!😍 Our wedding was on 6/24/16. Rita and her crews were easy to work with and they were very hospitable👍🏻 I was worried about the wedding planning from the start to finish as I only had 6 months to plan it but Rita and her staff has made it super easy... Read More during the process to help me ease the stress of planning a wedding❤️ Rita made all the fresh flowers for our wedding party and they were just absolutely gorgeous😍 I mean I had a minor concern about the size of my bouquet on rehearsal night and was just going brush it off but Rita wanted my day to be perfect so she had contacted me later to let me know that she's going to fix my bouquet to make it better and I absolutely loved it!! She went above and beyond to make sure my day was perfect and to treat us just like family which is something that we'll treasure forever❤️ Also I wanted to thank our DJ Brian who made the night sooo much fun!!! My husband and I are not huge fans of dancing in front of ppl but we had such a blast that we couldn't contain ourselves that we made several appearances on the dance floor🤗 I am SOOO HAPPY that we had the chance to work with these wonderful ppl and gotten to know them a long the way! Thank you Rita, Brian and Liz for making our night so special🤗
---
Meet The Manager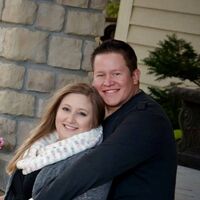 Bryan Scherer
Hello everyone! My name is Bryan Scherer, I am the Building Manager/In House DJ for The Rhapsody. That is my beautiful wife, Amanda, on the left. To answer your question, Yes! We were married at The Rhapsody! Chances are, when you book a tour at The Rhapsody, you will meet me first! I know, I am excited, too! You will also meet my mother, Rita. She is our master florist. That is right, we are a family business that has delivered over 400 custom dream weddings since 2008. We take pride in a happy bride!! Give us a call! 816-795-0777