Home

The Riverview
About this Vendor
An Elegant Affair on the Farmington River
Located in the picturesque Weatogue area of Simsbury, Connecticut, The Riverview captures the beauty of rural Connecticut while bringing glamour and elegance to any gathering. Built in 2008 to exacting standards, your guests will be dazzled by the building's classical architecture.
Amenities + Details
Amenities
Handicap Accessible

Liability Insurance

Indoor

Reception Area
For more details about amenities, please message the Venue.
Ballroom, Waterfront, Tented
Bar + Drinks, Cakes + Desserts, Food + Catering, Planning
Contact Info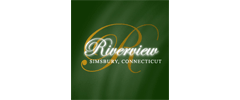 10 Winslow Place, Simsbury, CT
Utmost Attention to Detail!
Reviewed on

2/02/2013
Suzanne B
Couldn't say enough about the staff and facility at the Riverview. Food, amenities, waitstaff was unvelievable.. We felt like royalty!
---
The Perfect Venue!
Reviewed on

1/31/2013
Matthew C
When we first got engaged and started to look for venues to host our wedding, we immediately had two in mind. Having attended proms and weddings at each of them, we were very familiar with what they had to do offer. We did a little more research online and came across The Riverview and liked enough of what we saw to come out and take a look. We can remember the day like it was yesterday. We remember that Meg gave us a tour of the facility and afterwards, we met with Stephanie. We immediately fell in love with the place – not just because it looked amazing – but because of the attention we received, the friendliness and welcoming vibe that Meg gave off, and the details that Stephanie provided us. During that time while we were there touring, it felt like we were the only ones that mattered. No one was in a rush to get us out of there and everything was covered in great detail. Leading up to the wedding, Alyson provided us with tremendous support. There was never once during the process where we felt confused and unprepared because she had done such a great job helping us prepare. When it came time to pick our menu and cake, she was nothing but phenomenal helping us with meal choices, what was most popular, and what tasted the best. We left that day excited about the night that was coming up in a few months and couldn't wait for it to come. It came faster than either of us expected it to – but again – Meg and Alyson did a great job helping us get through the week, easing our concerns, and guiding us with everything. Meg was amazing filling in for Alyson while she was out of the office for the beginning of the week. She quickly replied to our e-mails and assured us that everything would be OK. When Alyson came back, she quickly got in touch with us to touch base and to make sure that everything was all set. The night came and like we mentioned above, the night was perfect. We knew it would be a great time – we didn't know how amazing the night would be though. Every single person we talked to said they had an amazing time – and even though we are over a week removed from it, people are still talking about it and how much fun they had. They loved the food and especially the cake – people mentioned that wedding cake is usually just OK – but this cake was great. Much appreciation to those who cooked and baked! The service from the Bridal Attendants was amazing from the very second we walked out of the limousine. From what we heard from the guests, the bartenders and the servers were polite and provided excellent service. The receptionist in the lobby was very polite and of course, Alyson was awesome. On that evening, it felt like we had known our Bridal Attendants and Alyson forever. Each of them were quick to help us with anything we needed and Alyson kept the night moving with everything that needed to be done. We were amazed with many things throughout the night. At the end of the night, everything was already packed up for us and ready for us to take home and we didn't have to worry about a single thing! We will never forget this night – not just because it was the night we got married – but because of how flawless the night was, how nice everyone was – although the word nice doesn't do any of you justice…. we wish we could find a word that multiplies nice by a million, and because of the quality of work that The Riverview does.
---
Amazing venue
Reviewed on

1/26/2013
Ashley B
I had to plan my wedding in 6 weeks due to military and The Riverview was amazing in working with me and helping me throughout the process. They were very precise the day of the wedding and if there were any issues, I never knew about them.
---
Reviewed on

7/23/2015
Amazing venue! the staff is very professional and amazing at what they do! Our wedding went smoothly and flawlessly thanks to the staff at the Riverview!
---
Amazing Day
Reviewed on

7/19/2015
Katie Z
The people working at the Riverview were professional and helpful from day 1! We looked at two venues, The Riverview being the second, and then our search for our wedding ceremony and reception was done. My husband and I wanted an outside summer ceremony with an indoor reception. The awesome thing about the Riverview was that no matter what the weather was we could still have our ceremony outside. The patio has a canopy all year long. Even if it's raining or super sunny and hot the ceremony could still be outside. The reception are was a beautiful ballroom with gorgeous chandeliers. But the decor was perfect for how fancy or how casual you wanted the atmosphere to be. The food was delicious and catered to many different options. We had the steak, fish, and chicken for the dinner and our guests loved each one. In addition to the delicious cake the Riverview offered additional tables such as a sundae bar and a chocolate fountain - both huge hits for our guests on a summer day. The people working at The Riverview were so helpful and so approachable. Anytime I had questions our planner got back to me the same day, regardless of how busy she was. The week leading up to the wedding they in constant communication making sure all was well with me, as the bride. They were in constant communication regarding our decorations and the schedule for the weekend. The day of the wedding they were there to keep order amongst chaos. They made sure we kept to our schedule so the ceremony and dinner started on time. They even made sure to put food in the bridal suite while the bridal party was doing pictures. The entire experience made our special day perfect. If I could do everything all over again I would choose The Riverview 100% of the time. Our guests also had an amazing time they all said our venue was beautiful.
---
Wedding of Our Dreams
Reviewed on

3/20/2015
Our December 2014 wedding was the wedding of any girl's dream with the Riverview making it all possible! The planning and the actual event was beyond our expectations. Thanks to the great service the Riverview provides, nothing went incomplete. From beginning to end it was a pleasure working with our Wedding Planner, Ally and the rest of the staff who were more than accomodating. Every guest commented on how great the service, the impeccable food, the professionalism and friendliness of the staff. Alot of our guests were very impressed by how wonderfully every detail was executed (as were my husband and I). We were told by several that this was the best wedding they had ever attended. I will definitley, confidently and highly (and have already)recommend the Riverview for any upcoming event. I am their biggest fan!
---
Service average, entree horrible, and no resolution to inedible prime rib.
Reviewed on

3/13/2015
Robin W B
My son's wedding was NOV. 14' 2014 and we looked forward to the wonderful food and service that other parents of brides/grooms had told us about. We were VERY DISAPPONTED. we had prime rib as a choice and 90% of our guests had chosen this as their entree. HORRIBLE, soooo many complaints from guests from it was cold, undercooked (from those who love rare prime rib)' but the worst was that they all complained that it was tough! Riverview called it "Prime Rib" but I would be surprised if it was even Select grade. Even Choice grade would have never been this tough. More than 20 close friends/relatives told us they couldn't cut it with a steak knife they had requested from staff, and some staff never brought them these knives. Very disappointed. And we paid for the limitless cocktail shrimp table, but the cocktail sauce ran out, the staff failed to bring out more when it was pointed out that it had run out. This had cost $1500 and they could not provide more cocktail sauce? On the positive side, the specially groom's cake in the shape of a CAT loader was spectacular and the wedding cake was Spice cake and my son declared that it was as good as mine. The Bridal salon was not attended as well as they had describesd, we had to repeatedly ask for service for the wedding party. The Riverview provided Mac and Cheese and Meatloaf that we never ordered and my thought was they served this as an appetizer to keep people from consuming the unlimited Shrimp table and the New England table that we had paid extra for. We were supposed to have New England clam chowder on that table and more than half the guests I questioned never saw chowder served on the this table and the Bridal Suite was never served any of it! When I spoke to the manager about these issues, she apologized and stated they no longer offer "prime Rib" on the menu because it is so hard to get it "right for a crowd." Aqua Turf and Farmington Club have no problem getting Prime Rib right. I have been to more than 10 weddings/banquets at these venues and have never heard anything but raves about the "Prime Rib." Beautiful venue, but disappointed in the most important entree and service staff ignoring complaints about it.
---
Perfect Day
Reviewed on

12/05/2014
Sarah G
The Riverview is unbelievable. They do everything and that made planning so much more easier! Whenever I had questions my coordinator would promptly respond. They made all decision making easy. They day of was just beautiful. I went simple with decor because the venue itself is gorgeous. We never went without anything that day. They were by our side our whole time as well as our parents. All of our guests loved the service, food, and bar. I recommend this venue to everyone I talk to!
---
Almost perfect!
Reviewed on

11/16/2014
Brigitte P
Our only issue was that our guests complained about the prime rib being tough. Everything else was perfect! We got there a little earlier then expected so they weren't entirely ready for us in the bridal suite but they started bringing in food almost immediately. I was a little bummed that I didn't get to try all of the appetizers that we had but my husband and guests loved them! They made a 3d replica of a loader my husband uses at work as a surprise groom cake and everyone loooved it!
---
Perfect Day!
Reviewed on

10/30/2014
christina f
This place was amazing, at first I was unhappy that they did not offer a tasting, but the food was amazing and everyone raved about it the following days. Our planner and coordinator Stephanie was very helpful throughout the planning process, and the day went off without a hitch. The staff was EXTREMELY attentive and nice, it truly made for an incredible experience. This place is totally worth it!!
---
The Riverview
Reviewed on

10/28/2014
The Riverview is a beautiful venue to get married. Before even adding decorations the building and landscape are beautiful and set the perfect scene for an indoor or outdoor wedding. The staff is helpful, friendly and always there to make sure your day is going perfectly. Your provided wedding coordinator helps you from the day you start planning until the day you say "I do". Even when there are unexpected things that arise, they take care of any situation without making it stressful. During the day of the wedding all of the staff is in constant communication with one another and the bridal party to make sure everything runs smoothly. The food is delicious and even a month after the wedding everyone is still talking about it! This is the wonderful place to get married and I wouldn't have had my dream wedding without the Riverview!!!
---
The BEST Venue
Reviewed on

10/27/2014
Andrea G
The Riverview made my wedding day truly amazing! I had my ceremony & reception there October 12, 2014. We were able to have a BEAUTIFUL outdoor ceremony with the river and the beautiful fall foliage as our backdrop. Through my entire wedding I had 2 bridal attendants who literally attended to my EVERY need. They had drinks for me and my family before we even knew we needed them! When I was taking my pictures they fixed and fluffed my dress to perfection, which my photographer loved. Stephanie Gordon was my wedding planner and she did a phenomenal job of making sure my day went by smoothly and seamlessly. The food was GREAT, everyone was raving about the shrimp risotto and our cake was above and beyond what we expected. This venue will make planning your wedding a lot easier as they provide EVERYTHING. Overall I couldn't have picked a better venue and I recommend them to anyone.
---
Wedding
Reviewed on

10/11/2014
Robin G
I had the best experience with The Riverview. The staff was wonderful and extremely helpful. I wish I could relive this day over and over. I would have my wedding here again in a heartbeat.
---
AMAZING!!
Reviewed on

10/09/2014
Nicole T
I cannot begin to tell you how amazing our day was!! I will tell you this...there is no reason whatsoever to worry about ANYTHING! The Riverview has the whole wedding planning thing together! One thing I was worried about was not being able to try the food, but let me put your mind at ease...the food was nothing short of perfect! I had people emailing me days after the wedding letting me know how organized and relaxed everything was and the food being delicious!! They are very time conscious, and are right there to assist you every step of the way! I would recommend this place to any person walking my way!! I hope this helps put your mind at ease! By the way...I NEVER DO REVIEWS, so for me to do this, it must have been amazing!!
---
Amazing venue
Reviewed on

10/09/2014
Katherine R
Everything about working with The Riverview was top-knotch! The venue is gorgeous, food is delicious, and staff is incredibly attentive and accommodating for the wedding party and guests. The process of planning a wedding is stressful, and The Riverview makes it easy and organized so you can simply enjoy your big day.
---
Better than we even imagined!
Reviewed on

10/09/2014
Lauren S
The staff at the Riverview helped to make our wedding day flawless. Everything at our reception was perfect thanks to our coordinator Alli and her team! We received lots of positive feedback from our guests about the food, drinks, and venue.
---
AMAZING!
Reviewed on

9/10/2014
Sharon C
I got married in April of this year and all I can say about The Riverview is WOW! From beginning to end everything was amazing. My amazing wedding coordinator Alyson Moreno was the best. She was on top of everything and super sweet. Seriously anything I asked for she found a way to make it happen. The whole process was sooo smooth I seriously didnt have to worry about a thing. The day of the wedding my husband and I were left speechless. The service was amazing. All we did was show up and everything else was taken care of by Alyson and the amazing staff. They kept us on schedule and tended to our EVERY need. My two bridal attendants were amazing. They ran to get me perfume, fixed my broken bustle and even held my dress up as I walked. The food was amazing. I was a little worried since there was no food tasting but it was delicious. The cake was super good too. All my guest were satisfied and commented on how beautiful the venue was and how attentive the staff was. My husband and I stepped out to take a few pictures right before dinner and when we came back our food had been sitting on the table for about 5-10 minutes and they replaced our plates without us even asking because they wanted to make sure our meals were hot and fresh. Our overall experience was truly amazing and I would highly recommend this venue to anyone!
---
Happy Bride and Groom
Reviewed on

9/08/2014
Amanda L
With older venues you dont get the modern, classic, look nor the WOW factor. With the New facilities they are working out some issues until they figure out what works. With the Riverview you get perfection with the Wow! After you book you get assigned a wedding coordinator, this person is the only person you speak to about your wedding. and she knows the wedding just as well as you and just what you want. By having her vs numerous people getting involved your reassured your day will get fabulous because she is the organizational queen! Stephanie Gordon was our lady and from beginning of our selection to the Riverview from the last dance she was right by our side the day was smooth, organized and a fabulous evening fully executed to perfect! On top of that they had an amazing crew, the other two ladies who were our bridal party all day always asking us what we needed or helping bustle my dress. The staff for my guest were amazing also as Brides you want it to be perfect for you but you also want your guest to be happy. If they are happy and love it than they will talk about it for months and even years to come and that makes you feel happy. The design off the dance floor is perfect! It never felt like it was to small, everyone was out there dancing and you were not bumping into each other (125 people at the wedding) the outside ceremony area with the tent is perfect so guess are not hot as the sun is shinning down which is also wonderful for the men in their black layered tuxes. The staff walking around with food during cocktail hour adds an additional touch and it is perfect that there is plenty of room inside so the guest are not forced outside during cocktail hour but you still have the patio if they choose to be outside. You made not only us, the bridal party comfortable but our guest too and for us that was HUGE! You can see the difference organization makes when going to other venues and I promise the Riverview is where perfection is at. Loved everything, every second from beginning to end with them!
---
The Riverview
Reviewed on

9/04/2014
Diane M
The Riverview was the perfect venue for our wedding! Everything was seamless and executed without flaw. Anything I asked for, they accomodated and the staff was so friendly. The food was absolutely delicious! I really cannot complain as I literally had the wedding of my dreams, but I must say that I wish our wedding coordinator was a bit more involved. Luckily, I had my own wedding coordinator who was able to make up for the lack of participation on her end. All in all, I had a perfect wedding at The Riverview!
---
Worth every penny.
Reviewed on

7/13/2014
Danielle S
After a year and a half of very budgeted and meticulous planning, the day finally came. I would absolutely stand by the riverview and their phenomenal service. I would personally recommend requesting Alyson Moreno for all of your planning as I could not have hand picked anyone better of I tried. They provided the venue for the ceremony and reception and everything was absolutely flawless. Alyson went way above and beyond to ensure that every last detail was well planned and organized, she responded to all of my emails no matter how many there were right away, she helped ensure that no detail was overlooked, and added her own touch to any details that could have been forgotten. She always made sure I had a beverage in hand and was actually fed throughout the entire reception, and even went as far as bringing me lotion for my sunburn (ow) while the photographers were doing family photos. She always was 1 step ahead of me and made everything as stress free as humanly possible. The food and bar service was so great I have been hearing about it non stop since the wedding, and the venue was so gorgeous that I have people telling me it was the most beautiful wedding they had ever seen. For everything that the venue includes (cake, linen, open bar, wine bottles, 6 appetizers, salad, huge meals, ceremony, etc) it was the best price hands down that I found and was worth everything. I had 130 guests and found that I paid a great price for the number of guests. I would recommend this place to any soon to be brides and couldn't thank the staff enough for all of their accommodations, 5 stars for sure!!!
---
Great staff!
Reviewed on

6/09/2014
Diana F
I did a lot of research on venues for my wedding reception online, and once I saw The Riverview in person I knew that it would be perfect. The communication with the staff was great. Our wedding coordinator, Stephanie, was wonderful to work with and was on top of everything. She was never hard to get a hold of and was very knowledgeable. At the time of our wedding reception, there was another party going on at the same time but I would have never known. The space for our reception was large and gorgeous and the staff was very easy to work with for arranging the space. The staff during the reception were very professional and everything went smoothly. My bridal attendant, Eric, was outstanding throughout the night. Our guests told us that they enjoyed the 3 entrée options (filet mignon, pan seared Atlantic salmon, and chicken en croute) and the cake was delicious (marble cake with raspberry filling). Overall, I'm very happy that we decided to have our wedding reception at The Riverview.
---
Amazing venue
Reviewed on

1/13/2014
Christine H
The Riverview exceeded my expectations, and since it was the bulk of our budget my expectations were high. It is reasonably priced (a bit on the higher end if being thrifty but very comparable to others of its caliber). With that being said, it was worth every penny. The staff is awesome, from the managers, to suite attendants, to bartenders and servers. Everyone is so helpful. I can go on for days about how in love with the bridal suite attendants I was! They were unbelievable in every way. From helping with the biggest processes to the most miniscule details. I worked with Stephanie as my consultant and she was equally as wonderful. When I had questions she answered them all promptly. She was very nice, accommodating, and extremely efficient, which I like. Now, as far as the food goes, it was also very good. They have an awesome selection, unlike some places that give you only a few choices. All the dishes we picked were great, from appetizers to entrees. I can not review their cake since we opted against it, but what we did have was also delicious. The atmosphere is so elegant so if you are looking for class, this is your place. From the exterior it may look like a normal wedding venue, but once you step inside you see the details that set it apart from the rest. Everyone that came mentioned how beautiful it was, and I can say, confidently, that no one was disappointed. I highly, highly recommend The Riverview.
---
Wedding 10/5/2013
Reviewed on

12/31/2013
Lauren R
We were married at The Riverview on October 5, 2013. I can't say enough great things about it! We had visited a couple of places before deciding on The Riverview, but I secretly had my heart set on The Riverview the whole time. Each meeting we had was professional and informational (minus a minor snafu - we didn't know there was a fee for the ceremony until we were putting down our deposit - but no big deal). We were assigned Alyson as our wedding coordinator and she was amazing. Always responsive, courteous, and the day of the wedding, she was on point! She really helped with the flow of events and always made sure we were taken care of. She even helped bustle my dress! Our bridal attendant, Eric, was also always checking up on us to see if we needed anything, he was so polite. The servers and bartenders were also great! We'd had a raw bar, coffee & cordial bar and slider bar. I only was able to experience the slider bar (amazing), but from what I hear, the raw bar and coffee bar were huge hits! This venue is absolutely beautiful and almost 3 months after our wedding, we are still getting compliments and rave reviews from our guests. I am so happy that we chose The Riverview for our special day!
---
Absolutely wonderful
Reviewed on

12/09/2013
Meg W
After looking at many Hartford-area venues, my husband and I chose The Riverview for our wedding reception. We are so happy with our choice! Everything there was wonderful. They provided amazing service from the start. They assign one of their coordinators to your event and that's the person you work with the whole time. S/he is also there at your event to make sure everything goes right and to address any issues that come up. Alyson worked with us and she was very responsive to all of our questions and concerns and worked to accommodate essentially everything we asked for. They are happy to let you bring any beverages they don't have and serve them for you for no extra fee. They include a cake in your wedding reception that you customize everything about (some charges may apply for extravagant decorations). We had asked for mojitos to be served, and when our limo pulled up to the entrance, one of our two specially assigned wedding party servers/assistants met us with a tray of champagne flutes and mint mojitos and offered us a drink as we were stepping out of the limo! The assistants were wonderful and clearly enjoy what they do. The dinner service was efficient. All of our guests were raving about the food for days afterward. We chose the traditional sit-down dinner and were allowed three entree choices plus vegetarian. They had us choose six hot passed hors d'oeuvres plus the amazing selection on their "international table". They customized a very reasonably-priced add-on for us to also serve a fruit salad with dessert for our health-conscious guests. They also were very happy to accommodate any dietary restriction of any guest on the day of; all they had to do was ask. The venue is absolutely gorgeous with soaring ceilings, beautiful chandeliers, and granite dance floor. No photo can do justice to the grandeur and beauty of the ballroom. The bridal suites are large and comfortable with permanent chafing dishes for appetizers to be served just for the bridal party. I'm not sure it was large enough to have been comfortable for all five of my bridesmaids and me to get ready for the wedding if we had held the wedding at the venue, but it was perfect for private space during the reception. And much larger than at some other venues we looked at. The Riverview has peak, shoulder, and off-peak pricing as well as minimum numbers of guests for Saturday evening events that change with the season. They have two mirror-image sides that can accommodate two weddings at the same time. They mandate staggered start times to minimize the impact on the other event since there is only one entrance (a beautiful one with a wonderful overhang that leads to a beautiful foyer). The ballroom has a divider that can create three different-sized ballrooms or not be used at all. There was another wedding at the same time as ours but it was never apparent; I never once thought about it until we were packing the car to leave when I saw one of the other bridesmaids going back in to their event. My husband and I were very happy with everything about our reception at The Riverview and were so glad we chose The Riverview for our wedding.
---
The most gorgous venue!
Reviewed on

12/03/2013
Melissa C
I can't even start to say enough good things about The Riverview. When we were first looking at venues, my husband and I were started to get frustrated at the high price for the low amount of services you got. When we walked into the Riverview, we knew this was the place we had to have our reception. My husband fell in love with it. As we continued planning with them, our wedding planner Stephanie, e-mailed me on a weekly basis telling me what was coming up and had no problems answering all of my questions very promptly. I never felt nervous about not being taken care of there. I felt like I could ask any question and they always had an answer, or I could ask their opinion and all of the staff were always more than willing to help. On the day of the wedding, everything went so smoothly. Our wedding planner was right there bringing us into the bridal suite and all of the attendants were right there serving drinks and food and refilling everything, we never had to ask for anything. Our wedding planning kept us in the loop about time and got us lined up and made sure we knew the correct order and they were the correct order of events for the big night. My husband and I felt like we were on top of the world for the night. We couldn't have asked for anything more. So many people came up to us at the end of the night or the next day and said it was one of the best weddings they have ever been to. Everyting from the beginning to the end of the night was a dream.We were married 11/23/2013 and even in the winter, the place looks like a dream. The staff were absolutely amazing and the venue itself looks like a fairytale, If you are getting in or around Connecticut, I cannot stress enough checking out The Riverview. Thank you again!!!
---
Send Message