Home

The Rust Belt Market
Book Your Wedding with The Rust Belt Market
---
A WEDDING VENUE IN FERNDALE, MI
About Us
The Rust Belt Market in Ferndale, Michigan, is a vintage venue for your upcoming wedding celebration. When you're looking for a spot where urban meets elegance in an unforgettable way, The Rust Belt Market is an ideal fit. Host both your ceremony and reception in this venue and get ready for your guests to rave for months.
The Event Space. Inside The Rustic Belt Market, a delightful adventure awaits. A 7-foot terrarium filled with Amazon dart frogs is just one feature that stands out. About 5,000 square feet of open space, exposed ductwork with industrial lighting, polished floors, string lights and stark decor combine to create an eclectic feel. A full-service bar and a distinctive wall and archway are additional notable amenities. The event space accommodates up to 250 guests with theater-style seating or for a cocktail reception or 200 guests for a seated dinner.
What You Should Know
If you hold your ceremony at The Rust Belt Market, the venue does not offer any rehearsal time. Most couples find that the basic layout of the event space doesn't require a rehearsal. Weekend ceremonies start at 7:15 p.m. on Saturdays and 6:15 p.m. on Sundays. On Tuesdays through Thursdays, ceremonies can be scheduled at any time. The venue provides you with access to the event space between 3 and 11 p.m., with time before and after your event for setup and teardown.
Tables and chairs are not provided by the venue, but you can rent them through The Rust Belt Market. The facility offers numerous table sizes and styles, as well as different chair styles. The crew sets up and tears down all tables and chairs you rent from the venue. Linen placement and table setting must be done by your caterer.
The Rust Belt Market provides you with a list of preferred caterers and DJs. If you use a caterer from the preferred list, the venue waives a catering security deposit. Your caterer needs to review and sign a catering waiver, provided by The Rust Belt Market. DJs must also sign a performer waiver.
Plentiful bar options are available for your wedding reception. Choose a beer and wine bar, house brands, premium brands or top shelf brands. A small changing room is provided for your use during your event. The facility also offers a coat check room, wireless Internet and audiovisual equipment, including use of a PA system, speakers and a microphone. During your event, your guests can enjoy roaming the marketplace with their drinks during business hours.
Extra Perks
The atmosphere is decidedly extraordinary at The Rust Belt Market. The striking urban refinement sets a fresh tone, which carries through every event. Amenities are available that you can use or add to your wedding day celebration.
A tufted love seat awaits for your photos
Use The Rust Belt "fire sign" during your reception
Request day-before set-up time and extended time beyond your event time
Hire an in-house planner to help you with wedding plans
From the Vendor
Offering unique and affordable event space rental
Ever think of hosting your special day or business gathering in the middle of an artist market? We carved out 4,000q ft of our marketplace to create an event room unlike anything in the area. Dance, Eat, Drink, & Play in a creative atmosphere at the historic corner of Nine Mile and Woodward.
Amenities + Details
Amenities
Handicap Accessible

Indoor

Reception Area

Wireless Internet
For more details about amenities, please message the Venue.
Bar + Drinks, Rentals + Equipment
Contact Info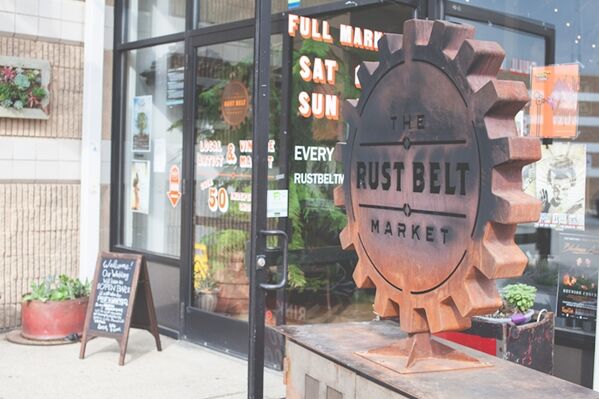 Reviewed on

10/16/2015
Sarah D
We have nothing but good things to say about the Rust Belt Market as a venue. During the booking process, Julie was very helpful and responsive. The staff was incredibly helpful and stepped in when we had a few unexpected developments during the reception We were not able to... Read More set up our reception until the morning of the wedding due to another event the day prior, however, when we arrived the tables and chairs were already available. Chris was there to open the doors for us and was available to provide us with a ladder, etc. that we needed to borrow. During the reception, Hartley made himself available to ensure we had everything required, and assisted with our requests as needed. Two thumbs up for Hartley as a staff member. If you are looking for a reception venue that you can make your own, this is it. I have an artistic side and really wanted to be able to provide my own decor, catering, photography etc. The Rust Belt was very open to this, and allowed us to bring our own personality to the space. We had rave reviews from all of our guests regarding the market, venue area, and staff. 5 stars to the Rust Belt! Thank you!
---
Reviewed on

9/18/2017
Kelley M
We can't say anything but GREAT THINGS!! They were awesome to work with. Before we booked, they let us come in and look around. We had to change somethings and they did it without a hassle. Any questions I had, they were fast to respond. The night of our wedding they were there... Read More and helped get thing set for us to come in. We have had more complaints on how unquie and different our venue was. The Revel Bar that is in the venue was AMAZING!! The selection of beer and drinks was great. We are so happy that we decided to have our reception here!! Thank you for making our wedding so memorable!
---
Reviewed on

7/31/2017
Sean N
I had booked our company's 30th Anniversary party at the Rust Belt and everyone was amazed at how eclectic and hip the venue was. The staff were all amazing and very quick with any and all services. Such a great experience all around. Would recommend the venue for parties and... Read More weddings!
---
Reviewed on

7/11/2017
Sarah S
Everything at The Rust Belt was 100% perfect. All of our guests were so pleased to be in such a unique, beautiful space. My experience with this venue was amazing, all my questions were answered, and I was able to make my wedding reception everything I wanted it to be. I have... Read More nothing but great memories (and photos) of our reception!
---
Reviewed on

6/20/2017
Matt W
Could not be happier! The Rust Belt was easy to work with the entire way, even offering suggestions when I forgot to consider things. It was cheap and easy for a DIY wedding, and what you get with the room is well worth the price. We added very little to the room and it looked... Read More gorgeous. Our guests were treated to very strong drinks and a terrarium with poison dart frogs! The red couch is a photo booth locale with some class and character, and I think we truly gave our guests a wedding they won't forget. We really couldn't have had a better night, and a lot of that is owed to the venue itself.
---
Reviewed on

6/06/2017
Lizzy P
We are SO happy we chose The Rust Belt Market as the venue for our wedding ceremony and reception! This event space and the people that own and run it were a perfect match for our own sensibilities - classy but still down-to-earth, fun and laid-back but still very professional.... Read More Christina (event manager), Chris and Tiffany (owners), Steve (table/chair rental) and our bartenders were all fantastic and very easy to work with. We really appreciated that the space is kind of pre-decorated and offers a lot of built-in amenities (like the bars, stage, A/V, lighting), but has so much more personality than a banquet hall. Our caterer and DJ were also recommendations from the Rust Belt and they were both complete home runs that totally complemented the whole vibe of the venue! If you're like us and want something different than a banquet hall experience, but also aren't interested in DIY-ing every single thing, the Rust Belt Market can't be beat!
---
Reviewed on

2/04/2017
MJ A
The Rust Belt was an eclectic, fun and impressive venue. My husband and I had a blast and received many compliments on how cool the space was and perfect it suited our personality. Planning the wedding was smooth with quick responses from the coordinator and her willingness to... Read More meet when the market was closed so my caterer could see what she had working with. The only hiccup is miscommunication between the coordinator and bartender regarding our paid extra hour of time. Unfortunately we lost out time and money because of this; however, it didn't hinder our overall experience. I highly suggest this space, with the disclaimer to have your contract details handy the night-of, just in case!
---
Reviewed on

11/06/2016
Nicole W
The event space is beautiful, the bartenders provided great service. The owners and event manager are inexperienced and no one checked in with us the days/week prior to our wedding (including not returning messages we had with questions regarding our wedding day), no one checked... Read More in with us the day of our wedding, or even after to see how it went. Complete lack of customer service overall. You're forced to rent tables and chairs from the owner's father who isn't local, isn't helpful or flexible and is rather rude. Luckily it is a pretty and cool space otherwise not worth all the money!
---
Rust Belt is a Quirky Fun Place for a Reception!
Reviewed on

10/18/2015
Andrea B
Tiffany and Chris Best are incredibly accommodating, approachable, and easy to work with! We booked with the Rust Belt and were happy to have found a venue that allows us to choose nearly all of our own vendors (tables/linens need to go through their vendor, all else are open),... Read More with a unique atmosphere! The Rust Belt doesn't provide setup/teardown - this is a DYI situation (unless you hire people to do that) - which was perfect for us! It even worked out that we could come in on Friday to set up instead of Saturday morning, which was super helpful. The weather on the day of our outdoor ceremony didn't just provide rain, but flooding - we had to quickly replan our ceremony for indoors - Chris helped us facilitate the new timing and talking with our vendors. We rented out the bar area with small prep kitchen as well as the venue space, so our total was a little more than the flat rate. Our guests loved having cocktail hour to mingle with the artists, and having a unique venue to enjoy after hours. We loved it, too. I highly recommend if you're looking for a place that will allow you to plan your event your way. It's non-traditional, and that's why it was so perfect for us!
---
Reviewed on

10/16/2015
Natalie M
The Rust Belt was amazing!!! The owners were so wonderful and all of the staff were really accomodating! The reception space was absolutely beautiful!!! I highly recommend this venue to anyone looking for event space!
---
Great Space
Reviewed on

9/29/2015
Ashley W
The Rust Belt's center event space is an great multifunctional open space perfect for wedding ceremonies and receptions. It has a built in charm and DIY feel that will compliment any wedding style. Rental of this space is still in its infancy, but as time progresses, I can... Read More only imagine the space and the Rust Belt's services to improve and excel. It was an honor to use their space.
---