Home

The White Dress
About this Vendor
Your perfect day needs the perfect dress.
You're getting married! We know your head is filled with the details of planning your day. The biggest detail? Where to find the perfect dress! At The White Dress, we make your dress experience fun and stress-free. So book your visit and find out what makes us so special. We can't wait to meet you!
Details
Bridesmaids, Flower Girls, Mothers Fashions, Wedding Gowns
Contact Info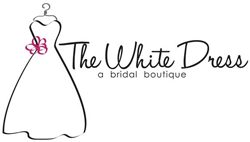 209 W Main St, Brighton, MI
I gave up my appointment at Kleinfeld NYC for TWD!
Reviewed on

6/19/2014
Ciara D
I can't even tell you how many girls recommended The White Dress to me when I got engaged, and now I know why! It's everything you could wish for in a Bridal Salon- a perfect selection of gorgeous designer gowns, reasonable prices to fit any budget, friendly & accommodating staff (I could go on, and on). I couldn't be happier with my experience and my dress purchase!! I booked a trip to shop at Kleinfeld in NYC but after visiting The White Dress I no longer need to go; no other dress will compare!
---
Best Boutique!
Reviewed on

5/15/2014
Courtney H
This shop saved my entire bridal gown shopping experience! I had gone to a shop in Milford before coming to The White Dress. The consultant at the other shop didn't listen to what I wanted, the dressing rooms were so small I could barely get in/out of the dresses, and their overall selection was disappointing. After leaving there I felt completely discouraged. Shopping for your wedding dress is supposed to be fun, right?! Our next stop was The White Dress. As soon as we walked into the boutique I knew I was going to get my dress there. They had SO many dresses to choose from, had GIANT dressing rooms, offered wine to the group, and provided excellent customer service. Kathy was an AMAZING consultant and made me feel completely comfortable. All of the staff was patient as we made our selections as to what dresses I wanted to try on. They even have these really cute pearl beads that you put around every dress you wanted try on (compared to other shops where you just turn the hanger). Not only did The White Dress turn around my bridal gown shopping experience, but I also found THE DRESS. The White Dress was extremely accomodating when it came to purchasing as well, since my dress needed to be ordered over the phone. They took care of all of the details. I would recommend this boutique to anyone shopping for a wedding gown. They will treat you like a princess there and they have such a wide selection of beautiful gowns that anyone would be able to find their dress there.
---
I love The White Dress!
Reviewed on

4/14/2014
Trisha A
The White Dress was awesome.. they helped me so much in finding my perfect gown! I was very indecisive and came in to try on dresses 3 or 4 times and they were supportive and never got impatient with me. All the workers there are SO nice and I never felt rushed in any part of the process. My favorite part about the shop is that they let you take pictures... which is HUGE when deciding on a wedding gown. Other bridal shops don't allow you to take pictures which I did not like. It was important for me to go home, compare all the pictures, then make my final decision about my gown. The lighting was awesome in there and they have chairs for all your guests to sit in while they watch to try each one on. Also, the shop is pink/girly inside and they have a cute little system for picking out gowns to try on.. you add a bracelet to each hanger for the dress you want to try, then they grab them all off the rack for you to try on. Super helpful when you want to try on 10 or more gowns! It also makes the process quicker. They have a wide price range, with dresses only a few hundred dollars on the clearance rack if you are on a budget. Even the most expensive dresses there are still a great price, and they are all great quality. Kristy was so nice and gave great advice to help me choose my gown. I recommend The White Dress to all my friends and family when they ask where I got my dress!!
---
Priceless Experience
Reviewed on

4/25/2015
This salon was first and last stop for my wedding gown. They had so many beautiful dresses, a great array of prices and it was all about me. they let me try on any dresses i wanted! When i found the one, the owner gave us a champagne toast!
---
Love this place!
Reviewed on

4/22/2015
I found dresses for my four bridesmaids at The White Dress. My bridesmaids all live out-of-state, in different places, and were looking for four different, but complementary dresses. One of them wasn't even able to make it into the shop, but we were able to find something beautiful for each of them to wear. Kristy and her team were so helpful and patient, especially when it came to placing orders - which all had to be done over the phone. The shop itself is beautiful, with lush, private dressing rooms that really make the experience feel even more special. I can't recommend this place enough. I only wish that I had known about it when I was looking for my wedding dress.
---
Best Experience....Hands Down!!!
Reviewed on

4/21/2015
Lesley C
I absolutely can't say enough about TWD. I had an awesome time with my mom and two sisters looking for my dress. Prior to going to TWD we went to other local shops in the Ann Arbor/Metro Detroit Area but I just couldn't find what I wanted. I am not a picky bride but I know what I like and will keep looking until I find just that. Well that search ended when I walked in the TWD. From the time we walked in the staff was attentive and the shop was beautiful and inviting. I knew I was in the right place because the dress in the window was absolutely beautiful. I loved the fact that I had my own dressing area which was like our "own suite" within the shop that let us talk and discuss my options as I tried on the dresses. Megan was beyond attentive and a great person to work with. All of the staff members were attentive to my mom and sisters as well which was a great plus for me. After trying on a few I found the one and my little sister even cried lol. Kristy the store's owner was amazing and a great pleasure to work with. Hands down TWD is the place to go! I'm super excited about my big day in September and my beautiful wedding gown from TWD.
---
The White Dress is the perfect bridal shop!
Reviewed on

4/21/2015
Sarah S
The White Dress is such a nice, organized, and friendly bridal shop! Kristy and the staff are absolutely amazing. They answered e-mails promptly and were always there to help and provide information. Unfortunately, I did not find my wedding dress at The White Dress, however I did get my bridesmaids dresses there. Even though I did not buy my wedding dress there, everyone was still so helpful and friendly. I noticed that they had a variety of different dresses. I highly reccommend The White Dress!
---
DREAM Dress Shop
Reviewed on

4/21/2015
Kendra L
I came here on the recommendation of a friend and I am so happy I made the drive to Brighton! The shop is beautiful, spacious, and laid out so you feel you are the only girl in there. The website lookbook and quizzes were great tools to narrow down my choices before my appointment. I was able to walk through the shop and select dresses to try on. I also brought a list of dresses I liked from the lookbook. The TWD-ettes were all knowledgeable and helpful, with other girls stopping in to see if my consultant, (the wonderful, patient Megan!) needed any assistance. I narrowed it down to two very different dresses and the girls recommended that I take a break for lunch before making any decisions. I took their advice and thought about it, then called the store a few hours later and asked to come back to make my final choice. They were very accommodating and fit me in at the end of a busy Saturday. This was the best experience I had trying on dresses. Every person at TWD is helpful, knowledgeable, and not pushy at all. The changing rooms are big, with two curtains so you don't risk flashing your family... (happened at another store, yikes!) and a mirror so you can see yourself before you walk out to your party. Price point is very reasonable, I think their average is $1300 if I remember correctly. Kristy and the TWD staff are amazing at what they do. I would highly recommend this shop to any bride!
---
An overall great place
Reviewed on

4/21/2015
Marina C
I found The White Dress on the Knot and was super excited to go here. It was the first place I had gone to find a dress, and I found the one! All the girls that work there are great and they see what you like and pull out what they think you'll like and one of the girls are actually who found my dress! Very clean and friendly place. Also has GREAT costs! Purchased my dress, veil, headband and a belt for around $2200! Would recommend this to anyone.
---
Forever grateful to The White Dress
Reviewed on

4/21/2015
Andrea Isabel R
I absolutely loved my experience at The White Dress! Everyone was super nice and friendly, plus they have a huge selection of beautiful gowns. I visited several bridal salons, and The White Dress was the only one where I felt comfortable and not rushed. Loved it!
---
Proud TWD Bride!
Reviewed on

4/13/2015
Melissa P
Kristy and her team are amazing. I was fortunate enough to get Kristy (owner) as my consultant. She mad the whole process so easy! She asked questions about my fiancé and our wedding and gave me lots of options to try and listed to why I did or didn't like a particular dress. There was no pressure to buy on my first trip. On my second visit she had both of my choices I had narrowed down to ready in my room. She did great to make me and my group feel really special. She was professional and offered advice. She really went above and beyond trying to find a dress for a jr bridesmaid with some special needs. Thanks to ale ermine and especially Kristy at TWD for making my experience so amazing! Cheers to you!
---
Amazing Experience
Reviewed on

4/09/2015
Aubrey V
I could not have asked for a better dress buying experience than the one offered by The White Dress. The staff is extremely friendly and very knowledgable about their inventory (which offers an excellent selection of dresses!). I had high anxiety going into my appointment and they calmed my nerves as soon as I walked through the door. I look forward to continuing to work with them through the alterations process. I highly recommend this shop!
---
Great Place!
Reviewed on

3/30/2015
Rachael H
I had a great experience at The White Dress. It was the second shop I went too and right away they were super nice, friendly and helpful. It didn't hurt that wine was included during trying on my wedding dress ;) They were very accommodating for when my nephews had to come and it felt like a very personal experience and they were all about you. No one was pushy on making you decide that day, they made sure you picked out what YOU were interested in based on style, etc. I had all my bridesmaids with me and it was a lot of fun!
---
Amazing experience!
Reviewed on

3/29/2015
The girls at The White Dress are amazing! They let you take your time looking over the dresses and picking your favorites, and then treat you and your guests to champagne while you try on the most gorgeous dresses! I worked with Meg and she was so awesome! She helped me in and out of the dresses and gave her input when asked, she even pulled a few dresses that were almost "the one". After deciding on a dress, we stayed and tried on accessories, having a blast! I HIGHLY recommend the ladies here, you will not regret shopping here! It's a wonderful bridal experience and they will fulfill your vision of wedding dress shopping!
---
Amazing Experience
Reviewed on

3/23/2015
The White Dress, is an amazing place to find your dream dress. Everyone is so helpful and friendly. No one was pushy. I felt like I was the only one there and felt so special to find my dress. I would highly recommend The White Dress to find your dress.
---
The White Dress is Amazing!
Reviewed on

3/22/2015
Jessica M
I cannot say enough positive things about my shopping experience at The White Dress! The staff are friendly and knowledgable. They have created a great atmosphere in the store where you feel welcome from the moment you come through the door. I worked with Meg and she had wonderful advice and I was so pleased with my entire experience. This was my first shopping experience looking for my wedding dress so I didn't quite know what to expect. I felt so comfortable working with Meg that a potentially stressful experience turned out to be a completely fantastic experience. I truly never felt any pressure to make a purchase until I wanted to. I very highly recommend The White Dress!!
---
I'm a TWD bride!!
Reviewed on

3/22/2015
Danielle T
Could not be happier with my experience at The White Dress boutique. The place is adorable and the staff is awesome! I really don't have much to compare it to since I found my perfect dress at my first appointment! My consultant lisented to all my thoughts and needs and found me the one! Such a perfect way to make a fun experience perfect!
---
One visit is all you need!
Reviewed on

3/18/2015
Jordan M
This was my first bridal experience, I must say it was a good choice! My friend found this place for me and I had plans to go elsewhere but I took a chance. My bridal expert Meg did a great job she was able to find many dresses that fit my style and price range. I was amazed by all of the options and had a hard time. I was overwhelmed because I had my eye on two dresses. Meg took two dresses I loved and came back with one that fit exactly what I wanted. I must say the service was fantastic and I couldn't have been pleased. The owner Kristy made me feel like a one of a kind bride. Everyone was so warm and welcome. Definitely made this a one of a time moment as I did say "yes to the dress" I'd recommend anyone to take a chance because you will be more than Happy you did. Thanks again Little White Dress and I can't wait to try my dress on again!
---
Everything I Always Dreamed Of!
Reviewed on

3/10/2015
Kayla C
From the moment you call to make your appointment you will be hooked. They sent me reminder e-mails leading up to my appointment, this showed me that they are very serious about their appointments, and it made me feel valued as a customer. I took a whole crew with me for my very first time dress shopping. They were so kind to all of us, making sure we had slippers, anything we needed to drink, and even cake pops! I tried on about 30 dresses and not once did I feel rushed or pressured. During my session we had a private room that was absolutely adorable! Different members of TWD team would randomly pop their heads in and give their input, which was such a nice touch! I just cannot say enough about how awesome they were! I didn't even want to look anywhere else! I ordered my dress and we have a bridesmaid appointment in a couple weeks! They are SERIOUSLY the BEST! :) They sent me the most amazing little packet after I ordered my dress too! If you want to feel like a princess, this place definitely gives you the royal treatment!
---
Found The One!!
Reviewed on

3/09/2015
Alexandrea S
From the moment my girls and I walked into The White Dress it was nothing but genuine women who love what they do (and are great at it too!) I went in thinking I wanted a giant dramatic gown, you know like Cinderella princess style and came out in something totally different from what I expected to love! Kristy helped me find what looked and felt great on my body type and you'd be surprised how good they are at finding THE ONE for you! What you imagine and whats real may become two opposites but they were on point with their customer service not just for me but for everyone who attended with me. While I was getting into a gown, Kristy made conversation with my guests and made everyone feel involved and welcome. Thanks to the whole crew at The White Dress!!
---
Amazing shop with wonderful staff!
Reviewed on

3/08/2015
Jennifer F
I grew up in Michigan, but have been living in Chicago for the past 13+ years. I've visited a number of bridal salons in Chicago over the past couple months, and had found a dress I thought was "the one". Since I had a trip planned to visit my family, we decided to try to find the dress in Michigan. After calling a good number of shops in and around the Metro Detroit area, I found The White Dress, one of two shops in the entire area that carried the particular dress I was looking for. My family lives about an hour away from Brighton, but we decided to make the trip. From the moment I walked in I could tell The White Dress was different. The layout of the shop is so well organized, the staff is absolutely lovely, the dresses are stunning, and the prices are beyond reasonable. The staff quickly realized the style I was looking for, and pulled recommendations that I loved. And I ended up finding a different dress that I liked better than the original one I traveled out to see. However, I was hesitant to pull the trigger as I had another appointment later that afternoon to see another dress I had a lot of heart for. After the second appointment, I was convinced that the dress I had found at The White Dress was the one, but it was already after 3pm and the shop closes at 5pm (and I was about 45 minutes away). We called and Kristy the owner was so accommodating and let us come back in and try the dress on one more time. When we arrived, they had us all set-up again. I tried on the dress and purchased it right then and there! I cannot write enough great things about Kristy and her staff. For any bride looking for a place that makes you feel at home, listens to what you're looking for, and puts absolutely no pressure on you to make the purchase, The White Dress is for you. My family and I still can't stop talking about what a great experience it was, and I'm thrilled to be working with them!
---
Great Experience
Reviewed on

3/07/2015
Brittiny E
This was my first and only shop I went to. I didn't know what to expect but was very satisfied with the service I got. The shop is a boutique setting and very posh. We had a private area, so I was not stepping out in each dress in front of a lot of strangers. My budget was not large but I had pick of the store because all the dresses were priced very reasonable. Overall excellent service from the staff and even the owner helped out. I was treated great and look forward to seeing my dress when it comes in.
---
The only salon you need to visit!
Reviewed on

3/06/2015
Hannah D
Cannot say enough good things about this salon. After visiting a number of bridal salons in Chicago (Ultimate Bride, Weddings 826, among others) I decided to make a trip to MI over the holidays and give The White Dress a try. Before visiting, Kristy was in contact with me and pointed me in the direction of their very helpful pre-appointment guide. My favorite part of this salon is that all the dresses are under $2000. Since my budget was $3000, I didn't have to worry about ever checking a price tag and could have my friends and family pull any dress in the store for me to try on. I had emailed Kristy about one certain dress from the Sincerity collection and luckily they had it in store. I probably tried on 10-15 dresses while my family sipped some sparkling wine, but once I had that dress on I was done looking. My appointment ended up going over the allotment, but the consultant (Kristy's mom, but am totally blanking on her name sorry!) never once mentioned the time and I never felt rushed or pressure to make a decision. Couldn't have asked for a better experience, it was so fun! Too bad I won't get to do this again :-)
---
Amazing Experience!
Reviewed on

2/14/2015
Allie G
My experience at the White Dress in Brighton was amazing! Morgan listened to what I wanted and found me the perfect dress. I was never pressed for time (I think we were there 2.5 hours), she let me try on as many dresses as I wanted, and let me style all the dresses with belts, jewelry, veils, etc. I wanted try on different styles to see what looked good on my body, and ended up finding my dress after trying 5 on! I would recommend The White Dress to everyone! Great place with a wonderful staff!
---
Amazing Experience!
Reviewed on

2/04/2015
Kayla T
I absolutely loved my experience at The White Dress! I was there for a few hours looking for the perfect dress, tried on probably at least 15-20 dresses, and they were just as enthusiastic about putting me in dress #20 as they were putting me in #1! Once I decided on THE dress, they brought out the champagne and we did a toast to the occasion! It was so much fun. They were very helpful, listened to my needs, were honest with me, and helped me stay within my budget. I have recommended them to every newly engaged lady I know! :)
---
Send Email