Home

The White Dress
About this Vendor
Your perfect day needs the perfect dress.
You're getting married! We know your head is filled with the details of planning your day. The biggest detail? Where to find the perfect dress! At The White Dress, we make your dress experience fun and stress-free. So book your visit and find out what makes us so special. We can't wait to meet you!
Details
Bridesmaids, Flower Girls, Mothers Fashions, Wedding Gowns
Contact Info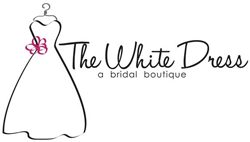 209 W Main St, Brighton, MI
I gave up my appointment at Kleinfeld NYC for TWD!
4/18/2015
Ciara D
I can't even tell you how many girls recommended The White Dress to me when I got engaged, and now I know why! It's everything you could wish for in a Bridal Salon- a perfect selection of gorgeous designer gowns, reasonable prices to fit any budget, friendly & accommodating staff (I could go on, and on). I couldn't be happier with my experience and my dress purchase!! I booked a trip to shop at Kleinfeld in NYC but after visiting The White Dress I no longer need to go; no other dress will compare!
---
Best Boutique!
10/04/2014
Courtney H
This shop saved my entire bridal gown shopping experience! I had gone to a shop in Milford before coming to The White Dress. The consultant at the other shop didn't listen to what I wanted, the dressing rooms were so small I could barely get in/out of the dresses, and their overall selection was disappointing. After leaving there I felt completely discouraged. Shopping for your wedding dress is supposed to be fun, right?! Our next stop was The White Dress. As soon as we walked into the boutique I knew I was going to get my dress there. They had SO many dresses to choose from, had GIANT dressing rooms, offered wine to the group, and provided excellent customer service. Kathy was an AMAZING consultant and made me feel completely comfortable. All of the staff was patient as we made our selections as to what dresses I wanted to try on. They even have these really cute pearl beads that you put around every dress you wanted try on (compared to other shops where you just turn the hanger). Not only did The White Dress turn around my bridal gown shopping experience, but I also found THE DRESS. The White Dress was extremely accomodating when it came to purchasing as well, since my dress needed to be ordered over the phone. They took care of all of the details. I would recommend this boutique to anyone shopping for a wedding gown. They will treat you like a princess there and they have such a wide selection of beautiful gowns that anyone would be able to find their dress there.
---
I love The White Dress!
9/20/2014
Trisha A
The White Dress was awesome.. they helped me so much in finding my perfect gown! I was very indecisive and came in to try on dresses 3 or 4 times and they were supportive and never got impatient with me. All the workers there are SO nice and I never felt rushed in any part of the process. My favorite part about the shop is that they let you take pictures... which is HUGE when deciding on a wedding gown. Other bridal shops don't allow you to take pictures which I did not like. It was important for me to go home, compare all the pictures, then make my final decision about my gown. The lighting was awesome in there and they have chairs for all your guests to sit in while they watch to try each one on. Also, the shop is pink/girly inside and they have a cute little system for picking out gowns to try on.. you add a bracelet to each hanger for the dress you want to try, then they grab them all off the rack for you to try on. Super helpful when you want to try on 10 or more gowns! It also makes the process quicker. They have a wide price range, with dresses only a few hundred dollars on the clearance rack if you are on a budget. Even the most expensive dresses there are still a great price, and they are all great quality. Kristy was so nice and gave great advice to help me choose my gown. I recommend The White Dress to all my friends and family when they ask where I got my dress!!
---
Amazing Experience!
9/26/2015
Allie G
My experience at the White Dress in Brighton was amazing! Morgan listened to what I wanted and found me the perfect dress. I was never pressed for time (I think we were there 2.5 hours), she let me try on as many dresses as I wanted, and let me style all the dresses with belts, jewelry, veils, etc. I wanted try on different styles to see what looked good on my body, and ended up finding my dress after trying 5 on! I would recommend The White Dress to everyone! Great place with a wonderful staff!
---
Amazing Experience!
6/27/2015
Kayla T
I absolutely loved my experience at The White Dress! I was there for a few hours looking for the perfect dress, tried on probably at least 15-20 dresses, and they were just as enthusiastic about putting me in dress #20 as they were putting me in #1! Once I decided on THE dress, they brought out the champagne and we did a toast to the occasion! It was so much fun. They were very helpful, listened to my needs, were honest with me, and helped me stay within my budget. I have recommended them to every newly engaged lady I know! :)
---
This is the Place to go!!!
8/22/2015
Rachel V
I could not say more positive things about The White Dress, "TWD". From the second I walked in to the second I walked out it was nothing but positivity and great customer service. I would recommend TWD to anyone and everyone looking for a gown. I went to a few other salons and this was the best in terms of EVERYTHING. They greet you when you come in with smiles and they never pressure you to do anything. My first appointment lasted 1.5 hours and I never felt rushed once, my consultant, Kristy, was AMAZING! She urged me to come back a second time instead of making a decision right then and there. When I did come back the second time, I felt very welcomed and they remembered who I was. I ended up spending 2.5 hours there! and again never felt rushed. I bought my dress from them and am still dreaming about it. This is the place to go if you want that bridal experience from start to finish, they make you feel like you are part of their TWD family and encourage you to make the best decision for you. And when you do buy your dress it's like they are one of your best friends, they are as happy about your happiness as your family is. I could go on and on about how great The White Dress is, but until you go in yourself you will not know the true extent of it. Don't waste time! Call and make an appointment now! You will not be disappointed!!
---
The BEST!!!
7/18/2015
I feel in love with The White Dress the moment my mother and I walked through the door. Everyone was so nice and helpful and Kristy was awesome. I knew this was the place I was going to find my dream dress and I did...I actually found multiple dream dresses and had to come back a second time to decide, which was just as awesome an experience as the first. My bridesmaids also had a blast looking for and trying on their dresses at TWD. There were so many to choose from without having so many you are overwhelmed. I wouldn't recommend any place else to any bride or bridesmaid. It was so much fun!!! I have been in many bridal shops over the years at TWD is the BEST!!!
---
Best place to buy a wedding dress!
5/25/2007
Shannon S
I had gone to five other wedding dress stores besides TWD and Kristy and the girls at The White Dress (TWD) were by far the best!! TWD has a beautiful variety of dresses and very friendly owner and staff. I had gone to TWD originally with my matron of honor to pick out her wedding dress and loved their service, so I decided to go there when I got engaged. So when my appointment came I was stuck in traffic in Ann Arbor and running late for my appointment (the last of the day) but the store stayed open. Kristy was fantastic and very helpful. I tried on many gorgeous dresses but did not end up buying a dress that day. I found a wedding dress at another store that had horrible customer service, so I decided to purchase it through TWD as they could order the dress as they carried the designer but didn't have that particular dress (though they had something similar). TWD does a great job with alterations and I highly recommend the store to purchase any dress! I can't wait to wear my dress on 6/27/15!
---
Great bridal salon!
11/13/2015
Katherine S
This shop was everything I wanted in finding my perfect dress. Meagan took care of us and we all had a blast. They have lots of dresses in different styles and she was able to help pull dresses we missed after she started to get a feel for my style. Even the most expensive dresses were reasonable. I got my dress on sample sale! The fitting area is classy and fun with lots of room and enough privacy for each group. They also have lots of accessories and bridesmaid dresses. They offer discounts on these once you are a TWD bride, and will store/steam/press your dress prior to the big day.
---
Perfect Little Details
6/12/2015
Danielle N
Kristy and her team at The White Dress were simply amazing. They've thought of every detail and truly made the experience so special for my guests and myself. We had a private viewing room with water and champagne. Her pearl ring process is so simple to follow. And, she even made some really beautiful recommendations. Furthermore, TWD team has been so kind by mailing me sample swatches of my dress fabrics, and even a little gift I won during their anniversary celebration. TWD gowns are beautiful - there's something for every brides style and budget. I highly recommend TWD - it's an experience you won't forget.
---
Look No Further!
9/26/2015
Katy K
I cannot say enough great things about Kristy and her staff at The White Dress. I went to a few other bridal boutiques that were a bit closer to my home before I made my way to TWD, and started becoming very frustrated and discouraged by these other stores - cramped stores, pushy staff members, high prices, etc. I had read the great reviews about TWD, so I figured I would give it a chance even though it was a bit far for me and how glad I am that I did! Their dresses are all out (not in bags) so you can actually see them, they let you (and your party) go through all of the dresses and pick what ones you'd like to try on (I ran into some boutiques that wouldn't let you?!), and then you get a private room for just you and your group. It was AMAZING! We had such a great time that we weren't paying attention to the time and ran over our appointment time by about 20 minutes - and the staff (we were working with Alex who was amazing) was not concerned or trying to push us out for even a minute. I did leave my first appointment without buying a dress - but at no fault of TWD - I just couldn't make up my mind! I did end up finding a dress I really liked at another store but did not have a great experience there and knew I wanted to purchase my dress through TWD. I called TWD to see if they happened to have the dress I was interested and thankfully they did! I spoke with their receptionist Marissa who was amazing and helped me order the dress. I then came in and worked with Kristy, the owner, directly to be measured and order the dress. I would highly, highly recommend The White Dress to anyone looking for a great selection of dresses at great prices at a super friendly boutique!
---
love this store!
9/19/2015
Ellen K
I bought dress this weekend from the white dress!! I loved the store! I worked with meg and she was great. They had a lot of gorgeous dresses that were within my budget, which was fantastic. This was a great store!!
---
Amazing experience
5/16/2015
Kathryn C
The White Dress is where I found my perfect gown and they truly created the perfect bridal dress shopping experience for me. The shop itself is gorgeous and the bridal consultants were professional yet fun and were extremely knowledgeable. I never felt pressured or overwhelmed at The White Dress which were the two biggest negatives I found shopping at other bridal gown locations. I would highly recommend The White Dress to anyone who wants a fairytale dress shopping experience.
---
Best place to find your wedding dress
10/10/2015
Lauren F
The White Dress made finding the perfect wedding dress into a truly amazing day. Their shop is not only beautiful, but you are given personal attention from the minute you walk in. Every bride is given a private room for her and her guests with a personal stylist.. even complimentary champagne! The staff is wonderful and they go out of their way to make wedding dress shopping a positive experience for every bride. It is clear that they really care about their customers.
---
AMAZING!!
6/06/2015
Cassandra F
Simply amazing! I found my dress here! Courteous, knowledgeable, friendly, helpful staff. Large selection of gorgeous dresses in many different silhouettes. And so many accessories to choose from too! My entire experience at The White Dress was perfection! I cannot wait to go back for my first fitting!
---
GREAT PLACE
8/15/2015
Anne K
This place is great!! The White Dress made it SUPER easy, with just about every question you could think of answered on their website!! They have so far done a fantastic job..( I still have to do my fittings) but I have no worries. The owner actually peeked her head in to see how everything was going, and sat down and went over the paperwork with me!! Also, you only have to put half down on the dress (unless it's a sample sale dress the it must be paid in full), the other when it comes in.. soo many perks here, free storage of the dress, free steamings and pressings, free storage bag and hanger.. Where else can you get this kind of service?? I highly recommend this place.. at the very least check out their website and hopefully you will not miss out on the royal treatment we all want when picking out the most beautiful dress that you will probably only wear once!
---
The Best!
9/06/2015
The White Dress in Brighton was absolutely the best place we had all day long (and it was a long day before TWD). The atmosphere, selection and experience was exactly how I pictured it to be....and when I found "The Dress" we got to celebrate with wine and champagne. Now who wouldn't love that?! The staff was so fun and welcoming. Thank you TWD for the unforgettable day :)
---
I loved this store
9/26/2015
Kimberly C
Everyone there was so helpful. They really went the extra mile to help me decide on the perfect dress for me. They stayed late to help me, as I'm a bit picky and indecisive. They were wonderfull.
---
The White Dress is THE BEST!
9/27/2017
Alyssa B
If you're looking for staff that LISTENS to what you have in mind, vast selections of any dress style you can imagine, and impeccable service not only for you, but your bridal entourage as well - THIS IS YOUR PLACE! I went in open minded not entirely sure what I was looking for, this is the best advice I can offer brides as they search for their dress. My consultant was Meagan, she was fantastic. While she was fun and detailed, she also listened to exactly what I envisioned for myself. I pulled my own ideas from their racks, but it was actually her pick that was the one. I couldn't be more in love with my dress and I am over the moon confident in my choice not only in dress, but boutique as well. The boutique itself is modern, clean, and just lovely in general. All of the staff is knowledgeable and friendly. You can't go wrong visiting this shop. I am so thankful for their help and guidance, without them I can see it being an extremely overwhelming experience. I am SO excited for my future fittings and for the final product. They truly know how to make you feel special for your special day! Thank you so much The White Dress! You're Amazing!
---
Indecisive Bride
8/01/2015
Lillian S
I am a bride that is horrible at making final decisions. Choosing a wedding dress was no exception. However, Kristy and the rest of the staff were wonderful. Kristy was laidback, helpful, and you could tell she really wanted you to find the dress of your dreams. I never felt like I was being rushed or that I was being pushed into purchasing a dress. Kristy allowed me to retry on dresses so I was comfortable with my decision. We were even provided with wine and champagne to make the experience seem more like a celebrate and experience. I would highly recommend The White Dress to any bride, especially with Kristy as a consultant.
---
The White Dress
7/11/2015
As an excited bride to be to be, I felt The White Dress did an amazing job helping me! I brought in my sister and mother for the first visit to feel things out. I loved a handful of dresses so I brought my bridal party, plus grandmother, and my aunts for the second round. They did a great job accommodating such a large group. Shout out to Morgan she did a fantastic job both times I went in!!
---
The BEST bridal experience! Highly recommended!
5/24/2015
Colena M
I found my perfect gown! I could not be more happy to call myself a TWD bride! The whole experience was absolutely amazing. The girls were so patient and helpful throughout the entire process.This bridal boutique has so many dresses to choose from. The dressing rooms are private and large enough to hold your entire group. My bridal party showed up before our appointment to look at the different bridesmaid dresses they had in store. The staff was so kind to assist us outside of our appointment time. The experience was so lovely my bridesmaids decided to order their dresses at the TWD as well. This place is awesome! You will not be disappointed with TWD! :)
---
Great Experience!!
8/08/2015
Kelly M
Highly recommend The White Dress!!
---
The White Dress
6/20/2015
Melodie C
Overall, I had a very good experience. My consultant was very friendly and helpful. She respected my price range. Everyone was very warm and welcoming. My only issue was, when I went back to order the dress, they no longer had my measurements. Being long distance - this created a bit of an issue. However, it all worked out in the end. The White Dress Bridal Boutique is wonderful!
---
Bridal Gown from The White Dress
5/24/2015
I highly recommend buying your wedding gown from The White Dress! Their dresses are the nicest and most elegant compared to all the other bridal stores I visited and they have amazing customer service. They are extremely professional, patient, flexible and will make sure you are happy and satisfied!
---
Send Email