Home

The Wigwam
Book Your Wedding with The Wigwam
---
A BALLROOM IN LITCHFIELD PARK, AZ
About Us
Located on the site of a former cotton ranch, The Wigwam is an upscale resort in Litchfield Park, Arizona, that offers lavish amenities and a relaxing environment. In addition to an on-site spa, the historic property also includes 440 acres of land, upon which 8,000 rose bushes, a golf course and a 25-foot high water slide grace the landscape. Offering entertainment venues both inside and out, the resort is able to accommodate an array of wedding celebrations, such as a ceremony, reception, cocktail party, rehearsal dinner and a shower.
Below are a few details about three of the main indoor event venues offered at the resort.
The Wigwam Ballroom. Able to hold as many as 500 guests, this elegantly grand ballroom is an ideal spot to host an indoor reception. Featuring high ceilings and space enough for an oversized dance floor, both sit-down dinners and buffet-style gatherings can be easily accommodated in this room.
Sachem Hall. This intimate area has a built-in stage that can be used for a DJ, live band or perhaps a few wedding toasts. Opulent chandeliers dangle from the 15-foot high ceilings, giving the room a touch of romance for a reception dinner. Opening onto an outdoor terrace, guests may gather outside before the reception for a few cocktails.
Mohave Ballroom. Contemporary in design, this room is set up with a few dramatic lighting fixtures to help give events a unique charm. Wedding receptions held in this space can accommodate up to 300 guests.
What You Should Know
In addition to the above-mentioned venues, the Wigwam also features a number of outdoor spaces that are ideal for both ceremonies and receptions. These include large lawns and private terraces. There are likewise additional indoor spaces available for smaller gatherings and parties. Couples interested in these areas should contact the facility for further details.
There are a number of packages offered at the resort for both ceremonies and receptions. Included in all reception packages are the following essentials:
Linens and napkins
Round banquet tables and chairs
Dance floor
Entertainment tables
A head table
Guest book table
Gift table
Cake table
Hors d'oeuvres are included in three out of the four reception packages, as is a champagne toast. These hot and cold appetizers include items like mushroom profiterole, smoked salmon and orange peel beef satay.
Catering is taken care of at the resort and a number of entrees are listed on the reception dinner menu. The plated dinners all include seasonal vegetables, artisan breads and rolls, water, coffee and gourmet tea.
There are many bar options available for receptions and these vary with each package. No outside alcohol is permitted on the premises. A labor fee is charged to the couple for each bartender used at an event. The resort offers both call and premium brands of liquor, as well as ultra-premium choices. There's domestic and imported beer and an extensive wine list featuring various whites, chardonnays, merlots, pinot noirs and so on.
Extra Perks
A few enticing perks offered at The Wigwam include:
Complimentary overnight accommodations for bride and groom (reception packages only)
Provisions for inclement weather
Private changing rooms for wedding party
Wedding cake (reception packages only)
Complimentary iced tea during dinner (must request)
Tasty late-night snacks, like s'mores, mini cupcakes and a variety of sliders
Luxurious add-on packages, like a bridal spa day, a groom's golf package and fireworks display (extra fees)
From the Vendor
Rediscover The Past When You Start Your Future
Eight decades of romance leave a mark on a place. At The Wigwam, love is always in the air--along with the scent of 8,000 rose bushes and the sweet, fresh-cut fragrance of our new wedding lawn. Enjoy superb on-site amenities including a Red Door Spa, three golf courses, four pools and unique dining.
Amenities + Details
Amenities
Handicap Accessible

On-Site Accommodations

Indoor

Reception Area
For more details about amenities, please message the Venue.
Ballroom, Historic Venue, Hotel
Bar + Drinks, Cakes + Desserts, Food + Catering, Planning, Rentals + Equipment, Service Staff
Contact Info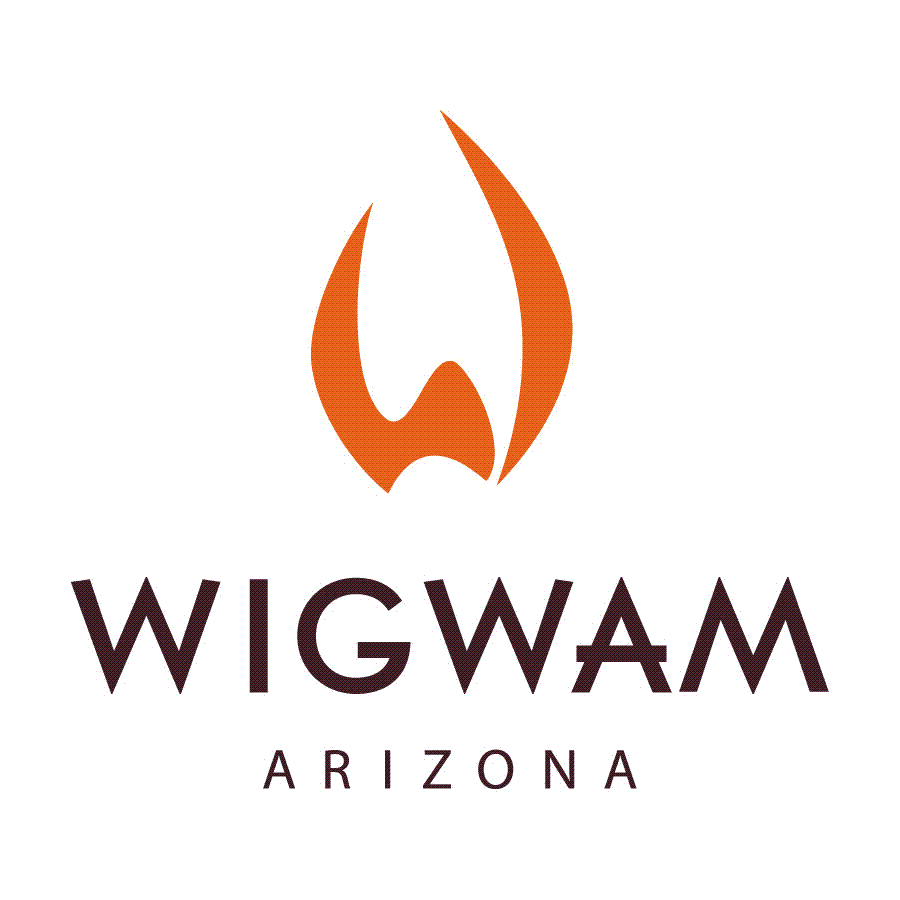 I got married at the Wigwam
Reviewed on

5/29/2012
Margo K
I would highly recommend this resort for your one-stop wedding needs. From the food to the cake to the ceremony area to the reception area, Carrie Pulos-Huerta is absolutely amazing. I supplied her with the floral arrangements and favors, and when we arrived at the reception... Read More terrace, it was everything I had imagined and more! The whole staff was very personal and accommodating, and made us feel very welcome. My husband and I have vowed that we will go back to the Wigwam every year to celebrate our anniversary.
---
Review for Wigwam Golf Resort and Spa
Reviewed on

5/10/2010
Ashleigh B
Beautiful backdrops for pictures.;Book early!
---
Review for Wigwam Golf Resort and Spa
Reviewed on

5/10/2010
Dolores M
Everything was absoultely perfect, from the food to the event planner that we worked with from the wigwam!
---
Reviewed on

2/19/2018
Matthew K
Ceremony: We had our ceremony in the trellis garden and it was magnificent. The flora around the garden was well kept and beautiful. It was the perfect setting for our sunset wedding as the sun set directly behind the altar. There was a few patches of mud towards the back, but... Read More this was easily avoided. Reception: The Mohave Ballroom was the location of our reception. The room was perfectly located next to bathrooms, near the ceremony, and near the main parking lot if guests wanted to leave early. It fit our 100 guests easily and could have fit 50 more. The room did get quite warm, even in December, and we had to constantly have the doors open to cool the room down. Wedding Coordinator: Kristine Lowe was our wedding coordinator for a short time (as the previous coordinator no longer worked for the Wigwam), but our time with her was excellent. She was efficient, communicated well, punctual, and saw to our every need. She waited in the cold for our late rehearsal members patiently, brought super glue to the bridal sweet for emergency dress repairs, assisted groomsmen with placing boutonnières, made sure our cards and gifts were delivered to our room for the wedding night safely and securely, and assisted with day of setup for ceremony and reception decorations. She was an invaluable asset to our wedding day. Service Staff: The service staff were awesome. They were efficient, unobtrusive, and saw to all of our guests needs quickly. Food, cake, and champagne was brought to every guest. The bartender was cordial and made sure the groom (and the father of the bride) got the good scotch. INSERT NAME HERE made sure the bride and groom always had a drink in our hands. Room Blocks: Booking with the Wigwam was easy and cost effective. All our guests who booked with our wedding block received a significant discount on the room rate. Rooms were clean and guests were never roomed too far from the festivities. The get ready rooms for the bride and groom were beautiful. The bride's room had a plumbing issue, but once reported, she was immediately upgraded to a three-bedroom casita that was gorgeous. We also had a congratulations card, champagne on ice, and chocolate covered strawberries in our room on the wedding night.
---
Reviewed on

4/04/2016
Molly E
We absolutely fell in love with the Wigwam the first time we saw it. We held both our ceremony and reception there. Working with Allison the coordinator was easy and she was so helpful! She is very quick to respond to questions that I asked her and she made it such a stress free... Read More experience! Many of our guests stayed at the Wigwam and they raved about it as well. Definitely worth the money to hold your wedding and reception at this gorgeous southwestern venue!!
---
The Venue of Our Dreams!
Reviewed on

4/25/2015
Chelsea B
My husband and I were married at The Wigwam in March 2015 and it was absolutely perfect! We wanted a venue that had everything to offer and The Wigwam had it all! When we first went to The Wigwam, we met with Allison who was so upfront and a wealth of knowledge and information.... Read More We decided to book with her immediately! Allison and the entire Wigwam staff was amazing to work with! My husband and I live in Illinois and had to plan our wedding from afar. Allison was so incredible to work with and was so prompt in responding to emails or phone calls about anything and everything we needed to talk to her about. The food was amazing and the staff was so accommodating! We cannot recommend The Wigwam enough! All of our friends and family commented on the amazing venue, service, and all around atmosphere of The Wigwam. We are still getting compliments on everything. My husband and I are so happy we chose to get married at The Wigwam. It was a perfect venue for a perfect day! :)
---
Loved My Wedding Day
Reviewed on

10/27/2014
Jodie M
Hi Allison, OMG! Dave and I can't thank you enough for all the hard work you and your staff did to make our wedding day perfect! It exceeded our expectations and we couldn't be happier about the whole experience. It went so smoothly and it was so beautiful!! We... Read More definitely impressed our guests too! :) Everyone loved the resort, and couldn't say enough great things about their experience at the resort and the wedding. Everyone thought the entire event was well organized and they all loved the food! Dave and I will definitely be back, we're talking about making this our 'staycation' location every few months! Thanks again Allison. We hope to stay in touch! Next time were out there we'll stop and say hi! Thanks, Jodie and Dave
---
Allison---You are the best!!!
Reviewed on

10/23/2014
Abby W
I literally can not even count how many times I have emailed Allison over the last 11 months while planning our wedding. She always was very responsive and had answers. The day of the wedding she constantly was available. She kept our wedding organized and running smoothly... Read More The quality of the food was perfect! Our guests absolutely loved the Mexican food buffet that the Wigwam provided. The banquet staff were attentive to our guests. Overall, I would have to say our wedding was exactly what we wished for. Thank you so much Allison!
---
Fairy tale reception
Reviewed on

6/16/2014
Lori D
The venue and the wedding planner exceeded my expectations. The room was beautiful, the service was exceptional, and all my guests were blown away by the resort as a whole. I had many out-of-town guests and they received a discount for staying on property. Our suite they... Read More provided to us the night of the wedding was huge and newly renovated. Everything about this venue was above and beyond my dreams.
---
Mostly great!
Reviewed on

2/04/2014
Lauren P
The Wigwam did a MOSTLY great job with our wedding! Unfortunately, they did not order enough of our requested beer and had to make a last-minute switch, which we were assured we would not get charged for, and did. Other than that, it was a perfect day!
---
Wedding at the Wigwam
Reviewed on

11/20/2013
Abigail F
My husband and I had a tented reception on the front lawn of the Wigwam in October, and we could not have been happier with how everything turned out! With many guests coming from out of town, we also booked a block of rooms at the resort and hosted a Friday cocktail hour and... Read More Sunday brunch on site. I cannot tell you how absolutely WONDERFUL the entire weekend was and how great it was working with The Wigwam! Our guests loved the location so much, many asked if they could move in! All weekend the food, drink, atmosphere, and service were spot-on and created an unforgettable event for ourselves and our guests. Special props to catering and customer service-we had very particular menu requests and our reception food and wedding cake turned out DELICIOUS. The staff was exceptional with our rowdy 150+ crowd, helping with everything from golf cart escorts, to misplaced purses, lost jewelry, and any number of odd requests throughout the weekend. I would highly recommend The Wigwam as an event location or just a beautiful resort for a weekend away. We'll certainly be celebrating anniversaries there!
---
wedding/reception
Reviewed on

10/24/2012
NORMA R
I did not have very good communication with the wedding coordinator from the beginning at the Wigwam. They booked another wedding during my wedding ceremony time slot without checking or asking me first. Then they moved my ceremony site to a different location. I really did... Read More not feel like I was an important client to them. I would have changed venues however deposits were already made. I can only say that the Wigwam reception and dining staff did their best to make our reception a beautiful evening. Overall I would not recommend this venue to anyone.
---
Disappointed...
Reviewed on

6/18/2012
Alanna E
We used this hotel as our wedding night hotel location. Since we got married in the west valley we wanted to stay at a resort that was fairly close to our location. We have heard great reviews about the Wigwam in Litchfield Park; unfortunately, we did not have the same... Read More experience. When my husband arrived to check in earlier in the day the concierge yelled at him and the manager came over and reprimanded him then pulled him from his station right in front of my husband. A little unprofessional, but whatever. As a consolation they said they would send a bucket of beer up for the groomsmen to enjoy, which was great, but it did not arrive for an hour and a half which was just as everyone was leaving for the wedding. It was still a nice gesture. We opted to not get a suite since we would not be arriving until late and would be leaving in the morning. The rooms were extremely stark- only two small pictures on the wall, and there were no lights when you walked in so we were fumbling around in the dark that night trying to turn a light on. One of the lights was also broken by the bedside. The pool area is beautiful and we had a great balcony view of it from our room. Our biggest annoyance was housekeeping knocking on the door at 8am the next morning to ask us what time we were checking out…. I can honestly say that has never happened to me at any hotel before. We were tired and my husband was very irritated that they woke us up to ask us this. He spoke to someone downstairs when we checked out about it and were told that a manager would call that week to discuss the situation, but we never received a call. We has such high hopes for this hotel based on the beautiful grounds but the customer service and room amenities could definitely use some work.
---
Wedding at the Wigwam
Reviewed on

9/21/2011
Mitti F
The location is what sold us on this property for our Wedding. The service we received was good not great reason being the day of the Wedding I had to correct things that I should not have had to correct such as the groomsman and grooms ready room being right across the hall... Read More from our ready room. The cake was not what we expected from the picture we sent to the pastry chef. Overall we enjoyed our day.
---
Site was gorgeous, but...
Reviewed on

6/28/2010
Lisa G
I loved the property and they had beautiful areas for picture taking and the rooms were so nice, but we definitely had a lot of stress with doing the wedding here. The coordinator was very difficult to get ahold of when I had questions or wanted to schedule a meeting and at one... Read More point she even changed her email and did not notify me. I found out by receiving an undeliverable message and then had to google her to find out what the new email was since I could also not reach her on her office phone. We thought the property was going bankrupt and closing, but we decided to stick it out to be told that we were basically "out bid" for the ceremony site we wanted to use. We received a discount for changing sites so I got over that, but then day of the wedding the wedding coordinator was nowhere to be found until right up when the ceremony started. I had to send bridemaids out to make sure the ceremony was set up correctly and to shoo away the DJ when he mistakingly started to set up to play the ceremony music. Also, the front desk was not aware of my wedding going on at one point and told some of my guests that they showed no record of my wedding and some of the guests wandered around before finding the wedding site. At the end of the night we received a FANTASTIC suite to spend the wedding night in and enjoyed a great breakfast the next morning. Overall the day here turned out nice, but getting to that point was very stressful.
---