Home

Thornberry Creek at Oneida
Amenities + Details
Amenities
Handicap Accessible

Liability Insurance

Indoor
For more details about amenities, please message the Venue.
Ballroom, Country Club, Park, Restaurant, Tented
Food + Catering, Planning
Contact Info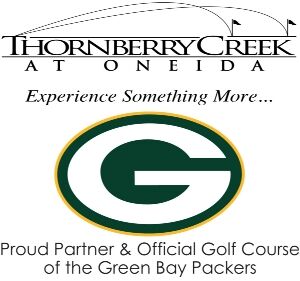 Reviewed on

10/11/2017
Kayla S
Having our wedding reception at Thornberry was the best decision we made! They made everything so special for us and the process was effortless. They really took care of everything, leaving us with no worries what so ever. I highly recommend this place!! The venue was also... Read More absolutely stunning!
---
Reviewed on

9/03/2017
Anna L
TC is amazing!! The venue turned into being my complete dream! All our gueats raved about how beautiful TC is! We couldn't have asked for a better staff helping!! Donelle was incredible at helping and answering all our questions (my 100s of annoying questions haha) and putting... Read More my vision together! The food was delicious and beautiful! We had a little changing around to do last second and TC accommodated it so easily and with no fuss. Everything was perfect! We are so happy we picked TC.
---
Wedding Reception Venue
Reviewed on

7/28/2015
Katrina W
This venue is a fabulous choice if you are looking in Green Bay. This venue is gorgeous, with its exposed brick and natural lighting. The food is incredible, and we received so many compliments on it. Donelle Walters is so fabulous to work with, and makes the reception planning... Read More process painless. The communication is prompt, and every portion of the planning was organized and upfront. If we did it all again, we would go with Thornberry Creek at Oneida every time.
---
Beautiful Place, Hardly Need to Decorate!
Reviewed on

12/30/2014
Adam S
We are very happy that we selected Thornberry Creek for our wedding reception for so many reasons... great food (we received lots of compliments from our guests), beautiful place that required hardly any decorating, excellent staff to work with (thanks, Donelle!), and not... Read More over-priced. Would recommend to any couple looking to book a Green Bay area wedding.
---
Absolutely Beautiful
Reviewed on

7/25/2013
Michelle L
I absolutely loved this place for my wedding. The venue is gorgeous. We didn't have to do much decorating to the room. The food was amazing. Many of our guests said that it was some of the best food they had at a wedding. We had our wedding on a Friday, which gave us some... Read More great deals! My brother is thinking about using this place as well.
---
Perfection and Beautiful
Reviewed on

7/11/2013
Allison W
The food was simply amazing- everything from the taste and flavor to the presentation. All staff was professional and polite. The director/manager of the events at this venue is an absolute pleasure to work with and she is second to none. The day was everything we wanted and... Read More more. They took care of all of our details for us and even set up all of our decor for us so myself and my family did not have to before the wedding. The ballroom is beautiful on its own- so many windows with fantastic natural lighting.
---
Amazing Service
Reviewed on

11/18/2012
Kelly C
We loved the staff at Thornberry. They did an amazing job and went out of their way to make our day special. I felt their prices were very reasonable for the quality of their food and service. The food was delicious, not like your typical re-warmed wedding food. Only complaint... Read More is their prices were a little hard to plan for due to various fees and charges, however these are clearly stated in their menus and information provided. Loved working with them though and felt everything went very smooth!
---
Wedding review
Reviewed on

8/21/2012
Ashley S
We could not have been happier with Thornberry. Not only is the venue beautiful and unlike anything else in the area, but the food is truly amazing, and the contact there could not have been more helpful and friendly. I would recommend this venue to anyone!
---
Just perfect
Reviewed on

8/16/2012
Jennine R
Donnell is perfect to work with she is so patient considering all the questions I asked her. The landscaping and scenery of Thornberry is beautiful and the reception room will work with most color schemes for your wedding. The food and the presentation of the food was... Read More AMAZING! We served salmon, pork and chicken. We were completely happy with the way our reception turned out and looked.
---
Absolutely Amazing and Super Affordable!
Reviewed on

7/16/2012
Brooke H
My husband and I are so glad that we chose Thornberry as our reception venue. In the planning stages, Donelle and the rest of the staff were VERY accommodating to our every need and never found us to be a bother with our millions of questions. The food is AMAZING and since we... Read More were married on a Friday we received wonderful extras that weren't just "throw in freebies" but amazing add-ons. We had about 175 guests and most of them were still there at the end of the night because the atmosphere was so amazing. The staff on the day of were so attentive and accommodating. If you are looking for an absolutely fantastic venue at a very reasonable price, Thornberry Creek is the place you want to be!
---
Absolutely Wonderful
Reviewed on

10/16/2011
Sarah S
I could not have asked for a more wonderful reception venue. The staff was amazing, the food was amazing, Donelle was amazing, EVERYTHING was AMAZING! My husband and I selected Thornberry Creek because it had everything we were looking for. This location is very contemporary... Read More without all of the gawdiness that many hotel ballrooms have. The space is so large that it made it easy for our guests to move around and mingle without feeling crowded. The food was spectacular and our guests are still talking about it. Not to mention the complimentary tray passing of our hors d'oeuvres. Thanks again for everything, Donelle! I would recommend Thornberry Creek to anyone looking for a reception site.
---
Beautiful
Reviewed on

8/31/2011
Keelyn K
The facility was beautiful and food was amazing. We had so many complements on the venue.
---
Fabulous!
Reviewed on

9/13/2010
Denise H
I selected Thornberry Creek as our reception site due to the gorgeous hall and great windows overlooking the golf course. During the process, the catering manager was a ton of help and never hesitated to offer assistance with anything I needed. We had plated meals and served... Read More our cake as dessert right after dinner. We also had appetizers before dinner and pizza in late evening. Everyone complimented on how fantastic the food was. The hall was set up beautifully and the day turned out perfect! I couldn't have asked for anything better!
---
Thornberry
Reviewed on

9/13/2010
Lindsay W
Thornberry creek is a gorgeous location with super reasonable prices. Donelle, the on-site coordinator, is incredible. I was planning my wedding out of state and she made my life 100xs easier. She had every detail covered, was quick to respond to any questions and was so... Read More sweet the whole way through. Thornberry also has some awesome friday wedding incentives!
---
Classy
Reviewed on

5/21/2010
Laura R
Thornberry set the whole atmosphere for the wedding reception. The food was delicious! We ended up having a few people show up who did not RSVP and the staff was very accommodating towards the guests. They were very friendly on the day of our wedding and got us anything we... Read More needed. They were amazing before the wedding. We were on the phone with Thronberry almost every weekend before the wedding and they were very helpful and patient with our questions. They knew exactly what would work and what didn't.
---
Review for Thornberry Creek Country Club
Reviewed on

5/10/2010
Anessa B
The contrast between the cream colored brick and dark wood was beautiful. The room we used over looked the golf course.
---
Review for Thornberry Creek Country Club
Reviewed on

8/28/2007
Rachael S
The contacts and employees were easy to reach, spent a lot of individual time with me in planning the event and took great lengths to ensure we had a fabulous time.;When planning your budget, know that the extra costs (tax, tip, etc) are not in the estimates.
---