Home

Thrive Catering
About this Vendor
innovative fresh sustainable cuisine
Thrive offers you vibrant dishes using organic ingredients from 15+ local farms. Groups from 12 to 1000, casual or formal, we are very versatile in various cuisines and special diets. And as the first Green Certified caterer in the area, you can relax knowing that the Earth will be happy too.
Details
American, French, Italian, Latin American, Fusion
Gluten Free, Vegan, Vegetarian
Buffet, Seated Meal, Servers, Food + Catering, Service Staff
Contact Info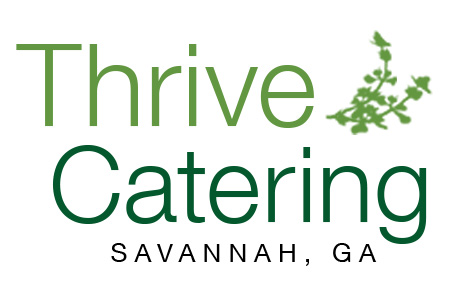 463 Johnny Mercer Blvd B7, Savannah, GA
Incredible Food and Incredible Service - Above and Way Beyond
Reviewed on

2/12/2013
Cassie M
I loved everything Katherine did for us leading up to and on the wedding day. She not only helped us plan the menu, she helped me find a venue for our rehearsal dinner, suggested great florists, helped us rent tables and settings, coordinated a bartender, and pretty much became my wedding coordinator without me asking and for veeeeery little cost. I think it was a testament to the friendly, highly personal service offered by Thrive. And this was so important to my huz and I, as we coordinated everything from 2000 miles away. When all was said and done, I was actually pretty sad I didn't have a good reason to keep emailing Katherine! I remember during the reception she saw me running around trying to gather people for the speeches, and she told me to stop – that now was my time to relax, and she put a drink in my hand and I did just that. Lovely people to work with from start to finish. And not to mention, the food was *exactly* what I'd hoped for. My wedding guests are still talking about the great food. We had a buffet with some Southern treats, the cheese twists were exceptional, and some lovely vegetarian appetizers. I loved how the groom and I were treated with such special service. We had no time to pick up our own grazing food and drinks, so Katherine made sure everything came to us. During the buffet dinner, we were served first, and the rest of the tables were released in orderly fashion, despite not having a seating plan. Everyone seemed happy, as that is my family's usual serving tradition. Thrive did a great job working with us who refused to plan every last detail. I even loved that Katherine's husband was one of our bartenders – it made the occasion that much more sweet and genuine. Thrive had no trouble coming up with creative ideas for a British/American, vegetarian, locally-sourced feast. Which is some task. They even offered some chicken fingers for the kids, which was a really nice touch. We had Mushroom Gorgonzola Polenta, Savoury Bread pudding, 11 Superfood Salad, Herb Roasted Fall Vegetables, Cracklin Cauliflower, and Pulled Pork for those who couldn't survive without meat. They made everything egg-less, as one of our guests had an allergy. It was just perfect down to the last detail. One of my best friends made us Choux Pastries, and Thrive had no problem working with us to bring those out at the appropriate time. We also ordered their adorable pecan pie jars, which we put at each setting. A lot of people ate theirs then and there, but others (like me) who were too stuffed were able to take it home as a little gift.
---
Unforgettable Thanksgiving Feast!
Reviewed on

1/06/2014
Arianne M
I cannot say enough about Katherine Hankey and the entire Thrive catering team. Katherine started working with me several months out from the wedding and was always on point with questions and e-mails. She has world-class communication skills. She helped make my dreams come true in a way that was even more elegant than I expected. Definitely my favorite wedding vendor! We had a cocktail hour as well as a sit-down Thanksgiving dinner at our wedding reception, and from my perspective it all went beyond smooth. The staff was on-time, prepared, and personable. Their organization and creativity amounted in an unforgettable feast for me and my family on a very special day.
---
Great GF Caterer in Savannah
Reviewed on

5/22/2013
Megan
My new husband and I live in NoVA, when we decided to get married in Savannah, we had to find a caterer down there that could do gluten-free and had food that tasted great. Through some googling I found Thrive. A plus to being gluten free is that mostly everything was either organic or locally-sourced. When we went down to see the place we were thinking of getting married at, there were some conflicts so we could not do a tasting, but Katherine Hankey offered to meet us anyway to go over our menu ideas and look at prices and options. She also said she would bring a gluten-free cake sample, the cake sample was great and I was relieved to know that I had found a caterer that could do gluten-free food and cake. Katherine was GREAT to work with the entire time. We changed the menu a few times to work with our budget and how we wanted to wedding to be. We started off thinking about doing heavy hor d'oeuvres, but were able to make a buffet with things we wanted which actually ended up being cheaper and offered our guests more food. The best part was that all of the food was GF so I could eat any of it without having to worry (they even made polenta croutons!) I sent them pictures of two cakes and told them the parts of each that I wanted and they were able to make it (Katherine told us at the beginning that the chef was by no means a pastry chef, my cake vision was relatively simple, if you want an extravagant cake, I would suggest you look elsewhere). It looked exactly how I wanted it to the day of and they put the cake topper on it that my sister had made. Everything was great the day of the wedding we did not have to worry about anything. We had many people tell us how great the sliders were and the cake was WONDERFUL. Thrive worked great with our venue to make sure everything was set up and helped with a favor for my husbands grandparents. They also set up our candy bar for us. If you are thinking about going with Thrive just do it, especially if you need GF food.
---
Thrive
Reviewed on

6/08/2015
Brooke
The food at our wedding was amazing! The guests have been raving since the wedding about how wonderful all the appetizers and the main course stations were! We also had Thrive make our wedding cake and cupcakes, and we were not disappointed! It was beautiful and it tasted amazing! Katherine was so helpful and she was wonderful to work with during the process of planning out our menu in our price range. All of the staff that worked our wedding were amazing and very friendly! I don't have one bad thing to say! Highly recommend this company to anybody needing any kind of catering!
---
Best Catering!
Reviewed on

6/03/2015
Courtney J
We hired Thrive for our wedding on May 23, 2015. It was the best wedding food I've ever experienced! Everyone was very friendly and professional. The food was plated so wonderfully, and tasted amazing. Our guests had nothing but great things to say about their dinners and desserts. Katherine was so helpful throughout the process. I can't recommend Thrive Catering enough!
---
Amazing catering in Savannah, GA
Reviewed on

5/16/2015
Lauren W
We are SO THANKFUL to have had Thrive Catering for our wedding reception in Savannah. After a very rocky start with our reception venue's onsite caterer, Thrive swooped in and saved us! Katherine - Thrive's catering manager - was incredible to work with. She's friendly, very responsive, and super helpful making lots of suggestions and recommendations to fit your needs/wants along the way. The only tough thing about Thrive was choosing what we wanted to serve from all of the options! :) They can definitely cater to any tastes, traditions, dietary requirements, etc. etc. We chose a buffet and it was beyond amazing! We loved it, and so did our guests. I HIGHLY recommend - you won't go wrong with this choice!
---
Amazing Caterer!
Reviewed on

10/10/2014
We used Katherine of Thrive to serve a brunch for the family of the bride and groom and our out of towners the day after the wedding. It was amazing from start to finish! A frittata with spinach, tomato and mozzarella, pancakes with mixed berry topping, hash browns, a fruit platter and yogurt. There was also locally roasted coffee and juice. Everything was farm to table, local and fresh! It was delicious and was a wonderful day to keep the wedding weekend going. If you want a delicious, local experience, go with Thrive!
---
Simply Amazing
Reviewed on

10/02/2014
Amber H
We used them to cater our wedding.I went with them because of other reviews and I'm so glad I did! Katherine was so helpful from beginning to end and she made the whole process stress free. She even tried to help me find a reception venue. The food was great and the wedding cake was amazing!!! They really worked with me on a special menu because I have several family members with food allergies. I can personally recommend the sliders and the roasted chicken and the Mac and cheese. Everything was great!
---
Ms. Miranda Grose
Reviewed on

5/30/2014
Miranda G
It was a pleasure working with Kathrine of Thrive catering. Thrive catering provided the hors d'oeuvre, plated dinner and dessert at my May wedding in Savannah. Kathrine provided outstanding customer service leading up to and during the event. She was extremely accommodating in adding food ideas to our order and adjusting our order at the last minute. Kathrine and Thrive also accommodated our out of town schedule and provided a lovely meal tasting to ensure we loved everything we planned to order. Kathrine and Thrive also went above and beyond for us by lending us wine glasses at the very last minute; there was a miss communication by the bar service and all they had available were plastic cups.Thrive saved us from serving wine from cheap plastic cups. Thrive also seamlessly worked with our wedding planner, alleviating any confusion and made for outstanding coordination.Our guests RAVED about the hors d'oeuvres served during cocktail hour, which included a beautiful meat and cheese platter featuring amazing candied BACON, southern style chicken and waffles and pulled pork sliders! We thoroughly enjoyed working with Kathrine and Thrive! Thanks to all of you at Thrive for serving delicious food and providing wonderful service.
---
Phenomenal Caterer
Reviewed on

5/28/2014
Kimberly A
Thrive Catering was a pleasure to deal with. Katherine is eager and willing to make sure your day is perfect. Their menu is unique and they will work with you to make sure you get exactly what you want. Our guests said the food was the best food they have had at a wedding. I highly recommend them!
---
ECG
Reviewed on

5/16/2014
Emily G
Katherine with Thrive was amazing to work with. She was very responsive, organized and helpful. She even organized the delivery of our desserts. Thrive's food is good, healthy, and unique.
---
Thrive Catering
Reviewed on

3/10/2014
Jessica C
I am so happy that we chose Thrive as our wedding caterer. Katherine Hankey is super friendly and helpful, and she worked with our small budget to ensure that we were still able to serve a great meal to our guests. The service and staff are fantastic, and the food is SO good (the pulled pork is my favorite) I definitely recommend Thrive to any bride in the Savannah area.
---
Day After Wedding Brunch
Reviewed on

10/23/2013
maria g
Excellent experience on all counts. I highly recommend Thrive Catering of Savannah, GA.
---
Wedding at Forsyth Park , Savannah, Ga
Reviewed on

8/15/2013
Thrive Catering and Katherine Hankey were so wonderful! Following the morning ceremony in Forsyth Park we wanted to offer guests cool refreshments and hor d ouvres to tie them over til the evening reception. They assisted us with every detail and the presentation was spectacular! The food was more than ample and delicious. Our guests were Wowed! They added that extra element that allowed out guests to savor their time and enjoy the event! Lisa Paulus Mother of the Bride Naples, Florida
---
Healthy, Delicious, & Stylish Wedding Catering
Reviewed on

4/17/2013
Kelly M
Wendy and her staff at Thrive worked closely with my fiance and I for our wedding on April 6, 2013. From the start, they were professional, pro-active, and most importantly they listened to our ideas and vision. We have always enjoyed eating at Thrive because we love healthy, but tasty good. They are arrived on time for our wedding, completely prepared, calm, and ready to help in any way shape or form. I had guests constantly come up to my fiance and I to tell us how amazing the food was. We were greeted with our own plates once we got back from sneaking away to take a few photos and it was nothing but everything I hoped it would be. It was absolutely delicious and the presentation was beautiful. We cannot thank Wendy, her catering manager, Katherine, and the rest of the staff for providing us with the wedding of our dreams. We plan to use Thrive for other catered events in the near future. P.S. They traveled down to St. Simons for our wedding, which was the most special part about all of this. Distance was not going to stop them to make our day complete :-)
---
A Vegan Dream Come True
Reviewed on

3/19/2013
Christine P
Thrive walked the line and provided my husband and I with delicious, healthy, and visually stunning food that satisfied both my vegan palate (example: the best dolmades you've had in your life and thai veggie wraps) and his desire for a few animal products (example: prosciutto wrapped fresh fruit). They worked with us every step of the way to help us choose a menu that represented us as a couple and they were very professional while still being super personable. Katherine does lightening fast email communication! They even made us a three-tier vegan pumpkin wedding cake!! It was a huge hit with the family whether they were vegan or omnivores! We had so many compliments on the food - choosing Thrive as our caterer was the best decision we made for the wedding.
---
Simply the Best
Reviewed on

11/06/2012
Jessica H
I could not be happier that we chose to work with Thrive for our wedding. The food was amazing and the staff is absolutely fabulous. Katherine helped us not only with the catering, but was there to answer questions in all stages of planning and made sure the entire reception went off without a hitch. I recommend Thrive and Katherine Hankey to anyone looking to host a unforgettable event. They are simply the best!
---
We are so lucky we found Thrive!
Reviewed on

10/31/2012
Amy H
From the minute we began planning our destination wedding in Tybee Island, GA, we were certain we made the right decision in choosing Thrive to cater our big day. Our main point of contact, Katherine Hankey, proved herself to be a trusted, proactive, and creative guide through the whirlwind that is wedding planning. And we are not an easy bunch! Not only do we live miles away in the city of Philadelphia, I'm a vegetarian, my husband is a full-blown carnivore, and my family includes several gluten-free eaters! If Katherine was daunted by our particular needs, she never showed it. Instead, she seemed completely at the ready, offering up suggestions that were just to our taste and style. She amazed us with her responsiveness and genuine enthusiasm when brainstorming ideas and even nailing down logistics. I'd definitely recommend Thrive to anyone who is planning a catered event in the Savannah area.
---
Loved, Loved, Loved it!
Reviewed on

10/22/2012
Rebecca C
Katherine and all of the Thrive staff are amazing. The food was the most important part of the reception and they definetly got that and came through for us! We had a big selection so everyone got something they liked, but the standouts in my mind were the Beef Tenderloin carving station, the ham and cheese biscuits, the roasted chicken, the sides salads and veggies were all great too! oh and the pulled pork was awesome with the BBQ sauce! I think Katherine helped me more than my day of person did...she was so attentive all night! Thrive was so reliable and made sure everything was taken care of (like early delivery of the linens so we could do set up the day before) and was willing to work with us up until the day of because we never really did get to a concrete number of replies/guests (and even that didnt end up being the number that showed up!). They gave us a ton of leftovers to take with us too! If you want delisih food and awesome service, go with Thrive! Thank you again!
---
5****!!! Incredible service!
Reviewed on

9/17/2012
Laura H
I don't think I can say enough about Thrive. Katherine was not only there to help me with catering but EVERYTHING! Saying she is thorough is an understatement! I do tend to worry but not with Katherine. She made the whole process so easy. The tables looked beautiful, the buffet was incredible. The cake was to die for (I'm still thinking about the carrot cake)!...the service top notch. I've planned many events in the past and Thrive is by far the best.
---
Send Message