Home

Top Dog Limo Bus, Inc.
About this Vendor
New Fleet Top Dog Limo Bus Wedding Transportation
What a wonderful way to transport you and your guests on your wedding day ... or pre-wedding bachelor(ette) plans! It's one of the hotter tickets for wedding transportation because people can fit their whole families. It's convenient for keeping people together in a group — especially if you have a separate location for photos. Top Dog Limo Bus, San Diego's Newest Luxury Limo Buses or Mercedes Stand-UP Limo can take you and your wedding party in style, ease and comfort! Seating for 12-31 passengers, with 42 inch wide screen tv, dvd, 18 speaker dynamic stereo system, mood lighting, leather couch seating, and granite top bars ... all limousine amenities beyond your imagination! it is truly awesome, you have to see this one ... Taking care of San Diego's Brides for over 30 years!
Details
Rehearsals + Parties, Wedding
Destination Weddings, Limousine + Sedan, Shuttle Service, Transportation
Contact Info

Reviewed on

12/27/2017
Shanna M
These guys are AMAZING. We got a party bus that fit 20 to transport all the bridesmaids, groomsmen, bride, groom, photographers, and videographers. We all fit so comfortably, the seats were plush, and the complimentary water was a life-saver. I worked with Russ to get the order... Read More together and pay via phone since we were out-of-town, and they are very affordable. Jen was our amazing driver and she was so sweet and helpful with making sure I didn't trip or wrinkle my skirt when boarding/departing the bus. These guys made transportation on the day-of a no-brainer. Also, I have to say how awesome it was that they accommodated our last-minute decision to change where we wanted photos taken after the ceremony. Instead of going to La Jolla to take pictures, we went to Sunset Cliffs, and Jen got us back to the reception area half an hour earlier! It was great. Thank you guys so much!
---
Reviewed on

9/17/2017
Jodie C
We rented a party bus to take our wedding party on a wine tasting trip up to Temecula before our wedding, and we could not have been happier with our experience. Jen was awesome! Even before the event, she took great care of us, providing suggestions on how many wineries/how... Read More much time to allot for a group of our size (15-20 people). It was very clear that she had a lot of experience doing this type of a trip, which we really appreciated. She also encouraged us to have as much fun as we wanted on the bus - and that we did! When that party bus rolled up (early, I might add), I immediately felt like a million bucks and knew that we were in for a treat. In addition to covering some basic "need-to-knows" (e.g., how to control the temperature, how much notice to give her if a pit-stop was needed), Jen made sure to cover the fun stuff - the sound system, the party lights, and, of course, the retractable pole if someone feels like dancing ;). The bus had plenty of glasses (of multiple varieties, including rocks glasses and champagne flutes), plenty of bottled water, napkins, and ice. We had planned to do a picnic lunch at one of the wineries but ended up running into a freak thunderstorm. Never fear! Jen pulled the bus around with the AC and party lights cranking to make sure we still had an awesome time, even though we were eating lunch on a bus. She kept us on track while allowing the flexibility needed given the amount of wine consumed, and she always made sure we were having a good time. I will definitely seek out more opportunities to rent a party bus just to book again with Top Dog!
---
Nice Ride
Reviewed on

9/06/2012
Angela V
We got the hummer limo for our wedding transportation. the Limo was very nice and clean and decorated beautifully for a wedding. The price was GREAT and we got the limo for 5 hours. our dirver was soo nice!! Payment was so easy. I highly recommend this company. the best... Read More ride ever. I will for sure use this company again.
---
Reviewed on

10/06/2017
Bridget R
Professional, on time and friendly. We used Top Dog as our wedding party transportation and they were fantastic. When booking the contact I spoke with was easy going and professional. The driver called me a few hours before pickup to introduce herself and confirm address. She... Read More was helpful, kind and new her way around San Diego. I would use Top Dog again and would highly recommend.
---
Reviewed on

1/09/2016
Kristin R
LOVED top dog limo bus and Russ was awesome to work with! He was quick to respond, flexible meeting with me, affordable and professional. We used their bus to shuttle our guests from the hotel to the ceremony and then again after the wedding to the afterparty. They were early... Read More and the bus was beautiful! Definitely recommend them!
---
Top Dog Limo Bus knows Weddings!!!
Reviewed on

9/14/2014
Christine B
Top Dog Limo Bus provided our transportation for our 22 person wedding party on June 21, 2014. They were spot on with the scheduled times for pick-up and drop offs of he bride, groom and wedding entourage! We were so impressed with how beautifully the he limo bus was so... Read More beautifully decorated for our wedding day! The bus was clean, the drinks were all chilled and the ride was smooth!!! Having that many people on a bus can be quite over whelming, but our driver was so fun and showed us all a great time :-) Russ, the owner, was pleasure to work with! He was happy to accommodate us booking far in advance and showing us his line of limo buses in person, at our convenience. Communication was great at all instances we had questions or concerns. You're the man We highly recommend Top Dog Limo Bus for your wedding or party. They certainly know how to take care of their customers!
---
Prompt; Clean and Comfortable
Reviewed on

4/12/2014
Linda V
We got a party bus to transport immediate family, the wedding party and ourselves from the hotel where everybody was getting ready to Downtown La Jolla by the beaches where we were doing pre-ceremony pictures, to the ceremony site at Calumet Park and then back to the hotel.... Read More It was a great experience. The bus arrived early, which is always nice when you're on a tight schedule! It was extremely clean and comfortable, and everybody had a great time drinking and snacking on our way to pictures. It was a real treat to have all our closest friends and family all together for that time that was so full of excitement and anticipation.
---
Fun Experience!
Reviewed on

11/03/2011
Indira H
We utilized them for the big day and went with the Hummer Limo. We were so glad because it was big enough for all of us. Our driver was on time and very professional and friendly. They have GREAT rates and wonderful customer service.This is the team to use for any of your limo... Read More needs. The place we had our ceremony did not have the easiest streets to get around but she did such a GREAT job with that big limo we would have never known. We will definitely use them again! Maybe the party bus :)
---
Very Accomodating!!!
Reviewed on

10/18/2011
Cristina B
Overall, we had a great experience. They have ice in the limo bus and decorated in a wedding theme. Our wedding party wanted to stop at a liquor store between our ceremony and reception. The driver did a detour to accommodate us. My only complaint is that after dropping off my... Read More husband at the church, he did not know how to get to my house. He had to go back and ask my husband for directions.
---
Nice Limo
Reviewed on

9/02/2011
Monica B
We got the 20 person limo, Limo was nice inside and out. We were able to drop off beverages and snacks the day before so they would be cold for our event. The limo was a tad late which brought the service down because for a wedding you have to be on time. It is kinda pricey but... Read More we were happy overall.
---
Limo
Reviewed on

8/08/2011
Elizabeth M
They were terrific. They arrived on time. They shuttled guest perfectly. I was very impressed.
---
Snazzy!
Reviewed on

9/05/2010
Trisha G
It was easy planning with them. The limo was a stretch hummer and basically amazing, the prices were pretty reasonable too. I highly recommend them!
---
Limo
Reviewed on

8/09/2010
Rose C
I honestly do not remeber my limo driver, which I am going to take as a compliment to him. He was on time and got us everywhere we needed him to. I know if there had been any transporation annoyances, I would have remembered. I was happy with the services.
---
Review for Top Dog Limo Bus
Reviewed on

2/28/2009
Tammy F
We had a really big wedding party. So we needed a limo to fit 16. Top Dog Limo was great because they provided us with a bus. It could fit up to 25 people and it has enough room to stand up and walk around in. I found this to be great especially with everyone in their formal... Read More wear. It was very nice and elegant on the inside and outside. It was raining and the driver did a very good job of driving in the rain. They were on time and friendly. Overall I was very satisfied.;One thing I didn't like was that they had a 5 hour minimum for a Saturday. We only needed them for 2 hours and we couldn't get them to lower the price. We had to pay for 5 hours even though we only needed them for 2. Also I didn't like was the limo was decorated all pink and red inside. (My wedding color was green). I didn't know they were going to decorate inside. I just wish that if they were going to decorate they could've called and ask what colors and what the event was for. But in the scheme of things really not that big of a deal.
---
Meet The President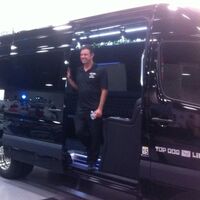 Russ Van Huizum
Top Dog Limo Bus in San Diego, was founded by Russ Van Huizum. With thirty years of experience and success within the limousine industry you know you're in good hands. Top Dog Limo Bus offers a whole new dimension in Limo Bus transportation that's sure to provide Top Quality Limo Bus Limousine Service in San Diego.