Home

Top Shelf Bartending
About this Vendor
Top Shelf Bartending Service
Are you looking for fun, experienced and energetic bartenders for your next event? Well you have come to the right place. Our bartenders are fully insured, very outgoing and love to mix drinks. Please check out our website or call us today for a quote. We can customize a package for you.
Details
Bartenders, Beer, Champagne, Liquor, Signature Cocktails, Wine







Contact Info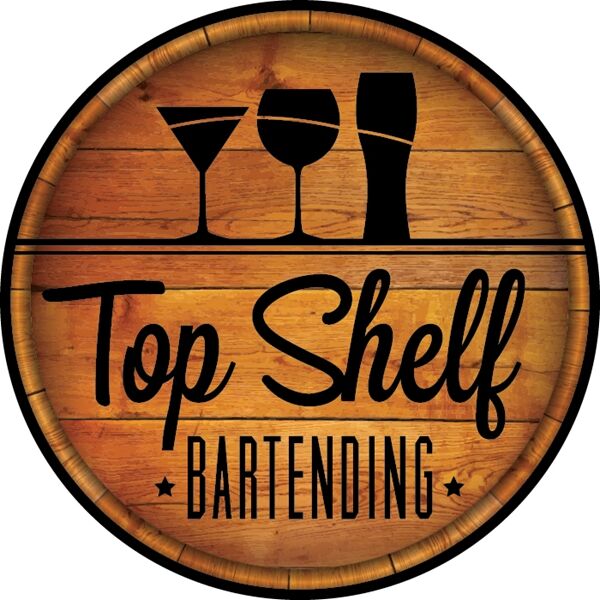 Reviewed on

12/11/2017
Alexis P
These guys are amazing! My fiance and I had dropped the ball on figuring out our bar situation for the reception when my wedding coordinator recommended Top Shelf. They were available on short notice (weeks prior to the wedding) and were so professional. All my guests loved how... Read More great the service was and some even asked for their contact info after the wedding. Definitely worth it!
---
Reviewed on

9/13/2016
Erin D
Top Shelf did an amazing job! They made it so we didn't have to worry about our bar at all - that's a huge deal! Their team was always super fast to respond to questions and were very accommodating to any special requests we had. Their flexibility and professionalism made the... Read More process very easy! At the wedding they made sure we had drinks while we were having dinner and making the rounds to greet our guests, as we were unable to get to the bar. They were very attentive! Our guests had nothing but great things to say about them as well! We would definitely recommend their services to anyone and plan to use them again, should we need bar services in the future!
---
AMAZING
Reviewed on

9/20/2013
Sarah S
The Top Self team ROCKED my wedding! They did an amazing job keeping everything going and there was never to long of a wait at the bar! They went out of their way to take care of an issue that happened at the bar and didn't bother us with it! They spoke with our wedding... Read More planner and did what we would have told them to do. I would say they were our TOP vendor at our wedding, so easy to work with and so accommodating! Would use them again for holiday functions or recommend them to friends when they get married. Don't waste your time by trying other companies, or think you'll save a tiny bit of money by getting your own booze. The week of you're wedding the less you have to worry about the better and after you meet with them you won't ever think about the bar again!
---
Reviewed on

2/13/2018
Gwen G
I found TopShelf through Michele @ Restoration 1894 - and man, am I glad I did!! We had a cash bar with 2 bartenders serving around 200 people. Throughout the night & after my wedding, I continuously received numerous compliments on the bartending service. They were... Read More professional, friendly, and timely! Thank you, TopShelf!! The Glenn's
---
Reviewed on

1/29/2018
Newell B
I am so glad we worked with Top Shelf at our wedding. They made every part of having a bar for a 300 person wedding reception SO easy! We didn't have to worry about a thing when it came to bar service or selection. They even came to us to make sure we had what we wanted to... Read More drink! It was all the special touches that really sent it home for us that we picked the best group possible. After all the speeches, I was walking up the stairs when a guest spilled RED wine on the bottom of my dress. The incident was unfortunate, but top shelf stopped what they were doing to help take some of the stain out immediately. Because they did this, it probably saved my dress! Amazing service. Would not have been as happy choosing anyone else!
---
Reviewed on

1/29/2018
Lauren A
We loved working with Top Shelf! I changed my mind a hundred times about different things and Top Shelf was very kind and helpful when answering my questions and changing things around. The bars at our reception ran very smoothly and the bartenders were very kind. Our guests had... Read More a blast! Also, when my husband and I arrived at our reception, one of the bartenders came over to check on us and ask if we needed a drink, which I thought was very sweet! I loved working with Top Shelf because they were helpful when planning, the bartenders were great, they bring more than enough alcohol so that you don't run out, and if you don't use it all, you don't pay for what you don't use. I also wanted a hot cocoa bar for our December wedding and they brought all of the supplies for it and it was such a hit. Highly recommend Top Shelf!
---
Reviewed on

1/15/2018
Manal S
Top Shelf was awesome to work with! They were the exclusive vendor through our venue. We loved our meeting with them and loved that we could customize our per person package. They were great and honest about what was comparable within each price range while still having the... Read More freedom to serve the variety we wanted for our guests. They went above and beyond to be sure we had a certain beer and whiskey that may not have been available to the masses at the time of our wedding (November). Everyone raved about how well they were served and they personally served my husband and I while we were seated at our head table. My husband had a special bottle of whiskey set aside for him and certain wedding guests and the bartenders were sure to save the last serving for him. The service was personalized and above and beyond and we couldn't have been happier. Thank you for helping make our day perfect!
---
Reviewed on

1/11/2018
Beth O
Top Shelf was incredible to work with! With a larger guest count, we had exactly the type of alcohol we wanted and the service was great! They tailored the alcohol to our preferences and made sure we had everything we needed all night long. It was great working with them!
---
Reviewed on

1/04/2018
Kim M
We have had an excellent experience planning, and providing beverages for our perfect winter wedding! The service, accommodations & overall professionalism of the staff are exceptional!!! We can't say enough good things about this team! Everyone had so much fun, but with... Read More limits!! 👍
---
Reviewed on

12/31/2017
Teresa W
The Staff was great with our guest.
---
Reviewed on

12/26/2017
Jesse D
Top Shelf did an excellent job at my wife and I's Wedding reception. They worked well with us, even though we were planning our big day from a different state. They were easy to work with to include the different beers and liqueurs we wanted, and everyone was quick to respond if... Read More we ever had a question or concern we needed handled. Highly recommend their services for any event.
---
Reviewed on

11/15/2017
Kayla F
They were very accommodating and easy to communicate with! If you are looking for a liquor vendor, for a reasonable price, you've found your answer!
---
Reviewed on

11/15/2017
Rosalyn P
Top Shelf took care of ALL of our beverage needs! We couldn't have asked for a better bartending experience for our guests. They were professional and knew exactly what we would need for our wedding.
---
Reviewed on

11/15/2017
Angela M
Top Shelf was absolutely fantastic to work with. While planning our wedding, we really had no idea what hiring a bartender would be like. However, through our entire year of planning, we worked with Bre in the office and adapted or changed our bar menu several times. She was... Read More a pleasure to communicate with every single time. She also had great ideas and her professional expertise and advice was very useful. (Trust me - when she makes a suggestion, it is based on experience - you should listen to her!) The day of the wedding, Tiffany arrived to bartend at our event. I can't explain enough how amazing she was! Everyone just loved her. She kept the lines down and handled everything so efficiently and wonderfully! We truly enjoyed sharing our day with her! Other vendors even commented on her skills. I cannot recommend Top Shelf enough. Not only is their service Top notch - they charge wholesale prices for alcohol since they also have a liquor store. I simply couldn't believe how affordable they were! Thank you to Top Shelf, Bre, and Tiffany for making our wedding reception such a wonderful event!!
---
Reviewed on

11/01/2017
Amanda B
Top Shelf Bartending was great. Service was wonderful, great selection, and very easy to work with.
---
Reviewed on

11/01/2017
Tyler L
Top Shelf Bartending was a phenomenal edition to our wedding this past weekend. They were so great with all of the guests and the wedding party was always a priority for them. I have heard multiple guests rave about the signature cocktails that we had (specifically the Mint... Read More Julep) and people were asking for the recipe. Honestly, Top Shelf was one of the best decisions that we made for vendors for our wedding. Their professionalism, flexibility and reliability was exceptional and I can't recommend them enough!
---
Reviewed on

10/26/2017
Lori S
Love, love, love Top Shelf Bartending. Our bartender kept all our guests happy and the party hopping. I can't thank them enough for making this process painless from beginning to end. We will hire them again for future events.
---
Reviewed on

10/24/2017
Betsy H
Justin was awesome to work with in working out the details of what we wanted. Pricing was amazing & I really liked their payment terms. Even with me changing my mind about some things last minute, everything was perfect the night of the wedding. Our two bartenders did an awesome... Read More job and I received lots of compliments on them from our family and friends.
---
Reviewed on

10/20/2017
Jessica D
Top Shelf was an amazing vendor to work with. They were very responsive to all of my questions and replied within a timely manner each time. They were flexible with our menu thought the planning process. The night of the wedding, they made sure everything ran smoothly and all... Read More of our guests were taken care of. I would highly recommend Top Shelf to anyone needing bartending services at their reception.
---
Reviewed on

10/11/2017
Lacie S
We had a wonderful experience with Top Shelf! Bre was always quick to answer any questions we had. She worked with us to help prepare the best, most affordable menu for our guests and was always patient with any changes we made. The evening of the event went off without a hitch:... Read More their staff went above and beyond and were so friendly with us and our guests. We are grateful they were there for our special day and would work with them again!
---
Reviewed on

10/03/2017
Morgan E
Top Shelf Bartending was amazing to work with! Had affordable drink options to choose from! They were very easy to work with and made the reception smooth and stress free! Guests received drinks very quickly and enjoyed our bartender!
---
Reviewed on

9/29/2017
Katy M
Amazing!
---
Reviewed on

8/29/2017
Bridget S
Top shelf was amazing! They worked so efficiently, not once did I see a line for the bar!
---
Reviewed on

8/24/2017
Jessica M
Are you trying to decide on a bartending company that is great & affordable? Top Shelf Bartending comes HIGHLY recommended by me!!! I was actually recommended by my venue to use Top Shelf & I am truly blessed that I was. They were super easy to work with, the staff was... Read More awesome! When I initially started looking, I asked them for advise; I asked what the difference was for me to do one or two bar locations (my venue was 2 levels). They were quick to let me know my savings or spending for doing such things. Top Shelf never tried to up-sell me into anything, in fact I felt like overall they helped me to save money!! Again, I highly recommend Top Shelf for any party - I would 100% use them again! THANK YOU TOP SHELF FOR BEING A PART OF MY WEDDING CELEBRATION!
---
Reviewed on

8/10/2017
Bobbie M
We called Top Shelf at the last minute....less than 2 weeks before our son's wedding!!! They were amazing to work with. So thorough and very helpful. Their bartenders were great! I would definitely use them again.
---