Home

Top Shelf Bartending
About this Vendor
Top Shelf Bartending Service
Are you looking for fun, experienced and energetic bartenders for your next event? Well you have come to the right place. Our bartenders are fully insured, very outgoing and love to mix drinks. Please check out our website or call us today for a quote. We can customize a package for you.
Details
Bartenders, Beer, Champagne, Liquor, Signature Cocktails, Wine
Contact Info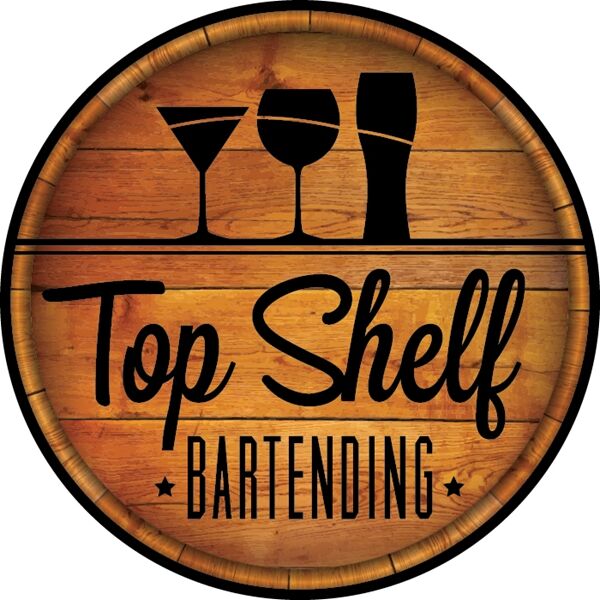 Reviewed on

9/13/2016
Erin D
Top Shelf did an amazing job! They made it so we didn't have to worry about our bar at all - that's a huge deal! Their team was always super fast to respond to questions and were very accommodating to any special requests we had. Their flexibility and professionalism made the... Read More process very easy! At the wedding they made sure we had drinks while we were having dinner and making the rounds to greet our guests, as we were unable to get to the bar. They were very attentive! Our guests had nothing but great things to say about them as well! We would definitely recommend their services to anyone and plan to use them again, should we need bar services in the future!
---
AMAZING
Reviewed on

9/20/2013
Sarah S
The Top Self team ROCKED my wedding! They did an amazing job keeping everything going and there was never to long of a wait at the bar! They went out of their way to take care of an issue that happened at the bar and didn't bother us with it! They spoke with our wedding... Read More planner and did what we would have told them to do. I would say they were our TOP vendor at our wedding, so easy to work with and so accommodating! Would use them again for holiday functions or recommend them to friends when they get married. Don't waste your time by trying other companies, or think you'll save a tiny bit of money by getting your own booze. The week of you're wedding the less you have to worry about the better and after you meet with them you won't ever think about the bar again!
---
Reviewed on

11/15/2017
Kayla F
They were very accommodating and easy to communicate with! If you are looking for a liquor vendor, for a reasonable price, you've found your answer!
---
Reviewed on

11/15/2017
Rosalyn P
Top Shelf took care of ALL of our beverage needs! We couldn't have asked for a better bartending experience for our guests. They were professional and knew exactly what we would need for our wedding.
---
Reviewed on

11/15/2017
Angela M
Top Shelf was absolutely fantastic to work with. While planning our wedding, we really had no idea what hiring a bartender would be like. However, through our entire year of planning, we worked with Bre in the office and adapted or changed our bar menu several times. She was... Read More a pleasure to communicate with every single time. She also had great ideas and her professional expertise and advice was very useful. (Trust me - when she makes a suggestion, it is based on experience - you should listen to her!) The day of the wedding, Tiffany arrived to bartend at our event. I can't explain enough how amazing she was! Everyone just loved her. She kept the lines down and handled everything so efficiently and wonderfully! We truly enjoyed sharing our day with her! Other vendors even commented on her skills. I cannot recommend Top Shelf enough. Not only is their service Top notch - they charge wholesale prices for alcohol since they also have a liquor store. I simply couldn't believe how affordable they were! Thank you to Top Shelf, Bre, and Tiffany for making our wedding reception such a wonderful event!!
---
Reviewed on

11/01/2017
Amanda B
Top Shelf Bartending was great. Service was wonderful, great selection, and very easy to work with.
---
Reviewed on

11/01/2017
Tyler L
Top Shelf Bartending was a phenomenal edition to our wedding this past weekend. They were so great with all of the guests and the wedding party was always a priority for them. I have heard multiple guests rave about the signature cocktails that we had (specifically the Mint... Read More Julep) and people were asking for the recipe. Honestly, Top Shelf was one of the best decisions that we made for vendors for our wedding. Their professionalism, flexibility and reliability was exceptional and I can't recommend them enough!
---
Reviewed on

10/26/2017
Lori S
Love, love, love Top Shelf Bartending. Our bartender kept all our guests happy and the party hopping. I can't thank them enough for making this process painless from beginning to end. We will hire them again for future events.
---
Reviewed on

10/24/2017
Betsy H
Justin was awesome to work with in working out the details of what we wanted. Pricing was amazing & I really liked their payment terms. Even with me changing my mind about some things last minute, everything was perfect the night of the wedding. Our two bartenders did an awesome... Read More job and I received lots of compliments on them from our family and friends.
---
Reviewed on

10/20/2017
Jessica O
Top Shelf was an amazing vendor to work with. They were very responsive to all of my questions and replied within a timely manner each time. They were flexible with our menu thought the planning process. The night of the wedding, they made sure everything ran smoothly and all... Read More of our guests were taken care of. I would highly recommend Top Shelf to anyone needing bartending services at their reception.
---
Reviewed on

10/11/2017
Lacie S
We had a wonderful experience with Top Shelf! Bre was always quick to answer any questions we had. She worked with us to help prepare the best, most affordable menu for our guests and was always patient with any changes we made. The evening of the event went off without a hitch:... Read More their staff went above and beyond and were so friendly with us and our guests. We are grateful they were there for our special day and would work with them again!
---
Reviewed on

10/03/2017
Morgan E
Top Shelf Bartending was amazing to work with! Had affordable drink options to choose from! They were very easy to work with and made the reception smooth and stress free! Guests received drinks very quickly and enjoyed our bartender!
---
Reviewed on

9/29/2017
Katy M
Amazing!
---
Reviewed on

8/29/2017
Bridget S
Top shelf was amazing! They worked so efficiently, not once did I see a line for the bar!
---
Reviewed on

8/24/2017
Jessica M
Are you trying to decide on a bartending company that is great & affordable? Top Shelf Bartending comes HIGHLY recommended by me!!! I was actually recommended by my venue to use Top Shelf & I am truly blessed that I was. They were super easy to work with, the staff was... Read More awesome! When I initially started looking, I asked them for advise; I asked what the difference was for me to do one or two bar locations (my venue was 2 levels). They were quick to let me know my savings or spending for doing such things. Top Shelf never tried to up-sell me into anything, in fact I felt like overall they helped me to save money!! Again, I highly recommend Top Shelf for any party - I would 100% use them again! THANK YOU TOP SHELF FOR BEING A PART OF MY WEDDING CELEBRATION!
---
Reviewed on

8/10/2017
Bobbie M
We called Top Shelf at the last minute....less than 2 weeks before our son's wedding!!! They were amazing to work with. So thorough and very helpful. Their bartenders were great! I would definitely use them again.
---
Reviewed on

8/09/2017
M. G
I have been working with Top Shelf and they are by far the most professional and knowledgeable service to work with! Their bartenders are TOP NOTCH and go above and beyond to help in all areas and provide the best service! I could not ask for a better company to provide bar... Read More service for our events! They are always on time, professional and accommodating no mater what the circumstance. I cannot say enough good things about this company!
---
Reviewed on

8/08/2017
Christine B
I cannot recommend Top Shelf highly enough. Their bartenders are very professional, their customer service in the planning stages is excellent, and at the end of the day they will probably save you a good chunk of change. What do I mean? Well, first of all, their prices for all... Read More beverages are VERY reasonable. Secondly, any unopened bottles get returned and you are not charged for unopened alcohol. This is not the policy of many other bartending services and this can lead to significant savings at the end of an event (in my case around $500). TopShelf all the way.
---
Reviewed on

8/07/2017
Naomi H
Top shelf saved me! I had originally booked another bar service that ended up not working out and Top Shelf came through amazingly for me! They were extremely good at communicating and taking care of all my requests and update before the day of. Day of, the bartenders were... Read More awesome--always make sure the guests as well as my husband and I were taken care of!
---
Reviewed on

7/17/2017
Cara U
Top Shelf did an amazing job at our wedding! Bree especially was extremely helpful and nice. I love how we saved money at the end of the night and also got to keep the leftover alcohol. We were very pleased with this company!
---
Reviewed on

7/10/2017
Mindy L
Highly recommend working with Top Shelf for supplying liquor. Easy to work with while determining types and quantities of liquor needed. I liked that they expected some liquor to get returned and did not want us to run out. I received quotes from other vendors that were trying... Read More to determine the exact amount, but didn't like the increase risk of running out of anything. We did get low on some cups, but they were delivered before running out AND during a large rain storm. The liquor that we didn't use was picked up from the venue and deducted from my invoice as expected.
---
Reviewed on

7/07/2017
Lindsey G
Top Shelf is amazing. They were super affordable, not to mention the service was great. They always responded to emails in a timely matter and everyone at our wedding was more than pleased with the bar staff. We chose to serve signature cocktails at our wedding and had the... Read More opportunity to meet beforehand to sample everything and it was all fantastic. I would recommend Top Shelf to everyone hosting a wedding or any other event!
---
Reviewed on

7/05/2017
Shannon R
The Top Shelf Team surpassed my expectations! They worked with me no matter how many times I changed my order and were very helpful when it came to deciding which alcohol to serve. When if came to the day of, the bartenders were amazing!! Right when we walked into the reception,... Read More one of them was right there waiting to take our drink orders and brought them to us throughout the night. They even took care of the head table during dinner which was above and beyond what they had to do. We heard many comments about how fun and nice they were. I would recommend Top Shelf to everyone!
---
Reviewed on

6/27/2017
Mariam L
Top Shelf did an incredible job on our wedding! They were so professional, affordable and made the night enjoyable for everyone! We even got a refund for the bottles that weren't opened. I would highly recommend them to anyone!
---
Reviewed on

6/26/2017
Hannah L
We used top shelf because it was a preferred vendor at our event space. We chose to do an open bar because we had heard that since they also own a liquor store they buy back any unopened bottle or cases. My wife's family is not big drinkers and my family is hit or miss on... Read More drinking. At first I was not a fan with the invoice they gave me with the menu they provided. I kept emailing them asking questions and trying to reduce the numbers. The owner finally called me herself and talked to me and explained their method. I kept adding and subtracting things, they were super patient. In the end we only paid the 75% because there was some left over. The bartender was friendly and professional. I opted to just giving him $100 (required) instead of a tip jar but turns out he was still taking tips. Wasn't too happy about that. I would recommend the company for your event.
---