Home

U of M Matthaei Botanical Gardens
About this Vendor
Weddings Made By Nature
Set your wedding outdoors in one of our formal gardens or indoors amid the tropical setting of the Conservatory. We offer seven distinct spaces, including a fragrant Herb Garden, colorful Perennial Garden, the serene and intimate Willow Pond Island, or the summer-blooming Gateway Garden.
Amenities + Details
Amenities
Handicap Accessible

Reception Area
For more details about amenities, please message the Venue.
perfect for winter wedding with great help from staff
Reviewed on

1/22/2013
Lin P
I had a lovely wedding ceremony at Matthaei Botanical Gardens, not only because of the beautiful venue with lots of plantation but also the informative and professional service provided by staff there. My wedding is in winter but I wanted a lot of greens, their indoor... Read More Conservatory was perfect with plenty of tropical trees and plants. The coordinator not only provided all the information and help we need for our ceremony but also recommendations for photographer, music, flower, officiant and many more. It saved us a lot of time researching for these services. In the end, our officiant, photographer, cake and flower are all from the selected lists provided by Linda. At the ceremony, the staff at spot did everything she could to help. I can't ask for more and I'm so happy to have had my ceremony here.
---
Beautiful
Reviewed on

10/23/2012
Shelly M
I got married here and it was perfect for a smaller wedding. We had about 80 people and it was just right. Honestly, the ceremony felt like it was taking place in a mini Garden of Eden. Was so lovely. The accomodations are nothing fancy, but if quaint, romantic, and beautiful... Read More are what you want, then I would definately reccommend. The cost for the ceremony is $900. No receptions are held here.
---
Beautiful Wedding
Reviewed on

9/10/2012
Molly B
I had my wedding here, and everything happened without a hitch. Linda Neely was so helpful in our planning of the ceremony. Also if you don't have a minister, ask Linda about Tommy Burdette. He did ours and we received many comments on how personable he was, and very... Read More respectful. The weather was very warm that day, and they provided water to all the guests and complimentary umbrellas. It was beautiful, and I highly recommend this place!
---
Reviewed on

12/29/2017
Chloe G
We had both our ceremony and reception here in early Oct. 2017. The Perennial Garden was absolutely gorgeous, and we were able to take pictures around the grounds after our ceremony. The auditorium was the perfect size for our reception (75 guests).
---
Reviewed on

10/26/2017
Mary M
We had an October ceremony in the Perennial Garden. It is a very beautiful place with tons of great photo opportunities. In our opinion it's one of the best locations for an outdoor ceremony in Ann Arbor. We built our own arch/chuppah from birch wood that looked... Read More great--unfortunately the Gardens didn't want to keep it for future weddings. The ceremony felt intimate, and the guests enjoyed walking around. They do have a backup in case it rains (auditorium or Conservatory) which fortunately we didn't need. When it did start raining after our ceremony, we were able to take photos inside the Conservatory (giant greenhouse). We enjoyed working with Linda from the beginning. She was very responsive and helpful. She does favor a rather traditional ceremony style and is not shy about expressing her opinions regarding the ceremony. Just remember that she is just giving suggestions and you can ultimately do what you like. Overall this is a fantastic, beautiful venue.
---
Reviewed on

10/08/2017
Rebecca M
We had our wedding ceremony and reception here. We had originally planned to have our wedding in January, however due to certain circumstances with a family member, moved our wedding up six months. Linda, the wedding coordinator, was so accomodating of those circumstances... Read More and worked with us to find a new date. Our wedding ceremony was outside, in the Gateway Gardens, and I was so impressed with how the backup wedding coordinator (I'm sorry, I forgot her name!) shooed uninvited "guests" out of our ceremony, kept things running on time, ran notes from me to my DJ. Our wedding had many guests that told us they loved the location. Thank you for a beautiful ceremony and reception site!
---
Reviewed on

7/11/2017
Ashley D
We got married here outside the greenhouse in the gardens on October 15, 2016 and it was just lovely! Couldn't have asked for a more beauitful venue. We had a small intimate wedding (36 guests) and it was perfect! Thank you!
---
Beautiful Ceremony Site, but w/ time constraints
Reviewed on

9/16/2013
Andrea J
I held my wedding at the Botanical Gardens which was a gorgeous. We were so pleased with how everything turned out. The Gardens provided parasols and water for our guests at no additional cost which was a very nice touch. The only complaint that I had is that you have a small... Read More time window for your ceremony, which does not allow you to comfortably fit in the ceremony and pictures. We were very rushed to fit in time for our pictures after the ceremony. Otherwise, this was a beautiful site for an outdoor garden wedding.
---
Wedding Venue
Reviewed on

9/26/2012
savannah i
The setting is beautiful inside and out. We had our ceremony and reception here Sept 8-12. Overall its not very pricey, but you do have to take care of basically everything yourself. The cleanup at the end of the night is your responsibility, the set up is yours, and the chair... Read More set up for the ceremony is yours too. They do not have an onsite caterer, so you hire one yourself. It didnt go so bad for us, simply because we had a lot of help from family and friends. It just would have been nice to relax instead of feeling like we were working on our wedding day. The staff was very nice. Very laid back.
---
Expensive and disorganized
Reviewed on

6/06/2012
Lauren L
I completely agree that the gardens are beautiful, BUT that does not mean this is the place for you to get married. First, most of the gardens only seat 25-75 people (for whom you will be setting up the chairs yourself). Next, there are tons of restrictions about what you can... Read More and can't have in the gardens AND super-tight restrictions on time (2 hours total for setup, seating, ceremony, pictures, and tear down). Last, and worst of all, they are disorganized and almost completely unaccommodating. Overall, you will spend too much money and go through too much trouble just to get good pictures in the garden when there are many other cool places for pics!
---
Wedding Ceremony
Reviewed on

8/19/2011
Marci M
We had our wedding ceremony here and it was absolutely beautiful! I was a little nervous because when I first talked to them about having my ceremony there, they made it seem as though I would have to figure things out myself and they were just there for the grounds, but as it... Read More turned out they were super helpful! We had a girl (Kelly Ann) who walked us through the rehearsal the night before and then was instrumental in making the day-of procession go smoothly - she also cued and collaborated with our musicians. You do have to bring friends to help set up and take down chairs for the ceremony, and the we (the bridal party) got caught in construction and I thought we would never make it there in time to tell our friends how to set up the chairs, but Kelly Ann instructed everything and I was extremely relieved when I got there to find out my tardiness was no issue :)
---
Gorgeous
Reviewed on

8/09/2011
Cassie M
The Matthaei Botanical Gardens are a beautiful place to get married or have any kind of pictures taken! We got lucky on our wedding day and had great weather up until we left the garden. There are a few different areas to have your ceremony and plenty of spots for gorgeous... Read More pictures. The timeline for the ceremony is a little short but it was definitely doable. We even left about 10 minutes early. The ladies there were helpful with keeping everyone on the timeline and even letting everyone know when they needed to start walking down the aisle. It was so helpful to have the assistant there throughout the ceremony. I would recommend this place to anyone looking to get married or do engagement photos!
---
Gorgeous Gardens!
Reviewed on

10/10/2010
Stacey R
The Gateway Garden of New World Plants was our ceremony venue, and at the end of September, it was all in bloom and so beautiful! It made for wonderful settings and pictures. We had our reception in the Auditorium inside, and everything was set up, fit perfectly and looked... Read More great! My only complaint (and it is a tiny one) is that we had three different people handling our event, and at times, it seemed like they all had different information about what we wanted. The wedding went off with very few, very small hitches, and was well worth what we paid.
---
Meet The Coordinator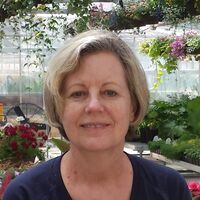 Linda Neely
I'm the weddings and rentals coordinator at Matthaei Botanical Gardens. I'd love to help you plan your wedding at the botanical gardens.