Home

Venue at the Grove
About this Vendor
Sophisticated Ambiance in Beautiful Pecan Grove
Let your story begin at Venue at the Grove by experiencing your grand entrance through a breathtaking orchard of pecan trees and a serene outdoor environment. We are located minutes from downtown Phoenix and offer a sophisticated ambiance that makes an ideal setting for a gorgeous wedding.
Amenities + Details
Amenities
Handicap Accessible

Liability Insurance

Indoor

Outdoor - Not Covered

Reception Area
For more details about amenities, please message the Venue.
Food + Catering, Planning
Contact Info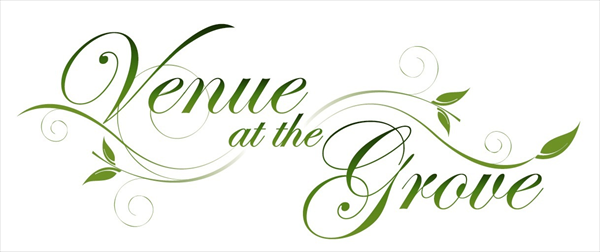 7010 South 27th Avenue, Phoenix, AZ
Surpassed Expectation
Reviewed on

3/13/2015
Dominika C
Our wedding coordinator was Taylor and we can't thank her enough for all her efforts and resilience toward making our day as perfect as possible. Throughout the entire process she was very attentive to our feedback and truly listened to our needs/wants and was able to make our vision come to life. She was great at answering back to all of our many questions and really helped make the process less stressful. We couldn't be more happy with this venue. The scenery was breathtaking (even in the early spring when the trees were bare), the illuminated trees look so incredible at night and the place truly doesn't require much decorating because it's got so much charm already. If we could do it all over again, we'd choose Venue at the Grove. They're inclusive package helped us not have to search vendors, and they were flexible with us on including some of our own vendors. Can't say enough great things, really really pleased with everything. Great staff, great location, great venue.
---
Amazing Venue!!!
Reviewed on

12/15/2014
Kirstin C
I got married at Venue at the Grove in November, and it was absolutely beautiful! The rows of pecan trees were full of leaves, and the weather was perfect. The venue is very quaint, and I loved that our event was the only one at that time. The Staff, especially Taylor, were very friendly and helpful. The food was also amazing. Guests continue to tell me how beautiful the wedding venue was and couldn't believe that was in the middle of Phoenix! I would highly recommend this venue!
---
The Perfect Place to Say "I Do"
Reviewed on

11/25/2014
Erin D
My husband and I were just married at Venue at the Grove on November 8th. When we got engaged I knew I wanted an outdoor wedding that didn't fit the typical Arizona western feel. I looked at very few venues because once I saw Venue at the Grove I booked it without my husband even seeing it! I was that confident in the beauty, cost, and team that comes with choosing this place for my ceremony and reception. For over a year the staff at Venue (especially Taylor) worked with me and walked me through each step. Doing the all inclusive deal was hands down the best decision I made as a bride. It is not only cost efficient, but the list of vendors that the Venue let you choose from is easy and you get the best! Our photographer was outstanding, the cake was beautiful and delicious, the DJ was the best one we have ever seen at a wedding, and we got multiple compliments from guests saying the rosemary chicken/ tri-tip and risotto was the best wedding food they have ever had. Thank you Venue at the Grove for making out day absolutely flawless and perfect!
---
Reviewed on

7/20/2015
Consie V
My husband and I really loved using Venue at the Grove as our wedding location. We utilized the outdoor area for our ceremony and reception for about 100 people, and it was just beautiful. The coordinators and staff were all friendly and helpful, and fielded my hundreds of questions with kindness and patience. They were open to most of my ideas, and we were able to personalize the venue to our liking. We were disappointed to not be able to use our DJ company of choice, however their preferred DJ (who we ended up utilizing) was great. The wedding day itself went smoothly with the help of the Day-of-Coordinator, Taylor (thanks, Taylor!), and we loved every moment of it, stress-free. It has an intimate feel, with the pecan grove located in a more residential area, removed from too much other action. We had our guests stay downtown and provided a shuttle to get them to and from the venue. It was a beautiful day and we are very grateful to have found such an awesome location to kick off our marriage! Thank you, Venue at the Grove!
---
Reviewed on

7/08/2015
Chris I
Let me start by saying, I NEVER write reviews for anything, good or bad. But we just had our wedding here Saturday June 6th and I cannot say enough great things about this place! I was skeptical at first with having a package and pre set vendors, but everyone they have it absolutely AMAZING. Our coordinator, Taylor, was with us from the begining of booking the venue and was super helpful and just plain wonderful. The DJ, Tony, was so fun! Not overpowering, but definitely understood the tone of our wedding. Our photographer, Jessica Q, was so knowledgeable and made us feel so comfortable in front of the camera. They have their own catering, ensemble catering, and honestly the food was the thing I cared the least about, but it was AMAZING. I think all of our guests told me how great the food was! We selected sugar lips cakery for our wedding cake, again another thing I was not too concerned about. Our cake was gorgeous, and beyond delicious. The venue itself is breathtaking and the staff made my wedding more than perfect! I can't thank them enough!!!
---
Reviewed on

6/26/2015
Jessica P
Venue at the Grove was absolutely stunning and breathtaking from the scenery to the entire staff on board with our wedding day. We are so glad we chose to do the venue all-inclusive package. I was still able to add my own touch with DIY projects and our waffle truck, while still having the cohesive organization of the package.
---
Beautiful, but not without some bumps
Reviewed on

1/15/2015
Rose F
My husband and I got married at the Venue at the Grove in November. It was visually STUNNING! I mean, truly gorgeous. Our ceremony was at sunset with the sun peeking through the trees- the lights came on as soon as we walked out and it was truly breathtaking. Even the reception area was flawless; the wedding coordinator and the staff did a wonderful job executing the centerpieces (All of which were different) exactly the way we wanted. We even added some last minute details, such as flowers on the chairs and signs/pictures, that everyone was very accommodating of. The venue had great bride and groom suites stocked with snacks as well as entertainment that made the hours before the wedding much more relaxed. The food was amazing! The buffet allowed everyone to take as much as everything they wanted, but it didn't have a buffet taste. Everything was made to perfection. My only wish is that I had taken some home for later on! The bar-tender for the event made a myriad of drinks for our variety of guests and was extremely kind to everyone. The big problem, which does not reflect on the Venue itself, was that there was mariachi music BLARING through my entire ceremony from the neighbors. (I don't mean you could hear it, I mean they had speakers way louder than what the DJ provided.) Taylor, the wedding coordinator, and even some of our family tried to get them to stop for the ceremony, but it didn't work. It was a serious distraction and made it difficult to hear the minister and ourselves. Thankfully my husband and I are very easy going and laughed it off, but I think a lot of people would freak out about something like that. This complaint isn't to say that you shouldn't get married here, I absolutely still think it should be considered, just keep in mind that it is an outdoor ceremony that is in a neighborhood and isn't as secluded as it feels when you are there.
---
Beautiful property and even more amazing staff!
Reviewed on

10/24/2014
Stephanie B
I highly recommend Venue at the Grove for your wedding ceremony and reception! Not only are they professional, but they are also responsive! They will work with you throughout the entire wedding planning process. The owners are an amazing couple and have hired the right people to help manage their business. Their current coordinator Taylor is absolutely amazing. She went above and beyond on our wedding day to help ensure things went smoothly. We were married on September 27th during a severe monsoon thunderstorm. Taylor, the set up crew, and even Edward (one of the owners), worked so hard to help set up our outdoor wedding (yes it was outside during a thunderstorm)--rain and all! Thank you again Venue at the Grove. We truly appreciate all of your hard work to help make our wedding day special and functional! lol Also, I must add that the property is absolutely gorgeous! We were married in September and the trees were in full bloom. At night, the property looks even more amazing. The strings of market lights make the property a beautiful backdrop for an outside wedding. If the photos don't prove it, go take a look for yourself. They have a weekly open house!
---
Gorgeous Venue
Reviewed on

10/12/2014
Chantelle L
i absolutely love Venue at the Grove! Even before I became engaged I knew I wanted to get married here. The grounds are beautiful with lush grass and green pecan trees--definitely a gem in the middle of the desert. The whole planning process was smooth, and Taylor was fantastic! She came onto the team about 2 months after we had signed our contract, and I was honestly a little hesitant about having to work with a new person, but she was so attentive to our needs and made us feel at ease about everything. The whole staff is wonderful, and their vendors are top notch. I highly recommend Venue at the Grove!
---
Wonderful Venue!
Reviewed on

8/12/2014
Kay B
Used this venue for our ceremony only and it was beautiful. I was hesitant about the look because it was AZ in the middle of the summer but it was absolutely everything we wanted. The grass was green and the setup was amazing. The coordinators were very helpful and made everything go smoothly. Highly recommend!
---
Ceremony and Reception Venue
Reviewed on

6/15/2014
Hillary D
The Venue at the Grove was amazing! First of all, the venue is GORGEOUS!!!! Second, every experience and interaction we had with the staff were wonderful. Taylor, the coordinator, was easy to work with and very accommodating. For our last meeting prior to the wedding, she stayed later to meet with us because myself and my husband had work and couldn't make it during the business hours. When we weren't sure of what to do for various things like decorations (linens colors or where to hang or place a few items) or how the ceremony/reception should be placed for seating, etc, Taylor always had great suggestions. All of the recommended vendors through the venue were awesome, too, from our DJ (Tony) to our Florist (Wild Child Flowers) to our Cake (Surgarlips) to our photo booth we added on top (Snap Booth). Our ceremony and reception ran seamlessly and we couldn't have been more impressed and happy with our wedding and how they took care of us. Thank you! :)
---
Ahhhhmaaazinggg!
Reviewed on

6/13/2014
jane y
My husband and I made booking a venue at the very top of our to-do list once we got engaged and once we started looking up venues and photos we pretty much decided Venue at the Grove was the perfect fit for us. We booked right away...we didn't even need to see any other venues. Venue at the Grove is gorgeous! It's simple,classic, elegant, and so organic...everything we were looking for in our venue. You've got so many options too as the seasons come which we also liked (lush and extremely green in late spring/more of a rustic look in the fall and winter as the beautiful trees start to lose their leaves). All of our guests whether they were locals or out of towners had nothing but the best things to say about our venue...many didn't know such a gem was hidden in Phoenix. The venue is incredibly affordable and so is the in- house catering service/staff (Ensemble Catering). The food was great. We went with Italian family style so large platters were served at each guest table. The only problem we ran into was that the venue was going through some changes with their Head of Events Coordinator so we felt a little out of touch with our coordinator. However, I just have to add that the owner, Edward was so incredibly understanding of this situation and assured us that everything would be running smoothly and whatnot. He actually did our 30 day wrap-up for us! The owners really do care so much about their clients which is very obvious in their customer service and the employees they hire. Taylor was our event coordinator and she was amazing. Once we knew she was our coordinator we has very prompt responses as it got really close to the big day. Being an incredible Type A personality she definitely made sure that I enjoyed my day as a bride as she took care of everything else. She even followed up on a few things after the wedding that we asked her about :) I would recommend this venue to anyone (if I haven't already)!
---
Venue at the Grove
Reviewed on

1/04/2014
Lindsey C
My husband and I just had our wedding here. We went with the all inclusive package and it was worth every penny. All our vendors were great and it made the planning process seamless and easy. The grounds are absolutely beautiful and I could not have dreamed of a better place to have my wedding.
---
High Recommend!
Reviewed on

11/18/2013
Kelly R
We had a wonderful experience using Venue At The Grove for our wedding ceremony & reception venue. The staff was incredibly helpful and ensured everything went smoothly all the way from my first venue tour to the end of the night on our wedding day. No matter how many questions I had they were always prompt and professional. I received so many compliments on how beautiful the venue was. The property is extremely well maintained and wonderfully decorated. I would highly recommend this venue.
---
The Perfect September Wedding!!
Reviewed on

11/17/2013
Jacqueline C
That is what all of my family and friends said during and days (even months) after my wedding. The Venue at the Grove offers a beautiful green oasis. We had our ceremony and reception outside and it was "magical". The lights that hung in the trees made for a beautiful night. The staff was incredible. They helped with last minute details that popped up as well as getting things to the cars at the end of the night. The service was superb and my guests are still telling me how good the food was (2 months after my wedding). We did the all-inclusive package and the vendors they called in to help were fantastic! Knowing I had the staff at The Venue at the Grove helping made for a stress free wedding and allowed me to sit back and enjoy my day!!
---
Fairytale wedding
Reviewed on

10/30/2013
kelly c
Amazinggggg.....Words can't even describe how happy I am. Everything was PERFECTION. Brittany, Alyssa and the whole team were so great every step of the way. Everyone kept telling us how it was the most beautiful wedding. GET MARRIED HERE!!! It makes everything so stressfree....literally didnt have one bridezilla moment haha because they keep everything so organized for you and you don't have to worry about a thing. Highly recommend. And all of the caterers are TOP of the line. The DJ was great, cake, florist, food.....everything! It was literally my dream wedding. Thank you!
---
Love this Place
Reviewed on

10/09/2013
Rebecca B
Venue at the Grove is great. They did everything just right and didn't complain about it when I made changes. On the day of our wedding we had some extra people show up, so that morning I called and Brittney said it was not a problem. I would recommend this place to anyone.
---
Perfect Venue!!!!
Reviewed on

10/05/2013
Laura D
My husband and I were just married here last weekend. The venue is absolutely gorgeous! All of the staff are so wonderful!!! They handled every detail of our wedding and made our big day perfect! We also used the catering services provided by the venue and the food was delicious. People have continuously told us how amazing the food was. Everything was perfect and we are so happy we chose the Venue at the Grove to host our special day!!!
---
Amazing Venue!
Reviewed on

8/20/2013
Britney R
I had a wonderful experience within Venue at the Grove! They bent over backwards to make sure I was happy and the day of my wedding turned out beautifully! My guests were very impressed and I continue to hear that I had the best wedding they had ever been too! Thank you for everything!!! :)
---
Wedding & Reception
Reviewed on

6/20/2013
Trisha T
We loved our experience at the Venue at the Grove! It was our dream wedding come true! The staff was very helpful and answered our many questions throughout the months of planning in a timely manner. They were very flexible with all the special things we wanted to include in our ceremony and reception. They also listened to what was most important to us and helped us personalize a package that best fit our needs. We loved them so much we often recommend them to our engaged friends, and will be attending a wedding there again in October! The scenery will take your breath away and leave you feeling that all your dreams of your big day came true. Thanks to the Venue at the Grove for making our special day our most favorite day ever! Trisha&Micah
---
Sabrina Davitt
Reviewed on

5/28/2013
Sabrina W
This venue is absolutely beautiful! We loved the Grove for our wedding, it was perfect. Great for small to medium sized weddings (inside capacity is around 145), but they can accommodate for large weddings outside on the patio. Would recommend it to anyone!
---
Amazing venue!
Reviewed on

5/25/2013
Mandy W
So many of my guests commented on how beautiful this venue was, and I agree completely! The trees and lights created a perfect setting for our reception. The office staff at Venue at the Grove were wonderful to work with. They responded to emails promptly and provided excellent service. We had a great experience.
---
Perfection....absolute perfection
Reviewed on

5/23/2013
Desarae P
I have definitely done my fair share of searching wedding venues and this one is by far the most amazing! I was the bride who would get quotes from every venue possible around the valley and even some in Sedona and California. The Venue at the Grove topped them all. They were extremely affordable and the location was a dream. We had about 135 guests, all of which were extremely impressed with the outdoor ceremony and reception. The twinkling lights set the perfect mood for a romantic and fun night and the tall pecan trees were perfect for pictures! Mindy was our wedding specialist - absolutely outstanding! She was extremely available to answer any questions, go over details, and help set up on the day of. I could not be more impressed with The Venue at the Grove. They exceeded every expectation for the most memorable day
---
Amazing Venue
Reviewed on

5/17/2013
Tanya D
I LOVED Venue at the Grove. The landscaping is so beautifull you don't even feel like you are in Arizona. My guest could not stop talking about how incredible it was and several guests plan to have their own wedding and vow renewal ceremonies there. The ceremony and reception space was absolutely perfect. The staff was amazing and made everything stressfree! Thank you Venue at the Grove for making my wedding a dream come true!!!
---
Outstanding!
Reviewed on

5/06/2013
Jennifer K
Absolutely AMAZING! This venue is absolutely wonderful, in every way. With our original venue closed down, just months before our wedding date, Venue at the Grove took all our stress away. I am so happy we ended up choosing them; they were so accommodating and Brittany was absolutely, without a doubt, AMAZING! All of our guests complimented the venue, and the beautiful scenery with the romantic twinkle lights on the trees just set the mood perfectly. I cannot express how lucky I was to have had my wedding at Venue at the Grove; our pictures are gorgeous, their customer service is great! And I will definitely be recommending this place to everyone!
---
Send Message