Home

Veronica's Sweetcakes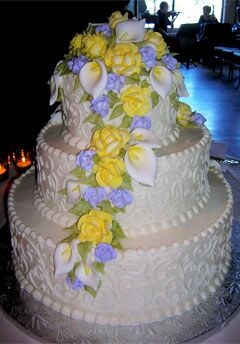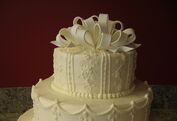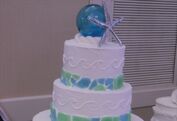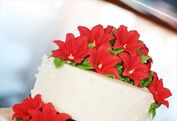 About this Vendor
Make the cake of your dreams a reality
Veronica's Sweetcakes has a reputation for impressing guests at weddings across the South Shore. We are known for our custom designed wedding cakes that are as delicious as they are beautiful. Contact us to schedule a complimentary cake tasting.
Details
Cake Accessories, Cakes + Desserts
Contact Info

1849 Ocean Street, Marshfield, MA
Best place for all your Cakes!
Reviewed on

11/14/2012
Dara G
Veronica's Sweetcakes was a knockout!!! They are the most professional and organized bakery I had ever dealt with! My guest raved over the our delicious cake and it was the most gorgeous cake I have ever seen! They included all my wedding decor and the theme of my wedding!... Read More THE BEST BAKERY ON THE ENTIRE EAST COAST!
---
DIFFERENT & DELICIOUS!
Reviewed on

11/12/2013
Samantha K
OK! So this was the one thing I let the hubby do completely on his own! It was not your traditional wedding cake. IT WAS AWESOME! It was 4 tiers the first tier was beachy with our date written in candy pebbles. 2nd tier had a lake theme with fish and a sign that said "funs... Read More over!", the 3rd tier had the groom being yanked off his jet ski by the bride who was sitting on the dock on the top tier. 2 tiers were red velvet and 2 tiers were chocolate and it was delicious, the cake was nice and fluffy and the frosting was rich and creamy! We brought the leftovers home and ate it over the next couples days... too good to waste!
---
delicious!
Reviewed on

9/28/2013
Tracie L
Can't wait to order again! Great family run business
---
Awesome!
Reviewed on

10/05/2015
Megan C
By far, the best cake we have ever had! My guests said it was the best wedding cake they had ever had!
---
Reviewed on

7/11/2015
Sam B
Veronica's Sweetcake was absolutely fantastic to work with. They were professional, creative and willing to listen and suggest ideas (which were incredibly helpful). I was a little difficult in that I wanted Funfetti flavoring for our cake, which most bakeries refused to do, but... Read More Veronica's embraced it and made a delicious, beautiful cake! They also provided gluten free cupcakes (that I heard were equally as delicious) for a few of our guests. My husband and I would definitely recommend Veronica's to anyone looking for a great bakery!
---
Delicious with Design
Reviewed on

8/18/2014
Ann T
I wanted variety, and choose to go w/ cupcakes! Not only did that allow us to have 8 flavor choices, we also saved some money! Veronica's Sweetcakes taste absolutely amazing! I can't wait to have more now that the "wedding diet" is over :) They were so nice to work with! They... Read More delivered and set up the cupcakes, and even added some anchor sugar details to tie into my nautical theme!
---
great cakes
Reviewed on

9/20/2013
Christine B
we loved Veronica's Sweetcakes. They can incorporate any style or theme you want and they are beautiful. We had a beach theme cake and they did a great job, what we discussed we wanted in the tasting was just as we wanted it at the wedding. And the cakes are delicious very moist... Read More and they have many differnt flavors you can try. Prices were reasonable as well. I would recommend them!
---
Delicious!
Reviewed on

5/20/2012
Jacki D
Delicious cupcakes! The staff was friendly and helped us figure out exactly what we wanted for our wedding. They were able to dye the frosting to match my bridesmaids dresses! Our guests loved the cupcakes and they were more affordable than we expected! We will definitely be... Read More repeat customers at Veronica's.
---
Delicious Cake
Reviewed on

1/29/2012
April H
The cake was absolutely delicious and they did a beautiful job with the design. The only problem was that we paid extra for a special stand and they forgot to deliver it the day of the wedding. They have since refunded the cost of the stand and sent a gift card to make up for... Read More their mistake.
---
A little pricey, but so worth it!
Reviewed on

1/09/2012
Laura B
My husband and I went to Veronica's for a taste testing and fell in love with all of the flavors. We ordered a combination of a few pictures that they had shown us and we were so happy on our wedding day to see how perfect it came out. This place is fantastic and the guests are... Read More still talking about how amazing the cake was! Highly recommended!
---
Delicious!!
Reviewed on

12/04/2011
Kate F
The cake was exactly what we asked for. It looked wonderful and it was delicious. They were very easy to work with.
---
Wedding Cupcakes
Reviewed on

10/29/2011
Jill B
I ordered 140 cupcakes and a small cake topper for our wedding. The cupcakes were a combination of their famous carrot cake, chocolate, and vanilla. I supplied cupcake wrappers. They were delicious and the cupcake tower came out beautiful! Sweetcakes was wonderful to work with... Read More and their staff are really friendly and want to help make your day spectacular!
---
most beautiful cake everrrrr
Reviewed on

10/21/2011
Jessica M
i was a lil nervous going through my reception site for a cake. i didnt know where to start either so i had gone online and tried to find a cake that i really liked so when i went to our wedding venues tasting i was pleasently surprised that veronica's was supplying the cake for... Read More the tasting. i had been looking at their website and saw that they had really beautiful cakes so i loved that they were there. the cake tasted so good! so i set up my tasting with them. my husband to be wasnt really interested in comming with so i asked his best woman to come with me. shes picky so i knew shed take his place perfectly. we tried all kinds of cake and teh girl sat down with us and was extremely open to my ideas and gladly took the disign i showed her and said thet could replicate it. the cake was so good we couldnt decide so we got the carrot cake and teh vanilla almond cake with rasberry filling. both were to DIE for. on my wedding day i was so excited to see how it came out and when i saw it it was more than i expected they did exactly what i wanted!!! i completely recomend this buisness to anyone!!! so good!
---
Delicious and beautiful!
Reviewed on

10/18/2011
Julianne A
Our cake was even more beautiful than we thought it was going to be. We were able to upgrade to a red velevet cake for only $.25 and it was so delicious. I highly recommend Veronica's Sweetcakes!
---
Simply the best!
Reviewed on

10/07/2011
Katelyn M
This bakery exceeded all my dreams by a million miles. It starts with my bridal shower - they made a cake (outrageously gorgeous and delicious), a plate of treats and even little wedding dress shaped cookies with glittery sugar on them wrapped in individual cellophane bags with... Read More a bow for each guest! Next came the wedding cake - a huge red velvet masterpiece! The cake was so good we didnt even manage to save the top! It was gone the very next day!!! And finally, the grooms cake - a tribute to In-N-Out burger... his favorite... a gigantic chocolate and vanilla hamburger with all the fixings! When I'm saying this cake is good, I'm telling you its the most amazing cake you will ever taste - plus its looks beautiful!!! They do it all brides - from very traditional, to whatever crazy thing you can come up with! Thank you Veronica's!!!
---
So yummy!
Reviewed on

6/27/2011
Kathleen Z
Our cake was so beautiful and tasted absolutely amazing! The staff was so great and helpful! I had been to other tastings and felt completely overwhelmed by the amount of cakes they gave us to taste. They kept it very simple with their most popular out of the table but were... Read More sure to tell us that they could bring out any flavor that we were interested in. We went with the almond flavored cake with raspberry filling and buttercream frosting and got compliments from everyone at the wedding about how good it was!!!
---
absolutely delicious (and beautiful too!!)
Reviewed on

5/05/2011
Heather D
I've heard from more than one person that ours was the best wedding cake they'd ever had. It had the simplistic beauty that I was going for and it tasted sooo good. I highly recommend them.
---
sweet cake
Reviewed on

9/21/2010
Shelley P
I loved my cake. It looked and tasted beautiful. It was just what I wanted!
---
Yummmm
Reviewed on

8/31/2010
Heidi S
White Almond cake with raspberry filling - delicious!! I already new I wanted a beach themed cake with adirondack chairs on top and picket fence and she had them on hand and pictures of one she did in the past that looked like I wanted it to. White chocolate shells and fake... Read More sand helped top off the buttercream frosting. Everyone loved it!!
---
Beautiful and Delicious!!!
Reviewed on

5/18/2010
ELIZABETH M
Veronica's did an amazing job with our cake. We liked the personalized attention we received, the cakes were the best tasting, and everyone in the bakery was very professional, friendly, and helpful. I would highly recommend Veronica's to any couple that is getting married... Read More on the south shore. They can do pretty much anything anyone could want with a cake. Their confectionary flowers came out beautifully and no picture truly does them justice.
---
Review for Veronica's Sweetcakes
Reviewed on

5/10/2010
Laura F
I had wedding cupcakes and they were delicious and everyone loved the idea of cupcakes.
---