Home

Vibrant Occasions Catering
About this Vendor
Catering To Your Senses
Vibrant Occasions Catering's extensive services include plated meals, action stations, passed hors d'oeuvres, stationary buffets, and bartending services with fully staffed events . Chef Serge Krikorian and his wife, Mary, are owner-operators of Vibrant Occasions Catering have been catering to Central Arkansas since 2002. They, along with their highly trained, professional staff, produce delicious food in a large, commercial "scratch kitchen". They are committed to providing you and your guests with a catering experience that will awaken your senses with hand-crafted meals, dazzling presentations, unparalleled service and a driving desire to satisfy your appetite for a unique dining experience. We are not your average caterer, since we customize every menu to meet the needs of our couple.
Details
Cajun, Northeastern, Southern, Southwestern, American, Greek, Italian, Latin American, Mexican, Specialty
Gluten Free, Nut Free, Vegan, Vegetarian
Buffet, Catering Clean Up, Catering Delivery + Setup, Chef Stations, Passed Appetizers, Seated Meal, Servers, Food + Catering, Service Staff


Contact Info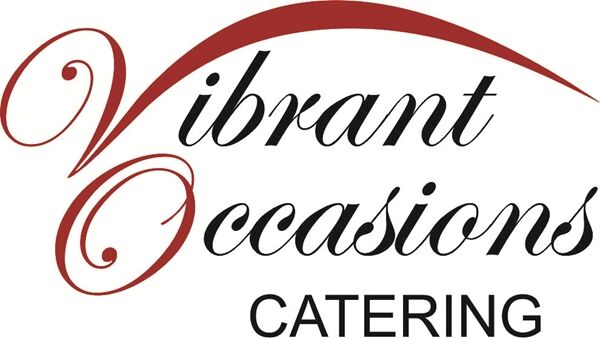 Reviewed on

10/16/2017
Words are not sufficient to express our gratitude to owners Serge (Chef) and Mary and outstanding staff (Leah and so many others) of Vibrant Occasions for their outstanding service to us before, during, after our wedding event in Hot Springs October 7, 2017. Robert and I... Read More were nervous (to-say-the-least) to select a caterer for our 55 person event at home--so much so, that I wanted to cook my own food to be sure what we fed our guests would be edible--but Robert gently insisted we find a caterer. What we found was family. Not only did I receive an immediate reply to my initial inquiry, but Serge, Mary, and Leah welcomed this nervous bride and groom-to-be into our first meeting/planning session with grace, patience, information, and options. The negotiation of contract was effortless, and the willingness of Vibrant Occasions to adjust our menu to accommodate our guests and event size was perfectly professional. And the meal . . . I cannot adequately express my gratitude to Chef Serge and kitchen staff for the exquisite dinner we received. Robert and I selected chicken . . . not because . . . but because . . . and I prepared myself for the worst. But what Robert and I and our guests received from Chef Serge was a succulent, unexpected, tender & juicy, melt-in-your-mouth moment of absolute perfection! The Vibrant Occasions team and Chef Serge tailored our meal to our event: the margarita chicken, spring vegetable mix, the tri-colored roasted potatoes, the strawberry salad, the spinach artichoke stuffed Portobello (for our vegetarians), and the cocktail hour finger-trays and cheeses were all beyond expected flavor and texture. Each bite was absolute perfection! Kudos to Chef and kitchen staff! Robert and I and our guests are STILL discussing the flavors and perfections of our special meal. I also fretted over the travel-time and prep-time for the event in Hot Springs; I knew the food would loose flavor/texture after the processes of cooking, packing, traveling, unpacking, staging, serving. I could not have been more wrong. The meal was as fresh at 6:00 p.m. as it would have been had all 55 of us arrived at Vibrant Occasions for our servings hot from the Chef's oven. Again, I have no words to express our heartfelt gratitude for the Vibrant Occasions team. Additionally, I must add a few words about our evening service. The home venue is intimate. I fretted that the "moving about" of service staff could have been intrusive and obvious. Again, I was wrong. The Vibrant Occasions two-person staff was absolutely professional in dress and service; the presence of the Vibrant Occasions staff in our home was unobtrusive and perfect. That's it. Perfect. The Vibrant Occasions staff and service created no distraction, and their professional service only enhanced and perfected our evening. Additionally, the Vibrant Occasions staff packaged, labeled, and refrigerated a full meal for me and my groom--both too busy to sit and enjoy a meal with our guests; such attention to our needs brought tears to my eyes. Robert and I give our highest recommendation to Vibrant Occasions Catering; Robert and I are forever grateful to this unique and professional team who will work tirelessly behind the scenes to perfect your event and provide you with precious memories to last a lifetime. Thank you, Serge, Mary, Leah, and EACH special member of the staff and crew of Vibrant Occasions Catering!
---
Reviewed on

8/04/2017
Kathy L
I cannot say enough positive things about the experience we had with Vibrant Occasions Catering! When planning a wedding or any other special occasion for that matter, there are so many decisions to be made and details to think about. Right from the beginning, planning for our... Read More rehearsal dinner and the wedding reception with Serge and Mary was a stress free experience. Mary knew all the right questions to ask to dial down to what we really wanted for both of the meals, and gave "seasoned" advice as to how to host a wonderful dining experience within the parameters of our budget. We were equally as pleased with our experience at both of our events. The staff was so professional, courteous and accommodating! The food was delicious, and I would highly recommend the street tacos! Overall, the decision to use Vibrant Occasions Catering is one that we will make again in the future without hesitation! Serge and Mary and their entire staff helped us to provide a wonderful celebration for our children and guests.
---
Reviewed on

3/25/2016
Our whole experience with this company was excellent. Many people raved about how good the food tasted, The servers were very polite and professional - both in appearance and in the service they provided. During the planning process, Mary and Serge made us feel so at ease and... Read More confident that everything would be taken care of - and I was very grateful for some of their suggestions because they were indeed spot on. I highly recommend this company and would most certainly choose them again in the future!
---
Reviewed on

10/29/2017
Ben H
Vibrant Occasions has the best service ever!!! The food is absolutely amazing and every one of my wedding quests was amazed. They are very adaptable to last minute changes and put on an amazing display. Not one single complaint and nothing but raves coming from my quests !!
---
Reviewed on

10/24/2017
Cindy B
Vibrant Occasions served as the caterer for my son and daughter-in-law's wedding. It was a fantastic experience from start to finish! Mary and Serge were very accommodating to our specific wishes. The presentation at the reception was just as we had hoped. And the food was... Read More amazing! Our guests were very complimentary. The staff was professional during the event and throughout the planning process. We even encountered a problem, (had to reschedule the wedding with short notice due to Hurricane Harvey) and Vibrant Occasions was extremely gracious to work with us to reschedule...even at a loss on their end, I'm sure. We will use their services again in the future.
---
Reviewed on

6/20/2017
Shannon W
My family and I highly recommend Dinner's Ready for catering needs. We also like to stop by their shop to pick up yummy snacks and quick heat-n-serve meals. Dinner's Ready catered our daughter's wedding in 2015. Our 200+ guests raved about the food and service. Attention to... Read More detail and client care are exceptional. My husband and I hadn't stopped visiting with our guests to eat. Mary and Serge made plates and brought them to us! This year (2017) we threw a pool party baby shower for our daughter and her husband. This was a much less formal event than the wedding, with only 30-40 guests. Again Dinner's Ready excelled with their food and service. We had a wonderful time, and my husband wasn't stuck behind the grill all afternoon. I fully trust the advice Mary and Serge provide. They are experts at what they do, and want the best for their clients. Every dollar we've spent with them is a dollar extremely well spent. In this case you get much much more than you pay for. HIGHLY RECOMMENDED.
---
Reviewed on

6/02/2017
Kris M
Dinner's Ready Catering did an amazing job for our wedding reception. The food was great and the servers/bartenders were attentive and friendly. I would highly rec0mmend them to any bride prepping for a wedding.
---
Reviewed on

3/28/2017
Erin N
Mary and her team at Dinner's Ready are wonderful!! The food was amazing. Everyone at the wedding raved at how delicious everything was. I highly recommend Dinner's Ready for any catering event!!
---
Reviewed on

3/11/2017
Dustin O
Mary and Serge were wonderful to work with. We had action stations at our wedding dinner. The pasta stations were amazing. I wanted bananas foster as my grooms cake and they delivered. I would definitely recommend them to anyone looking to have there special day catered. Thank... Read More you to all of the staff at Dinners ready!
---
Reviewed on

1/09/2017
Stephanie S
We had such a great experience with Dinner's ready. They were easy to speak with, plan the menu, and quick responses to emails. We had 3 main entrees which included the best shrimp and grits and burgundy beef brisket I've ever had. Our guest RAVED about the shrimp and still... Read More hearing about it a month later! The service was professional and we enjoyed working with this family. They worked with our planner to get all the details together. We made the right choice with this vendor. We are definitely utilizing them in the future for our parties. Thank for all your hard work!
---
Reviewed on

12/13/2016
Camelia C
Serge and Mary are the nicest, most accommodating people to work with for your event. The set-up looked amazing, their entire team was fun, and the food was absolutely delicious! My guests are still raving about the pasta stations. Highly, highly recommend :)
---
Reviewed on

11/14/2016
Kaitlin W
Dinner's ready catered my wedding at Alda's and it was absolutely perfect. They actually listened to me about what I wanted and liked and made it happen! I had so many people tell me how awesome the food was, and me and my husband enjoyed it as well. They were so easy to work... Read More with and if I ever need a caterer again they will be my first choice!!
---
Reviewed on

10/24/2016
Brooke P
We had Dinner's Ready cater our wedding and it was absolutely perfect!!! From the time we emailed asking for pricing, up until our wedding day they were by our side! Not only did they keep the drinks filled and the taco bar clean and full, they picked up our guests plates as... Read More they finished eating and kept our cupcakes and cookies stocked up which we didn't even purchase from them! They are simply the best! They even set aside a "Bride and Groom" to go box for us to be able to eat later that night at our hotel. We were 110% satisfied and can not wait to use Dinner's Ready catering for all of our future catering needs. A week later and our guests are still ranting over how amazing the food was!
---
Reviewed on

10/12/2016
Scott C
Excellent food and service. Very friendly, and extremely useful. There wasn't a single complaint from the guests - only praise!
---
Reviewed on

10/10/2016
Joy D
The compliments are still coming in! Dinners Ready could not have been more helpful to our family in planning our Son and Daughter-in-love's rehearsal dinner! Planning an event from another city is not always easy... But working with Mary and Serge... We knew we were in good... Read More hands! From the first phone call to my simplest questions in emails they were professional and answered any/all questions in a timely manner ! The dinner was delicious and the portions were great! Everyone left satisfied and happy! And let's talk dessert... Your life will not be complete without a slice of Ding Dong cake... Yes, I said Ding Dong cake! It is the most decedent dessert, it satisfies every chocolate craving you will ever have! Thank you Mary and Serge for making a precious time in the life of our family so special...and DELICIOUS! The Duke family Shreveport, Louisiana
---
Reviewed on

9/19/2016
betsy c
Great food, great service. Multiple compliments from guests during reception. Highly recommend.
---
Reviewed on

8/12/2016
Dinners Ready did a excellent job catering our daughters wedding. Mary, Serge and thier staff provided great food and service. I would recommend them for any catering event!
---
Reviewed on

7/08/2016
We have used Dinner's Ready as a family for multiple events in the past year: 2 weddings and a retirement party. I can honestly say, Mary and Serg are the EASIEST people to work with. They pay attention to the smallest detail, create beautiful displays no matter your budget,... Read More and are so helpful! They are great menu planners, and on top of everything else...their food is high quality and DELICIOUS! I cannot recommend them enough!
---
Reviewed on

6/23/2016
Ashlyn H
The owners are so helpful and the food was SO good. Very happy with the turnout :)
---
Reviewed on

4/06/2016
I have attended many functions catered by Dinner's Ready Catering. The food and service have always been top-notch, and that's why they were our first choice for catering our son's rehearsal dinner, which went extremely well. Serge, Mary, and their crew did a fantastic job on... Read More that occasion that was so important to us. They were prompt, flexible, easy to work with, and priced very competitively. The food was served hot and was absolutely delicious. I would HIGHLY recommend them for any catering occasion.
---
Reviewed on

3/31/2016
Dinner's Ready did a fantastic job catering our daughters wedding! The food was awesome and their staff could't have been better. We are very satisfied customers!
---
Meet The Owner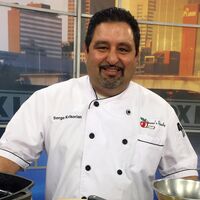 Serge Krikorian
In the catering business, we love our wedding customers because we get to be part of a day that is intimate and full of love and family. I am part of the Vibrant Occasions Team that will help ensure that you are catered to on your wedding day. From scheduling a one-on-one consultation with our Catering Coordinator to serving your customized menu on your wedding day, I am here for you.