Home

Wedding Tales Photo | Video
About this Vendor
Your Story is Our Passion
Wedding Tales is a husband-wife team with a passion for telling stories through photography and film. From high school sweethearts to a family of four, Joe and Karli understand the importance of capturing memories that will be treasured through every stage of life. Their focus on candid story-telling results in artwork that truly reflects the individual love and unique journey that unfolds on every wedding day. Joe and Karli are incredibly blessed to have shared in the stories of so many amazing couples over the past decade—and they would love to be a part of yours! *** Mention that you found us on the Knot and receive a discount! ***
Details
Digital Files, Photo, Second Shooter Available, Social Media Sharing, Full-Length Video, Highlight Video, Video, Photo + Video
Reviewed on

11/18/2016
Alison M
Wedding Tales is simply REMARKABLE. I sought out this husband and wife team, as soon as I became engaged, because of a friends video and photos that I had seen earlier that year. The initial process was simple and easy and I was made to feel comfortable immediately. I was told... Read More to always call/email/message about any and all concerns, and believe me, I did. They were quick to reply and ALWAYS put me at ease. The took my ideas and put them together with their professionalism, and came up with amazing work. Having them with me, all throughout my wedding day was a true blessing. Karli seemed to be my saving grace before the ceremony, helping me keep my cool, as though we were old friends. After the day officially got underway, Joe and Karli almost "disappeared". They were in every corner at every moment, capturing all of the memories. This team has a clear passion for capturing all of the beautiful moments, that even I wasn't aware of, around me. When I received my photos, it was like watching the most beautiful day of my entire life, play out before my very eyes. It was artistic. It was candid. It was exactly what I had dreamt it would be. The following day, I received my hilight video. This was astounding. I have NEVER been so moved. Everyone that sees it says "this is the best money you've ever spent". Every single time. I'm brought tears and I'm beyond grateful, every time I see it. I highly recommend Wedding Tales.. they're an A +++ business.
---
Reviewed on

10/12/2017
Alisha M
We had looked for months for a wedding videographer that produced great cinematic quality at a price that fit our budget, and wedding-tales was the perfect fit. Our videos are incredibly perfect and Joe and Karli were simply flies on the wall at all times. Every second of our... Read More day was beautifully captured and wrapped into such an amazing product. Please do yourself a favor and commit to Joe for your videographer, you wont regret it!
---
Reviewed on

8/24/2017
Callista G
My husband and I found Wedding Tales at a Bridal Show in Grand Rapids. We are so happy we choose them for our Northern Michigan Beach Wedding! Joe and his wife did an absolutely amazing job. I can't begin to describe how artistic our wedding videos turned out. We've watched... Read More them with several friends and they all said the same thing. We had a non-traditional ceremony and reception and Wedding Tales captured every important moment. Hire them and you'll be amazed!
---
Reviewed on

8/05/2017
Sydney N
Joe did an AMAZING job! From the beginning, Joe was always professional, friendly, and easy to communicate with. The day of the wedding, he made the whole process so easy and fun. He took our ideas and turned them into beautiful moments captured on camera. Looking at our... Read More pictures, I was blown away with how they turned out. They were absolutely perfect!! You could tell he took the time to make every picture meaningful. I would highly recommend Wedding Tales to any couple!
---
Reviewed on

7/13/2017
Darcell H
Joe, Karli and Mary are such a pleasure to work with!! They are the sweetest people, so easy going and I am so happy I chose to work with them for my wedding! Since our first phone conversation, I knew I wanted to go with Wedding Tales. I live 4 hours away from my venue and they... Read More are about two hours from there and not once did our communication fail. Besides them being so awesome...their work is amazing!! I received my photos and highlight reel so fast and they were perfect. I received SO many compliments on how great of a job they did and how beautiful the photos came out. They captured so many special moments I missed on the day of the wedding. I HIGHLY recommend Wedding Tales. Great people and great service! :)
---
Reviewed on

6/01/2017
Jillian J
My husband and I are blown away by Joe and Wedding Tales! I fell in love with my co-workers wedding video and decided to book with WT before I was even engaged....and I am SO grateful that we did! Friends and family members have been calling our highlight reel a "dream" and I've... Read More already received inquiries for Joe's contact information. The video quality is stunning and it perfectly captures all of our precious memories from our big day. The wedding went by so quickly...with this video, we are able to re-live each moment, together. I highly recommend...Joe is so wonderful to work with. You couldn't ask for a better vendor to include in your big day!
---
Reviewed on

2/06/2017
Jillaine D
Joe and his wife did an amazing job capturing all our special moments from our wedding day! The highlight video is the best. So beautiful. It brings me to "happy tears" every time I watch it. They were perfect at paying attention to our details and so kind. Our wedding video... Read More is something we will cherish forever and watch every NYE on our anniversary!
---
Reviewed on

1/12/2017
Paula H
Absolutely amazing! And even that is an understatement!! We had Wedding Tales as our videographers for one of the most important day of our lives and we couldn't be more thrilled with the results. The most exciting thing is being able to see the special moments of the day that... Read More you weren't able to be a part of. As the bride you don't get to watch your soon to be husband and bridal party walk down the isle. With your video you are able to see it all and feel like you are there in that moment. We also found it amazing to see your significant other getting ready and the emotion on their face. Wedding tales does a wonderful job at capturing moments and details throughout the whole day that you now get to look back on. The quality is outstanding, and so are Joe & Karli. They are easy to work with and can truly put you at ease knowing their experience of doing this so many times before. It is so great knowing that we will always be able to look back at our day and to be able to share it with others. The only regret I would have is not have Wedding Tales capture our wedding day! Hands down the best and definitely worth it.
---
Reviewed on

11/20/2016
Courtney T
We used Wedding Tales for both our photography and videography needs and were very happy! I know a lot of people choose to forego hiring a videographer but I am so glad we did. My husband and I both agreed after the fact that having a videographer was one of the best decisions... Read More we made. Our second best decision was choosing Wedding Tales to be the ones to capture our day. Joe was our main contact but his team (comprised of his brother and wife) were all incredible. They complemented each other well and were all extremely talented in their own way. Joe was very responsive and easy to work with. On the day of, all three went above and beyond to help ensure things went as planned (and not just related to the photos/video). Our church had very tight restrictions with regards to media yet Wedding Tales was still able to capture everything beautifully. The turn-around time was more than impressive and the quality was outstanding. When watching the highlight reel, ceremony footage and reception footage, you feel like you're watching a movie. When comparing Wedding Tales footage to other companies, you can definitely see the difference. Honestly, we can't say enough good things about Wedding Tales. They are worth every penny. Your photos and video are the only investment you make during your wedding. Choose wisely, choose Wedding Tales. You will be happy!
---
Reviewed on

11/03/2016
Alex H
Joe & Karli did a WONDERFUL job on our wedding!! They went above and beyond & exceeded our expectations for a beautiful day. Not only was the communication great since the beginning but even after the wedding they made sure we had everything set on our end too! I would highly... Read More recommend Wedding Tales -- thank you again for everything !-Alex & Dan 9.17.16
---
Reviewed on

8/11/2016
Heather R
We had hired Joe after meeting him at a bridal show. When we met with him we knew he would be a great choice for us! I can't begin to describe how happy I am with our photographs. When we first met he said that they like to get photos without being in your face and they can... Read More blend in. To give him credit he, and his wife who also did photography at our wedding,certainly did! When we were looking through photos I told my husband I didn't even remember one being taken and he said they were right there but I didn't notice them at all. :) Everything went smoothly and they answered all of our questions and last minute requests quickly. My day had some major last minute changes due to a serious family emergency and Joe and his wife were reassuring and kind giving me space when I needed it or a kind hand or word. On the business side of things, I can't stress enough that I think I got the better end of the deal :) The value for their service is amazing. If I could go back and do it again, I would have probably splurged and used their videography services as well. :) You won't be disappointed if you choose Joe and his partners :)
---
Reviewed on

2/11/2016
Kylee K
We hired Wedding Tales to tape our wedding ceremony and reception events. Wedding Tales went above and beyond our expectations. Joe really listened to what we wanted out of our wedding video and made it so much more beautiful than we could have even imagined. My husband and I... Read More watched the video the day it was sent to us and we were crying and laughing all over again. I cannot say enough about Wedding Tales and I would recommend them to anyone. They were professional, timely, and so supportive of our wants and needs. A+++!
---
Reviewed on

11/02/2015
Erika B
I hired Wedding Tales to do videography for our wedding. Weddings, as most people know, are very expensive. I debated on whether or not I should spend the extra money to hire a videographer because I thought the pictures would suffice. But, I am so so happy we decided to hire... Read More Wedding Tales. The highlight, ceremony, and reception videos turned out better than I could have imagined. Pictures are great, but our wedding video perfectly captured the emotions of our wedding day. You are able to relive moments that aren't posed or forced because, let's be honest, by the end of the day, you can get a little tired of posing for pictures. They did an AMAZING job. If I had to do it all over again, I would hire Wedding Tales in a heartbeat. You can tell Joe and his brother are passionate about what they do. The quality of their work was well worth the investment and now my husband and I have those memories to keep forever. I would highly recommend Wedding Tales for videography! You won't be disappointed if you decide to have this team be a part of your wedding day!
---
Reviewed on

9/01/2015
Brian S
I selected Wedding Tales as our videographer after watching a few of their videos online and couldn't be more thrilled with the results! Joe and his team were so easy to work with. We didn't have a ton of communication beforehand but they arrived early and ready to go - and not... Read More kidding - were like ninjas through the entire day! I did not notice them during the ceremony or the reception but they seemed to capture every single important moment. I have been watching our wedding trailer and highlight (and selected the BEST songs to that fit perfectly) repeatedly after receiving them and have gotten a ton of compliments. It was the perfect way to capture the emotions of the day - and love that I can look back and remember exactly how I was feeling during those moments. They also had an extremely quick turnaround for the first video which was such a fun surprise! I highly recommend using Wedding Tales as your videographer - they did such an incredible job - you won't regret it!
---
Meet The Owner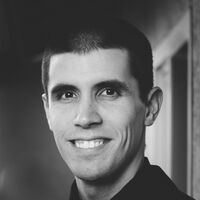 Joe Simon
Joe Simon has an MBA in Film and Television Production and over 10 years of experience in photography and film. He is an experienced photographer and filmmaker who has worked on independent films, televised commercials, promotional materials, and event photography and videography.