Home

Write Impressions
About this Vendor
A Special Occasion Demands a Special Invitation
Write Impressions offers over 28 years experience in all things paper for your wedding. Invitations, menus, programs and more! Browse our books from fantastic vendors like William Arthur, Kleinfeld & Vera Wang or create custom designs with our in-house graphic artists. Open 7 days a week!
Details
Custom Invitations, Save-The-Dates, Invitations + Paper Goods





Contact Info

Reviewed on

1/23/2018
Lauren S
We knew we needed custom invitations and save the dates due to trying to tie our theme of golf into an elegant country club wedding... it was a big task and one I was really nervous about. I didn't think anyone would quite get my vision.. I was wrong we worked with Laura, the... Read More graphic designer, and Beverly and they NAILED it. We spent hours on both the save the dates and invitations going over every last detail. Our save the dates turned out absolutely perfect as did the proof for the invites. I can't wait to seem them in person. The paper we selected for the save the dates didn't come out right and Laura caught it and sent me proofs of different papers to decide. I was so happy because it wouldn't have looked right with the paper I chose. They are extremely detail oriented and will help you with wording and anything you need. You get what you pay for and I couldn't be happier... even to pay a little extra (which really wasn't the case they were very competitive) it's worth it you will get 100x better service and product than just buying one from a website.
---
Reviewed on

3/19/2018
Kayla K
Write Impressions was absolutely incredible to work with! We received excellent service from our initial consultation with Courtney to the design process with Laura. Laura was able to create a custom watercolor invitation set for us and we couldn't have been happier with how... Read More things turned out. I would highly recommend Write Impressions to anyone who is looking for wonderful stationary!
---
Reviewed on

10/26/2017
Julie A
What a beautiful store and great staff! There is such a great selection of invitations there's no way you could go wrong! The staff is also very well-trained and knows their stuff!
---
Reviewed on

10/18/2017
Kara S
Loved working with Write Impressions! They created my bridal shower invitations as well as our gorgeous wedding invitations!
---
Reviewed on

10/09/2017
Rose C
I have always loved shopping at Write Impressions. I knew they would be the right fit to make our wedding invitations. They were so easy to work with every step of the way. Courtney returned quotes quickly and was so helpful when we picked out our invitations. Laura did a... Read More fantastic job with the graphics. Once the proofs were approved, I had the invitations within the week! Love them!
---
Reviewed on

10/02/2017
Charlotte R
Write Impressions was incredible. After ordering sample after sample of wedding invitations online, I was so frustrated and found this store on The Knot and decided to give it a shot. I am so thankful for this store and wish we had gone only here. Bev was so amazing. I recommend... Read More Write Impressions to ANYONE in the metro Detroit area.
---
Reviewed on

9/05/2017
Mallory W
I knew exactly what I wanted and Write Impressions brought my custom invites to life. Couldn't be happier with the designer I worked with. Thank you!
---
Reviewed on

7/05/2017
Pia S
Write Expressions was super helpful helping us find our wedding invitations. They helped us narrow down what we really liked and provided good advice on wording or what could be adjusted to stay on budget. I would recommend going to Write Impressions for any occasion, especially... Read More over ordering online any day!
---
Reviewed on

5/24/2017
Ashley A
Excellent service and high quality goods! We used them for our save the dates, invites, escort cards and gift bag insert, each piece was perfect! Super easy to work with!
---
Reviewed on

3/18/2017
Jenna D
Write Impressions was absolutely wonderful to work with for our custom Wedding Invitations! Courtney had so much patience with us while determining paper, layout, fonts and colors. She was very knowledgeable and professional. She offered excellent suggestions throughout the... Read More entire process. We chose Write Impressions as opposed to an online printer due to their personalized service, attention to detail and, believe it or not, cost. The timeliness of services and printing was amazing! We couldn't be more pleased with our invitations!
---
Reviewed on

10/10/2016
Cassie R
I used Write Impressions for my save the dates for my wedding this October. They helped me to execute my vision for a custom design including pictures of me and my husband when we were little (picking out the font, paper, layout etc). They also printed the envelopes. They did a... Read More great job and I would use them again!
---
Reviewed on

10/05/2016
C R
I bought over $2000 worth of invitations. Shannon, the old graphic designer, was amazing! She had GREAT customer service along with her creative ideas. Beverly, one of the ladies that works there, is someone I would not recommend using. She originally helped us with our invite... Read More design, then when we came back in to complete the design, She said "who are you?". And starting doing EVERYTHING all over again. Also, while we were sitting at the table with her, she started bad talking the other bride that just left. I figured that must have been a difficult bride, BUT then she started to also bad talk ANOTHER bride that came to pick up her invites. While all of this was happening, she was bossing the young girl that works there around. It was sad to see an employee treated this way. Also, I will be telling the 500 people we are inviting to our wedding about the HORRIBLE customer service we received. It's too bad Shannon. This store does not seem to be organized.
---
Reviewed on

9/07/2016
Brenna B
Write Impressions did an amazing job with my wedding invitations. I was literally clueless on what I wanted and their staff was extremely patient and helpful to me through the process! I worked mostly with Beverly. They make a proof of your product and send it via email before... Read More you order the final product. They were also able to print the addresses on my envelopes and print my place cards for my reception. I had no issues and everything came on time! I would recommend Write Impressions to any bride looking for fabulous invitations! Thank you Write Impressions!
---
Reviewed on

7/25/2016
Kyra H
Beautiful wedding invitations and programs; great quality; timely delivery; and outstanding service!
---
Reviewed on

7/22/2016
Kyle I
Write Impressions created a beautiful suite for us! We received many compliments from our friends and family members. They also worked well to provide us additional runs of invitations, which we hadn't originally anticipated!
---
Reviewed on

3/13/2016
We looked at lots of options for invitations, went back several times, and everyone was patient, and helpful. Absolutely love what we finally settled on, and have gotten lots of compliments from folks on the invitations. Thanks for all your help!
---
Beautiful!
Reviewed on

10/27/2015
Kristen Z
I would highly recommend Write Impressions to any bride! Our invitations, placecards, table numbers, and thank you notes were beautiful. They worked within our budget and had creative suggestions. Very easy to work with when it came to customizing our items and proofing.
---
Wedding Invitations
Reviewed on

10/19/2015
Jodi B
I used Write Impressions for my wedding invitations and escort cards. The staff members and graphic design team were friendly and very accommodating. They helped price many options out to work within our budget. I still get compliments on my wedding invitations months after our... Read More wedding! Highly recommend.
---
8.1.2015
Reviewed on

8/24/2015
Emily S
Great service and very quick in getting invitations done. They helped us personalize our invites with our own touch. I would highly recommend Write Impressions, you can't beat their quality!
---
Reviewed on

8/20/2015
Marisa S
My fiancé and I were glad to find Write Impressions. We loved that we were able to touch and feel so many different samples of paper goods before making our final decision. Loved being able to personalize everything. This is a great vendor to work with. Highly recommended.
---
Wedding Invitations
Reviewed on

6/19/2015
Our experience selecting, ordering, and receiving our Wedding Invitations from Write Impressions was very enjoyable, easy, and professional. The entire staff at Write Impressions work as a team and were all so helpful and informative. We truly COULD NOT be happier with the... Read More finished product. The invitations and additional inserts we selected are all perfect. There is so much detail and information that needs to be on your invitations, it is just so nice to have a professional helping throughout the planning/designing process. I would highly recommend Write Impressions for any printing needs.
---
Reviewed on

6/19/2015
Kelly G
We are so impressed with the customer service and quality of our product. Living in the area it was important to my fiancé and I to shop local for all things wedding. Write Impressions has served as our daily paper needs, eclectic gifts and card shop since we have lived here but... Read More they were also able to create our dream save the dates & wedding invitations. Shannon, who assisted us through the design process was always on top of things, updating us, and giving us a call when items were complete or ready to proof. We are thrilled with their service and product and can't wait for our guests to receive the next piece to our wedding. Thank you!
---
Complete Customization
Reviewed on

5/17/2015
Jamie M
The ladies of Write Impressions were very knowledgable and helped me create completely customized invitations (my friend is a graphic designer and provided the complete final design). There was an issue with the color on the first print, but they reprinted everything at no cost... Read More to me and the invitations turned out very nice. I received lots of compliments about them.
---
Great Experience!
Reviewed on

1/02/2015
Amanda C
We loved Write Impressions so much we used them for wedding invitations, rehearsal dinner invitations, place cards and thank you's. We started out with a really had a great experience shopping for invitations. The assistant working with us listened to what we liked as well as... Read More our price range, and picked out the perfect stationery line for us to browse through. And once we picked our invitation, they were great about helping us get the wording and formatting just right. Place cards were also great! Write Impressions helped me go from Pinterest board to realistic and fabulous! They also helped guide us on rehearsal dinner invites and thank you cards. Two areas where we had no ideas. Both turned out great :) I think the entire store knew us by the time we were done, and everyone was always great to work with!
---
Simply Amazing
Reviewed on

10/22/2014
Lauren M
I used Write Impressions for my engagement party invitations and I could not have had a better experience! I worked with Sandi who helped me along the way helping me pick out the best design to proper wording etiquette! The invitations came out beautifully and not to mention... Read More quickly! I will definitely be using Write Impressions for my Wedding Invitations! :)
---
Meet The Owner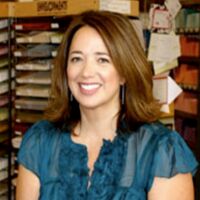 Lori London
Write Impressions has been the premiere stationery and gift store in downtown Royal Oak, MI for over 25 years. We specialize in custom stationery and invitations to meet a variety of individual styles and budgets. Our in-store printing department has graphic designers available to help you create a one of a kind creation. We pride ourselves on our quick turn around and attention to detail. Our friendly staff and designers are equipped to help you with large events or small intimate gatherings.