Looking for a couple's registry?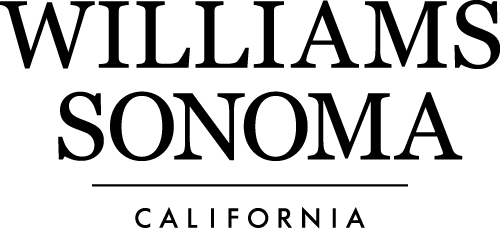 Williams Sonoma Wedding and Bridal Registry
A Williams Sonoma registry is the perfect choice for couples who enjoy spending time together in the kitchen. Williams Sonoma's culinary selection is packed with quality cookware pieces, and you can round out your Williams Sonoma registry with equally high-end furnishings and home décor from their sister brand, Williams Sonoma Home.
Start registry
What are the benefits of a Williams Sonoma Registry?
What should I put on my Williams Sonoma Registry?
A Williams Sonoma bridal registry is the perfect excuse to outfit your entire kitchen with chef-worthy goodies. Start by selecting a set of high-quality pots and pans from a brand like All-Clad or Le Creuset. You can also find bakeware, kitchen tools, and grill accessories. If you're looking to upgrade your culinary game even further, you can add must-have cooking appliances to your Williams Sonoma gift registry too. Have your eye on a wow-worthy tablescape? That's fair game too, so don't forget to pick your favorite fine china, flatware and glassware for your registry.
Got questions about Williams Sonoma Registry?
Can I register at Williams Sonoma?
You can register at Williams Sonoma online or in-store. Plus, you can link your Williams Sonoma wedding registry to The Knot Registry to make it easier for friends and family to find.
To create your Williams Sonoma gift registry online, start by making an account on The Knot. Next, select Williams Sonoma from the list of more than 20 retailers available—you'll then be redirected to the Williams Sonoma site, where you can log in to an existing account or create a new one. Once you're signed in, enter all of your wedding day details, including your wedding date, location, you and your spouse's names, and where gifts should be shipped to. After that, all you have left to do is click around to shop (aka the fun part)! The Knot will auto-sync your Williams Sonoma registry with your wedding website to make it super easy to share with guests throughout your wedding planning process.
If you're more of an in-person shopper, you can also set up your Williams Sonoma registry in the store. Head to the local store of your choice and a sales assistant will help you set up your registry account, and then offer you a scanner to shop the store (don't get overwhelmed—they can also provide you a handy checklist to make sure you're covering all your bases). If you're looking for a little more assistance than that, one of Williams Sonoma registry benefits is their private appointments for couples, which can be made online or by calling your store. During a private appointment, a registry expert will shop the store with you and your partner, giving you pro-advice on what you should add to your registry and what brands are right for your couple style.
Once your registry has been created, be sure to set the online version to "public." The Knot Registry will automatically pull your Williams Sonoma registry into your account, but keep in mind it can take up to 24 hours to appear on The Knot Registry. You can then access and track your registry online through The Knot or Williams Sonoma's website.
Why should I create a Williams Sonoma Registry through The Knot?
The Knot Registry works behind the scenes to make sure your Williams Sonoma wedding registry (and any other store registries) are synced up with your Knot wedding website. This means anytime you add something to your Williams Sonoma registry it populates onto The Knot Registry, where attendees of your shower and wedding can shop for everything you're looking for to start newlywed life off right together, from kitchen tools to unique experience-related gifts like honeymoon adventures and date night ideas.
There are other great Williams Sonoma registry benefits you should keep in mind, too. Williams Sonoma stores offer numerous in-store events throughout the year for registrants, boasting perks like food samples and free pro tips. You'll also get a 10% discount on unlimited purchases for 6 months after your wedding day, receive free gifts from Williams Sonoma's leading brands and even be entered for a chance to win your dream registry. Williams Sonoma also has a thank you note manager feature on their registry, making it super easy to write all those cards. And here's a registry perk for your guests: They'll get free gift wrap on any items purchased from your Williams Sonoma registry.
How often will my Williams Sonoma Registry be updated on The Knot?
Anytime you update your Williams Sonoma bridal registry online or in-store, The Knot will automatically sync the changes to your account on the same day. Additionally, products that are no longer available or only available in-store will not be displayed on The Knot Registry, making guest shopping straight-forward and easy.
How do I share my Williams Sonoma Registry with guests?
It's super simple to share your Williams Sonoma registry with your loved ones. To do so, create a wedding website on The Knot—your registry will then appear on the site you create. From there, head to your registry settings and click "Copy Link." This automatically copies the URL for your registry, which you can then add to your Save The Dates and wedding invitations. Simple as that!
How do I find a Williams Sonoma Registry?
You can find a couple's wedding registry on William Sonoma's website, in-store with the help of a sales assistant, or by using The Knot couple search. On Williams Sonoma's website, hover over "Registry" and then enter the bride or groom's first and last name. On The Knot, click "find" and then enter the first and last name of the bride or groom, as well as the wedding month and year. From there, you'll be able to see the couple's Williams Sonoma registry, as well as any other retailers they've registered with, plus cash funds and experiences they've wishlisted through The Knot.