6 Health Apps to Try Before Your Wedding
You don't have to be a runner or a yogi to love these apps.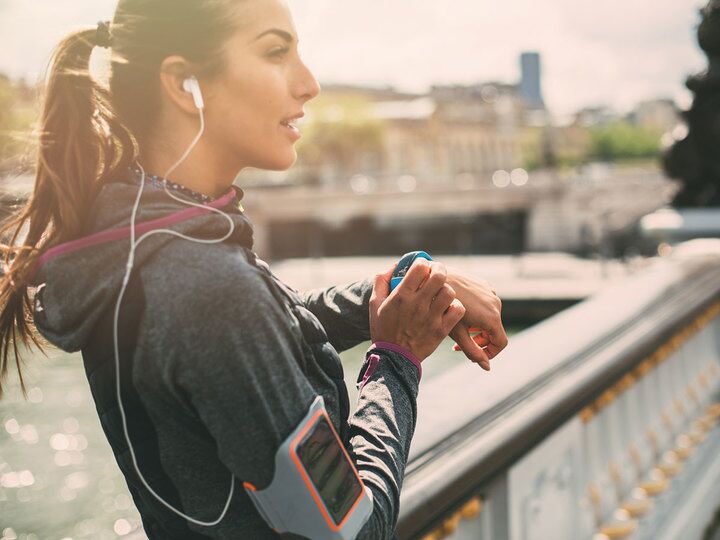 iStock
We have included third party products to help you navigate and enjoy life's biggest moments. Purchases made through links on this page may earn us a commission.
As your wedding day approaches, you want to get as much as you can out of your daily regimen—and with so many useful health and fitness apps to try, it's hard to know which ones are right for you. We've rounded up our top five health, fitness and wellness apps that make planning and getting fit for your wedding easier—whether they prompt you to try meditation or drink more water.

What it does: The app offers a daily guided meditation—just 10 minutes a day—to improve your mood, energy and stress levels.
Why you should try it: Meditation is proven to alleviate stress, help you focus and even boost creativity—and when it comes to wedding planning, these are some benefits we can get behind.
Price: $13/month
What it does: Aaptiv's on-demand audio workouts are perfect for couples on the go who want a guided workout from a certified trainer, but don't want to watch a video.
Why you should try it: The app offers over 2,500 trainer-guided classes for the gym, cardio, yoga, meditation and more. You can also tailor your workout to the duration, level and music.
Price: Free 7-day trial for The Knot readers
What it does: Waterlogged makes it easy to log your daily H2O intake, but it also helps you track your consumption over time to make sure you stick to your goals.
Why you should try it: No matter how many pricey products you buy, ultimately, hydration is the key to wedding-ready skin. Water helps flush out toxins, leaving you looking and feeling great, inside and out.
Price: Free
What it does: Whether you're trying to lose, gain or maintain weight, this calorie-counter app makes it easy to track exactly what you eat and how much you exercise every day.
Why you should try it: Over five million foods, brands and restaurants are already logged in the system—so there's no more guessing when it comes to nutrition facts.
Price: $10/month
What it does: The boutique fitness company's handy app dishes out live-stream cycling classes. As long as you have a bike and a streaming device like an iPhone or iPad, you can enroll wherever, whenever and however many times you want.
Why you should try it: Not only can you enjoy all the best parts about the class (the playlist, the encouragement) without the fuss or the cost (a single Peloton class is $32), you don't even need a bike of your own to do it. Just hop on a bike in your local gym's spin room when it's empty.
Price: $13/month
What it does: Search and register for fitness, training and wellness events based on your location. The best part? Having the app makes you automatically eligible for exclusive deals and offers. Whether it's a 5K or a triathlon, you'll be on your feet in no time.
Why you should try it: Whether it's running a charity 5K with your wedding party or finding pet-friendly hikes and campgrounds near you, this app is the perfect excuse to enjoy some quality time with each other outside of wedding planning.
Price: Free
Get more helpful health and wellness tips right here.