Home

A Perfect Touch Limo
About this Vendor
The 'Perfect Touch' To Your Occasion
We offer the Largest Selection of different types & sizes of Limos in St. Louis. We offer Hummers, Escalade's, Jaguars, Chrysler 300's Lincoln's, and Luxury Coaches. We have been serving the St. Louis & surrounding area since 1992. Check out our web site. "A" Rated with Better Business Bureau
Details
Limousine + Sedan, Transportation


Contact Info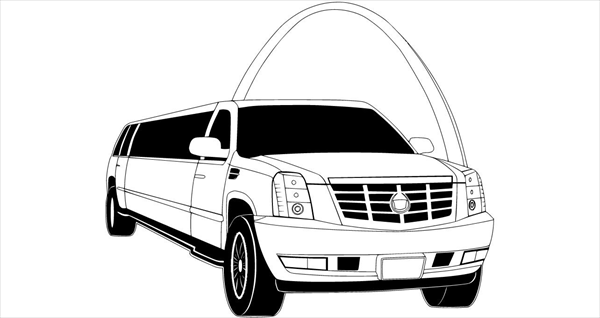 The Perfect Day
Reviewed on

10/25/2011
Laura s
I just wanted to take the time to review this vendor Perfect Touch Limousine, we had seen this company a few times at local wedding shows and visited with them on 2 occasions at their booth, both times we spoke to Jeff the General Manger, he actually remembered us from a... Read More previous show in which I was surprised at that knowing he meets several hundred brides at each show so that impressed me from the beginning before we even booked at that show. He was very knowledgably about the company he worked for and knowledgably about the wedding industry. He stated they do 30-40 weddings a week and that this was their main market so that made us fell comfortable as well. At one of the shows they had brought a limo bus and I knew the moment we got into it that this is what we wanted to rent for our special day, it was beautiful on the inside, I never knew busses looked like that. I had one of my girlfriends with me and we had a bus for her wedding 4 years ago with another company and it did not even come close to looking as good as the one I was going to rent thru Perfect Touch and she was jealous. So we booked the limo at the show and Jeff sent us a contract by email the next day, we filled it out and send it back with our deposit and Jeff called me 3 days later to say he received it and thanked us for booking with his company. The week before the wedding I called in to confirm and Jeff was not there, I spoke to Karen and she was very pleasant and confirmed our reservation. The day of the wedding the Limo Bus showed up 10 minutes early which was perfect as we were ready to go, the driver was a girl, I had expected a guy but to my surprise this girl was awesome, she came up to the door and greeted us and helped us carry out our bags and flowers, all day long she was there to help us in any way she could, every time we got out of our Limo Bus she went in the back and straighten up our area. At the end we had so much fun with her we asked her to come in and eat with us, I am sorry to report she could not because she had another run after ours. This was such a great experience with the company and driver I had to write this letter to the company and post it online.
---
GREAT SERVICE
Reviewed on

6/26/2012
jane e
WE USED THIS COMPANY LAST WEEKEND 6-24-12 FOR OUR WEDDING, THE SERVUCE WAS GREAT, OUR DRIVER THOMAS SHOWED UP 15 MINUTES EARLY, HE WAS WELL DRESSED AND VERY NICE. WE ORDERED THE 16-18 PASSENGER LIMO BUS AND IT WAS PERFECT FOR OUR PARTY, THE BUS WAS VERY NICE INSIDE JUST LIKE A... Read More LIMO, OUR GUESTS WERE VERY IMPRESSED AND WE HAD 14 PASSEGNERS AND PLENTY OF ROOM. WE BOOKED THE CAR WITH JEFF, HE WAS VERY HELPFUL AND REALLY NICE COMPARED TO THE OTHER COMPANIES I SPOKE WITH. WE DID SHOP AROUND ALOT AND FOUND THEM TO BE THE RIGHT COMPANY FOR OUR EVENT AND EVERYTHING WORKED OUT GREAT. MY MAID OF HONOR IS GOING TO BOOK THEM FOR THIER WEDDING AS WELL. I WAS IN A WEDDING A MONTH AGO AND WE WERE IN A LIMO FROM ANOTHER LOCAL COMPANY AND IN NO WAY DID IT COMPARE TO OUR COMPANY PERFECT TOUCH. I WOULD HIGHLY RECCOMEND THIS COMPANY TO ANYONE.
---
No complaints
Reviewed on

10/09/2010
Katie L
I can not say anything negative about this limo service. They did exactly what I paid them to do, were on time, and the limo was very clean.
---
Reviewed on

10/31/2017
Jiajing C
Everything was wonderful! The Chrysler limo was exactly as was described and very clean and arrived promptly. My husband and I were extremely satisfied with the service and would recommend Perfect Touch to anyone. They were great value if you paid in cash and they covered 5... Read More hours essentially where other companies would only cover 4 hours and charge more. Jeff was amazing to work with and they are a fantastic family owned company. Absolutely recommended!
---
Reviewed on

10/24/2017
Allie C
We are so happy we chose A Perfect Touch Limo for our wedding day! They were a breeze to work with and very responsive to phone calls and emails with questions we had. They were also the best price by far and the bus was very clean and exactly what it looked like on their... Read More website. Our driver, who unfortunately I cannot remember her name, showed up right on time and went above and beyond to make sure our bridal party was happy. She even helped carry our wedding flowers in to the church for us! Overall, we could not be more pleased with our time working with them. Thank you Perfect Touch Limo for helping us make our day one to remember!
---
Reviewed on

9/07/2017
Brittany P
We had such a great time on our party bus for our wedding! They were on time, incredibly affordable, and the driver was so nice. He got us everywhere safely and kept to our schedule. They even had a spot in the back for all of our bouquets. I was so impressed with this company... Read More and can't recommend them enough!
---
Reviewed on

8/27/2017
Maria S
We would recommend A Perfect Touch for your next event. They were responsive and friendly by email and provided us the direction on what we should book for our wedding. Warren was our driver and was on time and took us everywhere we needed to go, including the hotel, ceremony,... Read More photo locations (2), and then reception venue.
---
Reviewed on

6/13/2017
We worked with Perfect Touch on June 9, 2017. Perfect touch was great to work with! They were responsive, timely, and flexible. I added 30 minutes on to our wedding Very last minute, and they accommodated it without question. The vehicle was so cool and clean as well. Thanks,... Read More Perfect Touch!
---
Reviewed on

6/06/2017
Janeé H
I would highly recommend A Perfect Touch Limo! Ronnie was FABULOUS and went above and beyond for my bridal party and I on my wedding day. I could go on and on about how great she is!!!! From start to finish she was incredible. THANK YOU SO MUCH RONNIE.
---
Reviewed on

1/09/2017
Rachel S
Nothing but great things to say. Our driver (Ronnie) was phenomenal. She went above and beyond on our wedding day. The bus was stocked with water, she helped make sure our flowers were kept in water, helped load and unload all our stuff (we had a lot as we got ready at a... Read More different hotel than we were actually staying at), and helped me get off and on the bus with my massive dress. The sound system was great, the bus was immaculate, she was on time, made it to every destination we asked with no problems, and even charged my iPhone for me when it died on our way to the reception. Our driver's name was Ronnie and we are so happy to have had her. Love this company! The price is the best around as well! If we ever need a party bus for anything in the future we will absolutely use them!
---
Reviewed on

11/28/2016
Catherine L
We had the Denali stretch for our wedding party. The stretch itself was very nice. However, I did not appreciate when the driver (I forget his name) came into the church while I was signing my marriage license and demanded that he needed my Visa card right at that moment to have... Read More on file. (I had even paid in full 6 months prior via check). He even brought papers up to the alter for me to initial which I thought was very inappropriate.
---
Reviewed on

11/16/2016
Stephanie S
We loved our stretch Denali Limo for our wedding day. Dave was the perfect driver, got us everywhere on time. He was very helpful and flexible!
---
Reviewed on

11/10/2016
Dorothy G
The process of renting the bus was difficult. I mailed the contact and check to their PO Box and it never cleared. I called and called and they said they never got it. So I drove to a gas station in wentzville to see the bus and pay the deposit. The guy I met was friendly. Then... Read More he took my credit card number by calling the office and reading it to him... seemed a little odd to me. The day of was fine. Tammy showed up on time, and the bus was clean. But our wedding party couldn't get on until they paid her the cashiers check, and they still take a credit card day of for a $200 incidentals deposit. It was never actually charged to my card, though, just pending. Tammy would drive us to our location then give us a card saying call when we are finished. That was odd to me. We spent a lot of time waiting for her.... overall good experience for the lower cost compared to some other bus companies.
---
Reviewed on

10/18/2016
Rachael A
Our driver was Joel and he was great! He got there on time, had the bus stocked with ice, water, etc. My wedding was outdoors and about 95 degrees so he left the air on while we waited inside the bus and made sure that the whole wedding party (particularly me) drank enough... Read More water. Overall, very friendly guy, always on time and knew where to go. He also wore purple to match our wedding colors. I would definitely recommend this company again.
---
Reviewed on

10/14/2016
Stephanie G
Our driver was really nice and drove us to the exact places in St. Louis that we wanted to go.
---
Reviewed on

6/02/2016
Autumn E
Best in town. Dennis, the guy I booked my limo with is so sweet. Our limo was on time and clean! Highly recommend this company!
---
Reviewed on

4/03/2016
Melanie S
We were very disappointed with our party bus for our bridal party. Their website says the bus will hold 24-28 passengers. We had 24 on the bus and we were crammed. People were sitting on laps and standing. It was very uncomfortable. Our bus driver was rude and unresponsive. We'd... Read More try to get attention to ask him to go to a particular place and he kept the divider shut. When we asked him to stop at a gas station so that we could use the restroom he took us to a small gas station where we had to get a key to access the restroom...when there was a QT right across the street. I'm very disappointed in the customer service. I would stay away.
---
Bride
Reviewed on

1/03/2016
Kristin M
This transportation company is amazing! Very cost effective, and easy to work with! We had a large wedding party, and they had an accommodating size bus. We appreciate all they did to help make our day special!!!! They were awesome!
---
Reviewed on

7/23/2015
Jenny K
Horrible experience. The driver said he hopes we have a lousy marriage after he hit our car with his bus. We are still waiting for insurance money 4 months later. Jeff, the manager, is not very nice.
---
So Glad We Picked A Perfect Touch Limo!
Reviewed on

3/12/2015
Rachel
I'd definitely recommend Perfect Touch Limo to anyone looking for wedding day transportation!! We were happy with everything they offered and everything they did for us. We first looked at them because their prices were very affordable and well below the competition. We spoke... Read More with Jeff to book, and the process was very easy, and on the day of, everything was perfect. The limo was clean and spacious-- we had a very large wedding party with guests and everyone was comfortable. It was a hot day (in August) and the limo was kept cool for us the entire day. Our drive was James B., who was AWESOME. He was super nice, friendly, and accommodating, he kept everyone happy, and he was a great driver as well. Thank you James-- you kept everything running smoothly, which meant so much to us on our big day!!
---
Great time
Reviewed on

10/27/2014
kate k
We had a great driver, the made our day/night great he knew where he was going at all times.
---
Wedding limo.
Reviewed on

10/23/2014
Rachel R
We used perfect touch for the limo for our wedding. It showed up on time, the limo was clean and the driver was very nice. He kept it nice and cool in there for us. He took us wherever we wanted and got us places on time. We were able to relax and not worry about anything.
---
A Perfect Touch Limo
Reviewed on

7/03/2014
Nicole N
A perfect touch limo was great to work with. They were reasonably priced and were on time throughout the day! I really enjoyed our party bus on our wedding day.
---
satisfied
Reviewed on

6/17/2014
Emily S
the price was right, the bus arrived on time, and the limo was clean! no complaints here!!
---
awesome pricing
Reviewed on

4/04/2014
Erin C
We had a great time using this service!
---