Home

Ashton Gardens - 2 Locations!
About this Vendor
2 Houston Locations! North & West Houston
Ashton Gardens is Houston's premier wedding destination with 2 locations serving West and North Houston. Our gorgeous Chapel & Ballroom's with floor to ceiling windows will create the outdoor feel you want with the comfort & security of an indoor environment. Visit out website today to learn more!
Amenities + Details
Amenities
Handicap Accessible

Liability Insurance

Indoor

Reception Area
For more details about amenities, please message the Venue.
Food + Catering, Planning, Rentals + Equipment, Service Staff
Contact Info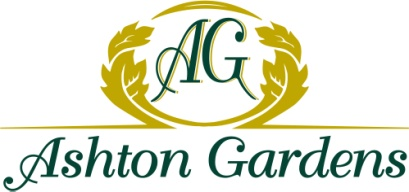 21919 Inverness Forest Boulevard, Houston, TX
Perfect Wedding
Reviewed on

3/23/2015
Kathryn W
After deciding on this venue, my parents and I were paired with Bethany Stanton. She was more than I could have asked for! She let us know of the specials the venue had if marrying in an "off" month (which saved over half the cost) and we went from there. She helped us in all of our selections and gave her candid opinions. With each meeting, she let us change our menus and guest counts and ask all of our million questions and never once appeared irritated. She even worked out our menus to get the most variety while still serving all guests. She was very welcoming and hospitable! On the day of the wedding, she was a huge help to my family! I had tons of decorations I wanted added to the venue that I had bought or designed, with a floorplan for everything, and she set it all up! I did not have to worry about a thing! We were also able to borrow the venues easels and anything else they had. My mother was very grateful. And it was beautiful. All the guests commented on how gorgeous the ceremony and the venue was. During the wedding, she was constantly checking on me, my family and friends to make sure we were okay and to keep us calm. At one point during the reception, we changed the bar from only beer to also serving liquor and she had it done in less than 15 minutes! It was also nice because we had our own servers for the entire night. At the end of the night, she even boxed up some cake and wine for us to take home with a lovely note inside, which was fantastic because I did not get any at the wedding. I know it is her job to do most of these things but she really made me feel special on my big day! As for the venue, it was perfect for me. With all of the buildings made of windows, it set the most romantic scene. I could not have found a better place!
---
Beautiful Venue
Reviewed on

3/30/2015
Adria J
Ashton Gardens is the best venue in Houston! Our wedding was absolutely amazing. The coordinators and staff there are very professional and are very organized. I would recommend this venue to all brides.
---
Ashton Gardens
Reviewed on

11/03/2014
Dayo F
Our experience from the beginning to end was exceptional. The facility is beautiful, clean and the chapel looks even more magnificent in real life. The cost is clearly communicated to you so you can make clear decisions and there are no surprise hidden costs. The entire staff was very organized, professional, knowledgeable and friendly. Working with the preferred vendors who have a working relationship already with the facility made it all stress-free. The food was amazing, we were very impressed. The wait staff and bartender did a great job as well as, and lent an air of class and sophistication to the entire event. I can't say enough wonderful things about our wedding coordinator – Rebekah. She was very friendly, professional and organized. She did a very good job of communicating and coordinating with us all the information we needed to be prepared and to make our day successful. On the day of wedding she was even better. Our wedding day was amazing and we will always be grateful to Ashton Gardens team. Ashton Gardens definitely knows how to do weddings.
---
Amazing venue for brides and guests
Reviewed on

7/14/2015
Emily D
My guests loved this venue. It was very easy and convenient for them to simply walk from the ceremony to the reception, where food and drinks were waiting. I loved how beautiful it was for pictures, and how professional and knowledgeable the staff was. If you can be flexible with your wedding date, this venue becomes even better. Saturday evening weddings are quite costly... but we saw how much less expensive a Sunday wedding was and opted for that. Same experience for less than half the price.
---
Reviewed on

5/28/2015
Lindsey G
I absolutely loved Ashton Gardens for my wedding! I booked in a "rush" to get the special deals they were having on select dates. I had dreamed about having my wedding at Ashton Gardens for years and at first look, it was far too out of my budget so I went with another venue. When I saw the deals they were having and had some concern with my other pick, I immediately booked with Ashton Gardens and I am so glad that I did! They took so much of the hassle and planning and DIY out of the wedding that it made my entire process that much smoother. Our theme was Great Gatsby so we used special decor and AG was great about accommodating our special requests. We had very minor complaints on the day of but nothing that was a deal breaker. My husband's steak was overcooked and some of our items to pack up did not make it home with us (we live 2 hours away so it's a hassle but understandable). Bethany was our coordinator- I loved having someone ease my stress and walk me through everything from start to finish. Having her meet regularly up until the wedding day was so helpful to know everything was being taken care of! Overall, it's a great venue and I highly recommend it.
---
Wow
Reviewed on

2/04/2015
Alyssa K
I can't say enough good things about this place, it was everything I wanted! The people are WONDERFUL, the place is BEAUTIFUL, and the food is FANTASTIC. It's worth checking out, I promise!!
---
Best Venue Around
Reviewed on

1/16/2015
Tiffany-Lea J
I got married in December, 2014 and I could not be more happy with how my wedding turned out. We did ours on a Sunday to save some money so we could afford nicer flowers etc., so we payed around $14,000 for the venue and about $28,000 overall. The consultants were there for us every step of the way making sure that our dream wedding came true. The day of was nerve wracking enough just knowing I would be walking down the aisle, but i was not worried about anything else because my consultant had told me that all was under control, which it was. The food was delicious, everyone said so, and everything was perfectly timed to be able to fit all the different aspects of a wedding in. I highly recommend Ashton Gardens for a wedding, or any significant event for that matter. They also give you a preferred vendor list, which makes life that much easier. I enjoyed my day and could not have done it without their help.
---
Beautiful Wedding!
Reviewed on

12/24/2014
Kimberly R
Ashton Gardens is a beautiful place to get married! The chapel is stunning, even more so in real life. You pay for the great services so you and your family have nothing to worry about on your wedding day. I would chose them again!
---
Beautiful venue
Reviewed on

10/30/2014
Mary J
So easy to work with and a beautiful location for my wedding.
---
There's no better place to get married than Ashton Gardens!!
Reviewed on

8/21/2014
Shayla R
From the moment I came across AG, I knew it was the place I wanted to marry my husband. When my husband visited for the first time, he even got goosebumps standing in Chapel..so I knew it was the one! It's absolutely beautiful, amazing, and was great value for all that was included in the package. The more they handle, the less vendors you have to personally deal with! AG helped make my day the most memorable, beautiful day! AG has numerous weddings, but I appreciated that my day was all about me and I have amazing photos to prove it! I absolutely LOVE and recommend AG!
---
Beautiful Wedding Venue
Reviewed on

7/17/2014
Rachel P
I was so excited that we booked through Ashton Gardens and the huge windows in the chapel and reception hall were everything I had ever dreamed for my wedding. We had Angie as our day of coordinator, even though she assisted us with many issues that arose before the day of. She was fantastic and we had many guests tell us it was the most beautiful and smoothly run wedding they had ever been to. You do have to order your food through Ashton Gardens, but the food was phenomenal and I can't imagine any other place topping their food. Angie was very accommodating and addressed all our concerns during the 30 day and 10 day meetings before the wedding. The only issues we had with Ashton Gardens is that we could not open the dance floor until 2 hours into the wedding because the buffet was on the dance floor, which they did not reveal to us until after we had booked with them. After a few times of expressing my upset about having such a limited time on the dance floor, we were able to reach an agreement we were very pleased with. Another issue was that some of the drinks were being picked up off the table before they were finished, so the individual would have to go buy another drink. I wish this would have been brought to our attention during the wedding, because I really feel Ashton Gardens would have addressed it during the wedding because they had such an excellent wait staff during the event. Overall, Ashton Gardens was a beautiful venue and a wonderful choice for anyone looking to get married.
---
Wonderful!!
Reviewed on

7/03/2014
Jesse C
Everything was absolutely PERFECT!! The food was amazing and the chapel is absolutely breathtaking! My husband and I absolutely loved working with all of the staff at Ashton Gardens. Everyone was so kind and flexible and made the wedding planning process as easy as possible! Our wedding coordinator, Angie, was so sweet, flexible, professional and always responded to my questions or emails in a timely manner. She made the wedding day flow so well! Thank you to everyone at Ashton Gardens for being a part of our special day and for helping to make it wonderful!
---
Amazing!!!!
Reviewed on

6/17/2014
Michele V
I cannot think of a better venue to have had our wedding ceremony and reception. Everyone involved was completely wonderful and Angie our wedding coordinator was AMAZING!!! She helped walk me through every scenario and was incredibly flexible plus on top of things as last minute hiccups and mix-ups occurred. I really appreciated everything she did both in the planning process and on the day of the wedding. She really did go above and beyond to make my wedding so incredible! The luxurious bridal suite of rooms gave my 6 bridesmaids and 4 flower girls plenty of room to relax in the beautifully appointed room. Hair and makeup came to us and everyone had a wonderful day of pampering and fun. Ashton Gardens provided us with snacks and drinks that could not have been better. All these special touches made my wedding morning with close friends and family a great way to start the perfect day. I spent about 6 months researching venues in Houston and ultimately chose Ashton Gardens. Its really a good value compared to most other venues which have high minimum packages and many hidden costs (i.e. wedding coordinator, cake cutting fee's, additional wait staff charges, higher service charge, etc).The venue also offers a food tasting four times a year that my fiancé' and I got to be a part of before we made our food selection and it was out of this world. We loved the pan seared filet of sea bass and the mac and cheese bar. It was even more received at the actual wedding. My northern family couldn't get enough of the food so I was very glad we choose a buffet style menu as it was all you can eat! The entire experience was like a dream come true!! I highly recommend Ashton Gardens to any bride looking for an AMAZING venue and staff of professionals!
---
Gorgeous Venue
Reviewed on

3/27/2014
LaResha R
My fiance and I loved Ashton Gardens when we looked at the pictures online - however, the pictures online do not due this venue any justice. From the moment we visited, we were SOLD. Our sales agent and wedding coordinator, Angie, were great. Whenever I had questions, and I had a ton of questions, I received answers and feedback in a very timely manor (at least 24 hours). All of our wedding guests loved the venue from the chandeliers to the food... we have heard nothing but wonderful things from everyone. I would highly recommend this venue to any Houston bride.
---
Fairy Tale Wedding
Reviewed on

2/04/2014
Chrystal T
The venue is simply beautiful without any decorations. Lorena is the absolute best! Everything went perfect and without a hitch.
---
Good!
Reviewed on

1/18/2014
Angelica r
Everything was perfect expect for one thing: that day they had 3 weddings at The same time and because of that i couldnt be there earlier. Everything was hurry. But the rest of the wedding was good.
---
Amazing from Start to Finish!
Reviewed on

11/22/2013
Lauren M
From the initial tour to when we left our wedding reception, the team at Ashton Gardens was amazing. Especially our coordinator Lorena! They make sure everything is taken care of, no details forgotten. I had absolutely no negative feedback from my wedding and everyone loved the venue.
---
Great overall experience
Reviewed on

11/01/2013
Cara M
When I first started looking into Ashton Gardens, I was afraid it was going to be too expensive. From sending in the initial e-mail asking for information to hearing back and taking a tour, it started to feel like the right place. I knew when I took my maid of honor there and she said she could see me getting married in that gorgeous chapel that I had to put a deposit down that day. Shara in the office was great at initially helping get everything set up and answering all of my questions. I was even able to do my bridals there free of charge, and they turned out lovely. On the wedding day, everything went so smoothly - the coordinator knew where people needed to be when and made sure they were there, as well as we had our own servers for dinner and drinks throughout the night. My husband and I were approached multiple times by various members of the staff asking if we needed anything or giving us a heads up that the first dance was coming up or we needed to head to the cake table for the cake cutting. Overall, my guests had a blast, the food was great, service was a 10/10, and I wouldn't have done it any differently. Pricewise, I found Ashton Gardens was in fact a lot more reasonable than many other venues and even worked with us a bit on the price. You won't regret choosing this place for your venue.
---
Beautiful Place but not perfect as it seems
Reviewed on

6/23/2013
Amy D
This place is just gorgeous. We fell in love with the look and how they made it seem like a well oiled machine. The only thing this place does is weddings! But some how thing seemed to go wrong. Samantha was our coordinator and she was very friendly and responsive before the ceremony. The day off she forgot to put our requested items on the altar, so it was completely bare! luckily not many people figured it was on purpose because the floor to ceiling windows and the 'woods' behind them. During the reception, she told the DJ to cut our first dance song short with out asking us. It was only a 2 minute long song and we took dance lessons, practicing a special ending. We had no idea she was going to cut it short and didn't run it by us before hand. So we didn't even get a chance to do our ending!!! We brought in special wine for the wedding that should only have been served to people who asked specifically for it (and some was to be put aside for me). They ran out of the wine before the appetizer was served because they used it as the house wine! Also, the servers didn't even bring the cake around to every guest. Some had to go up and get it themselves. We had late night hors d'oeuvres where one selection was fries, they just stuck them all in a big basket and placed it by the door, where no one knew about them! For a place that only does weddings and has all these meetings before hand to make sure everything is correct, too many things went wrong. Most of this was 'behind the scenes' and most guests didn't notice, but for what we were paying them, so many things should not have gone wrong.
---
Beautiful Venue
Reviewed on

6/17/2013
Connie P
Several years ago I attended a wedding/reception at Ashton Gardens and I just knew that when my time came to get married it would be my venue of choice too. The chapel is absolutely beautiful and the scenery outside provided a wonderful backdrop for the ceremony. The coordinator that was provided to me did an amazing job and helped make everything perfect and my big day stress free. I do recommend trying to get a sales price as the venue can get pricey. My wedding was on a Saturday at noon which cost a little less and actually allowed me more time to be in the venue to get ready for the wedding. Since my wedding was the first event of the day we got to arrive 3 hours early instead of the typical 1 hour early. I would highly recommend Ashton Gardens for a wedding/reception venue!
---
Amazing experience at Ashton Gardens.
Reviewed on

5/02/2013
Amanda M
The atmosphere was wonderful! Food was delicious, staff very nice and accommodating, and it's absolutely perfect or any dream wedding.
---
Venue
Reviewed on

4/01/2013
Brittany C
Place is fabulous but I wish the coordinators were better
---
the most beautiful venue
Reviewed on

3/14/2013
rochelle b
The chapel and reception hall are all glass and you're nested in the forest. The staff helps out so much and sets up everything exactly how you envision it. All of the food is incredible and you feel like you're at a five star restaurant.
---
Wedding at Ashton Gardens
Reviewed on

2/27/2013
Jennifer V
I couldn't have pick a better place to get married than Ashton Gardens. Everyone there was super helpful and extremely attentive to my needs. I knew what I wanted my wedding to be like and they made it happen. Everyone that came keep commenting about how beautiful everything was and that the grounds were amazing. I highly recommend this place to everyone!!
---
A Must Have!
Reviewed on

1/21/2013
Mackenzie B
The venue is absolutely incredible!! Day or night. My husband and I choose a noon wedding and with all the windows in the chapel and ballroom, at high noon the setting was more than beautiful! All the natural lighting in our photos made such a difference. The service staff are so very attentive and cater to you as well as your guests. The coordinators and those who book your event are absolutely incredible and make things work for what you need. My only con for this venue is that the time slots do not allow much time to really enjoy your wedding. We had time for basic things but there was literally no time to visit with our guests. We cut out time in pictures after the ceremony and did not eat but there was still no time. The last hour was very rushed. I would more than recommend this venue if you do not have much planned for the time slot.
---
Send Message