Home

Azteca Bridal
About this Vendor
Azteca Bridal
Located in the heart of Downtown Phoenix, Azteca Wedding Plaza has specialized in providing exquisite bridal attire and formal wear with extraordinary customer service for 50 years. Stop by and experience the huge selection and friendly service we have been providing Arizona brides since 1962.
Details
Bridesmaid Dresses, Flower Girl Dresses, Mother of the Bride Dresses, Wedding Dresses, Dresses, Alterations, Fashion
Contact Info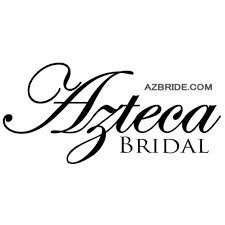 1010 East Washington, Phoenix, AZ
6/7/14 bride
Reviewed on

6/17/2014
Lauren G
I just had my wedding and had the best compliments over my dress! I bought it from Azteca Bridal and it was the 1923 Mori Lee design. We got a great deal at Azteca and they did a wonderful job tailoring it too! It's a one stop place for a dress! The dress usually goes for 1100 and we got a discount on it. Then they promise that alterations won't go above a certain amount and they held true to that. We ended up paying under $200 to shorten the dress and take it in, as well as make some adjustments to make the mermaid style even tighter. They even did last minute alterations while I waited in the lobby at my last fitting so I could take it home and have it perfect! Everyone thought my dress must have been thousands and thousands of dollars!! I definitely recommend them!
---
Weddings
Reviewed on

9/18/2013
virginia b
My daughters and granddaughters all have gotten their dresses at the Azteca Wedding plaza. they were treated very well. they showed patience of Job with the girls . When we went back this last time for my Granddaughter they were as nice and helpful as they were the other times we were there . Thanks to them the girls had a great day .
---
Great service and quality!
Reviewed on

12/03/2012
Lisa O
I had my wedding a week and a half ago and bought my dress from here. My dress was part of the Alfred Angelo Disney Collection, and was as beautiful as the pictures! Granted it had a tear in the front because they zipped the tule on accident, but it was fixed in two days. I felt special being a top priority lol. Reagardless, very friendly staff and the owners are amazing people. Thank you!!
---
Reviewed on

6/02/2015
Milbrey W
Awful experience, no help and no guidance, stay away!
---
Reviewed on

5/19/2015
Brooke B
I was really excited about going to Azteca as I bought my high school prom dress from here and also heard they had a wide selection of dresses. Absolutely the worst experience I had while wedding dress shopping. Had to wait downstairs for a while until someone down there acknowledged myself and the 2 other ladies waiting there. Once upstairs the bridal consultant had 2 other brides that she was helping as well as me and I did have an appointment. I felt pressured and the consultant said at one point that if I did not like this particular dress that she would be disappointed. She was rude, aggressive, and pushy and kicked my mom out of the dressing room when my mom was helping me into the dresses while the "consultant" was helping the other brides. She also clipped my skin twice while clipping the dresses on. Felt like I was at a used car lot and trying to be sold on the dresses as she was standing there fanning me and talking about how pretty I looked and its my day and they aim to please, when I clearly was not into any of the dresses or the shop. Once I was on the way out her tone completely changed and she was no longer trying to be fake or butter me up. Would not recommend Azteca to any brides!!
---
The Worst Dress Experience Ever - WARNING TO ALL BRIDES
Reviewed on

4/20/2015
***WARNING TO ALL BRIDES - This Is Not The Bridal Shop You Are Looking For*** My appointment at Azteca Bridal was so bad that not only will I not be a returning customer anymore but will never recommend the shop to any other bride again. I have been a customer of Azteca Bridal since high school and what I experienced the other day was absolute chaos and frustration. We walked in and had to wait by the front desk area for over 30 minutes. We were not allowed to go upstairs and look at any dresses until we were given a consultant but once we got a consultant she was gone from us within 5 minutes. She barely spoke English, kept talking to us in Spanish as if we spoke the language, and did not help us one bit. She told us to go through the rooms with the gowns, pick whichever dress we wanted and then put them on a rack with my name on it. She then left us to help attend 2 other girls in the dressing rooms. She did not tell us that not all the dresses were available in my size, nor did she tell me that the rooms were divided into different price ranges, and she didn't help us pull dresses or ask me anything about the wedding or what my budget was. We thought we would pick the dresses we liked then she would go and find my size in the dress. Instead she put all the dresses in a little fitting room with curtains that kept opening while I was changing and sat my family in the ugly and cheap chairs you can see in the pictures other people have posted here. They are cheap office chairs and the dressing rooms and mirrors are dirty. The consultant did not help me in or out of the dress. My sister had to figure out how to tie the corsets on her own. The consultant would open the curtains wide when entering and exiting the little room which exposed me to all the people in the chairs while I was changing. I had no privacy and no help. When I finally got the first dress on the consultant had me stand on an old plastic stool and in front of dirty mirrors and horrible lighting. The place has almost no windows and is very dark with cheap lighting. Out of the 6-7 dresses I chose I was only able to try on 3-4 because the consultant was too busy with other brides. For dresses marked up on average $1000+ I expected way better customer service, clarity, and help. The dresses upstairs are all bunched together, extremely dirty and worn. They have jewels missing, buttons torn off, black scuffs on all the bottoms, and are a complete mess. The store and staff were very unorganized and the shop itself feels cheap and overpriced. The only thing my consultant did to help me was take out dresses I did not like or did not fit me and tell me horrendous add on expenses to the dresses. She never offered to order in any of the dresses I tried on. Either the dress fitted or didn't. There was no other option. At the end of the appointment when I told her we would not be purchasing the dress today her demeanor got extremely rude and frustrated. She wrote down the two dresses I "liked" on a form, walked us immediately downstairs and had us talk to the front desk lady about picking a dress immediately. We told them we would come back to make the final decision and the lady was not happy about that. Instead of assistance or care in any part of the store my family and I were neglected and pushed aside. I left Azteca wanting to never put on a wedding dress again.
---
AVOID THIS PLACE AT ALL COSTS.
Reviewed on

8/21/2014
Sasha R
If I could rate this place 0 stars, I would. DO NOT MAKE THE SAME MISTAKE AS I DID - TAKE YOUR MONEY AND SERVICE ELSEWHERE! They are rude, inconsiderate of customers and your expensive dress and accessories, provide terrible quality, and are also liars. I originally went to this place because they had one of my ideal dresses in stock, and had the largest selection of dresses in the area. After the second pleasant visit, I ended up choosing a different dress than the original one I intended on purchasing because the employee said the alterations would be included in the $1300 dress cost. It was when I went back a third time to choose my veil, when my mom and I began to see the store and employee's true colors. I chose a veil style in store, but my mom and I noticed several snags (aka HOLES) in it so we asked for a different one. The second one also had snags so we asked for a third. After getting the third, while inspecting it, the employees observed speaking Spanish and laughing. My mom asked they stopped speaking Spanish as we are not fluent and found it to be somewhat rude, but they gave us disgusted looks and continued to do so. After finally finding a veil without any snags, we decided to purchase it and took it to the front of the store. The owner placed it on a rack, but it got stuck on something. Instead of trying to figure out what it was stuck on, the owner yanked the good veil my mom and I just spent 10 minutes looking for. I wouldn't let her touch my veil after that.. The next time we went to Azteca was to get my first dress fitting. First off, the store never even called me to tell me it was in, but thankfully I thought about it and decided to check. Who knows how long my dress had actually been there. Knowing how they were with my veil, I set up my fitting the very next day- I didn't want it just lying around in their hands. For whatever reason, I was afraid that I was going to have difficulty with the "included" alterations we were promised, so I told my mom I wanted to make sure we did in fact get that. As I was trying my dress on for the first time, I felt like I was almost bombarded by the seamstresses putting pins everywhere, not even allowing me the opportunity to find out if the cost of alterations would be included so I sent my mom. After about 20 minutes of my mom being gone and the seamstresses attacking me and YANKING at my new gown and me telling them not to (then speaking in Spanish after again) my mom returned telling me the alterations were NOT going to be included. While my mom was gone, they apparently were speaking Spanish in front of her as well- my mom again asked them not to but they got extremely defensive. After seeing the quality they were providing in the pinning for my alterations and previous experience my mom and I decided to leave, but I wanted to get a petticoat. We told them the size, and they proceeded to give us a ripped $80 petticoat. My mom asked for a NEW one and again they gave us a used. After asking a third time the lady went upstairs and came down with one in a bag- which she may have just stuffed in, but hopefully it is in fact new. When purchasing my petticoat, I asked for the owner to discuss my fury regarding the "included" alterations. I told her this was part of the reason why I ended up choosing the dress I did. The owner argued over and over with me, talking over me, basically telling us "too bad" and "you don't know what you're talking about".
---
Very impersonal and unhelpful
Reviewed on

7/11/2014
Danielle E
I had the worst experience at Azteca bridal and will never purchase an item from them. Before even entering the bridal shop I continued to call to set up an appointment and the phone just continuously rang and no one ever answered and it was during store hours. Upon arriving to the store we were greeted with a quick hello followed by them wanting to collect information from me. There was no true welcoming feel. Then a young lady took us around and pointed out the different brands on each rack. During that time she informed us that we are only allowed 8 dresses for the entire group. When looking for a bridesmaid dress there are so many different types and fits and I brought two of my bridesmaids with me and that meant they only could try on four dresses (I only have 3 bridesmaids but I can't imagine anyone who has more). Also my mother was with me and that meant that if she wanted to try on a dress for the wedding that would limit us even more. Upon arriving there was a lady who was suppose to find out if they carry a specific dress, that we were looking for and she never came back and we had to ask a couple of people before someone could give us an answer. When we spoke to one of the managers she was very unprofessional in the way that she spoke to us about the limit on the dresses and blamed me on not knowing when I called and said that they always answer their phone.The workers never helped us carry dresses and just kept continuing to ask if we were ready yet. It would make a little sense to me if they were busy but they were not busy at all so that makes no sense why we felt rushed. Also we were not near closing time either so it's not like they could go anywhere, as the store was open for quite a few more hours. There was no assistance provided in the dressing room and when we asked about swatches the consultant worker took a long time to get back to us. Worst experience I have had thus far at any store bridal or not. There was no assistance provided in the dressing room and when we asked about swatches the consultant took a long time to get back to us. Worst experience I have had thus far at any store bridal or not. I would never step foot in their door again or suggest anyone to them.
---
gorgeous dress, eh service
Reviewed on

12/06/2013
brittany B
I visited the salon and had an appointment. I pulled all my own dresses and my mom assisted in the fitting room. I think I saw my "consultant" for less than 10 minutes in two hours. BUT there was a great selection of dresses and I did find an amazing maggie sottero dress that I love! It took me 30 minutes to find someone to check out with, but if you are good with DIY, you can get a great dress.
---
Good place to start!
Reviewed on

9/05/2013
Rachel F
Azteca has several rooms of wedding dresses so it made it a great place to get ideas. I ended up getting my dress there because it was on sale and I just could not pass up the great deal, but I am happy I did. I got my dress for only $450, but after the changes I made to it, it looked like it was worth MUCH more. Their service was a bit inconsistent; some days they would be very helpful and other days there would be a lack in communication. Overall, though, I would say this is definitely a bridal shop worth looking at because of its affordability and selection.
---
tuxedo's
Reviewed on

4/22/2013
Deserae C
The tuxedo's were the cheapest in town and definitely great quality! I absolutely loved my husbands tux and everyone else in the bridal party!
---
Good
Reviewed on

4/09/2013
Heidi V
They were easy to work with and everything was good with the dress. Would have wanted a different bustle but the one they did worked for the day.
---
Huge Selection!
Reviewed on

3/06/2013
Hannah W
They have a huge selection - an entire room just of sale dresses. Of course, my dress wasn't in there, but because I thought it was, they met me in the middle and gave me 25% off. My $500 dress just became $375. I went back to look for bridesmaid dresses too, and I had a junior bridesmaid and a plus size bridesmaid. They really helped me try to find dresses that would work together and flatter my girls. It was a huge success! I hadn't been there in 10 years since I was a bridesmaid in someone else's wedding, but they were still as great now as they were then.
---
GOOD
Reviewed on

2/27/2013
Robin M
Very good price for what you get... Can get a discount if you buy it off the rack. $285 max for alterations!
---
Found my dress dress!
Reviewed on

1/07/2013
Brooke E
I went into Azetca as they are the only bridal store in phoenix that sell the Disney Princess Alfred Angelo Dresses. Most of the workers speak Spanish as a main language which was fine while my grandmother was there- however when we went to get alterations done, they were not as friendly since I don't speak Spanish. I ended up going elsewhere to get my dress altered as they actually left me in my dress with pins for 20 minutes and never came to check in on me. I'm glad I found my dress, but I probably would never go back....
---
Said Yes to the Dress, but not to the Service
Reviewed on

12/03/2012
Lhea
I went with my Mom, MOH, and Sister to Azteca the first time I went out looking for dresses. We had made an appointment, but one of the girls just took us upstairs and left us there to fend for ourselves. They didn't help me find what kind of dress I wanted or help us with a dressing room. We did it on our own. Then, when I had found THE Dress and went to order it in my size, the man at the counter told me to order it a size bigger "Just in Case"- I am a 5'2" 120lbs girl, there is no just in case. So I did what he told me to do and when the dress came in it was HUGE on me, so much so that it would change the way the dress looked if I tried to alter it, so I asked if we could trade it for the smaller size that I originally wanted and knew I would fit in, that was a big hassle with the lady that owns the place. She took weeks to help me with it. Finally it came in and I still had to take the dress in. I adore my dress and wouldn't trade it for the world, but they don't have the most helpful people running the place.
---
Definitely go here!
Reviewed on

11/04/2012
Liana T
Azteca has such a wide selection of designers and dresses that are sure to fit any bride's taste and style. I was so happy with the help we got at Azteca, not to mention the amazing price! Even if you already found the dress you want, go here; you might just find it at an even lower price!
---
great
Reviewed on

10/26/2012
grecia C
my husband look great with his tux loved it
---
Wedding Gown
Reviewed on

10/17/2012
Mary S
Azteca was my first and last stop for gown shopping. The ladies there were so friendly, accommodating and the value of the dress was fabulous. Imagine Kleinfeld in NYC; I purchased a dress from Azteca for under $800, where the same dress in NYC would have retailed for ever $3000. Alterations, cleaning the dress and over all service was top notch. Azteca is fabulous and most of all a locally owned store. You will not be disappointed.
---
My dress was amazing, the shop was okay.
Reviewed on

10/17/2012
Jessica M
I loved my dress so much! It was originally a $1400 dress, but I only spent about $800 after the dress, veil, and tiara. The store itself left much to be desired. You won't get the kind of service you'll find in a smaller store. However, the prices and dress selection make up for having to do everything yourself. This might be the perfect place for brides that want to just walk around and pull dresses without the help of a consultant. Bottom line, I'm very happy with my dress. :)
---
Perfect dress!
Reviewed on

9/13/2012
Tiffany C
Loved my dress! I would not change it for the world. The girls in there are a little scary and they do not have there shit together in there at all but their dresses are beautiful!!
---
Affordable, but Frustrating
Reviewed on

6/06/2012
Carly M
Beautiful dress at affordable price, which actually turned out to be about twice as much after all the extra charges. In addition, the mandatory pre-paid pressing had to be requested 3 times so that they would follow through, the bustle fell out REPEATEDLY at my wedding reception and I had to be safety pinned up eventually, they charged me the maximum price for minimal alterations and then told me they couldn't really alter the parts of the dress that were too big, AND the broken zipper clasp I was told would be fixed had to be requested 3 times as well and was finally just hooked onto a cheap piece of cloth they used instead of sewing on an actual clasp. In addition, the service was poor and they told me they couldn't find my dress at one of the scheduled fittings.
---
very helpful
Reviewed on

5/31/2012
laura s
I was able to find the dress of my dreams at a great price! This store has a wide selection of dresses and prices! Even though it doesn't look like it from the outside, once you go upstairs, there are gorgeous gowns! You don't get great service on the phone, only down side.
---
Liked my dress, not the service
Reviewed on

5/26/2012
Leia D
It was hard to get my dress altered. I had to work around the store's schedule instead of them helping to work within mine. I paid $85 for dry cleaning and pressing and the dark marks were still on the drain of my dress.
---
Right On Schedule
Reviewed on

5/22/2012
Lacey W
I purchased my wedding gown, my slip and my bridesmaid dresses from Azteca and found they were very easy to work with. I was unsure of my dress and went in multiple times to try-on dresses and they were very helpful. When I selected my dress I found that my dress was customizable from the manufacturer so I was able to make the changes I wanted prior to it being received into the store. When the staff at Azteca told me the dresses would be in they were right on or early whcih really helped in the planning and organization of the details in the wedding. I had an amazing experience!
---
Send Message