Home

Barn at Bay Horse Inn
About this Vendor
The Perfect Setting for a Memorable Event.
The Event Barn at Bay Horse Inn is surrounded by trees and offers a country chic twist to weddings, corporate events, anniversaries, reunions and so much more. The rustic, yet elegant, barn is ideal for seating up to 350 while the western Saloon seats 60.  Stay overnight in the Inn and include our donkey in your event. Open year round!
Amenities + Details
Amenities
Bridal Suite

Handicap Accessible

On-Site Accommodations

Indoor

Outdoor - Covered

Outdoor - Not Covered

Reception Area

Wireless Internet
For more details about amenities, please message the Venue.
Civil Union, Commitment Ceremony, Elopement, Interfaith Ceremony, Non-Religious Ceremony, Religious Ceremony, Same Sex Ceremony, Second Wedding , Vow Renewal Ceremony
Bar + Drinks, Destination Weddings, Food + Catering, Service Staff
Contact Info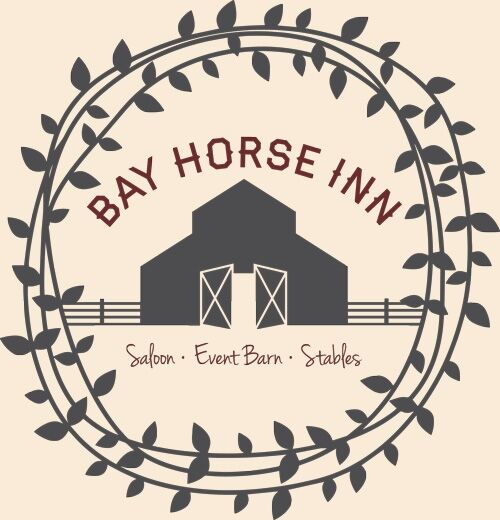 Reviewed on

10/26/2017
karen w
My daughter Sarah was married at this venue in August 2017. The venue and grounds are beautiful and Jennifer helped us get our seating plan and linens worked out prior to the event (though it took a lot of communication to be allowed to bring our linens the day before).... Read More Unfortunately, for the rehearsal and the day of the event we were on our own. The staff (including Amanda, the owner) remained in their office with the door shut for the rehearsal and day of. Not once was I greeted or asked if I needed anything. There were difficulties with the microphone to music transitions, which is one of the things that a "heads up" could have helped tremendously.
---
Reviewed on

10/18/2017
Naomi S
The Barn (Venue): 4.5/5 Beautiful! There are five chandeliers and string lighting in the rafters. There is air conditioning/heat and finished restrooms. The bridal suite and groom's den are nice, and the bridal suite includes a private bathroom. A small downside is that noise... Read More echos in the main room. They have hung noise absorption boards on the walls, but I would suggest also hanging some panels on the ceiling. Communication/Staff: 2/5 - Nicole was our sales contact and was wonderful and warm. She met with us and talked about possibilities for our wedding while we toured the venue. Once we signed the contract, we did not hear from Nicole again. - When we booked our date, we paid a down payment and were instructed of 2 more payments dates, at the 6 month mark and the 60 day mark. It was stressed to us that the staff would contact and invoice us at the right times. When the 6 month mark arrived, we did not receive an invoice or call. Two weeks later, I received a call that our payment was late. I explained that we were waiting to be invoiced, as instructed, and the woman immediately took my CC info and the payment was made. For the 60 day mark, the woman called me 104 days before our wedding, more than 6 weeks early! I was assured our wedding date was correct and they just liked to be early -- despite invoicing us late before. We paid at that time via phone. - Return Visit: It had been 6+ months since our initial visit to the Barn and I emailed to ask if we could re-visit to help brainstorm decor. My email was not answered within a week .My follow-up email was not answered within 5 days, so I called in. I spoke with Diamond and she was short tempered with me about the visitation times, saying the best time would be 10-4ish. I explained that both myself and my fiance work 9-5 jobs an hour drive away and asked if there were any opportunities to come visit the next week. She said she would check and call me back. She never called me back, so I called back 6 days later. She said we were expected the next day! So it was a scramble to take time off work to see the venue. When we arrived, Diamond and the owner were out front doing yard work and did not greet us. I was unsure who they were, and asked if we could go ahead and look around. I asked which items were free for our use, such as the chalkboards, etc and Diamond showed us a storage closet and said, "Whatever is here on your wedding day, you can use." I asked for an itemized list and she made a comment about not needing to plan decor too far in advance and that we'd talk to another staff member 45 days before our wedding. What??? It was a waste of a trip. - Final Selections Meeting: We met with Jennifer, who was very warm and positive. She showed us the website to arrange the tables, talked to us about free decorations, and answered all of our questions. She was very patient and answered any texted questions very promptly. Day-Of: 4/5 The tables were set correctly when we arrived at the venue on our wedding day. I was briefly introduced to Sarah, who was polite and to-the-point, but I don't think I saw her for the rest of the night. About 15 minutes before our ceremony began (indoors), a saloon door fell off the hinges and made a huge crash, scaring our guests. The Saloon also started playing it's own music during the processional while I walked down the aisle. Switching the audio between microphone and music was very delayed, so there was an awkward delay for the recessional.
---
Reviewed on

10/09/2017
Ashley M
I had my wedding at the Barn this past Saturday. I can not say enough great things about this venue. We booked the venue before the barn was built and when we saw the finished product our expectations were beyond exceeded. Amanda, the owner, is such a sweet person. She... Read More really cares about all of her clients and treats you like family. It really shows how thoughtful Amanda is because she also took the photo attached, which is my favorite photo from the day. Jen was very easy to work with and was always quick to respond to my questions. Shelly was awesome at the bar!! My family went early Saturday to set up and they said that the entire staff was so helpful and accommodating. Every single guest at my wedding told me how beautiful the venue was; the saloon really allowed for everyone to have fun. Our guest loved that the saloon was connected but also separate to where they could go there and grab a drink and has access to be outside on the porch and could still be out of the rain. The drinks were awesome and there was never a long line, the bartenders worked so hard to keep things moving and made sure that people got their drinks quickly. I never felt like I had to worry about anything, the entire staff took care of us all night and checked in to make sure that we were happy. There is no other place that I could have imagined having my wedding. I will always recommend the Barn to everyone. I had so many family members and friends saying that they would definitely look into having future events at the Barn. I LOVE THE BARN AT BAY HORSE INN!
---
Reviewed on

9/22/2017
Sarah W
Per the confusion, the review from Karen W is accurate and for a wedding at Barn at Bay Horse Inn. She is my mom, and I was married there on 08/27. Thanks.
---
Reviewed on

9/19/2017
Ashley W
NOT IMPRESSED WITH THE STAFF AT ALL! This venue is absolutely gorgeous and we had so many compliments but the staff was not at all accommodating or easy to work with. I want to give an honest review so I will say the good and the bad. Nicole, which we met in our first meeting... Read More was awesome. From there, things went downhill. I constantly felt like I was being passed off to different staff members. There were several times where I would get different emails in the same day from different people working at the barn, which when planning a wedding was the last thing I wanted to deal with. I went to several events before my wedding and every time I spoke to the owner, she was not friendly. We paid a lot of money to get married here and throughout the journey to our wedding date there were always hidden costs that we were not aware of. The brochure with all of the bar package information does not include that there is a service fee, gratuity fee, and per hour charge for each bartender (which is staff that already works there). When booking our bar package, it was $1000 more than we expected! Therefore, we opted NOT to do a package and just have a cash bar. During my final selections meeting, Jennifer showed us how to use AllSeated and instructed me to complete the floor plan and told me that she would print it off the Monday before my Wedding for their staff meeting. I worked on it on Saturday and then finished it Sunday. When we arrived Saturday of the wedding, the floor plan was not even close to what I had put together. My groomsman had to move all the tables and it worked out but not thanks to the Bay Horse Inn. In my final selections meeting I had to write a $500 damage deposit. DO NOT EXPECT TO EVER GET THIS BACK! I was told that if my guests brought in outside alcohol, I would lose my deposit. In the month leading up to my wedding I told the bridal party and any family that I saw about this. We had a large wedding with 200 guests. The day of, there were guests that went out into the parking lot to drink. It was brought to our attention and we made an announcement to stop and that my father would buy people drinks. We were cooperative yet it didn't matter. Now that is not the only reason I lost my deposit. At the end of the night EVERY toilet overflowed and the owner tried to tell me that it was because one of MY guests flushed a diaper down the toilet. Yet their sewage alarms were going off just before the ceremony started. They also had a cleaning lady out in the reception space cleaning up while my reception was taking place. She was VERY rude to my mother AND why was she out there cleaning when I should technically have the space that I rented until 11pm? I informed the owner of this woman's rude and inappropriate behavior, but I am positive nothing will be done. I just hope that other brides don't have to deal with any of these issues in the future. We still had a special day here but not thanks to the staff, thanks to my family and friends. I do recommend renting Toby the donkey, he was a big hit! Also, Diamond was VERY helpful and awesome the day of the wedding! Oh and I will say that one of my groomsman took one of the Bay Horse Inn's hanging ferns. The Barn emailed me about it while I was out of the country on my honeymoon. I was also on my honeymoon when I realized the deposit had been taken. Unfortunate, but it sucked that I had to deal with that while I was away trying to relax.
---
Reviewed on

9/14/2017
Megan G
Very pleased with our special day. There is nothing like this venue anywhere around this area. The property is incredible. We were so impressed from day one with the kind staff. Jennifer was amazing to help plan our setup. The day of our wedding the owner was there and was... Read More extremely nice to our guests and wedding party. The bar staff was also extremely nice and helpful. I would highly recommend this place.
---
Reviewed on

9/13/2017
Jennifer C
I feel it is important to put a review and a response to some of these recent posts. We are in our first year of business and with that comes a lot of growth, learning and sometimes change. It has definitely caused heavy hearts to have never personally heard these complaints and... Read More then to read them on here. It is obviously important to us to deliver wonderful service and have happy clients. We are committed make improvements to do so. I would personally like to apologize for any disappointment I was directly or indirectly involved with. Within the first months of opening, I did not unfortunately have all the answers, but I am confident that I was eager to help get them. Some things have been tweaked this year with the best of intentions for our clients. Table linens are no exception. Due to time, labor, and condition of our linens after multiple uses, we did not feel comfortable renting our linens to clients. We partnered with a source we are proud to work with who offers our clients hundreds of more choices, and a discount. In addition, we offer to put the linens on the tables, then take them off to pack them up and ship directly back to the vendor. In most cases, this service is provided at the same cost as ours were or less. We also allow our clients to buy or purchase their linens from whomever they feel comfortable with. The bar packages are something else we have needed to change. However, it is important to clarify that the original package pricing that was provided at the time of booking has ALWAYS been honored. What was referred to in a review was the price of specific drink(s) which is programmed into our POS system. As compared to a lot of venues, we offer many things at no cost for our clients to use; all banquet tables, beautiful upgraded guest chairs, 6 handmade farm tables, an adorable cake cart, cake tiers, several chalkboards in which we offer to customize at no additional charge, lanterns and candles on the patio, string lights outside and inside, beautiful outside pergola, wrought iron arbors, vintage barrels, vintage door, and of course the barn decor from the gorgeous chandeliers to the beautifully maintained grounds which we work very hard to keep up with seasonally to keep things fresh and season appropriate. There is very little decorating that is required at this venue to make it look amazing. Our rentals are from 11:00am to 1:00am to be scheduled as each client wishes. We have to give our staff time to prepare for the next day's guests. The role of the event specialist is to be a point of contact for venue related questions, meet with each client, create a custom layout, fill out a checklist of venue specific questions and communicate to the team these requests. It is not intended to be a personal wedding coordinator or planner position. Finally, while we would love for the weather to always be beautiful, we are unfortunately not in control of things like this for outdoor weddings. We have attempted to put new sod down periodically, but aside from this do not have much control over the results of the weather. We always provide a back-up plan for each event. Again, I would like to sincerely apologize that we were unable to meet all of your expectations. I would like to assure any past, present, or future clients that it is of upmost importance to the owner to provide a staff that is trustworthy, dependable and of course helpful and kind along with a beautiful and unique venue to host your special events.
---
Reviewed on

9/13/2017
Nicholas T
This venue and staff is phenomenal, I was personally in a wedding last summer and we had an amazing time. The grounds and venue are very high end. I would defiantly recommend this place to anyone.
---
Reviewed on

9/13/2017
Bea G
It's a beautiful place. It would make any brides day thier best day ever. The staff was great. I enjoyed working with Katie, Jennifer and Amanda. There was so many options that's what I liked. And my photographer loved the place because there was so many places for great photo... Read More opportunities. I couldn't be more happier that I made the right choice in choosing The Barn at the Bayhorse Inn and the cabin was absolutely perfect for the weekend.
---
Reviewed on

9/13/2017
Grace M
Barn at Bay Horse Inn is truly an amazing venue. They are friendly in every encounter and always accommodating. The owner and staff do a great job of being sure that every detail is taken care of and being sure that all of the bride, groom, and families/guests needs are met. I... Read More would absolutely reccomend this venue for your next event! Thank you Barn at Bay Horse Staff!
---
Reviewed on

9/13/2017
Brittany S
My husband and I were married at Barn at Bay Horse on September 2. We booked with the venue back on August 2, 2016 back when the place barely had walls. Their calendar was filing up quick and we acted quick. One terrible decision. The last year was a complete headache dealing... Read More with the always changing staff. One day this person was the event specialist, the next it was someone else. Finally the last person we worked with leading up to the wedding, who was starting to change my mind about the venue for the better, was fired just a few weeks before our big day. Around every corner it was another "well that costs extra", "we don't offer that service for free anymore", and "well we've raised our prices since you signed your contract". We were told that tablecloths were available to be used for free that the barn owned. When we met for our final meeting 1 month before the wedding day we were advised that was no more. So we scrambled to get tablecloths bought. We were given a bar pricing/costs sheet when we signed our contract over a year before the wedding that displayed different prices then what they were charging now per drink. When asked back in January if they would still honor the prices we were told yes, when we verified at our final meeting they would still honor the prices we were told no and that "we can't just change our POS system". This venue is money hungry. We arrived for our rehearsal at the barn on a Thursday night when three other rehearsals were being completed. All the brides were advised of their allotted time for the evening, and to be courteous/mindful of the time so that all rehearsals could be completed. When time came for our allotted time the couple before us were still practicing. Where was the "event specialist" to direct them their time was up? Finally the bridal party before us finished and we began our practice. Where was the "event specialist" to offer assistance, guidance, wisdom on how things have worked in the past? NO WHERE. She did not offer hello, how is it going, can I be of any assistance, or a goodbye. The "event specialist" made no contact with us. So now we are at the day of our wedding. BEWARE, you do not get into the venue until 11am on the day of your wedding. You have a handful of hours to transform this place into your dream venue with the decorations you've brought. This was an ongoing issue with us and the barn, as I did not understand why the owner could not hire enough staff to get the place turned around from the night before at a quicker time. So we worked with it. We then ran into a standing water issue at the most important walkway, where the bride with the white dress walk through. My aunt asked if there was anything that could be done about the water to which the owner replied "it could be worse". Seriously? Instead of offering a solution or help you reply "it could be worse". My awesome went right to work to ensure the problem was taken care of. My brother headed to Lowes where he bought huge sponges and a bucket. My family sat outside on the day of our wedding soaking up standing water, 5 gallons of water to be exact. Did the barn offer reimbursement or help, NO. Owner, Amanda Cottingham, ensured that she made our experience with Barn at Bay Horse one we won't forget, for all the wrong reasons. I do hope that the owner and her staff can read this review and grow from it. I would not recommend this venue to my worst enemy if it remains under the same owner and staff.
---
Reviewed on

9/13/2017
Julia Z
I had a very similar experience to Karen, in the previous review. We loved the building and got so many compliments about the venue, and everything the day of ran very smoothly but thanks to family and friends, not thanks to Barn at Bay Horse's customer service. When we went in... Read More person to go through a checklist, the lady who did it couldn't answer any of my questions. Every answer was "I don't know about that, let me check," so I felt like it was a wasted trip. Amanda, the owner, is definitely not warm or friendly, and when I voiced my concerns over the phone to her she made me feel very inferior and stupid. My rating is a bit out of date, considering we're coming up on our first anniversary very soon, so I hope that in the past year they've straightened out customer service communication. On a very high note, my bridesmaids and I stayed in the cabin on the grounds and it was absolutely beautiful, and we had the best time.
---
Meet The Owner
Amanda Cottingham
Amanda and our team look forward to hearing from you. We would love to host your event and create a memorable experience. Be sure and view our website "calendar" to see if your event date is available. We also have "Pricing" and more common questions under our "FAQ" page. We look forward to talking with you soon!