Home

Billy Heroman's
About this Vendor
Attention to every detail is our promise to you!
In every wedding, our focus is the same...to meet the bride's every desire in the appearance and quality of the flowers for her wedding...that is truly what is important to us. It is with that thought in mind that we have structured our entire wedding offerings and prices.
Details
Aisle Decorations, Centerpieces, Flower Girl Baskets, Pedestals, Plants, Vases, Chuppah, Wedding Arch, Wedding Decoration Delivery, Wedding Decoration Setup, Decorations + Accents, Flower Crowns, Fashion, Bouquet Wraps, Bouquets, Boutonnieres, Corsages, Flower Alternatives, Flower Delivery + Setup, Flower Arrangements

Mother of the Groom's Saving Recommendation!
Reviewed on

6/26/2014
Emily M
My husbands side of the family has used BH for many years, they also created the pieces for our wedding shower in Baton Rouge. Another vendor left us hanging less than a month before the wedding with no flowers. Despite our wedding also occurring on Mother's Day weekend, BH was... Read More so lovely, and didn't hesitate to take on our wedding. The flowers were timeless, fresh, and beautiful. If you don't want to worry about a florist delivering great flowers and good service- use Billy's - and ask for Jeanne!
---
ABSOLUTELY LOVE!!!
Reviewed on

6/14/2014
Maggie F
I can't explain how gorgeous our flowers were for our wedding! The bouquets were ivory, light coral, dark coral roses, and green succulents! I worked with RJ and he was fabulous! I gave him some photos of what I liked and told him how I wanted to combine the best parts of the... Read More photos, and a color swatch of my brides maids dresses. He did better than I could imagine! Our center pieces were so pretty and looked very romantic! We had 3 vases of different heights with river rock at the bottom and roses inside the water, with a floating candle on top. They came out perfect! I would use this vender for any of my flower needs!
---
I loved them
Reviewed on

11/27/2012
Amber C
I did my first appointment with R.J. Today. I must say I'm beyond pleased. He made sure I was comfortable and ran everything down to me. I'm so happy. The staff in the front are all very sweet people. I love all their help. They were great.
---
Reviewed on

1/07/2018
Daniell R
Gina is the absolute best. She made sure EVERYTHING was PERFECT for my special day.
---
Reviewed on

1/06/2018
Coral S
Absolutely perfect! Designer Greg did my flowers and they made all the difference in the world. The colors popped and were perfect for my fall wedding! Couldn't imagine it any better!!
---
Reviewed on

8/12/2017
Jenny H
Billy Heroman's was amazing and easy to work with through the planning and on the wedding day. The flowers came out perfect, and they were very accommodating for some last minute changes I requested. Also, they were very respectful of my budget and were willing to work with some... Read More of my homemade containers for the flowers. They took my design ideas and made them a reality. They were a great value and all the flowers were just as I had imagined!
---
Reviewed on

7/28/2017
Anna D
Gena was SO fabulous to work with! She really understood my vision and helped select the perfect, in-season flowers for our wedding and ceremony. My bouquet was so beautiful - just perfect. Since I had to have Southern Magnolias and magnolias do not hold up to touch, Gena... Read More sourced incredibly lifelike silk magnolias for use in my bouquet and other arrangements. We also purchased several hostess gifts from Billy Heroman's - their gift items are great!
---
Reviewed on

7/27/2017
Katie D
All of my flowers were perfect! Everything tuned out looking exactly how I envisioned and I even cried when I saw them! Thanks again!
---
Reviewed on

7/16/2017
Stefanie J
I was truly lucky to have Gena and Billy Heroman's to guide me through my wedding planning experience. My now-husband and I were planning our wedding in Baton Rouge from the East Coast, and the staff at Billy Heroman's made everything so easy! They listened to our dream... Read More scenario; worked with us on pricing and logistics; contributed really beautiful ideas about which flowers to use and the setup; accommodated changes; and executed everything in an efficient and consistent manner. Our guests let us know that they LOVED the floral arrangements, and several were impressed enough to ask to take them back to brighten their homes after the festivities! Gena did a fantastic job of communicating with me and making it all happen through email and phone calls, with my only having to physically be in Baton Rouge for our initial consultation (and that may not have even been necessary, in retrospect!). I truly appreciated all of Billy Heroman's staff's calmness and professionalism given my detail-frazzled mind, especially as the events drew closer. I was very happy with my experience, and would fully recommend Billy Heroman's to other brides and grooms!
---
Reviewed on

7/12/2017
Paige J
Perfection! Flowers for our ceremony and reception were more beautiful than I imagined they would be. Gena has such a vision and she works with the team to make that vision reality. Gena's knowledge is what initially attracted us to Billy Heroman's and it was the right choice... Read More for us. Major thumbs up to everyone at Billy Heroman's.
---
Reviewed on

7/11/2017
Mary A
Well, Billy Heroman's had a really good reputation, which is why we went with them for our flowers. We needed silk flowers, which kind of limited our options a bit. We had our consultation and we gave them pictures of what we wanted. The consultation was really fun and we left... Read More feeling really great. Well, I'm glad that we picked up the flowers a few days before the wedding, because they were not what I was expecting and wanting. My bouquet was gorgeous, which was good, and the corsages were good. However, the boutineers had to be trimmed because there was a really long piece of grass on them. Then, the bridesmaids bouquets caused me a lot of stress and frustration. I asked for lavender bouquets, what I got was a bouquet of grass with three lavender sprigs. They were NOT at all what I wanted and what I showed them. Luckily we had purple silk flowers left over from the bridal showers that we were able to add to them, but I was still very upset at this. They asked me for pictures about what I wanted for my bridesmaid bouquets, but did not at all give me what I wanted. I was given bouquets with too much filler and not enough flowers. My aunt is an artist and was able to fix them, but still, it was really frustrating and my whole family and wedding party shared my frustrations and were just as upset as I was. After seeing this review, Mr. Heroman called me to apologize for the bridesmaid bouquets and offered to make the situation right, even though its been weeks after the wedding. If you have problems with your order, Heromans will definitely do what they can to make it right. Definitely let them know if you have any problems, though you most likely won't.
---
Reviewed on

7/03/2017
Angela M
I met with a few florists before choosing Billy Heroman's. After my meeting with Gena, I was ready to book. The pricing was slightly higher than another quote I received but she helped me feel so comfortable with this purchase. She sat down and went over what I wanted, talked to... Read More me about seasonality of the flowers, and even helped find me some flowers that looked similar to what I wanted but were more affordable for my budget. Her simple customer service and knowledge is what won me over. I couldn't be more happy with how my flowers turned out -- so beautiful!!
---
Reviewed on

6/12/2017
Rebekah W
Gena worked with me to design gorgeous bouquets and pieces for our wedding party! There were all kinds of blooms and greenery, including dusty miller, seeded eucalyptus, white ranunculus, and roses. We kept the centerpieces simple, with greenery bunches around clear vases with... Read More white floating candles. I was very pleased with the timeliness of service and how well they worked to help us achieve a flowery wedding within our budget.
---
Reviewed on

5/28/2017
roxanne w
Beautiful bridal and wedding party bouquets. It was my dream wedding bouquet!!
---
Reviewed on

3/06/2017
Jazmin B
The flowers were stunning! Not only were they super fresh their aroma filled the whole bridal room! Amazing! I'd definitely choose them again.
---
Reviewed on

2/01/2017
Danielle K
Pricey, but they are the best in Baton Rouge. I can't complain about a single thing! They were organized and easy to work with, and all the flowers were beautiful.
---
Reviewed on

7/05/2016
Chelsea M
FABULOUS. Worth every penny. I trusted Robert and Gena to completely make my vision come to life, and the flowers were just breathtaking. EVERYONE commented on how beautiful they were. I was honestly in awe at how perfectly it all came together and how amazing everything looked.... Read More I will never go anywhere else for flowers. Billy Heroman's was just incredible!
---
Reviewed on

5/23/2016
Brianna H
The flower arrangements Billy Heromans made for our daughters wedding were absolutely stunning! They worked well with our lantern vendor with beautiful bright flowers spilling out of the lanterns. They also made a brooch bouquet that was exactly what our daughter wanted. Truly... Read More a masterpiece. Thank you Billy Heromans!
---
Reviewed on

4/22/2016
Rebecca D
Gorgeous flowers! I enjoyed working with Mr. RJ and Gena. They are extremely personable and easy to work with. They took the time to decorate my cake with beautiful fresh flowers when they arrived at the venue. Everything looked great!
---
Reviewed on

3/03/2016
Kelsi M
I used them for two bouquets for our mothers and they were done in a couple of hours and were beautiful.
---
Great customer service at an affordable price!
Reviewed on

12/12/2015
Shavon S
The staff at Billy Heromans is awesome! Before consulting with them, I made a few other stops and was overwhelmed with the prices and questions I was being asked. Once I arrived at Billy Heromans, Jeanne assisted me, worked with my theme as well as price range, and was very... Read More patient and helpful being that everything was new to me. For a large bridal party of 22 plus parents, $600-700 for everything was great! RJ is also phenomenal! I will definitely be using them again!
---
Fantastic Florist!
Reviewed on

12/10/2015
Jenny H
Billy Heroman's took care of all of our flowers for our wedding. They did a fantastic job! I sat down with them for about 20 minutes and showed them a few pics of what I liked and told them to do their thing - that I trusted them. They totally came through and then some! The... Read More flowers for the church and reception were absolutely gorgeous and we got tons of compliments. Highly recommend Billy Heroman's!
---
Reviewed on

12/09/2015
Ashley M
We love Billy Heroman's! This is the second wedding (my sister's and mine) that we have used them. RJ was so awesome. I had no clue what I wanted to have for my wedding. He made it so easy and had so many helpful suggestions. Without a lot of guidance from us, our flowers... Read More looked amazing. I did not have to worry about anything. They were completely professional. I would highly recommend them!
---
Reviewed on

11/30/2015
Adrienne P
Billy Heroman's providing me with GORGEOUS flowers for my wedding! Our White Hydrangea Bouquets were beautiful!
---
Beautiful
Reviewed on

11/27/2015
Kate S
Stunning flowers and great service
---
Meet The Owner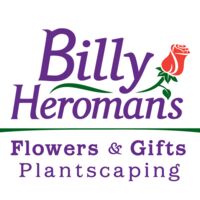 Billy Heroman's
In every wedding, our focus is the same...to meet the bride's every desire in the appearance and quality of the flowers for her wedding...that is truly what is important to us. It is with that thought in mind that we have structured our entire wedding offerings and prices.