Home

Borsheims Fine Jewelry & Gifts
About this Vendor
Borsheims Fine Jewelry & Gifts
For over 100 years Borsheims has had the privilege of providing couples the best selection, savings and service. One of the largest independent jewelry stores in the country, we offer thousands of ring settings, loose stones, designer jewelry, watches and wedding day essentials for any budget.
Details
Bracelets, Cufflinks, Earrings, Necklaces, Rings, Watches, Wedding Jewelry, Fashion, Engagement Rings, Appraisals, Custom Designs, Engraving, Financing Available, Jewelry Cleaning, Ring Sizing, Ring Services, Wedding Rings
Contact Info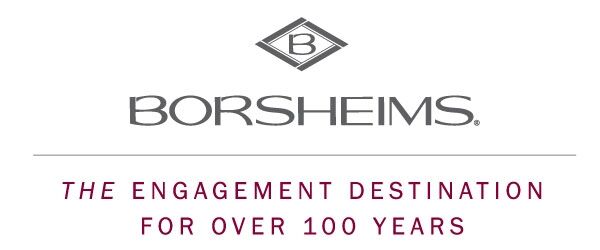 Shine bright!
Reviewed on

3/25/2014
Brooke L
My husband and I both got our rings at Borsheims and we had the best experience. We worked with Katie and she made things as seemless as possible! Would highly recommend Borsheims to anyone looking to purchase jewelry!
---
November Wedding
Reviewed on

11/27/2013
Amanda K
I only get my jewelry from Borsheims! I'm a devoted customer! They have great prices, friendly not pushy service and they will always take care of the jewelry you buy from there!
---
Stunning!
Reviewed on

11/18/2013
Jennifer H
We bought all of our rings at Borsheims and each is stunning and beautiful. The staff was knowledgeable and helpful, including going the extra mile and sending us pictures of each ring we considered via email so we didn't feel pressured to make an immediate decision. High... Read More quality and extraordinary customer service.
---
Reviewed on

1/24/2017
Yukina C
Absolutely amazing place! We were really impressed with the selections they have, and the ring was actually very affordable as well. The staff they have were also very friendly and knowledgeable, we will definitely be back for future jewelries.
---
Reviewed on

8/16/2016
Angela W
My Husband had nothing but wonderful things to say about Borsheims. Monica helped him pick out and customize my engagement ring and it is exactly what i wanted. It's beautiful and better than I could have ever dreamed of. Monica has been super helpful and when it came time to... Read More find our bands, she made sure we were aware of their designer showcase in March. It's an event where they bring in their designers who showcase rings that Borsheims doesn't normally carry. Again, we ordered custom rings and everything turned out beautifully.
---
Reviewed on

12/13/2015
Whitney H
My fiancé and I picked out my engagement ring with Deborah McAtee. I will forever be grateful for Deborah and everyone at Borsheims. We had the best experience and I can't imagine going anywhere else. We can't wait to go back in a few weeks to pick out our wedding bands.... Read More Everyone at Borsheims made up feel so welcome and very special. The "bride to be" box of goodies that we received was very exciting and full of great things! It is still all so surreal.
---
Love Borsheims!
Reviewed on

10/27/2015
Jen K
The staff (we worked with Rodney) was really helpful and attentive! Absolutely love our rings and the prices we paid were well within our budget
---
Very helpful
Reviewed on

9/15/2015
Chelsea E
Borshiems were very friendly and helpful when my husband and I were picking out our wedding bands and jewelry. They also had a great selection
---
Reviewed on

8/29/2015
Velvet M
I can't even say how easy Boresheims made choosing my engagement ring, and our wedding bands. Their wonderful staff helped make the process fun and simple for me. They let me try on a million rings, and even sent a nice bridal package when my fiancé purchased it. They really... Read More care!
---
Good quality jewelry
Reviewed on

8/04/2015
Philip M
We found our wedding bands as well as her engagement ring here. The staff was very helpful as we searched all over for the perfect style. IT was very affordable compared to a lot of other stores for the style and cut we wanted for everything. Her ring was a vintage style band... Read More and their selection for what she wanted was amazing, and I easily found a modern ring for myself that fit my style. It was also quick and very painless in the process.
---
Definitely Go To Borsheims!
Reviewed on

7/14/2015
We had THE BEST experience with Borsheims. From my husband getting my engagement ring here to selecting our wedding bands, it was just awesome. Cheri has been my mother's favorite employee at Borsheims for quite some time, so when my (now husband) told her he was going to... Read More propose to me but still needed a ring, she was practically on the phone with Cheri instantly. Cheri directed him/us to Monica Eby because special sales-people work the wedding/engagement portion, and the engagement ring she helped him with was perfect, so we made sure to find her for my wedding band. We went in one time before our actual final selection, and she was happy to help us while we looked at (what felt like) every ring in the cases. She was never pushy, and we didn't actually wind up going back to purchase a ring until many months later. When we did go back (with a much shorter timeline), she directed us to a clearanced ring that was legitimately a third the original cost! It was perfect and so was the price! My husband's ring was a designer piece so we still got to utilize Cheri to purchase his. They cleaned my engagement ring at no cost before the wedding, and they would have soldered my rings together at no cost, except my wedding band has diamonds on all sides, so it would wear funny. Seriously, if you are looking for an engagement or wedding band, no where can beat Borsheims prices, service, or overall excellence!
---
Impeccable customer service
Reviewed on

5/05/2015
Meg M
I wanted to pick out my ring since I will be wearing it forever. However, I had no idea what I wanted. Luckily I had the help of Ryan who was amazing. He sat and talked time for some getting to know my style, likes, and dislikes. We looked at a few options but didn't find... Read More anything that looked right. We parted ways but within the week Ryan emailed me several rings that they didn't offer in store but he'd be able to order. I couldn't decide between 3 so he ordered them all in my size and allowed me to try them out. If it wasn't for Ryan I'd probably still be looking for a ring!
---
Perfect!
Reviewed on

10/14/2014
Lisa S
If you're looking for a wedding/engagement ring in Omaha Borsheims is the best place to go! My husband got my engagement ring during Berkshire Hathaway days, and then we went back and got our wedding bands the next year during Berkshire Hathaway days. If you're able it is... Read More definitely the best time to go because the discounts are great. Deb at Borsheims was so easy to work with and worked so hard to make sure my husband and I got exactly what we wanted. She knew so much about jewelry and our rings and was able to answer all of the questions she had. She made my husband feel so much better about a potentially very stressful buying process. If you are able to work with her I would definitely recommend it.
---
Customer Service Experience of a Lifetime
Reviewed on

10/05/2014
Megan K
I came to Borsheims to inquire about a wedding band for my soon to be wife. Her engagement ring had a very unique shape, so I was worried I wouldn't be able to find a band to match. We were about 3 months out, and I wanted to get it taken care of. I was greeted by a SUPER... Read More associate by the name of Cathy Kruse while looking through their cases. She loved the design of the engagement ring, and asked where I got it. I purchased the ring from a competitor in the area, and was provided all the detailed information about the ring, so I thought everything was good at time of purchase. My wife is pretty active and I was told there was a SMALL chance the smaller diamonds down the band could pop out of the mount if she wasn't careful. I liked the design, so I purchased it anyway. Sure enough, I had to replace 6 of the small diamonds around the band of her engagement within our year and a half engagement. During the inspection with Cathy, she pointed out the reason for the issue with the band being the prongs holding them in place being very small. Long story short, she had their custom Jewler make a completely new ring mount using all the diamonds from the engagement ring that was NOT purchased from there and created a custom wedding band to match, in 3 months, at a price that was within my budget. Amazing team with the definition of customer service! I will recommend all my boys to you guys for sure!! Couldn't be happier with Borsheims!!
---
pink diamonds
Reviewed on

7/15/2014
Liza T
Found exactly what I wanted for a great price. My husband alsonhad a great experience. We purchased both wedding bands over the share holders meeting weekend.
---
Diamonds are a girl's best friend!
Reviewed on

6/19/2014
Steffany S
We bought our engagement rings and wedding bands from here. We had a great experience working with Sally and love our rings!
---
Rings :)
Reviewed on

10/09/2013
Ashlee N
Borsheims is spectacular. Our rings were everything we thought they would be and more!
---
Love my ring
Reviewed on

10/09/2013
Suzan K
My husband picked out my ring and it is gorgeous. They re-plated, re-sized and cleaned it before the wedding. I love my ring and I wouldn't trade it for the world. I wish I could keep it as clean as the got it on a daily basis!
---
Best Place to Register...
Reviewed on

10/03/2013
Erin D
My husband and I wanted to register at a variety of places to offer our guests plenty of options. After working with multiply companies I can honestly say Borsheims was above and beyond the best. This company knows what customer service is all about. Every single sales person... Read More was helpful and kind, offering honest advice, which impressed both me, my husband, and my mom. They honestly surpass Nordstrom's customer service in my opinion and that is hard to do. It seemed there was nothing they couldn't do or handle. We did work primarily with Carol Wakins...she was knowledgable and incredibly helpful. Thank you Borsheims and Carol for all of your help! It was a joy working with you. Erin
---
Good experience
Reviewed on

9/23/2013
Jennie R
I bought my husband's wedding band from them and only had 1 issue. We requested to not have their engraved "faith" inside of it and when it came it had that. Luckily, our contact got a new one shipped out the next day and we had it in a few days. They even took some money off... Read More for the trouble. Overall, it wasn't their fault for the mistake so I would use them again.
---
Katie Ruch
Reviewed on

9/19/2013
Katie e
My husband and I had a great experience shopping for engagement rings at Borsheim's! Sarah P. was our salesperson and so helpful and knowledgeable about our very special purchases. My husband was able to pick our his wedding band from a huge selection during Borsheim's wedding... Read More event in March. The service was top-notch from the moment we started looking and right up to the purchases. We couldn't have been happier with our experience!
---
Quality that will last forever
Reviewed on

9/18/2013
Megan
Our rings are gorgeous and I feel comfortable knowing that I will have Borsheim's fantastic customer service available to me forever.
---
Mom of 3
Reviewed on

9/18/2013
MARY E
Between May 2012 and July 2013 all three of our children (one daughter and two sons) were married! All three chose Borsheims as the only place to purchase their engagement rings and all three received professional and, more importantly,individualized personal care in their... Read More selections. We have been a Borsheims family since 1978 when my engagement ring was purchased.
---
GREAT experience!
Reviewed on

9/04/2013
Jesi D
I had a great experience at Borsheims. I found they were very GLBT friendly and were a great help in picking out the perfect ring for my fiance!
---
Wedding Rings
Reviewed on

8/30/2013
Kristin
Great services, great prices, personal assistance from each employee we worked with.
---