Home

Bride & Blossom
About this Vendor
Wedding flowers tailored to your vision and style
Make your wedding unforgettable with elegant floral arrangements and décor by Bride & Blossom. Exclusively for weddings, we focus on each couple's individuality by providing customized design and personalized service. We provided floral & decor services to brides in NYC, NJ, LI, Westchester.
Details
Aisle Decorations, Centerpieces, Pedestals, Vases, Chuppah, Wedding Arch, Decorations + Accents, Bouquet Wraps, Bouquets, Boutonnieres, Flower Arrangements
Contact Info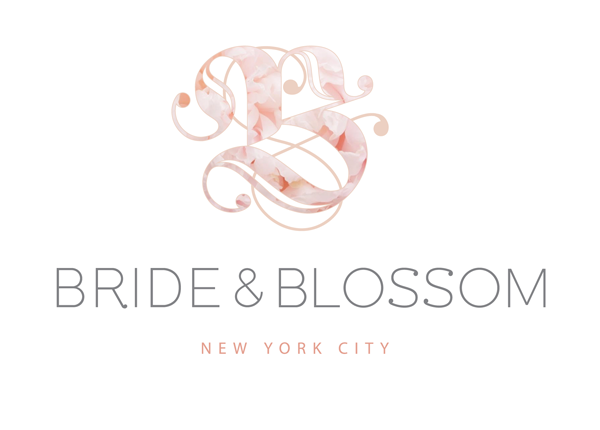 969 3rd Avenue, New York, NY
Sophisticated Chic at the St. Regis New York
Reviewed on

5/19/2015
Sherry S
Bride & Blossom is absolutely fabulous! In planning my early spring nuptials at the St. Regis New York recently, Rachel Trimarco and her well-versed staff helped cultivate and bring my wedding vision to life, with breathtaking, flawlessly executed results. Trimarco has a chic, sophisticated design sensibility, which, coupled with her passionate work outlook, lends itself, if one is so inclined like myself, to a planning process that is highly interactive, collaborative, and even fun. It was like having a team of extra friends with whom to consult, each of whom worked tirelessly with me to accommodate my various financial, logistical and aesthetic considerations. It was truly a wonderful experience reaping the fruit of these efforts, from the big reveal on the day itself, which felt even more impressive and exciting than I could have imagined, to receiving such overwhelmingly positive (and continuing) feedback from guests and post-event viewers. I highly recommend Bride & Blossom for your next special event.
---
Beautiful flowers at great value
Reviewed on

4/29/2014
I worked with Bride & Blossom for my April 2014 wedding and loved their work. The bouquets and centerpieces were exactly what I had imagined and were in perfect alignment with the vision I had presented to Rachel during our first meeting! They were beautiful and - compared to other florists - a fantastic value given the size of our wedding. We were able to maintain our flower budget and still have exactly what we wanted, a definite win-win! Rachel and her team were very responsive and always willing to answer questions and re-confirm those little details (where, when, how, etc) that brides start to worry about as the wedding date gets near. In addition, in the days leading up to our wedding, the postal service literally lost the check with our final payment. What could have been a very stressful situation was made quite easy with Rachel's patience and willingness to help us figure out an alternative solution. I have nothing but good things to say about Bride & Blossom and would certainly recommend them!
---
Would book again in a heartbeat
Reviewed on

6/12/2013
Tiffany S
Went with Bride & Blossom based on other reviews on this website + looking at the flower examples on their company website. First met with Rachel about 2.5 months before my wedding and together we came up with the vision for how I wanted to have my flowers for the wedding. Those months leading to the wedding she was in constant communication with me, patiently adjusting my overall vision with any changes. Day of wedding everything arrived perfectly and on time, and I lost count how many times my guests came up to me to tell me how beautiful the flowers were. I would highly, highly recommend Bride & Blossom to all future brides. It was everything I was looking for: they understood my vision, they were quick to communicate, very patient and flexible, and ultimately delivered exactly what I wanted for my wedding. Thank you!!
---
Glamorous Arrangements
Reviewed on

7/30/2015
Wedding flowers are expensive, especially in nyc, but the folks at Bride & Blossom helped us get the price down as much as possible and still delivered glamorous and impressive arrangements for our wedding.
---
Gorgeous wedding!
Reviewed on

6/22/2015
Christina Y
Floral was one of the most important aspects of my wedding, and Bride and Blossom completely nailed it! Everything - our centerpieces, bouquets - was exactly as I envisioned or even better. Our chuppah was stunning. It was seriously one of the best purchases I've made in my life! Overall, I wanted grand, dramatic floral at our wedding... on a budget. Bride and Blossom made my vision come to life within the amount I was willing to spend. And for that, I am really grateful. They were also very professional and responsive throughout the whole process.
---
High Quality Service
Reviewed on

5/05/2015
Vanessa N
Rachel and her team guided me through every step of the way, from suggestions to flowers that work great together to set-up that was flawless and pristine. I absolutely loved my flowers and they really set the ambiance at the reception. Thank you for all of your efforts and your part in an unforgettable evening.
---
Highly Recommend
Reviewed on

4/18/2015
Alexie R
I can only say the best things about working with Rachel and her team at Bride & Blossom. They captured my vision for the wedding perfectly and were so easy and fun to work with. I spent countless hours on the phone or over email with Rachel discussing different options for chuppahs and tables -- her patience and creativity were outstanding, and her willingness to work within my budget were second to none. I highly recommend.
---
Beautiful centerpieces
Reviewed on

4/17/2015
Lisa S
I did quite a bit of shopping for a florist for my wedding, and decided to go with Bride & Blossom. Not only are they super responsive & affordable, but the consultation meeting is extremely helpful. They are creative & have a screen so you can show them your pinterest photos. The centerpieces came out beautifully and complemented my rustic wedding theme.
---
EXCELLENT
Reviewed on

4/05/2015
Liya K
Rachel and Elianna were absolutely fabulous in every way! They were so easy to work with, and truly brought our vision to life through listening to our needs as well as incorporating their artistic talent. Bride & Blossom made the wedding look magical! When guests walked into the room they were in awe by Bride & Blossom's work. The centerpieces, the chuppah, the aisle, and card table were absolutely perfect in every way!
---
GORGEOUS!!
Reviewed on

3/21/2015
Ryan M
The service, personal attention, correspondence and planning before the wedding were perfect! Then, her ideas and suggestions were even more perfect! THEN, the actual wedding day flowers were absolutely gorgeous! When I show people wedding pictures, they immediately comment on how gorgeous the arrangements were! Thank you!!
---
Great Vendor
Reviewed on

10/29/2014
Donna J
We started planning our wedding 15 months prior and we had already booked a different florist exactly a year before our date. Unfortunately, we had a problem with them and had to look for another florist 2 WEEKS BEFORE the wedding!! Our planner found Bride and Blossom! Rachel was super efficient and quick in giving us a proposal that was within our original budget with the previous florist. She tweaked the proposal several times to make sure we had everything we wanted for the budget we could afford, all within the first week of inquiry. They were able to squeeze in a floral mock-up for us 3 days before the wedding and our jaws dropped at the centerpiece they had come up with. It was 2-3 times bigger than what our original florist had come up with---FOR THE SAME PRICE!!! It was 1000x more elegant and sophisticated than what we were originally going to have had we stuck with the original florist we had. All this being said, you know this vendor is very professional and more than capable, given our unique situation where we already had a set budget with a specific vision in mind and they were able to give all that and still managed to exceed our expectations over a period of 2weeks. This is short of a miracle in the wedding world and yet they were able to pull it off! They were very easy to work with and very easy to negotiate with. On top of that, the flowers on our wedding day were perfect!!! Our centerpieces were spectacular! Our bouquets were unique and beyond gorgeous! Don't bother with other florists anymore like we did, you will have a wonderful experience with this vendor if you book them!! Thank you so much for everything, for making our wedding day as perfect as it was!!! Special thanks to Rachel for giving in to all our whims and requests (to save money and still get everything we wanted and MORE..a lot MORE)...that means a lot especially since we only had a short period of time to work towards PERFECT flowers.
---
Great service and wonderful flowers
Reviewed on

10/06/2014
Fiona G
Bride and Blossom were very responsive to my first request, patient while I gathered other quotes and amended my quote when I'd finally worked out what I wanted. I had a very tight budget and the team warned me when I was going over and what could be done about it. The flowers arrived without fuss and were wonderful - exactly what I wanted for the table, bouquet and buttonholes. My 'altar' pieces were always going to be more difficult as I was asking for something unusual. I was expecting them to be bigget but given the wind on the rooftop, it's good that they weren't! I rescued as many of the arrangements as I could and they are brightening up my apartment now - still going strong. The flowers were of excellent quality and I'm so pleased that I went with Bride and Blossom for the big day.
---
Amazing Wedding Flowers!
Reviewed on

9/30/2014
Allison M
Rachel & Elianna were truly amazing partners to work with from nearly a year in advance as I started to plan my wedding right up until my wedding day. All of the flowers were vibrant, beautiful and artfully displayed. From our first meeting where tons of inspiration and ideas were shared, to all of the emails they continued to answer along the way (including a full change in color scheme at my request). I could not be happier with the product and services provided. My bridal bouquet was a stunning combination of purple, dark red and magenta flowers that received numerous comments, and all of my guests raved about our mix or tall and low lush centerpieces and the beautiful sweetheart table set-up. No matter whether it was adding pieces or looking for card tables ideas, both Rachel and Elianna were wonderful to work, extremely professional and always had great ideas to share. I would absolutely recommend them to anyone looking for an outstanding wedding.
---
Amazing Wedding Florists
Reviewed on

9/23/2014
Stephanie R
Rachel and Elianna at Bride and Blossom were a pleasure to work with. They were very patient and detailed during my consultation. I had brought my ideas and photos from Pinterest during my consultations and these ladies worked hard to bring them to reality. They stayed as close to my budget as possible, and were very open to adjusting all my requests and changes to my contract. I also was able to visit their workshop to view a sample of my centerpieces for my reception. My flowers on the day of the wedding looked amazing. My father is a retired florist and he too was very impressed with their work. I cannot thank them enough for all their hard work and making my special day look so beautiful.
---
Bride and Blossom amazing wedding florist
Reviewed on

9/20/2014
Olga P
Simply the best wedding florist in New York City! Bride and Blossom is one of the few florists who specialize in weddings and they have the most expertise and reliability when it comes to wedding flowers. Rachel and Elianna went above and beyond to deliver beautiful flowers for my wedding: They first met with me in person and spent a lot of time after putting together initial proposal making sure they accommodate all of my multiple requests. Before I picked Bride and Blossom I interviewed 4 different florists and I decided to go with Bride and Blossom as they were the most attentive, had great attitude, and seemed the most reliable. Bride and Blossom itemize the total cost to account for every flower and they do have very reasonable prices per flower while many other florists have much higher mark ups especially when they hear wedding flowers. I was very specific about the flowers I wanted and Rachel and Elianna delivered exactly what I wanted in a beautiful presentation: I received modern elegant flowers in multiple shades of purple. My bridal bouquet looked like a piece of jewelry. The flowers not only looked gorgeous but filled the wedding reception room with a beautiful scent of roses and orchids. All my guests were so happy to take my beautiful flowers home after the wedding so that none of the centerpieces were left. If you are a modern savy New York bride who knows what she wants for her wedding definitely pick Bride and Blossom for the best value and quality.
---
Short & Sweet
Reviewed on

9/17/2014
Sarah Anne F
Everyone on the Bride and Blossom team is amazing. Rachel is so sweet and great to work with, she totally gets your vision and helps make it a reality. In addition she uses her experience and expertise to help tweak anything that might not work due to the finicky nature of flowers. Rachel is able to work your design around certain issues, such as availability, look, color, functionality etc., all while working within your budget without compromising any of your wants/ideas. I love my new husband but part of me wants to do it all over just to work with this fabulous team again.
---
Beautiful Work! Excellent Customer Service!!
Reviewed on

9/14/2014
Katlyn G
Rachel and Elianna did an absolutely incredible job with the flowers for our wedding and were so patient with me during the many months leading up to the wedding. Going into the first consultation, I didn't have any idea what type of flowers I wanted for anything and only had one idea for the centerpieces (to use lanterns with candles in them). Rachel and Elianna provided me with tons of ideas and examples and always responded to my many questions (via emai) within an hour of sending. My mind was completely at ease on the day of the wedding that everything would go as planned and it did! The wedding ceremony and reception were absolutely beautiful. I would highly recommend them to anyone planning a wedding (whether bride or other), especially those who don't know much about flower arrangements, don't have many ideas for what they want, and/or are completely overwhelmed by the thought of it. Rachel and Elianna made it super simple and easy. I truly cannot thank them enough for all of the work they put into our special day!!
---
Remarkable people and service
Reviewed on

9/11/2014
Let me begin by saying that the quality of work of the ladies from Bride and Blossom has superseded any of my expectations. I came in without having a clear picture of what I wanted. The only thing I gave them was the general idea and concept of what the theme of the wedding should be like, but even that wasn't very committal or specific. Rachel and Elianna were extremely patient and very knowledgeable. They took their time to ask all the right questions and came up with mind-blowing ideas that suited my taste and personality perfectly. After our first meeting, I left feeling confident in their expertise that I didn't even need to talk to any other vendor. When I asked them to do a mock-up example of one of the centerpieces we discussed, they did not hesitate. At first I thought they were too good to be true, I was wrong. They were not just good, but simply amazing. When I told them my flower budget changed they demonstrated a great deal of flexibility and worked with what I had to ensure I got the best product/service I could get. On the day of the wedding, my bouquet and the bridesmaids bouquets were full and gorgeous. The centerpieces exceeded my expectations and looked astonishing, so very elegant, modern, exactly as Rachel described them to me in our first meeting. They were my first and last stop. I couldn't have been happier. Thank you ladies for all your work!
---
Wonderful Service and Wonderful People!
Reviewed on

9/08/2014
Kachina R
Bride and Blossom provided me with the room for me to create a vision as I worked with them. They helped me realize that I was not without a vision and that what I wanted was very important to them. My concern with working with many vendors, is that they sometimes have a bit of a possessive approach with their clients .... Makes you feel like they are just trying to repeat a wedding image that they have done a million times then slap you with a insane price. Kindness and quality are important to me when I'm working with people AND giving them my hard earned money! This was exactly what I got when I went with Bride and Blossom. My venue and many other vendors directed me to Westchester vendors for the flowers but that was not where I felt drawn to. I'm not sure why but I believe it had something to do with the very pushy side of these vendors. I searched and searched until I found Bride and Blossom. I read reviews and saw images that I liked. I was drawn to something that felt right! When emailed them I was met with a quick response and encouraged to set up a call so they could get an idea of what I was looking for. I was very happy about this. Elianna was a pleasure to converse with. She was kind, patient, understanding and knowledgeable. She made me feel as though may ideas where extremely important and of value ( As they should be right?). We agreed I would send any pictures I had to help guide them and set up an appointment to meet with her and the founder of Bride and Blossom. Our meeting was great! Rachel (the founder) and Elianna, were STILL kind, warm, and respectful of my vision. The helped me to draw out a specific feel for my wedding (Romantic and Elegant) and encouraged me to ask any questions at any time. Contract was straight forward and didn't consist of any thing we had not spoken about. They communicated with all the way through and never sounded impatient or annoyed with my up an down count and or my always changing mind (there was A LOT of back and forth). I truly and sincerely appreciated their patience! Wedding day was gorgeous!!!! The Bride and Blossom team was all hands on deck with everything we spoke of. They didn't miss a thing! It was a extremely humid day too but they worked through it. Guest were so amazed at the simplicity yet very romantic feel that the flowers emitted. I think people were so used to seeing the Botanical Gardens at weddings but I had made it clear that that's not my style. They gave me my style. Beautiful arrangements, beautiful bridal bouquet and beautiful ceremonial flowers. I was so very pleased. I am very appreciative of the quality of service I received. I feel as though it's too often that we pay WAY too much for quality and services that are not that great and or don't hold the client as the main priority--I promise you will not feel this way! I promise you that your ideas and visions will be priority for you and your partner. You get exactly what you pay for--fabulous service, quality, kindness and patience. Best wishes to all of you. K. Randall
---
Excellent experience
Reviewed on

9/07/2014
Allison P
While planning our wedding, the thing that got us down the most was our disappointment in how poorly many of our vendors did their jobs- lazy communication and sloppy work. However, this was not at all the case with Bride & Blossom. They always responded to me at lightning speed with care and attention to detail. I appreciated that so much. They were very willing to work within my budget. I came to them with very few ideas about my general vision, and I did not even have "colors" picked out. They worked with me to create a palette and themes that would carry through the entire wedding. The day of the wedding, they were prompt, the flowers were all perfectly executed, and exceeded my wildest dreams. Many guests, my photographers, my bridal party, and friends who couldn't attend but saw pictures said that my bridal bouquet was the best one they had ever seen. It was incredible. The flowers they chose were gorgeous. They completely nailed the vision we arrived at together- they understood exactly what I wanted almost without me explaining it. The arrangements are modern and classy. Even with our minimalist approach, the ceremony and reception looked absolutely perfectly decorated. Rachel and Elianna were also completely open-minded and helpful with two pretty wacky projects I threw at them, and that really impressed me. Rachel and Elianna are also wonderful people who put me at ease instantaneously and treated me like a friend. It was so comforting to know that Bride & Blossom was handling the element of my wedding that I knew the least about. I would recommend them so highly to any bride, or anyone planning an event.
---
My Flowers matched my Vision
Reviewed on

8/18/2014
Ana M
Bride and Blossom was such a great team to work with. They were great at communicating with me and making me feel like I was their first and only priority, even though I'm sure they were swamped with so many other brides during wedding season. The flowers matched my vision when I sent pictures of exactly what I wanted. My bouquet received so many compliments and the color and flowers were fresh and vibrant. My centerpieces were romantic yet exotic and I was really pleased with the way they matched my venue. Overall, Bride and Blossom exceeded my expectations. It was a great experience. I highly recommend a trial because if it doesn't match your vision then Eliana and Rachel will tirelessly work to make it all just the way you envision. Thanks to the whole crew at Bride and Blossom. Hope to use you again for another occasion other than my wedding.
---
B&B was Amazing!
Reviewed on

8/13/2014
Esther N
Rachel and Elianna were truly amazing to work with for my wedding. I am not very knowledgeable about flowers, but I still knew they would be an important part of the decor for our day. From the first meeting they made me feel at ease, worked with my budget, and presented great ideas and direction in order to produce my vision. They immediately understood what I was going for. They were also very responsive through email and made all the little tweaks or changes I asked for right away. They were very professional the day of my wedding (and throughout the planning), arrived on time, and were easy to work with. The finished product was better than I expected. Will definitely be using them again/recommending them to my friends!
---
Professional, Creative, and Friendly
Reviewed on

7/27/2014
Jennifer O
Rachel and her team at Bride & Blossom were absolutely wonderful. They were kind, helped me create my vision while still fitting into my budget, and were always communicative and completely professional. I never had to worry that I wouldn't receive the flowers on time or that the quality would be poor. They delivered everything in a timely manner, set everything up, and everything looked beautiful. These are truly caring individuals who take pride in what they do. Rachel is a gem. I would use her and her services again in a heartbeat for the next special occasion!
---
Highly recommend!!!!!!
Reviewed on

7/15/2014
Jean L
If you are in the tri-state area and planning your wedding or other event you MUST use Bride and Blossom. Rachel, Elianna and their team were wonderful to work with. And their design and vision completely matched ours! I would def use them again for a special event!!!!!
---
My favorite vendor!
Reviewed on

7/11/2014
Danielle G
I was referred to Bride and Blossom through my wedding planner and am so happy that I chose them as my florist for my wedding on 6/7/14. Before meeting with Rachel, I had met with 4-5 other florists and definitely had a particular vision in mind as far as what sort of look I wanted. All the other florists I had met had all told me that what I wanted was impossible to achieve based on my budget. Rachel met with me and gave me different options and introduced creative ways to achieve the look I wanted while still being respectful of my budget. In the months leading up to my wedding, I had alot of correspondence with her partner Elianna who was absolutely amazing. She was a huge help with sending photos of different flowers to accent my arrangements and also helped me with decor suggestions like crystal votives and tea lights to add that extra wow factor. I can't speak highly enough about Bride and Blossom. They were an absolute pleasure to work with! -Danielle Gorelick
---
Send Message