Home

Carriage Greens Country Club
About this Vendor
Carriage Greens Country Club
Nestled upon a magnificent 18-hole course, Carriage Greens is the premier destination for your wedding. Celebrating over 30 years in business, we have everything you need to make your wedding a night to remember. Come see for yourself why Carriage Greens is the perfect venue for you!
Amenities + Details
Amenities
Indoor Ceremony Area

Kosher Available

Liability Insurance

Liquor License

On the Water

Onsite Catering

Onsite Overnight Accommodations

Onsite Parking

Onsite Wedding Consultant

Outdoor Ceremony Area

Outdoor Reception Area

Outside Caterers Allowed

Site Fee

Tented Area

Valet Parking

Wheelchair Accessible
For more details about amenities, please message the Venue.
Banquet/Reception Hall, Country Club, Restaurant
Contact Info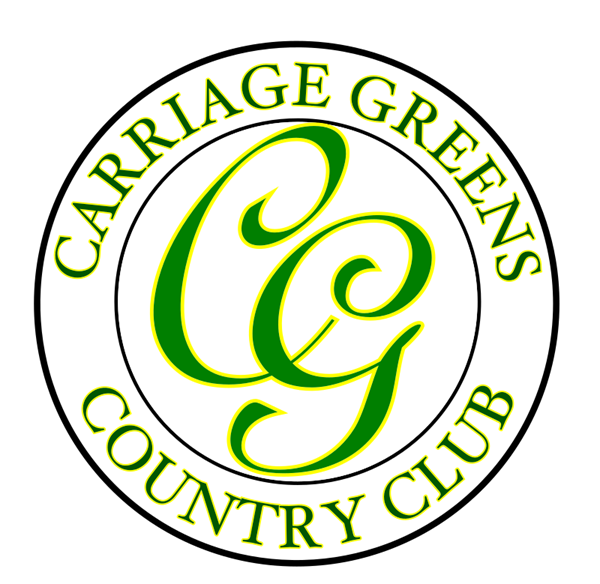 8700 Carriage Greens Dr, Darien, IL
Wonderful!
Reviewed on

3/26/2013
Glennda J
We were a little nervous about not having one coordinator assigned to our event but we had no problems at all. All of the staff members we worked with were helpful and able to answer our questions. Everything at the reception was set up according to our specifications. The food was delicious and they were able to accommodate the specific dietary needs for some of our guests. We couldn't have been happier and wouldn't have changed a thing.
---
Wedding
Reviewed on

10/16/2012
TRACY H
The people, place, and service were prefect! I am so happy with the every moment of my wedding day and wouldn't change it for the world.
---
Carriage Greens was wonderful!
Reviewed on

7/19/2012
Jenny J
The staff at Carriage Greens was wonderful and very accommodating from start to finish. They were always available to answer my questions (I had a lot!) and they even allowed us to bring in our favorite ice cream from an outside vendor as a late-night treat for our guests! They let us bring in all of our reception centerpieces and details a few days before the wedding which made storage and the hassle of bringing in all of these things the day of so much easier! The night of the wedding, the staff was amazing! They were extremely efficient and the bartenders had drinks ready for guests as they saw them walking up to the bar. If they didn't want a different type of drink, it was ready for them when they got there. We were able to take pictures along the beautiful golf course with no problem and used the gazebo for photos as well. The bridal room was a nice room to have to freshen up before the reception and to leave our belongings during the reception (we were the only wedding that night). Their costs were affordable compared to other reception venues that we looked at and the food was delicious (we had the chicken francaise). I would highly recommend Carriage Greens to anyone!
---
Awesome
Reviewed on

11/18/2014
Valerie S
Amazing food, amazing venue, amazing staff!!! Everything that was promised to us was delivered, they were so easy to work with! There were a few types of alcohol that they didn't carry, and if they weren't able to obtain it from their distributor, they let us purchase it for them to serve at no additional cost. Amazing service, Sandy was so great to work with! Can't think of one bad thing to say, they made our wedding day a huge success, and the pricing was so affordable! If you haven't decided yet, look no further!!!
---
Carriage Greens
Reviewed on

9/28/2014
Lauren K
We decided to have our wedding at Carriage Greens after one of our friends had a wonderful wedding there years ago. The prices were very reasonable, and they were flexible on the timeline of the day of the wedding. They were also great for a smaller wedding because they did not require expensive minimums for Saturday weddings. The frustrating thing is that 2 weeks before my wedding I call up to get a final bill and I'm told they didn't save most of my wedding info. I had to go through our menu options yet again, as well as all of the other details. It was incredibly disorganized and there was always someone else to answer the phone that didn't know the details of our wedding. Our wedding day went as well as it did because of our outside vendors setting everything up for us. Carriage Greens had many other events going on that same night and we were told "we're very busy" when our dance floor wasn't opened on time. We had guests that waited over an hour to be served dinner, and some guests never even got cake. It was a beautiful venue, but had I known that our wedding wouldn't be a priority I would have paid more to have my wedding at another venue. Please be aware that you will not be assigned one main wedding coordinator throughout your planning process. You will have to do a lot of the follow up yourself.
---
Great price and quality
Reviewed on

10/07/2013
Kim R
Carriage Greens had great prices for the area. Most vendors we went to visit were pricey. The food was delicious and our guests raved about it during and after the reception. Everyone we worked with was personable and very nice. The country club itself was recently redecorated (the week of our wedding), but it looks gorgeous! I am excited to see our photos since we had the beautiful golf course to use. We were the only event that night so the bathrooms weren't crowded at all. Big plus when you have a wedding of 200 people! I highly recommend Carriage Greens. The gazebo area is perfect for any outside event. Margaret and Ana were wonderful to work with.
---
A beautiful affordable wedding
Reviewed on

5/28/2013
Krista B
I had been to Carriage Greens for a wedding about 10 years ago and remembered I liked the atmosphere and the food. After meeting with one of the coordinators and taking the tour, my fiancé and I (who had seen other places, as well) decided it was the best venue for the type of wedding we wanted and for our fairly modest budget. On the wedding day, the staff did not disappoint. The room looked beautiful; the food received rave reviews; everyone had a great time; and everything went smoothly (as far as I know!). Throughout the process, the Carriage Greens staff went out of their way to adjust to our needs, including allowing us to bring in pizza for a late night snack. I would say there only were a few niggles--1) Leading up to the wedding, it sometimes was hard to get a hold of the staff by phone and e-mail and get a straight answer about certain things and 2) we gave them a bunch of long-burning votive candles to use for our centerpieces, but they ended up using their own candles instead on the day, and their candles burned out very quickly. Otherwise, we had a great reception and had many people tell us it was the best wedding they have been to!
---
Bang for Your Buck
Reviewed on

12/26/2012
Rachel P
Your money will stretch a long way by having your reception here! After comparing the price tag for what we were receiving here compared to other reception halls, we estimated that we saved AT LEAST $1,000. There was always a wedding coordinator available during the planning process to help us when we needed it and they were all very friendly. The only thing I was disappointed in was that I only saw the on-site coordinator the day of when she asked us how our food was tasting. She wasn't around when we arrived, which was when we needed her the most. Overall, it's a beautiful site with great food!
---
Fabulous
Reviewed on

9/19/2012
Shabaun R
The food at my wedding was amazing from what my guest say. We had a family style dinner which was a big hit. The bartender was amazing and everyone loved their drinks. I was not happy that the indoor decor I had to be put together was not ready and set up.
---
Great Venue
Reviewed on

9/16/2012
Jenna R
Beautiful places to take pictures on the golf course, beautiful grand ball room, great service, good food, helpful...overall, they did a great job! Especially great prices for the area. If you want to get a great venue for less money than other places in the area, go here! We were not disappointed and have great pictures and memories to prove it.
---
General country club
Reviewed on

9/01/2012
Emily G
CG was helpful at first, then there was a change in management which resulted in them moving around my ballroom 3 times, and my dad and stepdad having to do set up and breakdown work that I paid CG to do. It's nice looking, the food rocks, and the staff is generally nice - just not that helpful.
---
Great Value, tasty food
Reviewed on

4/08/2012
Aisha Nikki G
Great value for the price, the food was plentiful, hot and tasty. The venue even provided cake for my guests after my baker dropped our wedding cake. The only thing I didnt like was that there isnt one specific wedding coordinator to speak with every time. Other than that, the property is very well taken care of, and the staff is incredibly helpful. A great choice.
---
Carriage Greens - great for a budget wedding!
Reviewed on

10/11/2011
Lindsey M
Carriage Greens was a beautiful setting for our wedding day. The affordable prices allowed us to have a big wedding on a budget that wasn't so big. The food was really great, the Grand Ballroom had a perfectly large dance floor and the bar was nice and large. My only constructive criticism would be that the banquet sales staff should be a bit more knowledgeable in general banquet information. I am sure I feel this way because I am an event planner myself and know more about the process than the average bride would, but a few times, I asked questions and was surprised they could not be answered with great ease (ie. are your round tables 60" or 72"?) It caused a bit of unnecessary stress in the planning process. That said, everything worked out in the end and I would recommend Carriage Greens to friends.
---
Great value for a great price!!
Reviewed on

9/24/2011
Monica B
For our July 2011 wedding we were in the Grand Ballroom with 200+ people. We were very happy with the way everything turned out. The staff was all great to work with. From the little questions I would call with during the week, to the food tasting, and then on the big day... all very accommodating! It was great spot to have your wedding reception. We had enough space, a great, large dance floor, the chairs were pretty enough you didn't have to cover them, the food was delicious, and the bartenders were great!! What more could you ask for? The only downside was that there were some wedding crashers. A gift and a couple of cards were stolen, along with my husband's cell phone (which was in the bridal room), and a few guests' purses. More security in the room would have been great. Not sure if wedding venues offer this, but bride-to-bes beware this can happen at your reception.
---
Excellent Quality at an Excellent Price
Reviewed on

8/18/2011
Kelly Y
I held my wedding reception at this venue and everything was absolutely perfect! We had appetizers, a family style meal, and a chocolate fountain for 275 people for under $17K. The food was great and the service was even better! I definitely recommend this venue!
---
Everything we asked for - and more!
Reviewed on

8/09/2011
Samantha A
Our wedding coordinator was Anna, she was great and always available. The room we had was smaller than we wanted, but they made it work. They worked well with our other vendors, and the room turned out wonderfully. Very reasonably priced, and beautiful place! Oh, and truly EXCELLENT food!
---
Great Job - Great Location - GREAT PRICE
Reviewed on

2/22/2011
Jessica T
Carriage Greens allowed me to have the large wedding I wanted without the big bill. They worked well with my mom and I during the planning process and stayed on top of everything. We had our ceremony and reception in the same room. The turn around time was quick and everything went without a hitch. Also, many of my guests complimented how great the food was!
---
great location
Reviewed on

8/14/2010
Jamie C
The gazebo was perfect for the ceremony. They rushed us through the reception, but it was perfect for a small wedding.
---
Review for Carriage Greens Sand Trap Grill
Reviewed on

2/26/2009
Danielle G
Loved the food and desert.;The pricing on the web site was not up to date. It was more expensive and we did not realize it until the last minute.
---
Review for Carriage Greens Sand Trap Grill
Reviewed on

11/14/2008
Sara M
I loved the windows our reception room had; I am not very big on closed in room so having windows in the room made it more open. The reception venue even had white christmas lights around each window it looked very classy. The entire set up of the room was great as well; we were very happy with the end result
---
Rating for Carriage Greens Sand Trap Grill
Reviewed on

10/30/2008
Carrie G
---
Review for Carriage Greens Sand Trap Grill
Reviewed on

9/29/2008
Michelle T
everyone there was very nice and always asked me if there was anything else I needed. they liseten to me and had everything the way i wanted it also we had our cermony outside and they set it up so beautifully for us;the only thing they didn't mention to me was that my cake was 2 hours late..i found out just before we where to enter the reception hall
---
Review for Carriage Greens Sand Trap Grill
Reviewed on

9/04/2008
Heather W
Very inexpensive for what you are getting. Excellent food everyone raved about it. We had the grand ballroom and the dance floor was huge. Didn't feel like a 'reception hall' -- the chair were very nice so we didn't need chair covers and the bar is made of carved wood. They were very prompt about getting the food served to everyone.
---
Review for Carriage Greens Sand Trap Grill
Reviewed on

9/22/2007
Lee S
Outdoor gazebo;1. management was completely absent throughout the event and when trying to pay bill 2. hired a bartender when we requested none 3. altered menu and prices (thank goodness we had eveything in writing that we signed) 4. ceremony may be interrupted by irate golfers swearing up a storm
---
Send Message