Home

Caryn's Bridals, Formals & Tuxedos
About this Vendor
The Perfect Fit For Your Perfect Day
For over 30 years, Caryn's has provided the perfect blend of selection and charm to ensure a top-notch boutique shopping experience. We carry hand-selected bridal gowns by Maggie Sottero, Sottero & Midgley, Justin Alexander, Allure Bridals, Madison James, and we look forward to introducing the Rebecca Ingram and Lillian West lines to our gallery in Spring 2017. Our professional consultants provide one-on-one service to cater specifically to your needs and we offer expert in-house alterations as well! Located in the Heart of Virginia in historic downtown Farmville, Caryn's proudly serves brides from Virginia, Maryland, North Carolina, and beyond! Our goal at Caryn's is to create beautiful, lasting memories, so give us a call today and let us help make your special day truly perfect!
Details
Bridesmaid Dresses, Flower Girl Dresses, Mother of the Bride Dresses, Wedding Dresses, Dresses, Alterations, Bridal Stylists, Dry Cleaning + Preservation, Plus Size Available, Private Appointments Available, Rentals, Fashion Services, Fashion

Contact Info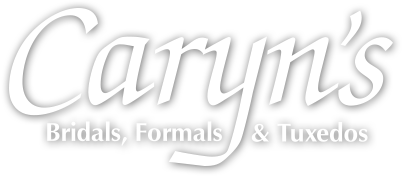 Reviewed on

5/21/2016
Rachel M
I was impressed with the salon when I first bought my dress, but even more impressed when they SAVED my dress from disaster. During my final fitting, I opened a cut on my finger while trying to zip the dress up myself. I didn't realize it, and got blood all over my gorgeous... Read More dress. The ladies were great at calming me down, and they got all the blood out of my dress that same day while my sister and I went out to lunch. Great customer service and extremely knowledgable staff- you can absolutely trust Caryn's to help you find the perfect dress AND to care for it and alter it as needed.
---
Most popular store for bridal gowns, now I know why
Reviewed on

11/12/2014
Adina P
I got my bridesmaids dresses, groomsmen's tuxes, mother of the groom dress, my wedding dress, shoes, jewelry, the fluffy skirt that goes under my dress and tiara from Caryn! This store is not easily missed, and the whole experience was more than just a shopping one. I left there... Read More with great memories and had a great time, staff was friendly through the whole process, and most importantly, NO surprises!! As many brides probably know, some vendors (or who ever you may do business with) can take advantage of you and your time; well rest assured that this did not happen here, and I have a few of my best friends that told me to come here and they are quite the critics, so that is more reassurance. Get your dress here, and everything else.
---
Loved the dress!
Reviewed on

9/08/2012
Kristin L
Caryn's Bridal was such a huge help in finding the perfect wedding dress!! They listened to what I wanted and provided a great price!
---
Reviewed on

10/01/2017
Maddie M
I was super nervous, but from the moment I walked in they made me feel calm and ready to tackle finding a dress and we were able to do so in an hour!
---
Reviewed on

8/12/2017
Courtney M
My experience at Caryns Bridal was amazing. Kaitlin helped me out and helped me pick the perfect dress to say yes to thank you so much.
---
Reviewed on

8/06/2017
Jenna P
I found my dress at Caryn's! I'm originally from NJ, so I wasn't sure where I should dress shop in Richmond. All the women at work told I had to go to Caryn's because that's where EVERYONE finds their dress. The website was super useful to search through the styles they carry.... Read More During my appointment, my consultant, Kaitlin, was super friendly, flexible, and good at keeping it real. She wasn't someone to tell me everything looked perfect, and she really listened to what I said I liked or didn't like. Great experience! I definitely recommend it!
---
Reviewed on

8/04/2017
Kristen B
I decided to make a girls trip out of dress shopping. We drove over two hours from Yorktown, VA to Farmville, VA. We enjoyed the day at the winery down the road and walked the town. When we saw Caryn's Bridal it looked perfect! I also thought it was thoughtful that the bride's... Read More name was written on a board with the time of appointment. When I walked in I was greeted with smiling faces. I had never been dress shopping before this day. I had Kaitlin help me slip into the perfect dress for my day. Let me just tell you, she was AMAZING! She knew exactly what I liked and helped me through until I found the dress. She made me feel comfortable and we enjoyed having her as part of our special day. She listened to what I liked and did not like. I never felt pushed to buy anything. Kaitlin showed professionalism and knowledge on the products sold. I felt comfortable and so pleased with everything she did to help me find my dress. When I finally found the dress I loved, she helped envision exactly what I was wanting. Everything came together so perfectly and a lot of it had to do with how great the service was that Kaitlin showed us. I can never thank her enough. I also received a card in the mail written from her. I love cards and I thought that was thoughtful. Overall, I would recommend Caryn's Bridal. I still have months ahead of me and fittings to do at Caryn's, but I am positive that I will continue to have a good experience.
---
Reviewed on

7/05/2017
Laura C
I had a great experience at Caryn's! The consultant that I had, Kaitlin, was extremely helpful, nice and not pushy at all. I had provided some style numbers I liked in advance and Kaitlin had those and similar ones ready to go. While I liked a few of them, there was not one that... Read More I felt was perfect for my wedding. Kaitlin suggested I try the final dress on (that I ended up buying) and I knew it was the one when I put it on. Thank you Kaitlin for suggesting I try something else on, that was completely different from what I thought I wanted! I was extremely lucky that I found a dress that fit me like a glove and needs no alterations, at a great price. She gave me lots of great ideas for veils and jewelry as well. The store is much bigger than it appears from the outside, is well decorated, clean and homey feeling. I wouldn't hesitate to recommend it or choose it again!
---
Reviewed on

6/25/2017
My experience with Caryn's was every bit of perfect. I cannot call out one person because everyone in the store has worked with me to make everything great! We purchased my dream dress there and all of my bridesmaids dresses! This wonderful team has helped me through multiple... Read More bumps in the road and made everything perfect. I can not say enough AMAZING things about Caryn's!! I can not wait to wear my perfect dress this September!! Highly Recommend!
---
Reviewed on

6/10/2017
Mary Claire H
We had a great experience at Caryn's today!! I said yes to my dress and I couldn't be more thrilled! Our consultant, Olivia, was as sweet as she could be and pulled dresses that fit what I was looking for to a T! Every single dress I tried on was well within the budget we had... Read More set, and she made the experience comfortable and pleasant. We had a great time!
---
Reviewed on

6/03/2017
Whitney H
Love the amazing people who work at Caryn's which made my dress shopping experience so fabulous! They were so helpful and had that family boutique feel.
---
Reviewed on

5/29/2017
N D
Caryn's Bridal was the best! In the unsuspecting town of Farmville, VA, this was the most quaint and friendliest bridal boutique. It was exactly what I envisioned for shopping for my wedding dress with my mom. They pulled all of the dresses ahead of time that I liked on their... Read More website and the consultant was so nice and helpful! When I couldn't decide at the end, she pulled bridesmaid dresses in the colors I am hoping to use so I could see how they would look with the dresses. Everyone was so friendly and I had the most wonderful experience! Not to mention exploring the town of Farmville with my mom after our appointment was fantastic and so much fun! I truly can't say enough about this amazing little bridal boutique!
---
Reviewed on

5/14/2017
Eboni L
My day started off rocky with not being able to get to my appointment at the designated time. Thankfully, there were other openings, and the staff slid me into the next available spot. Olivia was my consultant, and she made me feel very comfortable. She browsed my Pinterest... Read More board of wedding dresses to get an idea of what I like. Then, she jetted away to pull some dresses that matched my style. Every dress she picked was beautiful! Olivia nailed it! However, there were two that caught my eye. She was very patient in allowing me to try on both again. I took my time with each one. I danced a little, posed a lot, walked a little to get a good feel for the dresses. In the end, Caryn's really came through for me in helping me say "YES!" to the one dress I really, really wanted.
---
Reviewed on

3/04/2017
Rebekah B
I can say I am not one of those brides who was super excited about dress shopping. However, my experience at Caryns far exceeded my expectations. I really actually enjoyed the experience and left there so excited to have found a dress. My bridal consultant, Kaitlin, was great!
---
Reviewed on

2/15/2017
Anna S
Caryns was amazing! I didn't think I would walk out of there with a dress that day! My consultant was very sweet and patient with me.
---
Reviewed on

1/27/2017
Julia B
I loved Caryn's! I found the perfect gown!!! I'm going to feel like a Disney princess on my fairytale wedding day! Thank you!!
---
Reviewed on

1/24/2017
Samantha K
Caryn's is spectacular! I've been to Caryn's for all of my friend's weddings, and now it was finally MY turn! :) The staff is phenomenal - I haven't had one complaint through ALL of my visits. Before I arrived, I already had an idea in mind as to what I wanted my Wedding Dress... Read More to look like. I'll admit, I'm a hardheaded person, and once I have my mind set on something it's hard to change it, but Caryn's team helped me be open-minded to dresses I never thought would look halfway decent on me and my body type. I said "YES" to the dress, and it was completely different than the idea of the one I started with. It's absolutely gorgeous and I love it! I cannot thank them enough for their help! And I cannot wait to show it off on my wedding day!! Thank you!!!
---
Reviewed on

1/22/2017
Ashley L
Caryn's was the first place I went looking for a wedding dress so I wasn't expecting to find my dress at the first place I went to. I had other appointments and was even heading to New York! Caryn's had such a great selection and when I put on my dress I just couldn't leave... Read More without it! Their customer service is amazing! They made me feel like the most beautiful bride they'd ever seen even though they see hundreds of brides! Couldn't say enough great things about them!
---
Reviewed on

1/15/2017
Jamesse H
Great service, great people, great atmosphere! I appreciate all the help that was provided to me while looking for my dream dress. I will most definitely recommend Caryn's Bridal to all of the upcoming brides I know. Once again thank you ladies a bunch, because of you all I'm... Read More blessed to have an amazing dress for my wedding!
---
Reviewed on

12/11/2016
Lynn B
What an amazing experience. All the ladies were so friendly and the store was gorgeous! The bridal attendants were so easy going and happy to help in any way they could! And of course it helped that I found my dream dress!
---
Reviewed on

11/21/2016
Katelyn H
Caryn's was an absolute dream to work with! I loved my bridal consultant Kaitlyn. She was patient, even when we went over our time. She let me browse the selection and didn't push me when I was in the dress of my dreams and said I wanted to try more on. She helped me figure out... Read More what I loved and did not love. I am so happy with my gown and cannot wait to wear it again!
---
Reviewed on

11/20/2016
Sherri C
Kaitlyn was so sweet and very attentive. She listened to my thoughts and wants and did her best to see them come to life. The entire staff helped and made my dream dress become a reality! Thank you a Caryn....I cannot wait to see my dress come to lifex
---
Reviewed on

3/21/2016
Kristen P
Great assortment, great atmosphere, amazing time! All of the employees were extremely helpful and not pushy. They did not rush me or my family at all and were a pleasure to work with! Would recommend 100%!!!!
---
Reviewed on

3/20/2016
Hillary R
Everyone was super friendly and all willing to help. Very informative and professional. Was even able to get a mother of the bride dress and shoes for both. I would recommend Caryn's to everyone!
---
Beautiful dress, great service!
Reviewed on

1/06/2016
Laura P
I had gone to other bridal shops and each one had been a different rough experience. One salon the bridal consultant and the owner were so pushy and then at another salon they did not care at all. When I came into Caryn's, it was a completely different experience. Kristin, my... Read More bridal consultant listened to what I wanted and found the gowns that I wanted to try on. She listened to my budget and stressed that we stick to it, because she didn't want me to be disappointed if I picked a dress that was over budget. I really appreciated her concern for the budget, because I truly wanted to stay on budget and knew that I could find a beautiful dress at the right price. Kristin found the dresses I wanted to see and then found others that she thought I would like. When I put on my dress I felt beautiful and comfortable! When I decided on my dress, I found the perfect belt to go with the dress. The belt was a little more than I could pay, but the manager Cindy came in and was willing to work with me. She ended up taking $75 off of the belt which helped me so much! Cindy also helped me with my measurements and I was able to buy my dress off the rack, which was such a blessing because I was crushed for time with only 6 months to go. I also do not live in Virginia anymore so I would have to fly back in for both of my fittings. The staff understood my predicament and they were able to get me into my first fitting before I had to leave Virginia. This was amazing and saved me money and time on an extra plane trip. Now I only have to come to Virginia for one more fitting and I will have my dress ready! Overall Caryn's bridal was an amazing experience and I would highly recommend them! Their staff is friendly and truly helpful! Look on the website before you go, because you can find an amazing dress for the right price! You don't have to go over budget to find an amazing dress! Also one more great thing about Caryn's is that they cap their alterations at $250 which keeps it affordable! I was very impressed with Cindy, Kristin, and Caryn's bridal overall! I am proud to say that I said "yes" to the dress at Caryn's Bridal!
---