Home

Christie's Flowers & Gifts
About this Vendor
"Creating What Others Have Yet To Imagine"
At Christie's, the Bride will feel confident in knowing her wedding flowers will be designed to suit her individual taste and style. During the complimentary wedding consultation, she will work with our experienced wedding floral designer who will follow her wedding plans from conception to reality.
Details
Aisle Decorations, Centerpieces, Flower Girl Baskets, Pedestals, Plants, Vases, Chuppah, Wedding Arch, Wedding Decoration Delivery, Wedding Decoration Setup, Decorations + Accents, Flower Crowns, Hair Accessories, Bouquet Wraps, Bouquets, Boutonnieres, Corsages, Flower Alternatives, Flower Delivery + Setup, Flower Arrangements
Contact Info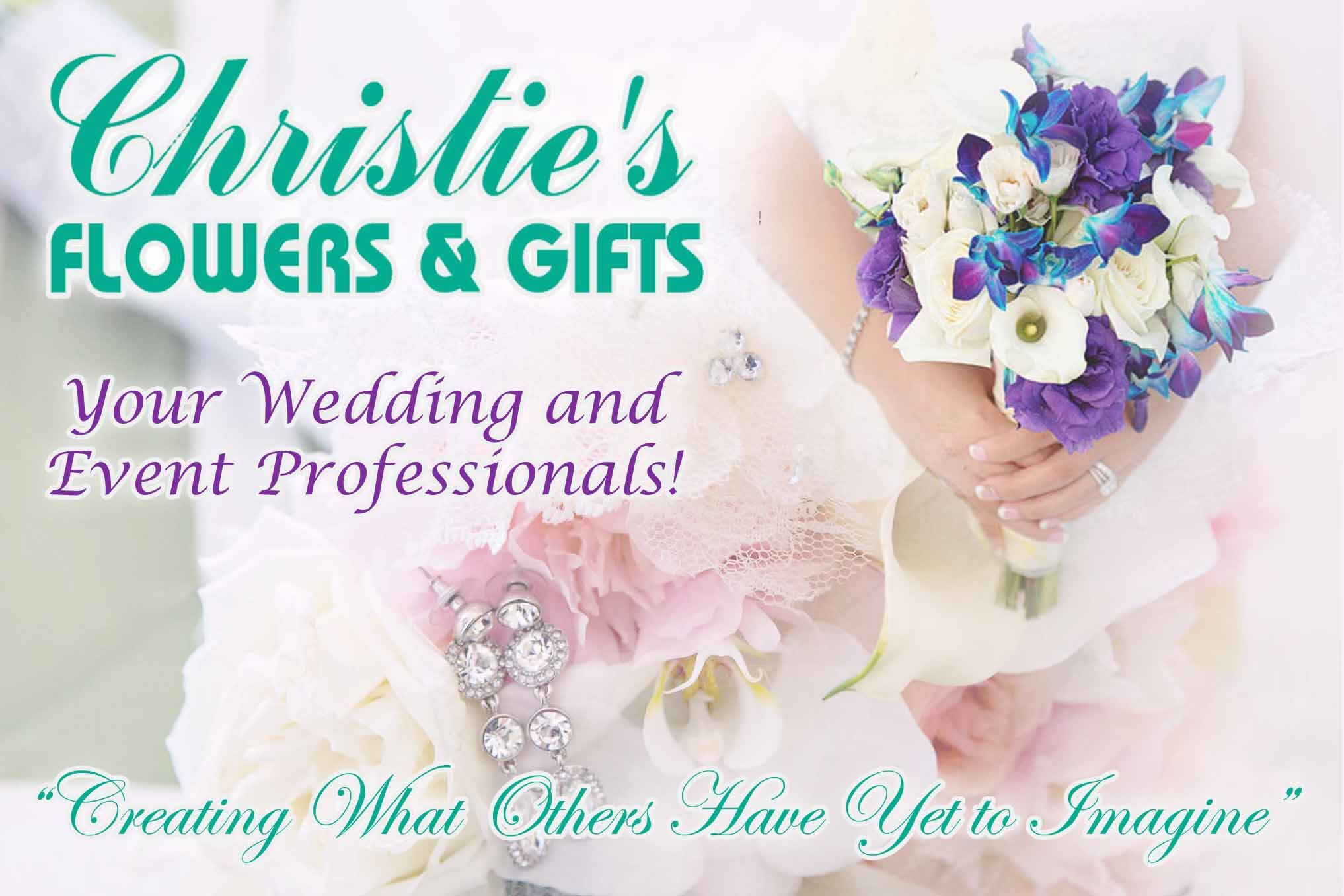 Reviewed on

7/25/2017
Megan P
Christies flowers has been used for my wedding, baby shower and soon to be my sister in laws bridal shower! Many of my bride friends have used her and it's one referral of mine that never goes wrong! I can't say enough how wonderful they are! Especially Jennifer! All I've had to... Read More do is tell her what I'm thinking and she makes it happen! She's the bomb! I highly recommend them!!!!
---
Reviewed on

4/03/2017
Caitlin M
I had a wonderful experience working with Christie's flowers. I was thrilled with how all of our wedding flowers turned out and my bridal bouquet, in particular, was so gorgeous. Highly recommend!!
---
Reviewed on

12/18/2016
Lucinda G
I stopped into Christie's without an appointment as I was in the area. I live out of state but got married in Naples. She was very accommodating, even though I didn't have an appointment. We had a small beach wedding. I ordered a bridal bouquet, a bouquet for my daughter... Read More (the bridesmaid), and boutineers for the groom and his son. I gave her a brief description of the dresses, the colors and my wishes. They all turned out beautifully! I was thrilled with the quality and the reasonable price! I would definitely recommend them to anyone!
---
Reviewed on

9/26/2015
This will be our second wedding using Jennifer as our florist. I was extremely pleased with her years ago when she did my wedding. I knew I wanted Christie's Flowers to do my daughters flowers for her wedding. She was so easy to work with and knew exactly what I wanted. Very... Read More Professional! She made my wedding amazing. I know she will do everything to make my daughters flowers and wedding everything she has wished for and more. I would highly recommend Jennifer and Christie's Flowers to anyone who needs a florist for any occasion. They are the BEST!!
---
Beautiful flowers and prompt service
Reviewed on

10/08/2012
Allie R
Christie's Flowers were perfect on my wedding day and everyone raved about the flowers. The older guests took the centerpieces home because they loved them so much. Jennifer is the wedding coordinator and she was fantastic. The only criticism that I have (which is why I am... Read More giving a four star review) is because there were times when I felt that Jennifer was a little disorganized. One night she was supposed to call me and just forgot. I waited for 2 hours until I finally called her and she admitted that she forgot. She made it up to me and later send me free flowers but I was a little take aback. During the first consultation though Jennifer was amazing. She sat with us for a long time and explained flowers, arrangements and everything in an effort to get us to understand and to stay in budget. Even my fiance felt that he was a part of the process which was important to me. The actual wedding day, Jennifer herself delivered the flowers to my hotel room and was there to greet me with a hug and my bouquet. I was beyond excited to see it and it was everything I had wanted. She was great!
---
True, sad, story
Reviewed on

5/05/2011
Jodi B
I found Christie's by recommendation of the hotel where my wedding was located. I have since told them not to recommend Christie's anymore. I was having a destination wedding over in Naples, FL and after months of searching for a florist I decided on Christies because I fell in... Read More love with the bouquet Jennifer had put together. That was probably the last good encounter I had with them, and that was October, my wedding was April 29. It took me about 3 weeks to try to get a contract signed with them because Jennifer just wasnt returning my calls. I called her almost every day. What was her excuse? It's Valentine's Day, she was busy. I understand that, but I was trying to give HER business. If you cant handle doing weddings and holidays, then dont do both. Months go by with no contact. I was paid in full by this point, BIG MISTAKE. The morning of my wedding I finally called the shop to see if they were indeed still doing my flowers for the wedding. Her excuse again was she was busy because of Mother's Day. You would think I would have got a phone call a week or couple days prior to make sure nothing had changed, but no, when I finally called THEM, they first asked me if I was picking up some other persons bouquet. Then after being on hold for a while they said they hadnt yet pulled my order for the day. WHAT??!! My wedding was THAT day and they hadnt even looked at my order yet? So NOW she runs down everything with me, quickly adding that the flowers I wanted werent available at this time.. Dont you think thats something you should have called me about? Especially since you KNEW a week before the wedding? After the run down I told her my family members would be picking up the flowers at 3pm and Jennifer said that was fine. When my sister-in-law got there, they were still putting bouquets together. When she asked why things werent ready yet they simply told her that it was a small wedding... WHAT exactly is that suppose to mean? That my wedding doesnt mean as much because its small? That is a horrible way to make a bride feel about her wedding. When I recieved the flowers at the hotel, I was so extremely disappointed. I called the shop right away. I had a bridal bouquet that didnt look ANYTHING like what I had originally wanted. And my bridesmaids bouquets were almost all a bunch of buds(she told me they would be open by the time the ceremony started, they never opened)! She told me that Ecuador was under water and my flowers werent available. When I asked her how long she had known that she said about a week. I asked her if she didnt think that was something she should have called me about? Maybe we could have thought of something else? Jennifer said she never knows what shes going to get when she orders.. Then how do you fill orders? Especially for weddings? She then called my sister-in-law obnoxious simply because she asked why the flowers werent ready. The complete lack of customer service and the poor attempt to throw my flowers together took the wind right out of my sails on my wedding day. To have someone treat me with such disregard because my wedding was small.. It was so disappointing when everything was going so well. I strongly recommend looking elsewhere for a wedding florist.
---
not to good
Reviewed on

3/31/2011
Ashley J
it took forever to get a hold of her never returned my calls. would change my ideas of what i wanted in the flowers. And when i got the flower at the wedding they were dead. i was very disappointed
---
Beautiful Flowers
Reviewed on

1/07/2011
Priscila G
Very pleased with my flowers. They were fresh and looked beautiful.
---
My Centerpieces were Awesome!
Reviewed on

10/06/2010
Shannon D
Jennifer was very nice and helpful! My bouquet and centerpieces looked great. I was very happy with them.
---