Home

Dream Designs Florist
About this Vendor
Gorgeous Flowers- Attractive Prices
Check out website and be sure to view our floral gallery for inspiration. Need ideas or a quote? We offer a complimentary consultation that you are sure to find helpful. Follow us on Twitter, Facebook and Pinterest...read our reviews and ask about our Excel budget calculator.
Details
Aisle Decorations, Centerpieces, Pedestals, Vases, Chuppah, Wedding Arch, Decorations + Accents, Bouquet Wraps, Bouquets, Boutonnieres, Corsages, Flower Delivery + Setup, Flower Arrangements
Contact Info

701 Tam O Shanter Drive, Orlando, FL
Best Vendor of my Wedding!
Reviewed on

8/11/2013
Vanessa M
I loved all my vendors for my wedding but Dream Designs Florist was my favorite. Danielle and her team are incredible! I went into my initial consultation meeting with a general idea of what I wanted. Through several meetings, she really helped me refine my vision. She had TONS of photos to show me to really help me visualize my final product. AND she really kept my budget in mind and provided me with the most cost-effective options that were still beautiful. She told me where to buy vases or votive candles online that were cheaper than renting through her company. My flower arrangements turned out beautifully! I absolutely loved my flowers. I wish I could have my bouquets in my house all the time. Do yourself a favor (especially if you don't have an exact idea of what you want for flowers) and hire Dream Designs Florist. You won't be disappointed!
---
My flowers were so beautiful
Reviewed on

7/22/2013
Maria S
My sister also used Dana from Dream Designs Florist for her wedding. So I already knew I was going to be receiving top quality flowers. Dana was so easy to work with and super creative. She really know flowers and how to build amazing creations with them. I loved loved loved my wedding flowers. My bouquet was the most beautiful yellow bouquet I have ever seen. Dana also did my table centerpieces. I got so many compliments on them during the wedding. She was there on the day of the wedding making sure that everyone had all their appropriate flowers on. Oh! and I also had my cake decorated with the same flowers as the wedding. It looked beautiful. Book with Dana, you will receive top quality service and unforgettable flowers at your wedding. :)
---
Amazing florist!!
Reviewed on

4/19/2013
Stephanie N
Danielle and I had several phone and email convos because I was an out-of-town bride. I was certainly no bridezilla, so I was pretty easy-going but at the same time, I had a pretty specific vision of what I was looking for in my flowers. From all the brides I had encountered while planning my wedding, people kept telling me all the things they wanted to change about their flowers..."too much pink," "wanted more orange," and "less purple". However, after all of my conversations with Danielle, I was 100% confident that she understood EXACTLY what I was envisioning...and she did!! I am still hearing about how beautiful the flowers were. I am SO happy with her work, and hope I return to Florida someday so I can have another event to work with her again on! You will not regret working with her!
---
Pure Talent
Reviewed on

4/24/2015
Rebekah B
Danielle is amazing! Upon our first meeting with her, we knew we had to have her. She was talkative and fun. She had so many photos for my fiance´ and I to look at to get a better idea of what we wanted. We laid out our budget and she was able to stay under it while still providing absolutely beautiful bouquets! She even added peonies which I thought were out of my price range. My mom and mother-in-law absolutely loved that their corsages were able to be made into bracelets. You will not go wrong with Danielle. She knows exactly how to make your dream a reality.
---
My bridal bouquets were amazing!
Reviewed on

4/12/2015
Danielle was amazing. She made my vision a reality. The bouquets were so beautiful! Just breathtaking.
---
If I could give more than 5 stars...
Reviewed on

3/19/2015
Abby G
Danielle's vision and service are phenomenal. I knew after hour initial conversation I was in good hands. She is organized and can take exactly what you are looking for to the next level. She is so nice and is not looking to nickel and dime you but just the opposite: she tries to help you save money. The day of my wedding I did not have to worry and she even added a special touch to something I created that was missing some greenery while she was there. That is what I would call going above and beyond! If I could give her more than 5 starts I absolutely would. I am glad I went with Danielle!
---
Beautiful Work
Reviewed on

2/02/2015
Diana G
Danielle is absolutely wonderful! She knows her stuff and designs beautiful arrangements! She was so easy to work with and has such an inviting and fun personality. She delivered my bouquets right to my hotel room and they were absolutely gorgeous! I loved everything about them!! She made sure she understood what I was envisioning by working closely with me on more than one occasion, and sitting down with me for a final meeting to make sure we were on the same page. It was such a pleasure working with Danielle, she makes you feel comfortable with your decisions. She is the flower expert and it was relieving to know that she could make the decisions and that they were come together beautifully! If you're looking for a florist, you won't be disappointed in choosing Danielle and Dream Designs Florists!
---
I'll never look for another florist!
Reviewed on

2/01/2015
Pamela D
Danielle was amazing. She was prepared for meetings, helped me organize our style for the wedding, and balanced beautifully creating our vision and not breaking my budget. She is very professional, creative, and an excellent problem solver. She painted her candelabras gold so that they would match my wedding, and even solved the problem of creating a boutonniere on the wedding day when we realized we had forgotten someone. I will hire her each and every time I need a florist in the future.
---
Beautiful Flowers & Fun Florist/Owner
Reviewed on

1/08/2015
Lindsey A
I am obsessed with Danielle from Dream Designs - If you want to feel comfortable and like you're spending time with an old friend while deciding on your wedding flowers, Dream Designs is the way to go. I really didnt know what exactly I wanted for our wedding flowers and Danielle showed me so many beautiful options and ideas, not to mention they were budget friendly! I loved hanging out with Danielle going over flowers in our meetings and when she arrived the day of the wedding, she is somehow calming because she is just so fun and sweet! When I say she's like an old friend, I mean it! She makes you feel so comfortable and is just a doll! Our flowers were gorgeous and I am so happy I selected Dream Designs for our florist.
---
Stunning flowers and a beautiful person to work with!
Reviewed on

1/05/2015
She truly went above and beyond all of her duties and listened to all my details down to the T. From the flower in my hair, to my bouquet, the flowers over our head at the alter, our love mugs, our cake, just everything took my breathe away!!! Thank you for making my wedding absolutely perfect, not to mention even cutting up her own lace curtains to make my table runners!!! Danielle deserves so much recognition!!!
---
Perfect!
Reviewed on

12/16/2014
Naomi E
Daniele at Dream Designs was so easy to work with, worked within my budget & provided options to make the flowers fit in my budget and the bouquets and centerpieces were gorgeous!
---
My dreamy wedding came true!
Reviewed on

11/11/2014
Brittney m
I cannot express my gratitude to Dream Designs for making my wedding absolutely AMAZING. I'm an out of town bride and Danielle made me feel at ease by having virtual meetings with me online to go over exactly what I wanted. They exceeded my expectations and all our center pieces, bouquets and boutineers were more perfect than I ever thought!! On our wedding day, she found me personally and went over all the flowers to make sure everything was perfect. She even had the grandmothers flowers labeled which made it so easy when passing them out! I could not thank them enough for making my wedding flower dreams come true :) I would recommend Dream Designs Florist to anyone who is in the market for wedding flowers, they will not disappoint you, I promise.
---
Amazing, amazing, amazing!
Reviewed on

10/28/2014
Ashley G
Danielle was the most amazing vendor I had the pleasure of working with. She is personable, and she truly cares about making sure your day is carried out the way YOU want. She also provides you with ideas if you come in with a blank slate and are needing some direction, like I did. What I appreciated most about her was her willingness to work with my budget, and the fact that she is so generous and kind hearted to even tell you how to do some DIY stuff yourself if you are looking to stay under budget. Everything truly looked amazing and I'm SO happy we went with Danielle.
---
Old Florida Wedding
Reviewed on

10/27/2014
Carrie
Danielle & Dream Designs Florida & Wedding Boutique, did an amazing job and my vision came alive and even better than I could have imagined. My flowers were so classic, and my requests were met and creativity executed perfectly! Thanks for my beautiful wedding florals!
---
Flowers
Reviewed on

10/23/2014
Caitlin L
My flowers were amazing at the wedding. The centerpieces were perfect. I also rented candles and some pieces for the aisle and everything turned out beautifully.
---
Amazing
Reviewed on

10/02/2014
nick m
Sooooooooooooooooooooooooo Amazing!!! Danielle is incredible. She took every thought we had and literally brought to life what we imagined. All of the time and research we did prior to the wedding, all the concerns over what could go wrong, Danielle delivered with beautiful flowers, exactly the set ups we wanted, and she even arranged extra tables we forgot- took all the stress and worry away immediately for us. She's patient and understanding about your vision and will go out of her way to give you the bouquets and arrangements of your wedding dreams. She is down to earth and genuinely cares about your special day and you as a couple. I really cant say enough and probably don't give justice to her work. this is not a corporate chain or a warehouse that turns weddings over one after the after, she works at the comfort of a home office and is able to really invest in each client. Your flowers are one of the most important aspects of your wedding - Don't waste time looking and cutting corners - Danielle of Dream Designs is the most recommended and definitely most trusted. Thank you Danielle for helping with our dream coming to life.
---
Amazing!
Reviewed on

9/29/2014
Amarah M
Danielle is amazing! The flowers were absolutely beautiful and just perfect! If you decide to work with her, you will not regret it!
---
Absolutely Gorgeous!
Reviewed on

6/05/2014
Jamie E
I recently got married and had Danielle do my flowers. I could not be happier with how they turned out. My bouquet was amazing and even though we had decided to do simple white hydrangeas for my girls since Danielle had some extra flowers she had added in little white roses to the girls at no extra cost, as well as had extra flowers for me to use as decorations, and threw in petals for the flower girls all at no extra cost just because she had them. I got to meet with Danielle twice before the wedding and had one video chat. She was an absolute dream to work with, very sweet and very honest, which I love. As someone who loves flowers I was more than pleased with how beautiful they all turned out for my wedding!
---
Stunning flowers, service for a very reasonable price!
Reviewed on

6/01/2014
Kimmy H
Danielle was amazing! I live in Tampa so it was hard with my schedule to make it to Orlando (where we got married) for a meeting, Danielle suggested a digital meeting which was fabulous. She was able to share her computer screen with mine so I could get a visual. Before our meeting, she had already looked at my pinterest and had an idea of what I liked. I was vocal about my budget and Danielle never made me feel pressured or tried to "upsell" me on anything. In fact, she was very truthful about what flowers would have been more expensive and how we could have achieved the same type of look with something more affordable. My flowers were stunning! Absolutely breathtaking. All of my guests just raved about them. They came out better than I ever imagined.
---
Danielle and Dream Designs are fantastic!
Reviewed on

5/24/2014
Jon P
When researching florists for our wedding, Dream Designs pictures really caught our eye. We did a virtual meeting with Danielle and told her some ideas we had. Danielle then showed us some pics of things we may like and we loved her ideas. When we saw what the Dream Designs team did for our wedding and reception, we were blown away. They added details to the bouquet, boutonnières and centerpieces that were better than what we could have imagined. Dream Designs are perfectionists that make sure everything looks incredible.
---
Amazing!!
Reviewed on

4/17/2014
Sarah C
I was blown away by how beautiful my flowers were for my wedding! I did everything long distance and Danielle was impeccably organized and professional throughout the whole process. Everything turned out more wonderful than I ever imagined. I highly recommend using Dream Designs. You will not be disappointed!
---
Amazing Florist!
Reviewed on

3/29/2014
Kristen H
I cannot say enough wonderful things about Dream Designs Florist! I would highly recommend them! Danielle did my wedding and was absolutely amazing!! She was so intuitive to my ideas and helped me create the vision I didn't even realize I had for my wedding. Not only is she very professional but such a nice person as well! She worked with me every step of the way to make my flowers perfection! Anytime I had a question or needed help she was always just an email or phone call away. Very quick to respond. She also worked well with my budget and was so helpful with all of her flower suggestions. Seeing my flowers on our wedding day truly took my breath away. Thank you so much for making my wedding day so beautiful!!!
---
Love Dream Designs
Reviewed on

2/26/2014
I was a destination bride, so finding a florist was a little difficult... but then I met Danielle, and everything changed. She conducted virtual meetings with me that put me at ease because we could look at the same pictures and talk about them rather than emailing back and forth. It made me feel so much better... but of course, I didn't know exactly what I was getting until the day of. Danielle totally outdid herself! I couldn't have been more pleased! I was worried the arrangements wouldn't look tall enough, or they wouldn't be full, etc. Everything was perfect! She even went as far as to hand paint feathers that went into my bouquet (because navy blue was so hard to incorporate). I absolutely loved the final outcome. I would recommend Dream Designs to anyone - destination or not, because her work is great, she pays attention to detail, and listens to what you want. Thank you so much Dream Designs!!! I couldn't have been happier!
---
Beautiful Flowers!!
Reviewed on

1/22/2014
Christina R
Danielle was amazing to work with. She is extremely friendly and was able to take my vision and completely bring it to life. The flowers were everything we expected and more.
---
Amazing Floral Design at a Reasonable Price
Reviewed on

10/13/2013
Emma S
Danielle was terrific to work with! We didn't know much about flowers walking in, and she was prepared with tremendous amounts of sample photos and ideas. She was well organized during our consult meeting and was able to provide us with a very detailed estimate. She listened to our likes and dislikes and delivered beautiful centerpieces and ceremony floral, all while keeping us on budget. The flowers were fresh and stayed beautiful throughout the night. My bouquet still looked perfect the next morning. Our venue required a specific type of insurance, and Danielle went above and beyond to ensure this was taken care of with our venue, without involving me. All emails were returned within 24 hours. I highly recommend Dream Designs!!
---
Meet The Owner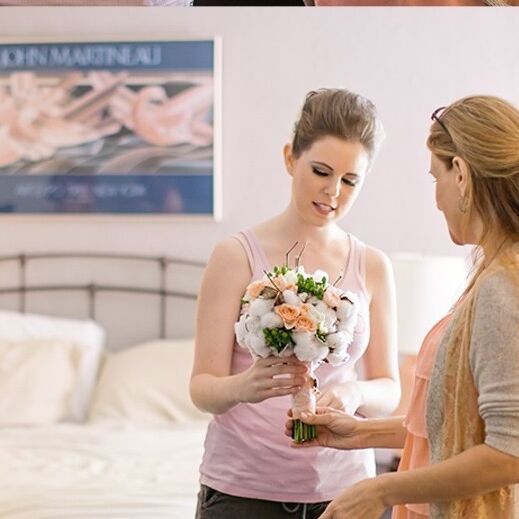 Danielle Evans
Graduated from Hixson's School of Flower Design. Established Dream Designs Florist in 1993.
Send Message