Home

Flowers by Semia
About this Vendor
"Nature never did betray the heart that loved her"
We are defined by our love for nature and all that it inspires us to create.
Details
Centerpieces, Plants, Vases, Chuppah, Decorations + Accents, Bouquet Wraps, Bouquets, Boutonnieres, Flower Arrangements
Contact Info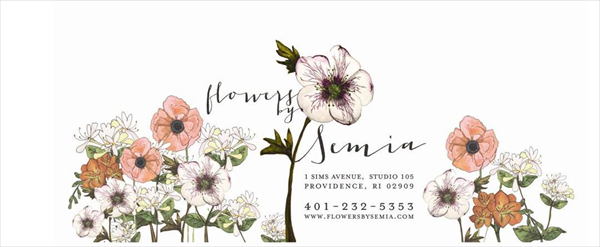 1 Sims Ave, Providence, RI
Best bouquet EVER! Sweetest most talented florist
Reviewed on

6/01/2011
Gabriela G
If there's anything you need to do for your wedding it's hiring Semia - her work is unbelievable!!! I just had my wedding at Belle Mer in Newport and Semia's designs just took the venue to the next level. To start, she is probably one of the easiest people in the world to work with - she's the perfect balance of creative, intelligent, kind. From our first phone meeting with her I knew she was the florist for me. I had so many ideas and she just picked up exactly where I left off. She truly listened to what I did (and more importantly did not) like and made every idea come to life. She's also incredibly responsive to email which can be hard to come by. I was also really happy that she was flexible and creative when it came to working with my budget. She actually gave me 3 proposals to work from that were at different price points, then we worked from there to come up with the perfect plan. So now on to the flowers...I actually think I had the most beautiful bouquet ever created! When I say it took my breath away, I am not kidding. Then I got to the venue and almost died - she took flowers to a new level of interior design. Everyone couldn't stop talking about how gorgeous the flowers were...they couldn't have been better. So! Take the time to meet with Semia and see for yourself what an incredibly wonderful and talented person she is!!! She's the best!
---
The MOST BEAUTIFUL arrangements I have ever seen!
Reviewed on

12/05/2014
Jaimie P
I am beyond thrilled that I chose Flowers by Semia for my wedding day! Communication was always very fast and pleasant. I received a call from Semia and did a consultation over the phone (since I lived a little further from her studio). I knew nothing about flowers and just knew what colors I wanted (deep and saturated fall colors) and that I wanted them to fit in with the rustic theme. She was so friendly and obviously knew everything there was to know about her job. She was somehow able to pull together an amazing vision for our wedding with the very little input I gave her. I later received an email reviewing what we had talked about and she even attached pictures of flowers she was thinking of using. She was also very respectful of my budget and was kind enough to offer less expensive "DIY" options and made great suggestions about making items that could be used in the ceremony and then moved to the reception area. She also never pressured me into committing to the sale, and always allowed me time to consider what I wanted. During the course of wedding planning I made several changes and additions, which Flowers by Semia always accommodated. They were always positive and happy and replied very promptly with updated costs and relevant information. Since I had not given much direction, I had no idea what to expect the flowers were delivered on the wedding day. I was absolutely STUNNED by how LARGE and BEAUTIFUL the bouquets were. They were so detailed and fit perfectly with the feel of our day. I had no idea how much of a different flowers could make in our wedding. I have been to many other weddings and seen many arrangements, but these were the most beautiful I have ever seen. We also had an arbor that we had asked them to decorate for our ceremony, and when I saw it for the first time coming down the aisle, my jaw dropped. Beautiful does not even begin to described. Semia also made several small arrangements in mason jars that lined the aisle hanging on Shepard hooks. All of our guests kept asking where these amazing flowers came from and could not believe how gorgeous everything was. When the ceremony was over, Flowers by Semia took the flowers off the arbor (there was A LOT) and decorated out reception area with them. It was all done when we walked in, and it was breathtaking. This was the best investment we made in our wedding.
---
Best decision ever!
Reviewed on

10/13/2014
liz s
Ah! I cannot say enough good things about her. Semia is absolutely amazing! She has an incredibly talented and artistic eye. She caters to any style and lets you think outside the box when dreaming of ideas for your big day. WIth just a handful of inspiration pictures, she was able to design the most amazing chuppah and reception space for us. I trusted her completely to create our dream space and aside from colors and a few pictures, did not know anything about how the space would turn out. It was beyond my wildest dreams and we received so many compliments on our flowers! She is truly wonderful and aside from creating a floral wonderland, she also has great ideas about the overall aesthetic for your event space. She will create your dream wedding!
---
The best flowers I have ever seen
Reviewed on

10/07/2014
Laurel D
I hired Flower By Semia based on a recommendation from my wedding venue. When I met with Semia to discuss my vision and what I liked I was amazed at how well we connected on my ideas, and loved that she was so enthusiastic about my vision. I showed her some images that I liked and she was so excited about my colors and ideas. She quickly put together a quote and worked with me to get the price to a point I felt comfortable. I love flowers, but I am not a professional, so I gave her my color pallet and images of things I liked, then told her to just make the arrangements with the freshest, best flowers that were available the day she made them. Brides, HER FLOWERS WERE AMAZING!!! I have never loved wedding flowers as much as I loved the ones she put together. Her arrangements were modern, intricate, stunning, and EXACTLY what I envisioned (even though I didn't really know what they would look like, she created the perfect flowers just for me!). She was a delight to work with and flowers were, by far, my favorite part of the wedding. (Plus some of the arrangements lasted for almost 3 weeks after the wedding was over!!)
---
My wedding would not of been the same without SEMIA
Reviewed on

9/08/2014
Allie S
Semia creates magic! I was completely blown away by my flowers! She (and her team) is such a sweetheart and so helpful and accessible during the planning process. I never would of thought my flowers would have been as amazing as Semia created! My bouquet was huge, white and the most amazing bouquet ever!!!! It's like she read my mind and knew exactly what I wanted with everything! Semia also created a gorgeous design in the aisle with swirls of flower petals. She was worth every last penny and you could only be so lucky to have Semia do your wedding!!!
---
Blew me away!
Reviewed on

7/07/2014
Faith M
When I first met Semia, I was somewhat leery because I knew her prices were a little higher. However, within moments of sitting down at her desk, she was finishing my sentence and reading my mind with regards to the type of flowers and visuals I wanted to use. Our wedding was at the Providence Public Library and had a book theme, and she found away to incorporate flowers and books beautifully, including creating paper flowers with book text, arrangements "sprouting" from old books, and the coup de grace - an actual 7' tall arch built from vintage books! The construction of the arch itself cost $2500, which was part of the reason for our sizable price tag, but it was well worth it. Any future brides and grooms at the library will be able to rent the arch (at a lower cost) for a gorgeous addition to their ceremony. Semia was sweet and accommodating, and her crew were some of the most talented people I've ever met. I cannot recommend them enough!
---
Truly Amazing Wedding Flowers!
Reviewed on

5/19/2014
Heather G
Words cannot begin to express what an AMAZING job Semia and her team did on the flowers for my wedding. As an out of town bride, I knew I needed a florist who would take care of all the little details so I didn't have to worry. Semia was that person. I met with her once, and she immediately got the vision I was going for. I ended up spending a little more than my budget, but that decision was completely justified by the quality of the work and the service provided by Flowers by Semia. All the flower arrangements were spectacular; even more beautiful than I ever imagined they could be. Our guests were even fighting over which flower arrangements they got to take home!
---
A Truly Unique Artist
Reviewed on

10/22/2013
Lisa V
Semia and her staff were outstanding and my flowers were unbelievable. My guests (girls and guys!) are still commenting about my flowers, centerpieces. I definitely felt a great connection when I first met Semia. She's an artist who listens to what you want and then creates your vision. I wanted to hire a vendor who could take my ideas/vision and run with it. I put my trust in her and she and her staff delivered above and beyond - creating incredible arrangements using amazing colors, combined with unique texture and designs.
---
Semia is Sweet, Professional, and Talented!
Reviewed on

7/29/2013
Britney F
My father and I met with Semia, and she was extremely helpful in helping me find a vision for not only the flowers, but dresses and décor for my wedding. I will be forever grateful to Semia for that. She gave me so many ideas and was so personable and professional. Her books were new, updated, and realllly impressive. Unfortunately, I inadvertently chose Mother's Day weekend for my wedding, so flowers were expensive by default (as Semia explained to us ever so gently) and we just couldn't afford her prices. I'm sure it would have been worth it if we could, but there was just no room in the budget. Nevertheless, I am really glad to have met her and would not hesitate to recommend Semia to anyone as long as they are able to spend a little bit extra on the flowers. (I did end up using a friend of a friend who was able to give us a deep discount on our flowers, but we still had to make some cut backs)
---
Blown Away!
Reviewed on

12/18/2012
Kendall G
When I first met with Semia, I knew I had to work with her. She was the most attentive listener I have ever met! She picked up on what I was describing right away. She had no problem working within my budget and I was totally blown away by her work. I only cried two times during my wedding, and one of them was when my attendants handed me my bouquet! It was so big that I had to hold it with two hands - it must have weighed ten pounds! We've been married for 10 days and it still looks perfect sitting in a vase in our house. I cannot say enough wonderful things about Semia's work - simply stunning!
---
Highly Recommend!!
Reviewed on

10/08/2012
Teri J
Semia & her team do an amazing job! I had (what I thought) was a tight budget for flowers & she was very accommodating! She worked with me & suggested ways to stay within my budget, such as buying candles & votive holders myself at Michael's. I got so many compliments on my bouquet, my bridesmaids flowers & my centerpieces!! I loved everything she did!!
---
Beautiful flowers
Reviewed on

9/27/2012
Kristen R
Semia made beautiful center pieces for my wedding day. With massive candelabras she created the romantic feel that I wanted.
---
AMAZING!
Reviewed on

9/18/2012
Nicole L
Semia was absolutely amazing. From the first time I met with her, we clicked and were just on the same page. When I described things that I had seen and liked she knew exactly what I was talking about. After meeting with Semia I didn't even want to meet with anyone else to compare, I knew she was the one. She had SO many ideas for purple flowers which I didn't think came in so many shades but they do. She used vanda orchids for my bouquet and everyone at the wedding gushed that it was the most beautiful bouquet they'd ever seen! You won't be disappointed!
---
Amazing!
Reviewed on

8/31/2012
Krista S
Semia did an amazing job for my June 10, 2012 wedding at Castle Hill Inn. I knew as soon as I sat down with her that she would be our florist. She just "got me" and understood exactly what I wanted. When we saw our table decorations, I was speechless. It was exactly what I wanted! I can't thank Semia and her team enough...they made our wedding day so beautiful!
---
Amazing taste and service
Reviewed on

8/17/2012
Charlene M
As the bride, I had a very particular style that I was trying to achieve for the wedding. However, I was not all that knowledgeable about flowers and arrangements. Semia was so helpful and offered so much guidance throughout the process. She met with us several times and was so incredibly patient as we wavered back and forth on a few different setups of our wedding. All in all, the day of the wedding, I was absolutely blown away by the bouquets, ceremony piece, and reception arrangements. She translated my vision perfectly and I couldn't have asked for more. I HIGHLY recommend Flowers by Semia to anyone!
---
Breathtaking!
Reviewed on

7/29/2012
Laura D
I literally starting crying when my bouquet and my maids bouquets were brought into my house. They were stunning and absolutely breathtaking! I cannot believe the quality of flowers that Semia uses. From the first meeting with Semia I knew that she was my florist! She has an amazing eye for beauty! Her designs are beautiful and my guests couldn't stop talking about the centerpieces. Absolutely PERFECT!
---
Amazing work!
Reviewed on

6/03/2012
Brenna I
Semia is amazing and I knew I wanted her to do my flowers the minute I walked into her shop. She had brilliant ideas of how to make my floral visions come true and was VERY willing to work within my budget. When I saw the flowers on my wedding day, they took my breathe away! I highly recommend Semia!
---
Worth every cent
Reviewed on

5/05/2012
Sara S
with ecstatic praise I recommend Semia and her gang to every bride who can afford them. It's true, you will spend a lot on these flowers, but after comparing them with quotes from 3 other florists, they were actually not more, and were very willing to make any adjustments necessary to help me stay within (ok, well close) to my budget. The flowers themselves were SPECTACULAR...gorgeous, bountiful, unique...they transformed a nice venue into a stunning one. Their use of color and variety, the freshness, artistry and the sheer abundance was overwhelming. My bouquet was equally stunning...heavy, but stunning! They used lanterns and hanging votives just the way I asked. I am so happy with my decision to go with Semia and hope you will do the same!
---
One of a kind!
Reviewed on

12/27/2011
Nicky H
I cannot say enough about Semia and all those who are on her team...she is SO creative, so patient in her work and above all, truly cares about each customer. My father had passed about 6 years ago, and it was important to me to have with me a locket he had given to me as a child. Semia suggested tying it into my bouquet -- receiving the entire bouquet the morning of my wedding, and seeing my father's locket among her art, was priceless.
---
Semia is the BEST EVER
Reviewed on

11/09/2011
Amanda D
Semia's flowers took my wedding to a level that I had only dreamed she would achieve! She took the blank canvas of a tent on a dock in Newport, and transformed it into an amazing wonderland of tall manzanitas, orchids, fluffy garden roses, dozens and dozens of candles and beautiful mercury candle holders. It was a challenge because I had asked her to help make the reception tent "black-tie formal" while still keeping it romantic and slightly rustic, and she blew everyone away. The centerpieces were breathtaking. She was the absolute most fun vendor to work with too! Her emails made me excited for our plans and I would be thrilled when I saw a new one in my inbox. She kindly worked around several budget and idea changes we made in the middle of everything. She and her team were incredibly professional while still maintaining an extremely high level of artfulness, creativity, and uniqueness that set her apart from the other florists we considered. I recommend her to anyone and everyone, and honestly had such a remarkably awesome time working with her.
---
The most beautiful Flowers I've ever seen!!
Reviewed on

11/08/2011
Lauren A
Flowers by Semia did the flowers for my wedding in August at the Ocean Cliff and they were the most beautiful centerpieces I've ever seen. I explained to her what I was looking for with color and feeling and she new exactly what I wanted. When I walked into the room the day of my wedding I was beyond happy...everything was perfect and exactly what I wanted. her work is so unique and she truly transforms a room. Go to Semia you will not be disappointed!
---
Flowers
Reviewed on

11/08/2011
Nicole B
Although its a little pricey for a budget wedding i made it work. it was def one of my favorite things i splurged on. They did a phenomenal job!!! I would recommend them to anyone. everything was beautiful
---
So much more than floral design...
Reviewed on

10/13/2011
Katie M
So there I was, 8 months out before the big day and I was absolutely paralyzed on what I wanted the style of my wedding to be. I had too many ideas, all in different directions and no real plan. Then I met Semia. In about 35 minutes, I not only had a beautiful floral plan, but I had a complete design concept and a vision that was so uniquely me, it felt like Semia had known me my whole life! She is a fantastic listener, wildly creative and indredibly responsive. When I walked into my venue the day of the wedding, I was completely blown away by what Semia and her team had done (and I knew what to expect!) My guests could not stop talking about how gorgeous the flowers and tables were and I am still getting compliments a month later. I cannot say enough about Semia -- working with her was a complete joy and I will miss planning and scheming with her!!
---
absolutely stunning!
Reviewed on

10/04/2011
Lisa B
The flowers I received for my wedding far exceeded my expectations. Semia's team totally understood my vision and executed it flawlessly. The flowers were fragrant, stunning and gorgeous. They really made the event special.
---
pleasure to work with but don't take credit cards
Reviewed on

8/02/2011
nadia z
Semia was a complete pleasure to work with. She is very energetic, was quick to understand "my vision" of simple elegance and offered very helpful suggestions. Overall, great vendor, but NO credit cards accepted - money order or certified checks only, a bit of inconvenience...
---
Send Message