Home

Hassell Florist
Details
Aisle Decorations, Centerpieces, Vases, Decorations + Accents, Bouquet Wraps, Bouquets, Boutonnieres, Corsages, Flower Arrangements
Contact Info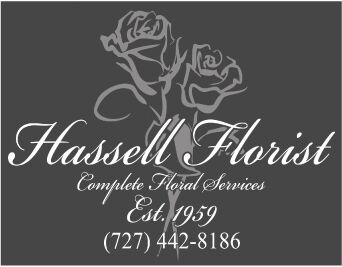 Reviewed on

6/16/2017
Mecala F
Tammy was a pleasure to work with and we met quite a few times to discuss the flowers with pictures and both agreed on the look we were going for. She did deliver beautiful flowers but the coloring was a bit off and not as discussed exactly, I did reach out to her to go over... Read More this but she has yet to respond.
---
Reviewed on

3/24/2017
Katie D
My bouquet, bridesmaids bouquets, centerpieces & mens boutonnieres could not have been MORE PERFECT!!!!! It was EXACTLY what i wanted. I was so pleased with everything!
---
Reviewed on

8/17/2016
K W
If I could do 10 stars I would. Our son was having a small family beach wedding. We were looking for a non-traditional bouquet and boutonniere, something appropriate for a beach wedding. I had stopped at two other florists up the road, leaving both rather discouraged. Then I... Read More came upon Hassel Florist. From first sight of the business and upon meeting Tammy I knew I'd found the perfect floral designer. I showed her a couple Pinterest bouquets I kind of liked to give her ideas what what I was trying to attain for our bride-to-be. Tammy easily grasped my vision! When I left that day I knew we wouldn't be disappointed. When we arrived the day of the wedding to pick of the bouquet we were absolutely amazed at the finished bouquet and boutonniere. They were stunning and such a wonderful surprise for the bride. She was absolutely delighted. There is a BIG difference in florists. Some only can make copies, or work with set designs. The good florists know how to make amazingly beautiful one-of-a-kind designs. Tammy at Hassel Florist is that one-of-a-kind designer! Thank you Tammy!
---
Stunning Arrangements
Reviewed on

12/21/2015
Jane M
Hassel Florist provided stunning arrangements. I didnt pick a color for my wedding, I really picked flowers from pinterest and Hassel nailed it. It was perfect!
---
Reviewed on

12/19/2015
We have been using Hassell Florist several times for over a year and have been completely satisfied with everything they have done. We live in Longmont, Colorado and tried to find a local florist in the Clearwater area due family living there. Everyone has remarked how... Read More beautiful the arrangements are both plants and floral arrangements. They have always been on time with their deliveries. I would highly recommend them.
---
Reviewed on

5/26/2015
Danielle N
The flowers for our wedding were absolutely beautiful!! Amy walked us through the process and figured out the best way to do what we were looking for. We changed the time and drop off location right before the big day and it was not an issue at all. We also forgot to drop off... Read More ribbon and they accommodated us. Everything was beautiful, fresh, and showed up exactly when we asked. Plus the price was extremely competitive.
---
Great florist that works with your budget!
Reviewed on

3/26/2015
Alex M
I only needed bouquets for myself and my 5 bridesmaids from a florist. It was a long search, but what drew me in to Hassell was their willingness to work with my budget. I told them what flowers I wanted and they told me the prices. However, once they knew my budget they gave... Read More me options. No other florist gave me options and sat down with me to show me what I could do. Their delivery fee is $100 so they said I should have someone pick them up, which I did. So I stayed within budget, received beautiful bouquets!
---
Very affordable flowers
Reviewed on

7/09/2014
Jessica P
Knowing how pricey flowers can be for a wedding, my husband and I were very worried we would not find a florist that would meet our budget of $500 or less. Thankfully, a friend recommended Hassell Florist to us. At Hassell Florist, we met with Amy and Sheryl, both of whom were... Read More very helpful as we were pretty clueless to what we wanted in our wedding. Since we did not have a large bridal party nor did we have a ton of flowers at the ceremony / reception, they were very accommodating to our budget. They were also really helpful and communicative through phone and email whenever they received any dark purple flowers, (that was only what I wanted to use at my wedding). In the end, my bouquet was gorgeous and our arch floral pieces were beautiful - exactly as we hoped they would be!
---
Beautiful arrangements!!
Reviewed on

5/31/2014
Lelei B
Flowers are definitely not my thing, so when it came to making decisions for my wedding and reception, I had no idea. I read lots of reviews and met with multiple florists, and I ultimately decided on Hassell's. Making an appointment for a consultation was incredibly easy!... Read More Amy was so great...she knew the flowers that would look fabulous and still work within my budget. She had amazing communication from start to finish, even though I felt like I sent a million emails. My bouquets, centerpieces and wedding arrangements looked amazing and were delivered so promptly! I'm so happy I went with Hassell's and should I need flowers for another occasion, I would use them again :)
---
Outstanding Service!
Reviewed on

8/27/2013
KIMBERLY O
I was a last minute drop by consultation as Hassell Florist and they warmly welcomed us in without and appointment Kristy was awesome to talk with. She played out many ideas with us and even when above and beyond emailing me pics and ideas from stores she went too. The facility... Read More was clean and well organized. I didn't feel pressured with our budget, they were willing to keep us under budget which was so nice. Flowers looked great and I'm looking forward to seeing what they've created for us at our wedding. Fully confident they'll do a fantastic job!
---
Greatest Florist Ever!!
Reviewed on

8/25/2013
Jennifer A
My husband and I used Hassell Florist for our wedding and they did a phenomenal job. Mrs. Cory new exactly what I wanted and put together a beautiful arrangement for my special day. They took the time to make sure we were comfortable with everything checking in with us several... Read More times leading up to the big day and I am so happy I chose them to handle the flowers for my wedding!
---
Hassell Florist
Reviewed on

8/22/2013
Brooke m
I have been working with Kristi and Amy, both of which have been Fantastic! I have given Amy the flexibility to be creative using the specific flowers I have chosen and I am loving her ideas. Both of these girls are very easy to work with and are very accommodating! They also... Read More made me feel as if I was their only client. I would highly suggest using Hassell Florist!
---
LOVED my flowers!
Reviewed on

4/19/2013
Kimberly S
From the moment I called Hassell florist I knew they were the right vendor for me. I spoke on the phone with them when I first called and then they had great ideas and were helpful every step of the way..including a few bridal moments of changing my mind! They were great and... Read More everything was exactly as we had envisioned it together. The flowers and centerpieces for MANY compliments!
---
Gorgeous bouquets
Reviewed on

1/03/2013
Valerie P
our wedding flowers were perfect! The exact color roses I wanted, the exact look I was going for- Sheryl did an amazing job and I really am happy!
---
Hassell Florist review
Reviewed on

5/31/2012
Stacey F
I worked with Sheryl to customize my bouquet and my husband's boutenniere and she was nice and worked with me to get exactly what I wanted. I had looked up bouquet's online and they were so expensive! I set a $50 budget and asked her what we could do with it and she made me a... Read More beautiful bouquet. She also tied in the colors and flowers of the bouquets/boutennieres I had already made for the bridal party and used the same ones for my real flowers. I had talked to other florists that wouldn't even help me because I only wanted to spend $50 on a bouquet but Sheryl had no problem with it. I really appreciated her help and thought she was great to work with!
---
Gorgeous flowers :)
Reviewed on

4/27/2012
Brianne C
They were so helpful and nice when helping me create my vision. I wasn't totally sure what I wanted but they helped me figure it out and everything was beautiful :)
---
Beautiful Flowers
Reviewed on

5/04/2011
Nicole W
I was very happy with the friendly, helpful and knowledgeable service we received at Hassell Florist!
---
Review for Hassell Florist
Reviewed on

5/10/2010
Tiffany W
I worked with Sheryl directly and had an amazing experience. I wasn't sure what I wanted exactly and her creative mind just took off. When I walked in the church and saw the flowers I as overwhelmed with how amazing they were. The arrangements were not your average everyday ones... Read More and made it that much more special. I received several compliments on my flowers throughout the day and night.
---