Home

Mamaroneck Beach and Yacht Club
About this Vendor
Westchester's Quintessential Waterfront Setting
Located on a historic waterfront estate , MBYC offers gorgeous views and a destination wedding feel minus the travel. A typical wedding may start with a ceremony in the rose garden overlooking the water, followed by sunset cocktails & dinner in our tent. From black-tie to beach-side we do it all!
Amenities + Details
Amenities
Bridal Suite

Handicap Accessible

Liability Insurance

Indoor

Outdoor - Covered

Outdoor - Not Covered

Reception Area

Wireless Internet
For more details about amenities, please message the Venue.
Ballroom, Waterfront, Country Club, Cruise, Garden, Castle, Estate, Historic Venue, Park, Tented
Bar + Drinks, Cakes + Desserts, Destination Weddings, Food + Catering, Planning, Rentals + Equipment, Service Staff
Contact Info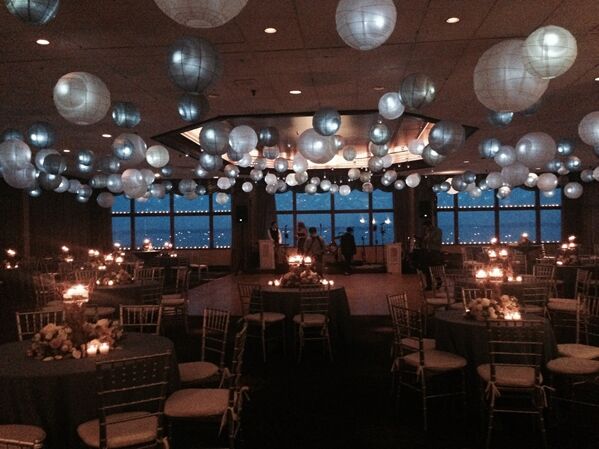 555 South Barry Avenue, Mamaroneck, NY
Wedding Venue on the water
Reviewed on

10/27/2013
Kate K
Beautiful, historic building, gorgeous views of the water, and a lovely outdoor slate patio, which we would have used for our ceremony had it not rained. The great thing was that there were three areas for ceremony, cocktail hour, and reception, and there is definitely enough room for a Plan B and Plan C when it rains and the ceremony can't be outside. There is a tented deck facing the Long Island Sound, where the ceremony and/or cocktail hour can be if the weather is a little unpleasant. If it's storming like mad, there's enough room for it all to be inside without feeling crowded. The food here is PHENOMENAL, they are willing to go off of their sample menu offerings if you ask for something different, and the amount of dessert offerings far exceeded our expectations. Sheldon is the banquet manager, and he does a great job coordinating set-up and problem-solving last minute hiccups. There is a bridal suite upstairs for the ladies to get ready. The men got ready by the bar. Can't wait to see our photos, and I'm sure they will look stunning with MBYC as the backdrop.
---
Impeccable Everything- 10 Stars If I could
Reviewed on

9/28/2013
Jennifer M
To be honest, I don't even know where to begin on praising this venue (where we held both our ceremony and our reception on September 14th). First of all, I will say that I was probably as calm as I was throughout my entire wedding experience because of the staff at Mamaroneck Beach and Yacht club. Sheldon, the director of banquets, is the most supportive, helpful, and brilliant individual I worked with throughout the year and half of planning. On the day of, he ensured that every little detail and request was done to perfection and that we were happy. When speaking with him, you can just tell he knows what he is talking about and has years of experience in giving brides and grooms the most amazing wedding day that anyone could imagine. The entire staff was amazing, providing impeccable service. Prior to the wedding, we worked with Luaenn who handles all billing and most communications. One of the sweetest and most accommodating people you'll ever meet. My bridal attendant, Julie, was absolutely phenomenal as well and kept my husband and I very well taken care of without being too intrusive. To this day my husband continues to talk about Sheldon, Julie, and the unbeatable service from all of the service providers. Moreover, all of our guests were blown away by the service of the staff, as well as the amazing location. I lost count of how many told us it was the best wedding they had ever been to, that the venue was "to die for," that the staff was soo attentive, accommodating, and friendly, and that everything from the view, to the food, to the service was absolutely phenomenal. This venue has everything anyone could every want... Perfect architecture and locations for photos (beach, gazebo, docks, grassy hills, amazing building stonework, etc.), the most delicious food cooked to your specifications, and of course, the best service anyone could every want. I absolutely recommend booking this venue for any events that you have. It is worth every penny, if not more...
---
The Perfect Venue
Reviewed on

8/01/2013
Theresa C
My husband and I celebrated our wedding reception at the Mamaroneck Beach & Yacht Club on June 8th and could not be any happier. We were worried when a new catering director took over as our wedding approached but Alain handled everything exactly as we wanted. He even had a wedding cake made to our exact specifications! The cocktail hour on the deck was absolutely beautiful and packed with food. We've received lots of compliments from our guests that it was the best cocktail hour and the nicest venue they had ever been to. Alain also accomodated us by providing a third entree selection for our guests to choose from. The food was absolutely delicious and fresh. The viennese hour and espresso bar were also big hits! Sheldon pulled out all the stops for us leading up to and the day of the wedding. He checked in to make sure we were happy all night (and ensure Bob kept his jacket on for pictures)! He also suggested adding a watermelon martini in addition to our mojito signature drink to go with our wedding colors of pink and green. Jane, the bridal attendant is a saint! She was beyond helpful without being pushy at all. She always appeared at the perfect time, just when I needed her! She was able to "repair" my ripped veil, fix my hair updo and ensure that I had all of the food I wanted throughout the night. The staff also set up the tables beautifully with our menus and favors in addition to the placecard holders I had provided. I'm a bit of a control freak so I was nervous to leave all of these details in someone else's hands but everything was done perfectly. I was also extremely pleased by the level of professionalism and pleasure with which the entire staff dealt with me and my guests. It is one thing to do an impressive job and it is another to do it happily. I would recommend the yacht club to anyone looking for a stunning venue with unbeatable cuisine and impeccable service.
---
Reviewed on

7/17/2015
Kaitlin L
We had our wedding at Mamaroneck Beach & Yacht Club 2 weeks ago and had the most wonderful time there. From beginning to end, the whole staff was attentive, flexible, and accommodating. Irene was wonderful when we first began looking at the venue. She helped me with what was needed versus what wasn't, and she made sure she was accounting for all our needs. She was very responsive to emails and really made the process easy. Luanne was also extremely helpful throughout the process and made sure that we had all our questions answered, knew our options, and helped make sure everything was coordinated. Sheldon was amazing. We met with him about 8 weeks before the wedding and went over every detail. I felt completely comfortable that everything would be handled and everything would run smoothly. They were flexible with room set up, ceremony set up, and structure of our day. We were able to use the bridal suite to get ready and they assigned a bridal attendant to me, who was also amazing and there throughout the entire day. I did not have one problem or complaint that whole day. I felt relaxed and comfortable with everything, and had a lot of trust that everything was taken care of. Our guests cannot stop talking about the beautiful space, delicious food, and the way the whole night flowed. We had the best wedding day, thanks to Mamaroneck.
---
Reviewed on

7/13/2015
Amy C
We had our wedding at Mamaroneck Beach & Yacht this past April and it was simply amazing. From start to finish everything was flawless especially our amazing sunset cocktail hour in the tent ( our guests cannot stop raving about it). In the evening it became a little chilly but Sheldon and Irene brought heaters in for us at the last minute so our guests didn't even notice. Lueann in catering was also so helpful through the entire process and kept me on top of everything. Finally, Julie the bridal attendant was a SAINT. I didn't even think I would be the kind of bride who needed one but seriously she kept me together for the whole day! Thank you MBYC for making our day truly unforgettable!!
---
Unforgettable & Perfect Wedding Day!
Reviewed on

11/05/2014
Jenna F
I cannot say enough about how amazing my wedding day was at Mamaroneck Beach and Yacht. The banquet manager Sheldon is amazing and made sure everything was perfect. My bridal assistant Julie was my lifesaver, all I had to do was think of something and it appeared. My guests cannot stop raving about the food and service they received saying it was the best wedding they had ever been to!
---
Disappointed and would not recommend
Reviewed on

6/26/2014
Majlinda K
We just got married at the club on June 22. Overall, my wife and I are very disappointed. First, the maitre 'd - Sheldon, performed terribly. The experience begun with Sheldon pulling my wife aside just 2 days before the wedding, while she was dropping off some candles, and telling her that it is customary to give a 5% tip, which amounted to around $1500. My wife asked him why would we tip an additional 5% when we had already prepaid 20% service fee? Sheldon replied that the 20% takes care of the staff's salary, and the extra 5% would be their tip. My wife and I discussed this and researched the maitre 'd tip amount and theknot figures were about $200 to $300 as tip towards him, but nowhere near the 5% he was asking for. We decided to stick with a $300 to $400 tip depending on how the experience went. Second, Sheldon was nowhere to be found as the guest arrived at the venue. I had to start sitting people down myself, in order to preserve the reserved first rows for the immediate family. Third, he didn't manage the ceremony music entrance well. Everything was off... Fourth, Sheldon was not on the room, and did not invite the guests to join our first dance as promised. We had specifically asked him to do so. Fifth, Sheldon forgot that my wife had so carefully planned to serve each table with two types of cakes (strawberry shortcake and chocolate with raspberry filling), but Sheldon and his staff had forgotten this detail and they ended up only serving the strawberry shortcake, and only after that was completely finished they realized the second batch was a different type of cake and it was too late to go back to the same tables to give them a variety. Complete lack of attention!!! Sixth, failing to properly manage the party, Sheldon forgot to make room for pulling off the garter, following the bride's flower throw. All these details Sheldon had asked and discussed with my wife prior to the wedding, but it appears that he never wrote them down or just never paid attention to them. Needless to say, Sheldon disappeared for most of the night. Very disappointed with him! On the positive note, the bride's attendant was very nice, and we appreciated her caring and attentive manners. Thank you! The food was also very good. I am glad that the money we spend on food was worth it. The guests were very happy with the food choices, and quality. The ambiance and location is above par. The water views and the reception terrace are among the best. The place was clean and didn't smell like a food court. Alas, this venue is a fully operated private club. You will never have the whole place solely to yourself. There will always be club members near you; 200 feet from our ceremony location, just on the beach lawn, the staff started setting up BBQ grills, tables, and chairs. I wasn't happy with this surprise, but couldn't do anything... I should have had the contract state that there would be no one near the venue, but I was lead to believe by Irene that people would leave the beach and the club premises after 6 PM. Overall, my wife and I are disappointed, and we feel that we deserved better just from an ethical point of hosting a proper wedding, let alone the money we spent. The amazing location, great food, and ambiance, did make up for some of that lack of attention and misdirection, but one expects everything on their weeding day, and as such, I would not recommend this place.
---
Amazing
Reviewed on

7/31/2013
Cristina B
From beginning to end, the process was so easy. We knew we wanted to book here immediately. the view is out of this world and its in a quiet neighborhood. I loved that they only host one event at a time, no awkward run ins with another bride or guests from another party! The food was incredible (even guests of ours who are executive chefs were impressed!) we got everything we wanted and more and Sheldon was incredibly helpful and made sure we had everything we wanted! I enjoyed the bridal suite and my bridal attendant could almost read my mind, and was there all night to help us out! I highly recommend Mamaroneck Beach and Yacht Club.
---
Perfect
Reviewed on

6/13/2013
Alice S
Unfortunately the weather did not hold out, but everything about this place is first class. Sheldon, Director of Banquets, and Alain, Director of Catering were phenomenal. The wedding attendant Jane was so wonderful. The food is fantastic...I can not say one negative thing about this venue.
---
Best Venue!
Reviewed on

12/18/2011
Kate H
The Mamaroneck Beach and Yacht Club could not have been more responsive or nicer when we were planning the wedding. We met with Jordan early on to talk about the menu and view the club. The venue was great. All of our guests loved the beautiful views surrounding the club. The food was so plentiful and delicious. Everyone I talk to tells me how they have never seen so much food and how delicious each thing was. Benny, the chef, made special vegetarian dishes for H's grandmother. Sheldon made sure that everything was perfect. The staff was super friendly. When the last shuttle was late at the end of the wedding, the staff was patient and didn't rush us at all. I would highly recommend MBYC.
---
BEYOND Satisfied!
Reviewed on

10/07/2011
Sara K
I looked at several other venues in Westchester before deciding on this one. I fell in love Mamaroneck Beach and Yacht club for several reasons. It's a beautiful setting right on the water and one of the only venues I looked at that was a '1 event per night' venue. This was not really a requirement of mine but it did end up being more important to me the more I thought about it. Overall my experience was amazing. The staff was incredible. I mainly worked with Sheldon, the event manager and Jordan the executive chef. Sheldon handled everything you can possibly think of (most of the time without me even asking) and executed everything perfectly. He was always available for questions and never made me feel as if I was being annoying (and for the record I was being annoying!) Jordan was also amazing! He really worked with us on the menu and made several reccomendations based on the feedback we gave him. He asked a lot of questions to get a feel for who are guests were and developed a menu off of that. Rather than just giving us pre-set options to choose from, he really catered to us. He was very flexable. We had a tasting and I was blown away. I tend to never love the dinner course at weddings, and I consider myself to be somewhat of a foodie. This food was amazing and I continue to get compliments from my guests! The cocktail hour was amazing too and the food did not stop coming! The wine selection was great as was the signature drink that Sheldon suggested for us (fresh watermelon martini)The day of my wedding, Sheldons wife, Jane, served as a "lady in waiting" for me. To say she was amazing is an understatement. At first I didnt think she would be necessary because I had a huge bridal party to help out. I was very wrong. She was on top of everything and so sweet. She put me at ease and took care of all the little things so that my bridal party could enjoy themeselves as well. She made sure I had a drink all night, kept track of my bouquet because I kept putting it down, kept the bridal suite cool and stocked with drinks and snacks all night just in case. She was such a big help! I think what I loved most about my experience at MBYC was how I really felt they catered everything around you, and you only. That day I honestly felt like I was getting married in a family members home because the setting felt that personal. I could go on and on about the staff and the high level of service that we had. I highly reccomend Mamaroneck Beach and Yacht club and I would not have changed one thing about my experience!
---
The perfect place to get married!
Reviewed on

12/09/2010
Lesley D
My husband and I got married at Mamaroneck Beach and Yacht Club on Oct. 2, 2010 and we're still getting compliments on how beautiful and perfect the wedding was. When we went to see the yacht club, we first met with Paul (the Catering Director) who gave us a tour and told us about the venue. From that point on, he was always there to help us with anything we needed. He and Sheldon (the wedding coordinator) were always available if we had questions and were both such a pleasure to work with. The first thing that I loved about this venue was the beautiful area right on the water to have our wedding ceremony. But also, they have two alternatives for the ceremony in case of bad weather...one of which includes a gorgeous deck (also on the water) that is covered by a tent. This was so important to me because I didn't want to have to worry about the weather for months before the wedding. The weather on Oct. 2nd turned out to be perfect so we got married outside in the sun but it was so great to know that our ceremony would be beautiful and protected from the elements no matter what. The day of the wedding, Sheldon was SUCH a big help. He took care of everything including making sure everything was set up exactly the way we wanted (centerpieces, my sand dollar placecards, etc.), making sure the ceremony went smoothly, and making sure the guests were all happy during the reception. The service was great (everyone's wine glass was always full!) and the food was excellent. We sat down with the chef, Jordan, a few months before the wedding and he helped us pick out the perfect menu. Everyone raved about the food! Everything about this place from the views, to the service, to the food, to the people we worked with was perfect. We're so happy we decided to get married here and recommend this place to anyone looking for a beautiful, stress-free wedding day.
---
Best Wedding Venue in Westchester.
Reviewed on

12/03/2010
Emily P
I had my wedding reception this summer at Mamaroneck Beach & Yacht Club and could not have asked for a more perfect venue. And I should preface this with the fact that I looked at tons and had even booked a different one before switching to Mamaroneck Beach & Yacht. Not only is the place beautiful but the service and food were both spectacular. The chef, Jordan, exceeded not only all of my guests' expectations (my Aunt actually went into the kitchen and kissed the chef!) but even the ever-difficult-to-please bride's. Sheldon, the Director of the events, was a dream come true. Sheldon is so patient, so attentive and went above and beyond to make every detail perfect for the reception. The service before the wedding from Jordan and Sheldon was so wonderful it was hard to believe that the service on the day of the wedding could be even better, but it was. Our guests raved that their glasses were always full (through mouthfulls of the amazing food) and they never wanted for anything; without feeling like the servers were hovering, they were always there anticipating a guest's request. Jade, the bridal assistant, was amazing. Jade somehow magically was always there with my bouquet when a photo required it, a glass of water or champagne when I needed it and even made sure the groom and I enjoyed cocktail hour by bringing us something from every station. Everyone at Mamaroneck Beach & Yacht helped make the party absolutely perfect and I am so grateful and happy that we chose their venue.
---
7/30/10- Thank You Mamaroneck Beach & Yach
Reviewed on

12/02/2010
reb l
From the very first time we came to visit the Yacht Club, we were blown away with the views & the charm of the building and grounds themselves. It had the exact comfortable, yet elegant, country club feel that we were looking for tucked away in an area that we had somehow never seen in Westchester. When we decided to go ahead and book, all of the staff were extremely professional and resourceful. No matter how many times we "drove by" just to have another glance, add to the menu or for some other crazy question, they remained amazing! When we showed up with two huge bins of picture frames, decorations, cocktail napkins and "wedding paraphernalia", Sheldon and Luann hardly flinched! We were in awe of the final presentation! All of our details were accounted for and the room looked gorgeous-even better than we imagined. Chef Jordan was so patient- he gave us so many professional suggestions and created an amazing menu and presentation. The elaborate cocktail hour, main course & desserts are still the subject of many conversations between friends and family. All whom are still raving about them (and we are still drooling over)! Also, Paul took the time to help orchestrate the event and paid extra attention to our autistic brother's comfort and diet. Our entire family was so appreciative. Finally, Sheldon- his experience, demeanor, and patience made our day run smooth. All in all, we could not be happier with the event- the food, service & grounds. We will continue to pass on our highest recommendations- and we have had many acquaintances see our pictures online and inquire about the "gorgeous hall". We will also continue to tell them the wonderful things that we have experienced! Thank you!!!!!!
---
The Most Amazing Day of my Life
Reviewed on

12/02/2010
J G
From the moment I met with Paul Sharon, I knew that the service of the club was going to exceed my expectations. They greeted my family with appetizers made by their chef Jordan, and explained how flexible, professional, and picturesque my wedding day would be. During the planning process, the staffed checked in often and solicited recipes for my cocktail hour, and entrees. They served a traditional Canadian dish for my husband, and mimicked a signature cocktail from my favorite Boston steak house complete with fresh berries and champagne. The cocktail hour was a meal in itself. The cold Italian antipasti was sumptuous, there was a prime rib carving station, sushi, shrimp cocktail- and more. All served with the gorgeous ocean backdrop. On the day of my wedding, Sheldon and Paul ensured that the day went without a hitch. Every guest said it was the best wedding they had ever been to, was the best food they ever tasted, and the setting was gorgeous- the pictures even better. I couldn't have made a better decision- I would choose this venue a hundred times over!
---
AMAZING VIEWS, GREAT FOOD, & EXTRAORDINARY SER
Reviewed on

9/27/2010
Lesley M
I got married on Sunday, September 5, 2010 and I am still receiving compliments on my wedding/reception. Even though I did not get to taste all of the food selections, guest after guest RAVED about the receptions (pre-ceremony and after), the dinner, drinks and wine selection. I researched and reviewed several beautiful locations before I arrived at the Mamaroneck Beach and Yacht Club (MBYC). My husband is from California and I'm from New York and I wanted a wedding that reflected both of us. The moment I saw the grounds of the MBYC, I knew I found my place but I needed to be convinced. Even though the views of the Long Island Sound and main house were lovely, the staff - specifically Sheldon Evering (the Director of Banquets) and Jordan Gaylor (the Executive Chef) - sold me on this site. They not only won my trust by answering all my questions (they or their staff returned my telephone calls and/or e-mails promptly) but, most important, they made me and my family feel like we were WANTED as guests and customers. They PROMISED a great time and we got it! I recommend the Mamaroneck Beach and Yacht Club wholeheartedly and without hesitation.
---
Review for Mamaroneck Beach & Yacht Club
Reviewed on

8/20/2007
Brooke H
The management was very flexible and allowed us to choose the exact setup we wanted. In addition, we were able to do so much of the wedding outside.
---
Send Message