Home

Oliver's Catering
About this Vendor
The Art of Catering
At Oliver's, we create moments to remember. As exclusive caterer at some of Buffalo's most renowned venues, we deliver exceptional dining and wedding experiences, from lavish centerpieces to graceful day-of coordination. Turn to Erin George, our catering director, for a wedding day of distinction.
Contact Info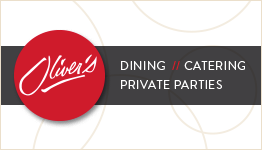 Oliver's Catering - THE BEST IN BUFFALO!
Reviewed on

1/13/2015
At Oliver's they say, "People are our most important ingredient". I love this line and it's not just a line. Oliver's means it and Oliver's Events achieve their goal every time. A great event ensures the guest have a positive experience. Caterers are in charge of producing this... Read More result. My PROFESSIONAL experience with Oliver's Catering spans over 25 years, along with my professional experience with Erin George (Catering Director) and David Schutte (Owner/Operator). http://www.oliverscuisine.com/catering/ Oliver's is the expert. Oliver's can customize its operation and service for any special event, party, celebration, gala, wedding, fundraiser or meeting. Size does NOT matter; Oliver's can do anything. Oliver's is a first-class, systems-based hospitality vendor at all times with the experience more than any other local caterer and owning the 'know how' which compares to the best in the world. Oliver's Catering is Buffalo's '5-star' or '5 Diamond' caterer and the business is staffed with hospitality professionals, catering professionals and event professionals who have worked in high-end venues around the world. Oliver's hospitality services are exclusively exhibited at The Buffalo & Erie County Historical Society, The Burchfield Penney Art Center, Kleinhans Music Hall, Shea's Performing Arts Center and newly Crag Burn Golf Club, to name a few venues Oliver's services. Buffalo's historic sites and treasures choose Oliver's. http://www.oliverscuisine.com/review/ Oliver's is the guarantor of excellence; please consider Oliver's an insurance policy which comes with your event; please consider it healthcare: good for health (aka sleeping at night). Oliver's ensures the execution of critical components which will directly impact your guests having their most memorable event experience for the RIGHT reasons, NOT THE WRONG ONES: • Preparation – Champions prepare! They serve the most delicious food in all the land. • Presentation - The most creative display of a meal ever in HISTORY • Timing - Like a European Train, running absolutely on schedule. • Service - Known for class, attention to detail. • Staff - These people are the best hospitality professionals in the area. Composure is key! • Table Layout - Manager assists with seating assignments and tables. • Stagehands Coordination - Union/Vendor relations all handled for set. • Sound - Impeccable. The front, back and sides of the room will hear. Your guests deserve this!!!! Use Oliver's. Do it. Be Happy! OLIVER'S RESTAURANT || 2095 Delaware Ave., Buffalo, NY 14216 || 716.877.9662 Ask for Erin!! http://www.oliverscuisine.com/people/ https://www.facebook.com/oliverscatering
---
Oliver's Wedding Catering was amazing!
Reviewed on

8/25/2013
Leigh H
Oliver's Restaurant catered our wedding two weeks ago and they did an amazing job. We were married at my parents' home and the caterers had to bring everything in for dinner. The team was on time, completely prepared, and very professional. Nicole, our coordinator at Oliver's,... Read More was very helpful and attentive throughout the whole planning process. The food was delicious (we had rave reviews!) and Oliver's was flexible with our menu as we wanted something off their typical menu for our wedding. We were beyond happy with Oliver's and would recommend them to anyone for weddings or for dining.
---
Excellent Service and Food!
Reviewed on

10/18/2012
Michelle B
My husband and I just had our wedding at Burchfield Penney Art Center catered by Oliver's last month. Everything was wonderful! I was apprehensive at first because our contact person changed twice during the planning process, but every person we spoke with was professional and... Read More got back to us in a timely manner. Some of our first questions when we met with Oliver's were regarding bar type and brands of alocohol served. They were able to bring in whatever brands we wanted (Grey Goose, Sapphire and Ketel One) with no problems. There was an upcharge for upgrading the premium liquor package, but it I drink vodka and my husband drinks gin so we wanted to drink our types of liquor on our wedding day. We pre-paid for an estimated number of champagne and wine bottles that were poured by consumption for the toast and during dinner. After the event, we were actually sent a refund check within 5 days because we had not comsumed as much as the estimate had us pay for ahead of time! We asked the chefs at Oliver's to create hors d'oeuvres that had a comfort food theme. They created a mac and cheese spoon, tomato bisque shooter and cheese puff, and also a homemade potato crisp with a meatloaf round toppped with bacon bits and a zesty sauce. They were a big hit and the only complaint from my guests is that they wanted more! For dinner, we served a salad with the champagne vinagrette, dual entree of steak and salmon, gorgonzola mashed poatoes, and a roasted vegetable stack. Everything was cooked on site (important because at some of the other venues they cater, they cook off site)and my guests raved. There were people who don't normally eat salmon who said they ate it, and vice versa. We did have to vegetairans and they made them vegetarian friendly entrees. I also had one vendor who was gluten free, also not a problem with their vendor meals. I have seen other people complain about the service charge, glass breakage fee (which I'm sure we broke glasses),and cake cutting fee. To those individuals I say that you get what you pay for- I was willing to pay those fees to guarantee impeccable service and top notch food for my guests. The other venues that don't have this laid out will get your money one way or the other in the end, I'd rather pay someone who was up-front about it instead of "suprise billing me" after my event. During the entire reception, Erin from Oliver's was there, checking with us that everythign was ok, bringing us drinks, etc. She was wonderful and I would HIGHLY recommend Oliver's as a caterer to anyone and everyone!
---
Reviewed on

11/21/2017
Liz R
Leah and the entire Oliver's team went above and beyond to help make our wedding the best day ever. They were so accommodating with our schedules since we live out of town. They have the absolute best food and perfected our specialty cocktail requests. All of our guests raved... Read More over the passed hors d'oeuvres and dinner. They coordinated so well with all of our vendors, there were no issues and they kept us at ease. We highly recommend Oliver's!!
---
Reviewed on

11/11/2017
Meegan D
Oliver's was an absolute pleasure to work with. Our planner was new to the job during our engagement but not once did she give me an impression of doubt in her abilities which makes me think they train their staff very well. They were with me from day one, and on the wedding day... Read More were more helpful then I had imagined. The only reason I am giving them 4/5 stars is because of the potatoes: instead of the exquisitely toned and crisped roasted reds at our tasting, the potatoes we ate on our wedding day were closer to frozen hash browns. It might seem awfully dramatic to drop a star for a potato, but for a nice Irish girl at a big family wedding, potatoes are exceedingly important.
---
Perfect Caterer
Reviewed on

4/23/2015
Jackey B
Oliver's is well known for their wonderful restaurant. But, their catering is just as amazing. They catered my wedding at the Buffalo History Museum and my guests stated that the food was delicious and the service was some of the best they've seen. I couldn't agree more and I... Read More would definitely recommend them to anyone looking for a caterer for their event.
---
Olivers Restaurant
Reviewed on

1/23/2015
p t
We held our daughter's wedding reception at the Burchfield Penney Art Center where it was catered by Oliver's Restaurant. In my opinion, much of the potential success of an event depends on the venue selected, the quality of the food served and the professionalism of the... Read More staff. Oliver's delivered an A+ performance in all three areas. The Burchfield Penney Art Center is a beautiful venue and our guests thoroughly enjoyed the cocktail hour with hors d'oeuvres, live music and open art gallery. We then proceeded upstairs to the main dining room for the remainder of the evening. It was the perfect size and configuration for our 100 guests for a sit down dinner, and after dinner for socializing and dancing with a live band. The food prepared by Oliver's Restaurant was outstanding. It was not only delicious, but beautifully presented. We had hors d'oeuvres stations with cocktails before dinner; sliced tenderloin, cheeses, meats,an Asian station and fresh fruits and vegetables, among others. Our guests raved about the quality and preparation of the food. I was equally satisfied with our dinner selections. Every filet ordered was prepared to perfection, which is difficult to accomplish when serving a large gathering. The roasted halibut selection was also delicious. We had other entrée choices as well and all were beautifully prepared. After dinner, Oliver's put out a wonderful selection of desserts-cakes, pastries, cheesecakes, cream puffs-all as beautiful as they were delicious. And finally I would like to comment on the staff of Oliver's Restaurant. Led by their event coordinator Erin George, they attended to every detail of our reception with professionalism and efficiency. Erin George was a pleasure to work with. She is an expert in event planning and was able to assist us with every detail. Especially, because of her experience, she anticipated things we had not even thought of. She offered guidance in our menu choices and timing of the reception as well as advice in how to best utilize the space at the Burchfield Penney Art Center. She is a real asset to Oliver's Restaurant. Another plus is the number of staff available for our event. Our dinner service had ample numbers of servers, so our guests did not have to wait for an extra glass of wine or water or to have their coffee poured. In conclusion, I would give Oliver's Restaurant a five star review in all aspects. Oliver's has a reputation for high quality and in our case that reputation was definitely upheld.
---