Home

Premier Trolley and Limo
Details
Limousine + Sedan, Trolley, Transportation
Contact Info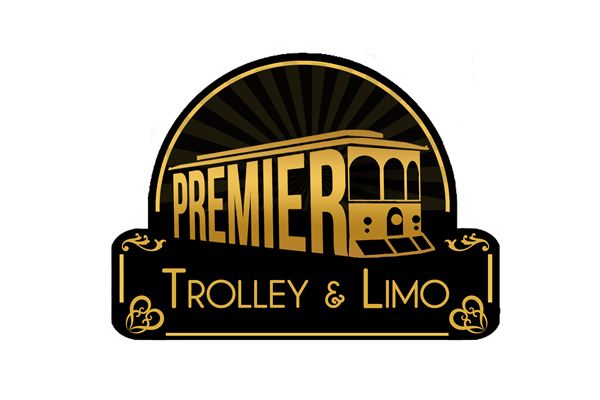 Reviewed on

9/04/2016
Amy T
We used Premier Trolley and Limo to take our bridal party around the city for photos. We had a blast taking the trolley from location to location. Our driver was very helpful, professional and patient with our large party.
---
Reviewed on

6/11/2016
Liz M
My husband and I recently used Premier Trolley and Limo as transportation service for our wedding. I have heard unpleasant stories about transportation companies showing up late or not being what people expected, however Premier Trolley and Limo were true to their word and did... Read More an excellent job. Leading up to the wedding, Tom, the owner, was always accommodating to our needs and was always very informative throughout this whole process. He was willing to work with us in any way to make us happy. On the day of the wedding, the trolley arrived on time, which allowed our day to run smoothly. It rained on our wedding day which slowed us down a little bit with having to deal with umbrellas and staying dry. We also had to resort to our plan B for taking pictures. Since we weren't sticking to our original plan, we ended up having the trolley 30-45 minutes passed our scheduled time. We found out later that the trolley had another party to pick up, however the trolley driver never got mad at us and never rushed us. I called Tom a couple days after the wedding to apologize about the overage in time, and Tom assured me that it was ok and that there would be no extra charge. I feel that this level of service does not come from everyone. This goes to show that Tom and his company will always strive for customer service. They are reasonably priced and their trolleys are clean, spacious and beautiful. I would strongly consider using Premier Trolley and Limo for your wedding transportation!
---
Reviewed on

6/01/2016
Jeanette S
We had a great experience with Premier! We used Premier for our wedding in early May. Tom, our driver was super friendly and attentive. The whole process was easy and the day-of went smoothly. The Butler was perfect for our bridal party (around 25 of us). It was roomy and the... Read More interior was clean and in great condition. It was hot that day and the air was fine. I recommend!
---
Reviewed on

1/17/2016
Brittany A
Brides, I recommend staying away. They were the first vendor I booked for my wedding over 1 year ago. They were at an expo and running a deal on their beautiful vehicles. I was so excited to have their special trolley be a part of my big day. Unfortunately, the customer... Read More service / professionalism did not match the beautiful vehicles they offer. After providing a deposit and receiving the invoice, I was not sent a contract. When I called to ask for it, Richard told me not to worry about it because my date was still a year and a half away but he would send it if I insisted. After receiving the contract there were a few items that weren't clear but he answered and I signed (and was still excited). That feeling went down starting in August when I was reviewing the contract and saw that hours of service were not outlined. I sent an email asking about it and received no response. After 23 days of silence, I followed up again. After another 21 days of nothing, I followed up again. I then got a response that he was out of town and would be back a couple days later and would respond then. A week later he called me and said he didn't remember who I was / what expo he gave me the deal at. I told him I needed 4 hours of service so he on the fly figured out a new price. Within 2 weeks I received the new contract and was going back and forth since I felt $120+ / 30min was high. I then tried to negotiate based on another company's rate and was told he would just refund and I could use someone else. The final straw occurred when I asked for a counter-signed copy of the contract and he refused. I let it go for a few weeks and asked again when I was ready to pay in full. His response was "I am afraid we are not the company you are looking for. We have had 30 emails between us regarding a single trolley for your event. We will refund your money on Monday." 5 months before my big day. You all might want to consider hiring a customer service professional to handle future clients.
---
Reviewed on

12/14/2015
Tanya S
We had The Butler trolley for our wedding on October 3 and were very pleased! The owner, Tom, was easy to get in touch with throughout the planning process. The trolley we originally wanted was double-booked, but Tom ended up offering us a discount to go with a different one. On... Read More the day of our wedding, our driver was on time, very nice and pleasant, and got us to our destinations timely and safely. We loved that the trolley had perimeter-style seating, coolers for our drinks, and a hook-up for our phones. Overall, we were happy that we chose Premier Trolley and Limo for our wedding-day transportation.
---
Friendly and Fun!
Reviewed on

10/15/2015
Sara F
We are so happy with Tom and the whole crew at premier trolley. They were easy to get ahold of an work with. Our driver the day of was great. Everything was above expectations, clean, professional, timely. We booked the Bradford trolley it was traditional looking trolley with a... Read More fun balcony. They have a whole fleet. Can't say enough about premier trolley. Recommend to everyone!
---
Reviewed on

9/09/2015
Erin M
I used Premier trolley for my wedding on Sept. 4th, 2015. Their trolleys are by far the nicest I have ever been in. And they have a/c, which most trolleys do not! The leather seats and interior feels like a limo, but you still get the whimsical feel of the exterior of the... Read More trolley. The only thing I recommend is to give the driver directions, because we did take a few extra blocks out of our way to the reception. Overall great job!
---
Reviewed on

8/08/2015
Had premier trolly for my daughter's wedding in May 2015! They were great! On time, and very professional. And spotless! I would recommend for anyone! The limo seating in the trolly was perfect for all - so much easier for bride and wedding party to get in and out without... Read More ruining their dresses!
---
Fantastic trolley service
Reviewed on

12/17/2014
Very professional team that made this portion of the wedding worry-free for us. They are great at what they do and provide superior customer service. The trolley itself was perfect and very comfortable. I would highly recommend this service to all of my friends and family.
---