Home

Rum River Barn and Vineyards
About this Vendor
Rum River Barn and Vineyards
Amenities + Details
Amenities
Handicap Accessible

Liability Insurance

On-Site Accommodations

Indoor

Reception Area
For more details about amenities, please message the Venue.
Barn, Historic Venue, Vineyard
Contact Info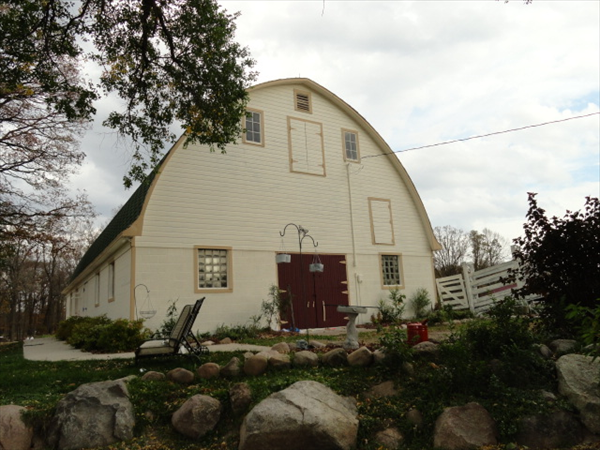 16892 220th Street, Milaca, MN
Breathtakingly Beautiful Venue
Reviewed on

8/11/2015
Karin S
I initially booked Rum River Barn as our venue in December of 2013. Almost 2 and a half years before my wedding date as I was living in Chicago at the time. Buzz was fantastic to work with considering majority of the conversations were long distance. He was very easy going,... Read More responsive and professional throughout the whole process. The indoor and outdoor venue space is absolutely gorgeous and the new deck is a wonderful addition. The great thing about this venue is you can make it your own for your special day. You can bring in any vendor you want and decorate as little or a much as you prefer. The loft of the barn does get very hot, but we knew this so we brought large/industrial fans which helped cool the space. The bar area of the venue stayed fairly cool. We also booked the house on the property, the bridal suite and the wildflower cottage. It was so nice to have those areas to get ready in. It was also perfect for our family with young children to stay in. I would highly recommend Rum River Barn and Vineyard to anyone looking for a unique and beautiful venue.
---
Picture Perfect
Reviewed on

11/29/2014
Carrie G
We live abroad and planned our Minnesota wedding from afar, so we took a leap of faith booking Rum River Barn and Vineyard site unseen. We only saw the venue when we arrived to town a few days prior to our wedding and we were not disappointed. The venue was absolutely perfect.... Read More The barn itself is beautiful and the property is lovely. We had an outdoor wedding and reception with just over 100 guests. The ceremony took place outdoors surrounded by trees. We used another space on the property just behind the barn for the dinner and dance, which was bordered by leafy trees and the vineyards. It was picture perfect. Buzz was very fun to work with. He coordinated with our wedding planner and other vendors to make sure they could visit and had all necessary information. He also has various packages which worked really well for us including catering and rental of tables and chairs. He also made us feel very at home and made sure everything looked great on the day of the wedding. Rum River Barn and Vineyard was the perfect place for our wedding.
---
Amazing venue!
Reviewed on

11/04/2014
Kayleigh
We toured Rum River Barn & Vineyard I think in September 2013 shortly after we got engaged. It was the very first place we toured and we absolutely fell in love! On our way home, we called Buzz to book. We originally wanted an August or September 2014 wedding, but October... Read More 25th was the first available Saturday, so we took it, and let me tell you, that is such a beautiful time to be there! (We were lucky that the weather was gorgeous!) The place is definitely gorgeous in the summer, but in the fall it was really stunning. We had so many people tell us how much they loved the venue and we have so many beautiful pictures because of all the scenery. The venue fit in so perfectly with our rustic-vintage feel. There is an adorable bridal suite for the girls to get ready in and a nice guest house for some to stay in, and we had the guys get ready in there. The only negative was that Buzz was a little hard to get in touch with, but other than that, he was so friendly and helpful! It's a perfect location... a little in the middle of nowhere, but it makes your wedding a nice getaway! :) We stayed at Grand Casino - Mille Lacs, which offers a shuttle service to the barn, and it was absolutely perfect. I absolutely recommend it!
---
Amazing!!
Reviewed on

10/08/2014
Soua Y
I found Rum River Barn and Vineyard in 2012 when they were just starting out. We tour the place and absolutely fell in love. Needless to say we booked the venue within the month. After we booked, we relocated out of state and Buzz has been so great to work with. He answered... Read More all the questions we had up to the big day. The scenery is so beautiful no matter what time of year. The barn is well kept and big enough to hold 180 guests (including the head table and vendors). I would definitely recommend them to anyone!
---
Rum River Barn & Vineyard
Reviewed on

8/12/2014
Ciara V
Beautiful Venue, owner was great to work with very understanding. Only negative comments would be that they have Friday-Sunday wedding which allows for miniamal time for rehearsal and set up.
---
Our dream came true...
Reviewed on

11/04/2013
Leah
My dream was to have my wedding is a barn, so I searched central MN for months for a venue that would hold all our guests and still fit with my vision. When we found Rum River, we knew it fit us perfectly! Our wedding was October 26, 2013, it ended up being a chilly day, but... Read More besides the weather, everything else was perfect! I had a lot of DIY ideas and decorations brought into the barn, so I was able to customize the barn how I wanted, which was a huge positive to me! The flexibility with the caterer and bar was also a huge plus for the budget. Steven's Catering in Princeton did a fabulous job! We took advantage of the campground, bridal suite, and house on the property, which was a big bonus with family, getting ready, and providing meals to everyone. It was the perfect setting for a fun and relaxed wedding weekend that we wanted! Buzz is fabulous to work with! His laid back personality made it easy to customize the barn and property for my dream wedding! He was also very helpful in answering all my questions and a quick text was all it took. A suggestion: Something that would have been helpful would have been some examples of how to set up the dinner tables in the loft. We struggled with deciding on the best way to set up with the number of guests and the buffet line, but if drawings of past set-ups were available to look at that have would have been awesome in speeding up the process of setting-up! The only drawbacks of the barn are the size and set-up of the kitchen, the need to bring in all the dinner chairs, and one woman's bathroom. Our caterer did very well with the size of the kitchen, but it could be a negative factor for some. Bringing in your own chairs is a positive (pick your style and price range) and a negative (have to haul all the chairs up the stairs and back down). We had about 170 guests in the barn and there were lines of women waiting for the bathroom. I would say any more guests and we would have needed a port-a-potty outside. These were all minor issues for us though! Our guests have raved about the venue and the blast they had at the barn! We will be talking about it for many years to come! The only major issue was that The Big Day went by way too fast! : )
---
Wonderful beginning
Reviewed on

10/03/2013
Kim S
This was the perfect place to throw the party of our lives! The friends and family who surrounded us had such a wonderful time and couldn't believe how surreal our location was. Since we allowed to make our own decisions, all the from catering to decorations, our wedding was... Read More truly unique to us. This was the perfect venue to reflect exactly who we are; what a wonderful way for us to begin our lives together! Rum River Barn and Vineyards is a beautiful place, you absolutely can not find a better venue.
---
Perfect Weekend
Reviewed on

9/04/2013
Liz M
Rum River Barn and Vineyard was a great venue to get married at. We had the farm for the whole weekend, which was great. It was also nice to stay onsite and allow our guests to camp if they wanted to. Another perk was being able to pick the caterer and bring in your own alcohol,... Read More both were big money savers.
---
Grateful
Reviewed on

8/21/2013
Paula v
We do not even have words for thanking Buzz at Rum River Barn. There aren't words enough. Here is what we will say, when God brought us to this farm we knew this would be the perfect spot for our daughter's wedding. And it was. I imagined what our weekend would be like, a... Read More perfect wedding in a perfect spot, it was all that we imagined and more. This farm was a gift to us and to our guest. You have blessed us richly! We would, without a doubt, recommend Rum River Barn and Vineyard!
---
Pure Perfection
Reviewed on

8/19/2013
A huge resounding THANK YOU to Buzz! We admittedly, had a lot of questions along the way when planning our wedding at this fabulous venue.Buzz was nothing but patient, kind, flexible, extremely professional, well organized, and best of all, quick to respond. From the moment we... Read More pulled up to decorate, hauling our huge trailer full of goodies, until our departure Sunday afternoon, our entire weekend was exactly as we envisioned it would be! We wanted a venue that was fresh, new, laid back and relaxing for our special day, Rum River was definitely all of that-and more! Our guests all remarked on how much fun they had and how easy it was to get to; close to the cities yet far enough away to feel like you are in the country. Our wedding was a brilliant day, handled by everyone at Rum River Barn and Vineyard to perfection. This is certainly a day we will all remember and cherish!
---
Great Venue!
Reviewed on

8/17/2013
Korla L
Overal we are pretty darn happy with the venue. It was beautiful and we loved the camping aspect. Everyone had a ton of fun it was really nice being able to set up on Friday and take down on Sunday. We had about 210 upstairs and 35 down. Upstairs was really tight but we made it... Read More work. It is kinda a bummer they do not offer chairs but maybe they will in the future? Beware that there might be additional costs such as paying for more porta potties depending on how many guests you have and paying for garbage removal, ect. We went with Custom Catering out of Saint Cloud for dinner and they were great to work with!
---
Amazing Venue
Reviewed on

8/16/2013
We got married at Rum River Barn on May 25th 2013. The weather was beautiful even though it was raining the night before. I LOVED having the entire place from Friday to Sunday as it helped with set-up and take-down. It also helped with being able to have the grooms dinner Friday... Read More and a gift opening Sunday. The scenery is perfect for pictures and all around atmosphere. I will absolutely recommend this venue!
---
BEAUTIFUL VENUE
Reviewed on

8/12/2013
Emily N
I recently had my wedding reception at the Rum River Barn and Vineyard on July 27th, 2013. We LOVE the barn! It was beyond perfect. Both the inside and outside of the barn are beautiful and breathtaking. We got compliment after compliment from our guests about the barn and how... Read More cool it was. Weeks after our reception, we still continue to get compliments about our reception venue. If you haven't had the opportunity, go to their website and read about the history of the barn. The story is so neat that we planned our entire reception around it. Other than the venue itself, the owner of the barn, Buzz, was absolutely wonderful to work with. He is very easy to work with and is willing to go above and beyond to make sure you are happy. I HIGHLY recommend having your wedding/reception at the Rum River Barn and Vineyard!
---
Beautiful Place
Reviewed on

7/17/2013
Heidi H
I loved the scenery and the cost of our wedding venue! It was such an amazing weekend. We arrived Friday morning to set up and decorate and that evening had our rehearsal and grooms dinner on site. The next day we came back to get ready, have the ceremony and reception. We ended... Read More the night by providing a shuttle for our guests to a close hotel since we knew not everyone would be interested in camping. The next morning we returned for the clean up, gift opening and brunch. The entire weekend was filled with love and great memories. Our guests loved the laid back feel and outdoor games and bonfire. It was such an amazing and special day because of how unique it is from most weddings. The venue allows you to be flexible and truly make it your own by allowing you to bring in all of your own items.
---
Perfect
Reviewed on

11/08/2012
Sara L
Awesome! I got married there 10-20-12, multiple places on the site to get married, we chose right by the vineyard. We did the upstairs in the barn as the dance floor with a band. We had a total of 300 guests, which fit everyone just fine, but was too small for the tables for... Read More dinner so we rented a tent for the dinner and it worked perfectly! Buzz is helpful and is around if you need him, but the setting up and taking down and cleaning is our responsibility. We stayed at milacs casino and they provided free shuttles to and from barn. We used short stop custom catering through St. Cloud and they did a fantastic job and didn't bother te bride;-) we rented three extra "self sufficient" porta pottys that were flush able and were sinks in them. I think they were $400, as opposed to the bathroom trailers(which are awesome) that cost $4000! We were able to buy our own liquor which helped tremendously with cost!
---
wonderful!
Reviewed on

10/16/2012
Allison K
we recently had our wedding here, and it was amazing! We rented the place for the whole weekend and camped out, while our grandparents and parents staid in the house. It was so beautiful and our guests had a great time.
---