Home

Salem Waterfront Hotel
About this Vendor
Perfection on Pickering Wharf
The Salem waterfront Hotel & Marina sits waterside in Historic Salem, Ma. With a nautical, contemporary and warm decor, our chandeliered Maritime Ballroom makes us the perfect location for your upcoming nuptials. Visit our Wedding Blog!
Amenities + Details
Amenities
Handicap Accessible

On-Site Accommodations

Indoor

Reception Area
For more details about amenities, please message the Venue.
Ballroom, Waterfront, Hotel, Restaurant
Bar + Drinks, Cakes + Desserts, Food + Catering, Planning, Service Staff
Contact Info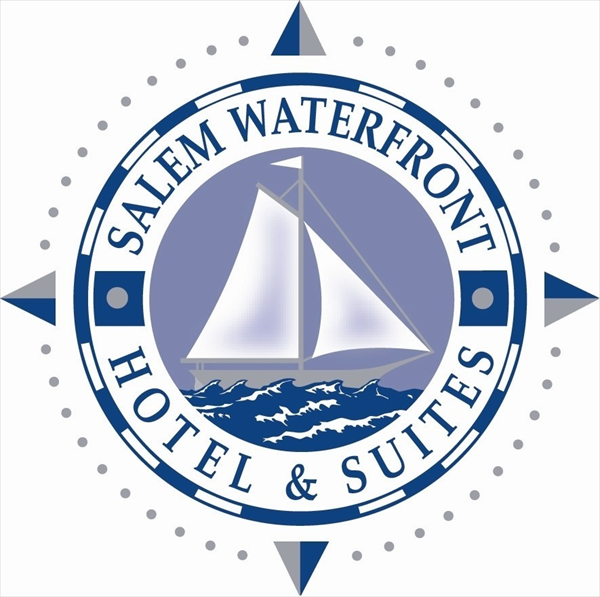 225 Derby Street, Salem, MA
Great!!!
Reviewed on

10/11/2014
Betsaida R
My wife and I had our reception here on May 24, 2014. It was literally the best day of our lives and that had A LOT to do with how wonderful the Salem Waterfront Hotel and Marina were (from beginning to end). Everything went so smoothly and our guests cannot stop raving (still!) about how beautiful and classy the venue/setup was. I cannot say enough about the Sales Manager Robyn Sheather. From the beginning, she made us feel at ease. The day before our wedding, we got a last minute call from the limo company canceling our vehicles (Lynette's Limo - NEVER use them as they were recently shut down by the Feds). As a result, our last minute limo booking had to end our service an hour earlier than originally planned. We were not taking our photos too far from the hotel (but far enough for two brides in poofy dresses to not want to walk). Robyn was so observant that she noticed when our limos drove away from the site of the photos and instructed the hotel staff to drive over and pick us up in the hotel golf cart. It was so sweet and our photographer caught a great photo of us driving away on the back of the cart. Do not hesitate to have your wedding here. It was worth every penny.
---
The perfect day
Reviewed on

10/10/2014
Jaime W
I recently got married at Salem Waterfront Hotel. I worked closely with Robyn who is the wedding coordinator. She was amazing every step of the way. I live in Texas and had to do most things long distance. She made sure everything was perfect and would send out friendly reminders if I was behind. The entire staff there was friendly and personable. The ceremony was outside on the water and they set it up perfectly. I couldn't believe how amazing the staff set up the reception. I was busy getting ready and just gave Robyn all my decorations. The place was fabulous. I feel like I am rambling on but I only have good things to say about this place. It was the wedding of my dreams.
---
Wonderful, Convenient and Fun location!
Reviewed on

10/09/2014
Katie S
My husband and I got married at the Salem Waterfront Hotel September 2014 and it was beautiful. From beginning to end, Robyn and her team were so helpful, courteous and flexible! My husband and his family & friends are from San Diego originally, and we currently live there now too. Planning a wedding from 3000 miles away from our venue seemed like a daunting task to take on, but Robyn was so accommodating and up front about all our needs and wants. Everything went so smooth and I was not stressed at all! I couldn't have asked for a better weekend with friends and family. The venue is perfect if you're looking for a convenient, downtown spot where people can park their car for the weekend and have so much to do at their fingertips in downtown Salem with all the restaurants, nightlife, museums, shops etc. The food at the hotel was great and can be tailored to what you're looking for, the bar selection was extensive and our ceremony set up (outside) was perfect. There are some great spots for pictures right around the corner as well - so you don't have to go to location #2. Also, once our wedding concluded, everyone went (and walked) out to the bars for the after party! For my wedding where we had many guests coming from out of town, some never having been to Massachusetts, the Salem Waterfront Hotel was the perfect locale for us. A big plus, was that Boston was only 25 minutes away by train as well. I highly recommend this venue for any bride!
---
Great Service & Care
Reviewed on

10/15/2014
My partner and I's experience with the Salem Waterfront Hotel started off rocky. We ended up dealing with 3 coordinators as the first two left the hotel. As you can imagine, getting two calls to alert us of a change in Wedding Planner was a little unnerving. However, once meeting Robyn and the rest of the team, our fears were soon cast away. Robyn did everything in her power to comfort us, guide us, and educate us through the whole planning process. She made everything simple and easy and it allowed us to know that had we missed something, she'd be there to figure it out. The staff was beyond amazing. My partner and I work in hospitality, so for us, it was nice being on the other side. They always made sure we were doing well and being taken care of. All of our guests enjoyed the food and service. Salem Waterfront Hotel has some of the best banquet food I have ever tasted. I highly recommend this venue for anyone considering getting married outside of Boston. They are kind and warm-hearted and everything was reasonably priced. I would do it all again in a heartbeat (with the same bride of course!).
---
Best venue on the north shore!!!!
Reviewed on

10/09/2014
Amanda
The Salem Waterfront Hotel was the perfect venue for my wedding in July!!! Not only is every person that works there so friendly, Robyn the event manager is literally a godsend!!!! She was the only reason I remained sane during the whole wedding planning process. The venue itself is absolutely stunning, and the views are to die for. The food at our wedding was seriously the best food I've ever had at any wedding. Our guests are still talking about how amazing the baked haddock was!!! My husband and I looked at almost every venue on the north shore area and by far the Salem Waterfront Hotel was the best value. A lot of brides don't get the luxury of being a guest at their own wedding, but thanks to all the great people at the hotel, I was able to just show up and party! Please consider the Salem Waterfront Hotel for your wedding, you will not be disappointed!!!!
---
Magical Night
Reviewed on

10/09/2014
We had to change the venue for our Rehearsal Party 2 month before the wedding. Finding a place in such a short time had us very concerned. But when we walked into the Salem Waterfront Hotel and met Caitlyn we knew we would be OK. Caitlyn guided us along the way and was actually on site the night of the dinner. The food was exceptional the staff were kind and professional. We all had a magical evening. After the dinner we moved to the Regatta Bar and ended the evening sitting around the fire pits. Thanks for giving us such a great memory.
---
Salem Waterfront and Marina BEST PLACE TO HAVE WEDDING!!!
Reviewed on

10/09/2014
Tracey P
My husband and I were married on August 16th 2014 at the Salem Waterfront and Marina. It was an absolute dream atmosphere and Robyn was amazing. I never worried about anything and all requests that were made were handled with compassion, pride, and I felt like I was the only person Robyn cared about. I strongly recommend having your wedding at the Salem Waterfront Marina it is beautiful site and the service is FABULOUS!!! Thank you Robyn :)
---
an incredible night!
Reviewed on

10/09/2014
Jillian L
My husband and I chose the Salem waterfront hotel for our guest accommodations and rehearsal dinner. For the rehearsal dinner we worked directly with the lovely Caitlyn Ward. She was such a pleasure to work with. Caitlyn made sure EVERY aspect was absolutely perfect. She made sure every detail was addressed and followed through. The food was spectacular! Everyone who attended raved about it! The staff was sweet and cheery and the room was just big enough for everyone to mingle. It was the perfect kick off to our wedding festivities. The hotel is gorgeous and very convenient. The location is right in the middle of historic and beautiful Salem. Everything is within walking distance. We were lucky enough to stay in a suite on our wedding night. The staff left such thoughtful surprises. It really made the night so special! We absolutely recommend the Salem waterfront hotel! You won't be disappointed :)
---
Excellent Venue
Reviewed on

10/01/2014
My daughter had her wedding here, everything from ceremony to reception. From the earliest planning to the actual date the staff were communicative, efficient and had things under control. The quality of the facilities and food were very good. Great and convenient spot for a downtown Salem wedding. My daughter and husband wanted a location where guests could park and enjoy Salem and the wedding without getting back in their car; was a great success. Robyn was the planner and did a great job for us. If you are looking for the Four Seasons, this is not the place; if you are looking for a backyard BBQ, this is not the place...but if you are looking for solid value with a touch of elegance and personalization I would highly recommend the Salem Waterfront Hotel.
---
Wedding at Salem hotel and Marina
Reviewed on

8/22/2014
Robin was amazing in helping with the planning and see that things went will that day. My daughter got married out doors, had an amazing cocktail hour and reception was perfect!!! Everything from the room, food, and service were perfect! We are a family that knows about running a business. My family owns a bakery and my nephew owns several restaurants in Boston's north end! Everyone has been calling me telling what a wonderful time they had and food was great! Not an easy family to please but Robin at Salem hotel and Marina made it happen !
---
Salem Waterfront Hotel & Marina gave me my dream wedding - 5 Star Rating
Reviewed on

8/09/2014
Sharon L
The setting and accommodations were amazing, but the attention to detail from our Sales Manager, Robyn Sheather, made the wedding a true success. There were no hidden costs or fees like in other contracts I have reviewed. The price of the wedding was reasonable considering we chose three entrees and an hour open bar. Service was outstanding. Robyn assisted us every step of the way in putting the wedding together, including personal requests which were somewhat beyond her actual responsibility. We are very grateful for all her efforts and the hard work of the entire staff and would not hesitate to recommend the Salem Waterfront Hotel for any occasion. The hotel rooms were first class with many amenities which we appreciated.
---
Absolute perfection!
Reviewed on

7/24/2014
Ashley A
The Salem Waterfront Hotel, staff, coordinator, food and space was beyond perfection for my wedding! I couldn't have imagined a more perfect day all thanks to the attentive staff. Robyn is fantastic and made me feel at ease every step of the way; she knows how to make things happen!! The wedding packages with the hotel make everything come together easily. They even provide you with options to order a cake through a local bakery (we chose Cakes for Occasions in Danvers, amazing). They helped recommend all of our vendors who we were extremely happy with, too. They are definitely well networked with the finest in the wedding industry for this area! Everything was executed flawlessly -- we had the ceremony, cocktail hour and reception on site and the transition between the three events was seamless. Robyn coordinated with all of our vendors to ensure the each room matched our vision perfectly; I had nothing to worry about on the big day other than getting ready to marry my husband! The food was another big win for us, too. I can't tell you how many compliments we received on everything from the apps to the entrees. We will absolutely go back in the future for the food and fabulous experience!!! If you're looking for a venue near the water with fabulous food in a wonderful location, look no further :).
---
Wonderful venue & first-class service!
Reviewed on

7/21/2014
From day one, the Salem Waterfront events staff has been professional and very knowledgeable about the wedding industry. As a bride, you will be stressed as everyone comes to you for answers from everyone, but Robyn was there for me handling it all with a smile and confidence because she is a pro. High recommend!
---
Best Wedding Venue!!!
Reviewed on

6/23/2014
N R
I had my wedding at the Salem Waterfront Hotel on May 25, 2014 and I couldn't be happier with our venue selection. Top notch in every way! All my guests raved about the food, the hotel service, even the other vendors I used had nothing but good things to say about working with the team at SWH. It was spectacular, thank you Robyn and team! Norma & Shaun
---
Wedding venue
Reviewed on

5/13/2014
Rachel C
They addressed all concerns quickly event on the day of the event. Set-up went smoothly. The day was how we envisioned.
---
Beautiful Wedding
Reviewed on

10/11/2013
Beth T
We had the most beautiful wedding at the Salem Waterfront Hotel. We couldn't have done it without Robyn. Her diligence, patience and professionalism throughout the planning process were exemplary. The Hotel and their staff are consummate professionals. We were married outdoors on Pickering Wharf. It was a beautiful evening. I was nervous about choosing Salem in October for a wedding - I didn't want Halloween to be the theme. While there were certainly lots of people on the Wharf for our ceremony, it still felt private, intimate and special. Robyn was by my side every step of the way. Including a couple days after the wedding when I realized we had forgotten to pick up our cake (!!). She was forever patient and kind and paid attention to every last detail. I can't thank her or the hotel enough for such a wonderful wedding.
---
March Wedding!
Reviewed on

8/18/2013
kdring09
We had an amazing off-season wedding at the Salem Waterfront Hotel. We chose the hotel because of its location and value. Adrianna was easy to work with, and we used most of the vendors she recommended. This worked out perfectly because we felt our "vendor team" was familiar with working at the hotel. We had a beautiful ceremony, followed by a cocktail hour in the pub and a very fun reception! Most of our guests stayed at the hotel and were all very happy with their hotel rooms. The front desk was very helpful with giving out gift bags, etc. One note: We had an onsite ceremony for 130 people, and the only option was getting married in the corner of the ballroom. We had to find our own outside vendor for drapery and added lighting and flowers to transform the space so that our ceremony felt more intimate and intentional. It ended up being perfect for us, but required a little extra legwork. Overall, I would definitely recommend this hotel for your wedding!
---
Fantastic Venue!
Reviewed on

8/13/2013
Meredith S
My now-husband and I booked the Salem Waterfront Hotel for our reception. I cannot begin to say enough good things about the hotel, the staff, and our event manager. The food was delicious and we received numerous compliments regarding the food from our guests. Adrianna, our event manager, was fantastic. No matter how many times I reached out with questions or concerns, she was always very patient and helpful. I highly recommend this venue to any other brides/grooms-to-be!
---
Best day ever.
Reviewed on

7/18/2013
Katie G
I was married in May 2013 at the Salem Waterfront. We knew we wanted a location that was near the water and also felt comfortable for our 85 person wedding. The Salem Waterfront was the perfect fit for us-I loved it right away. The real standout was the service we received for the weekend of the wedding-Adrianna was everywhere and unobtrusive all at once. She anticipated my questions and everything went seamlessly-she was delivering flowers, sending me pictures of the cake as it arrived, giving me a sneak peak of the reception hall while hiding me from my groom-she was simply amazing! The reception hall details were everything I hoped for and more and all of our vendors said how working with the hotel was so easy and seamless. Adrianna really helped for me to have my dream day..even the weather cooperated ;) We've heard nothing but rave reviews for the food, and the location. People who stayed at the hotel loved it and actually we also have specifically had people mention how wonderful and friendly our bartenders were! From start to finish.. We could not have asked for more! And pictures by the boat came out beautifully!
---
Absolute Dream Wedding
Reviewed on

6/26/2013
Kristen M
The Salem Waterfront Hotel exceeded my expectations and made my dream wedding come true. I first met with the hotel's wedding coordinator Adrianna last July to begin planning my June 2013 wedding. She was so easy to work with. Any time, I had a question or concern, Adrianna would respond almost immediately with a phone call or email. When one of our groomsmen forgot to reserve his hotel room, Adrianna was able to make a reservation for him even though our room block had already closed. The hotel was absolutely incredible. I have had so many compliments from my wedding guests on the hotel's amazing food, friendly staff, beautiful ballroom, and stunning ocean views. I would definitely recommend the Salem Waterfront Hotel for future brides. You will not be disappointed.
---
A beautiful venue for a wedding!
Reviewed on

6/07/2013
Maria
We had our wedding at the Salem Waterfront on 5/26/13. The venue is gorgeous and has beautiful views of the ocean. Our pictures came out amazing!! We had previously looked at about 10 different places and no one could compete with the price (they have a few different packages for weddings to accommodate any price range), location and value that Salem Waterfront offered. We met with Adrianna (wedding coordinator) at our first visit and were impressed with her energetic & bubbly personality. She seemed to have a lot of experience with weddings and now I know she is capable of dealing with any situation (or bride for that matter). She was always available to take my calls and answer my many emails. On the day of the wedding she checked in with me multiple times about all the little details I had requested, was patient, flexible and quick to resolve a few "issues" that came up. Everything was amazing and exactly how we wanted it to be. The food here is so good and the portion sizes are decent compared to other venues where I have attended weddings. We used the Regatta Pub (at the hotel) for our cocktail hour and also had our ceremony on-site. They also had another room used for the bridal party during cocktail hour after pictures and provided us cheese and crackers with champagne. We would highly recommend the Salem Waterfront Hotel & Marina to anyone planning a wedding!!!
---
Beautiful venue
Reviewed on

4/18/2013
Jessica F
Everyone at the Salem Waterfront Hotel was great and very accommodating. The hotel room are updated and clean and the ballroom was the perfect size for a wedding of 100-125 guests. Pricing was very reasonable and well worth it.
---
Oct. 2012 wedding
Reviewed on

11/09/2012
leigh r
I just got married at the Salem Waterfront Hotel and wanted to let all the brides to be out there know how wonderful my experience was there. The wedding coordinator, Adrianna was phenomenal and extremely helpful. I never felt that had to chase anyone down to get questions answered or for information I needed. The venue itself is very clean and more of a modern style ballroom that you can really make your own decor. It's also a great size - I had almost 130 guests. The room is not too overwhelmingly big. It felt intimate. We had a sit down dinner and the food was excellent - which is always a concern when 100+ people and wedding food is not known to be great anyway - But a lot of our guests were raving about good their meal was, which we were relieved about. Everything went relatively smooth. Adrianna let us do a walk through of the ballroom before the guests came in to ensure everything looked the way we wanted and everything was right - I did notice we were short a table, but this was fixed IMMEDIATELY. It was very helpful to take a quick glance and see how beautiful everything looks before everyone enters the room. We were happy with the chairs (I recommend paying the extra $$ for the chiavari chairs vs the standard ones included with the chair covers) it really elevates the look - and the linens - we added overlays to the table to make it more rich and it was gorgeous with the centerpieces / chairs / candles... The staff were extremely friendly and accommodating. Again, Having Adrianna there from the beginning was such a BIG HELP. She is very detail oriented and a really sweet person so it was nice to work with her. She really made sure that the day of the wedding, everything went off without a hitch and it did. It was really perfect. I so appreciate everything she did for us. Couple things to note about Salem in October - it's obviously high tourist season because of Halloween, so keep that in mind. The waterfront is GORGEOUS for pictures - we took all our formal pictures down by the water and the Friendship sailboat and they came out amazing. Make sure you book enough rooms for guests to stay! Also, the regattabar in the hotel is great and we had fun there after the rehearsal dinner and the wedding. It was a GREAT place to get married and we were SO happy with everything and the way we were treated. I HIGHLY recommend. check it out.
---
My saviors!!!
Reviewed on

11/05/2012
Jessica W
I lost my venue 3 months before my wedding. I was completely devastated. Frantically I looked for a new place to have my wedding and came across The Salem Waterfront Hotel. Anne Marie called me within a few hours of my inquiry and was extremely responsive the entire 3 months that I ended up having to replan everything. Even through my panic she was there every step of the way to calm me down. I live in Ohio and was having a destination wedding so having someone to be able to talk to me about every detail helped tremendously. When the big day arrived everything went so well! I was seriously scared because I didn't know what to expect. All I heard from my guests was about how great everything was and what an excellent time they had. The food was perfect. The room looked fabulous! Anne Marie made my big day better than I could have ever imagined. Thinking back on it now just a few days later I actually cried because I'm so sad that it's over.
---
Great hotel with fantastic amenties
Reviewed on

11/02/2012
Lisa U
Adrianna from Group Sales was excellent to work with in planning our room block. The hotel itself is in a great location. Rooms were huge, clean and well worth it. Great spot for wedding room block.
---
Send Message