Home

Sisterdale Dancehall
The Inside Scoop
---
FROM THE KNOT EDITORS
The First Look
The Sisterdale Dancehall is a special event venue located in Boerne, Texas. This venue is over 100 years old, but was recently renovated. It is situated on a large plot of land in the heart of Texas Hill Country, surrounded by lush green lawns, rolling hills and mature trees. The venue has an outdoor ceremony site and an indoor ceremony or reception facility. The Sisterdale Dancehall has many years of experience hosting special events. It possesses a highly competent staff that can take some of the pressure of wedding planning off a couple's shoulders.
The Outdoor Ceremony Site. The outdoor ceremony site is a large grassy field shaded by the canopies of 360-year-old oak trees. This site is on the banks of the West Sister Creek and couples can use the sparkling waters as the backdrop for their ceremony and wedding photographs. Couples can choose to stand under a wrought iron or white wooden arch as they exchange their vows. This space also comes equipped with a burlap aisle runner. This naturally beautiful area can accommodate up to 400 guests.
The Dancehall and Opera House. The Dancehall and Opera House is the main indoor facility at this venue. It features a large raised stage that is commonly used for opera performances. Couples who want to have their ceremony in this space can say their vows on the stage, ensuring that all their guests have an unobstructed view. Those who want to use this space for a reception can use this stage for a live band or they can use it as seating space for the wedding party. This room is large enough to seat up to 400 guests. Those who want a large dance floor may want to limit the number of guests to 300.
What You Should Know
The Sisterdale Dancehall has professional wedding coordinators on staff. They help wedding parties communicate with vendors and ensure that everything runs smoothly. Weddings held on Fridays, Saturdays or Sundays will have a wedding coordinator on-site for the duration of the event.
Rental fees for this facility also cover a number of necessary amenities, including up to 400 white acrylic folding chairs, white table linens and round or rectangular tables. Setup and cleanup services are also included.
The standard event time for weddings is six hours, with an additional four hours of preparation time. Those who want their event to go past six hours can add more time for an extra fee. Event start and end times are flexible, though events that go past midnight may incur extra charges.
The Sisterdale Dancehall has private dressing rooms, complete with private bathrooms and large mirrors, for couples and their attendants. These rooms are available during the four-hour preparation window.
Extra Perks
The Sisterdale Dancehall is a beautiful wedding venue with a playful rustic ambience. It offers wedding parties a number of useful extras, such as:
Votive candles in mason jars
Nearby hiking and bicycle trails
Custom outdoor lighting
From the Vendor
Make your day historic at Sisterdale Dancehall!
Beneath the sprawling canopies of 360-year-old oak trees on the bank of West Sister Creek lies a true Texas treasure. Soaring wood ceilings, a weathered tin roof, and original wood floors made from 300-year-old long leaf pines… you know instantly that you've stepped onto a page of Texas history.
Amenities + Details
Amenities
Bridal Suite

Handicap Accessible

Liability Insurance

Indoor

Reception Area

Wireless Internet
For more details about amenities, please message the Venue.
Bar + Drinks, Service Staff
Contact Info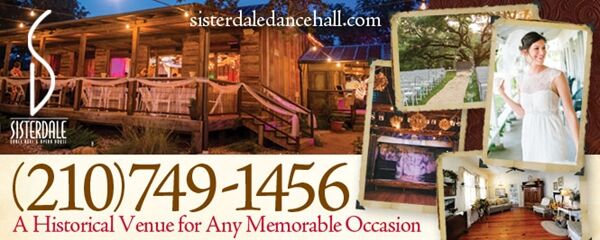 Unrealistically Beautiful!
Reviewed on

7/16/2014
Allison M
First of all, my husband and I moved to this area a year ago, before we got engaged.. and when we saw Sisterdale Dancehall, we KNEW that's where we were going to get married someday. Little did we know, it would be exactly a year later! This venue is SO gorgeous.. everything... Read More about it is picture perfect! Rhonda is the best! She helped us with so much, she was FULL of information. Just really made us feel so much better about picking this venue. She was everywhere I swear! On the day of the wedding I think there was about 6 of her! She was helping me, helping my husband, helping the caterers, helping the florist, helping the minister. She just was so attentive! Made me feel so much more relaxed knowing she was there to help every step of the way. We could not have been happier with our pick of Sisterdale Dancehall. Plus, there is so much history there.. the dancehall is ridiculously beautiful with all the decorations that are always up! We really didn't add many decorations to the inside because it already looks amazing. Rhonda helped me out the door and gave me a quick hug, I could not thank her enough! Really wish she would've been included in some pictures! The night before the wedding, we found out we were neighbors! How awesome! I would recommend Sisterdale Dancehall to anyone, anywhere. Its beautiful and Rhonda is such a great person! DO IT! You won't regret it :) Thank you for everything Rhonda and everyone at Sisterdale Dancehall!
---
Sisterdale Dancehall - for the perfect Texas Style Wedding!
Reviewed on

7/14/2014
Stacy K
Sisterdale Dancehall made planning our wedding AND reception so easy and the final outcome far exceeded my expectations as mother of the bride. Not only are they a great place visually... it looks comfortable there feels good.... but what makes it is the event coordinator... Read More Rhonda. Weddings involve details. Every bride knows how stressful it can be communicating what you have in mind. Rhonda had the ability to see our vision clearly and executed to the smallest detail making our planning easy and stress free. The day of the wedding.... NO CHAOS! We totally enjoyed ourselves knowing that Rhonda was reliable to take care of every detail. Sisterdale also provides many of the things you have to rent or buy at other venues. Tables, Chairs, and decorations are some of the items that are included in the cost to have a wedding there. I appreciate the "one price" approach. While Alcohol is separate of course, their method of handling alcohol was simple. I can't think of a better place to have a wedding and reception! I'd do it all over again exactly the same way!
---
Sisterdale Dancehall
Reviewed on

6/23/2014
Laurelyn K
I had my wedding at Sisterdale Dancehall in May and it was absolutely wonderful! Rhonda, the coordinator and manager of Sisterdale Dancehall, started working there about a month before my wedding. She absolutely exceeded my expectations. Any time I called or emailed her, she... Read More responded within several hours. She was always on time to meet with me and was very flexible. She thought of things that I never thought of for the day of the wedding, and was a great coordinator, overall. The venue is absolutely wonderful. My bridesmaids and I had a blast getting ready in the bed and breakfast that is on sight. Numerous guests have commented on how beautiful the venue was and how nice it was to not have to drive between the ceremony and reception. Lastly, the price that Sisterdale Dancehall gives you includes so much! They take care of tables, tablecloths,and chairs, and have a ton of cute decorations that you can use-- mason jars, cute tables for cake/ presents, etc., wine bottles, burlap, lanterns, shepherds hooks, wood slices, etc.
---
Reviewed on

4/12/2017
Alexa I
I am more than happy to have chose this beautiful venue or my wedding. Not only was the location absolute perfect but the people who run the venue are absolutely amazing and professional. Rhonda, the coordinator there was wonderful in every way. She always answers my questions... Read More quickly and really helped me prepare for my big day. I could not have asked for a better wedding at this place!
---
Reviewed on

12/26/2016
Madeleine B
Rhonda could not have been more amazing throughout this entire process. From the first tour of the facility to the big day, she was my shining light. Every time I had a question, she made herself 100% available to me. We ran into some pretty major hiccups on my wedding day (the... Read More entire town lost power during a random cold front while the girls were getting ready), but Rhonda handled it like a champ and did not rest until the facility had power and we were all warm. She calmed every single fear I had, and my guests had no idea what kind of morning we'd had. The grounds themselves are gorgeous and needed no decoration (saving us so much money), the dance hall is just feet away from the ceremony site, there's ample parking in Sisterdale, and Rhonda is full of vendor recommendations for everything from photographers to decoration rentals (which really weren't necessary, since Rhonda already had all of the decorations we needed). The dance hall is full of so much history, and we were so blessed to be part of its story. I cannot imagine having my wedding anywhere other than Sisterdale Dancehall.
---
Reviewed on

12/21/2016
Sabrina P
This place is absolutely stunning! Rhonda was a pleasure to work with and answered every email, phone call, and text I sent her way. She made sure I was calm and assured me she had everything under control. I think the selling point for me with this venue was that decorations... Read More were included! How awesome is that?! This place is already so beautiful that you don't really need to add much. Highly recommended!
---
Reviewed on

8/23/2016
Natalie P
The venue is beautiful, my husband & I love camping in the Texas Hill Country and this was the closest we could get to a State park. We wanted a fun, relaxed, reasonably budgeted wedding and the venue provided for just that! My only complaint is that while the venue says that... Read More Rhonda is the "Day of Coordinator" for her couples, she completely disappeared after the ceremony. Our caterer was taking too long to move people through the line, and we had an issue with the cake. Rhonda was inside the B&B the entire reception, so I was running around like a mad woman trying to get help. This was extremely disappointing considering we had met with her multiple times before and she said that she would make sure things flowed well, that she would bring us our food, that she would bring us our champagne... the whole point of a day or coordinator is that there is someone else to deal with little glitches so you can actually enjoy your time. We did not get what we were told we were getting.
---
Reviewed on

7/26/2016
Kate B
This place is amazing! Rhonda is an absolute pro and ensures that everything runs perfectly on the wedding day. She even had to deal with a somewhat difficult bridal party member and she did so with professionalism. The alcohol markup is pretty high, but they serve it for you... Read More and you don't have to worry about returning kegs the next day. Overall we had an amazing wedding here!!
---
Reviewed on

5/22/2016
Sandra C
Had my wedding at Sisterdale Dancehall a few weeks ago and everyone commented on how beautiful this venue was! Rhonda was amazing during every step of the wedding process with helping my parents and I with our questions and getting everything together on the day of. She's... Read More wonderful!! This venue really made my fairytale wedding. I highly recommend it!
---
Reviewed on

4/14/2016
Brandi W
We had our ceremony and reception at Sisterdale Dancehall and I can't say enough wonderful things about the venue as well as Rhonda, the onsite manager. I had originally been planning to have our wedding near Dallas but when I saw Sisterdale I knew that was where we would have... Read More the wedding and a destination wedding it became! The grounds and the dancehall are beautiful and make for incredible photos. Our guests could not stop telling us how perfect the venue was. Great for dancing, great outdoor space, beautiful ceremony space under a huge oak tree. Rhonda was always available via phone, text, or email and answered all of my questions as well as ran everything so smoothly the day of. She even mailed me a piece of decor that was important to us that we forgot after the wedding. Absolutely no complaints here. Our wedding was beautiful and a big part of that was thanks to Sisterdale Dancehall!
---
Reviewed on

4/05/2016
Sabrina R
We had our ceremony and reception at Sisterdale DanceHall. It was perfect! It is the perfect place for a vintage/rustic wedding. We could not have picked a better place. Rhonda, the event coordinator, is absolutely amazing!! She was so helpful with everything during the entire... Read More process. She is also your day of coordinator and helps with the flow of your wedding day. The venue itself is gorgeous and the ceremony sight is beautiful. Definitely the perfect Vintage/rustic wedding venue!
---
Absolutely Perfect
Reviewed on

12/02/2015
Erin C
We loved everything about this venue! It was perfect for our simple style! Rhonda was absolutely wonderful and easy to work with. The venue is clean and well taken care of! I would highly recommend this venue!!
---
Amazing place
Reviewed on

10/14/2015
Jacy R
I just recently (as in September of 2015) had my wedding and reception at Sisterdale Dancehall. It was a destination wedding so everything was done via email and phone. Rhonda was really great and easy to work with. She is a busy lady so texting her was the best way to reach... Read More her. The whole place carries so much history and is absolutely beautiful. Rhonda did great at keeping on schedule on the day of. She is easy to work with. The venue has a lot going for it. She has a team of people that do all the set up as far as chairs for the ceremony. They will set up tables and chairs for the reception. All you have to do is go in a decorate how you want. She already has A LOT of decorations you can use including table pieces, linens, mason jars, whine bottles, lanterns, signage, antiques, you name it. The dancehall is climate controlled. My wedding the out side temp was in the 90s but you walk into that reception hall and it was about 68. The venue team also takes care of clean up. You just make sure you grab what you brought and that's it! We believe the overall price was well worth all that was included. If you are looking for a rustic, hill country themed wedding, give this place a look! You won't be sorry!
---
Beautiful venue - terrible management
Reviewed on

7/15/2014
Amanda R
Sisterdale Dancehall was the first and only venue my husband and I visited - we knew it was THE ONE. We immediately fell in love with it's charm, history, and it's rustically beautiful ambiance. Our wedding was in April and we're still receiving praise on the beauty of the... Read More location. Where our disappointment/concern comes from is the management of the venue. I've mulled over this review so that it was not simply a knee jerk reaction from being a stressed out bride. One thing I want to make clear is that the VENUE itself is phenomenal. When we had our initial meeting with the Venue Coordinator, it went very well. She was informative, had great ideas to offer in terms of planning, decorations, vendors. About 2 months prior to our wedding is when the first red flags started popping up. We had multiple questions that were time sensitive and when I reached out to her with these questions it took upwards of a week to get a response. Even my husband was calling and sending messages, hoping for feedback. I finally had to leave a voicemail, because the phone was NEVER answered, and threaten to not pay the remaining balance until we received some answers. Lo and behold, she finally got back with us and never apologized, or even mentioned the lack of communication. The day of our wedding arrived and she was nearly absent the entire time. The two bartenders she was supposed to hire consisted of one gentleman and our VENUE COORDINATOR. You can imagine my concern and disappointment that my much needed help was filling beer cups, instead of fulfilling her end of the contract (coordinating with vendors, bustling of dress, etc). She clearly dropped the ball on many of our requests and never bothered to let us know. It caused an inordinate amount of stress that quite simply could've been avoided had she adhered to the contract and proper communication. There are more concerns to list, and simply not enough space. Bride beware.
---
Beautiful Venue/Crazy Alcohol Mark up!
Reviewed on

5/01/2014
Jenny C
My wedding was beautiful at Sisterdale dance hall. We had the ceremony and reception at the venue. If you are looking for a price friendly venue this place isn't for you. We paid $3 bottle beer, $285 keg, and $18 per bottle of wine. Our alcohol bill was more than our... Read More catering bill. The venue coordinator was very nice and she keeps the place beautiful. However being responsive isn't something she excels at. It would take her days to respond to emails, calls, text. My wedding coordinator said she never sent her things she requested. Our overall experience was pleasant but they could make some improvements.
---
Perfect wedding!
Reviewed on

2/05/2013
Whitney W
Everything about Sisterdale Dancehall was beautiful and perfect on my wedding day. Jessica, the coordinator, as well as all of the staff, gave the guests and myself exceptional service. Far exceeded my expectations. I couldn't have imagined the ceremony and reception to go... Read More more smoothly. I can't thank Jessica, Carol, Robert and everyone there enough for such a wonderful experience!!
---