Home

Southport Hall
Book Your Wedding with Southport Hall
---
A BALLROOM IN JEFFERSON, LA
About Us
Jazz up your nuptials in a former casino turned music venue at Southport Hall in Jefferson, Louisiana. Just a stone's throw away from the Big Easy, Southport Hall is a venue that is authentic, down-to-earth and genuinely customizable to fit different personalities or wedding themes. The venue consists of a front bar, glassed atrium and concert hall, all of which can be rented together or separately, depending on the size of the celebration.
The Glassed Atrium and Front Bar.
The Glassed Atrium and Front Bar combines classic old world architecture with new modern furniture and makes couples and their guests feel like they've stepped back in time to the days of Prohibition and speakeasies. Photos of the early 1900s, vintage artwork, signs from New Orleans and comfortable leather chairs complete the look. The Atrium has floor to ceiling glass windows providing a panoramic view of the open-air deck overlooking River Road. This area accommodates up to 100 people.
The Concert Hall.
The Concert Hall is a wide open space with a stage, PA system and lighting couples can use as part of the rental. A lengthy hand-carved wooden bar, hardwood floors and exposed wooden beams give the concert hall a welcoming, nostalgic feel that and serves as a blank canvas for couples to personalize with decorations. This space accommodates more than 250 people, depending on the layout.
What You Should Know
The owners of Southport Hall fully embrace the distinctive qualities of the venue and provide top quality service in a fun, laidback atmosphere. Couples won't get frills like marble floors, grand chandeliers and scenic vistas, but they will get excellent quality and value. The venue allows for decorating and takes the couple's wishes into account when approving decorations. They do not permit the use of staples or nails, but there are existing nails in the walls for hanging decorations. They also do not allow glitter, confetti, silly string or toilet paper. Additionally, candles are permitted but must be cleared by management. Any violations of the decorating policies result in a fee.
Southport Hall has three different open bar packages for three-hour events. The price differences depend on the types and quality of the chosen alcohols. Each package comes with a signature drink for the couple to personalize that will be available to all the guests.
Onsite catering is also provided in different packages. The Cocktail Hour package includes a choice of two entrees and four trays and the Second Line Buffet package includes three entrees and five trays. Both of these packages also include grilled chicken Caesar salads. The Wedding Crashers Buffet package includes four entrees, six trays and a choice of grilled chicken Caesar salad, vegetable tray or fruit tray.
Southport Hall does not provide toasting glasses, serving utensils, cake knife or stand, garters, bouquets for tossing, candles or a guest book. It does provide white linens for the gift table, cake table and all sit-down tables as well as black linens for buffet tables.
Due to Jefferson Parish laws, there must be security at the venue for all events. Southport Hall provides a member of its own staff at the door, plus a Jefferson Parish police officer, free of charge. However, if the event has more than 250 guests, an additional officer is required at an additional hourly fee and a four-hour minimum.
Southport Hall requires a minimum number of guests for each event, depending on the season. There is a minimum of 100 guests for the months of January, February, July, August and September and 130 guests during the months of March, April, May, June, October, November and December. If couples require more than three hours for their event, additional time must be arranged and paid for in advance.
Bands must use Southport Hall's in-house sound system and lighting. The venue provides a sound technician to assist in setting up the sound and lighting at an additional fee. As an added bonus, the facility has the option of running slide shows during the event in the concert hall via projectors and screens or on the two 42-inch flat screen TVs at the bar. There is an additional cost for this service and the presentation must be brought into the venue one week prior to the wedding for testing.
The venue is primarily used for receptions, but couples who wish to have their ceremonies at Southport Hall may do so for an extra fee. Ceremonies are performed 30 minutes before the start of the reception.
Extra Perks
The extra perks at Southport Hall focus on unpretentious fun and include:
Guests can attend concerts that take place on event night free of charge
LED lighting that matches wedding colors to light up liquor behind the main bar, the top of the bar and windows in the concert hall
Railroad tracks outside provide dramatic photo opportunities
From the Vendor
The Party You Want, The Reception You Deserve!
Southport Hall has grown into one of the most popular private event locations in the greater New Orleans Area and would love to be part of Your Special Day!
Amenities + Details
Amenities
Handicap Accessible

Liability Insurance

Indoor

Reception Area

Wireless Internet
For more details about amenities, please message the Venue.
Bar + Drinks, Food + Catering, Planning
Contact Info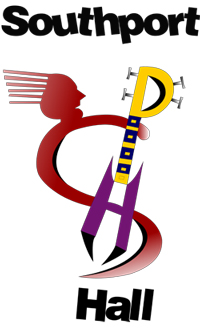 Reviewed on

2/16/2017
Tori C
I wouldn't have wanted my wedding reception anywhere else!! They were amazing and so attentive the entire night. Leading up to the event they were very efficient and quick to return calls and emails about questions. On the day of the setting up and decorating went so smoothly... Read More and they were very friendly. Jay was great about keeping my husband and I with full plates and glasses the entire night long. The food was delicious and all of our guests raved about the Crawfish bisque, Roast Beef, Gumbo and so much more!! I could go on and on about how great they were over at Southport Hall, but I think everyone needs to just try them out and have your wedding reception there!!
---
Absolutely Amazing!
Reviewed on

6/17/2012
Anjelle O
Jay and Mark are so sweet ! Jay worked with us in every aspect of our wedding and followed my drunk butt around to make sure I didn't forget anything. Everyone told me the food was great (we forgot to eat lol) and he even set up our extra decorations for us the day of. The... Read More prices are wonderful ! If you are looking to have a fun reception and not some stuffy sit down dinner I would suggest Southport before anyone else. You will be surprised what you get for the money ! My reception for 130 ppl with open bar and food came out just under 4k They also let your band or dj use their stage and lighting etc , I 100% reccomend them for any party you are having and definitely for a fun reception !
---
Reviewed on

9/20/2016
Sonja B
The people at Southport were good to work with. A little confusion over getting the contract squared away, but it all worked out. The venue was perfect for what we needed, and the people working the event couldn't have been friendlier. That said, for out of town people, it's... Read More super hard to get there, and taxis/ubers all got confused. So, maybe ask for some printed directions you can give to your guests! But once we were there, it was awesome!
---
Reviewed on

8/28/2016
Emma P
Choosing Southport Hall for our wedding reception in July was the best idea ever. Jay and his team were absolutely wonderful! First, they offered to do as much setup as we needed. Our centerpieces required small, fresh flowers on the table and Jay not only put them out at... Read More last minute so they would look best, but he arranged them as well. During the reception, Jay made sure my husband and I were well taken care of and that everything was running on time. When we went outside near the levee to take some photos with our photographer, Jay followed us out there with cold bottles of water. His crew not only took everything down quickly at the end of the night, but also helped load it up into my mom's car. I was just overwhelmed with how exceptional the service was. Not to mention, Southport is a great place for a concert but it really cleans up nicely! It was beautiful and it fit our wedding to a T.
---
Reviewed on

2/26/2016
CARMEL S
My daughter's wedding was February 20, 2016. Wow!!!!! We could not have been more pleased with her reception or had more fun! This is a venue where your guests can really be themselves. If you're looking for stuffy and uptight, look somewhere else! Everything was perfect.... Read More What a beautiful old building with so much character, great food, great drinks and the most awesome staff! Jay Bagnetto could not have been more easy to work with and provided us with lots of flexibility. We had Bag of Donuts perform; the layout of Southport is ideal and allows your guests to spread out to other rooms if the music is too loud for some. Jay could not have been more attentive to my daughter and son-in-law during their reception, and at the end of the night, they packed up everything for us and loaded the car! I can't say enough about the entire experience. You will not be disappointed!!!!
---
Best party ever!
Reviewed on

10/06/2015
Amanda K
I want to celebrate every occasion there! Southport was just our style, laid back and can be dressed up or just appreciate the beauty of the woodwork. Jay is the absolute greatest. He even laid on the floor to be a human tape measure for me! Your reception flies by, yet the... Read More staffs attentiveness allows you to enjoy yourself a stake in the moment.
---
Our Cup of Tea
Reviewed on

3/29/2014
Emily R
Not everyone's cup of tea but it was ours. Southport Hall really reinvents itself for weddings. Yes they have giant concerts and wild college parties. You probably have been to one of them there before. Here is the gut check for you. They were half of the cost of every... Read More where we looked in Orleans Parish. Under $50 a person (including tax, tip and security) for 3 hours of quality food (people can't stop talking about the crawfish etouffee) and 5 hours of top shelf alcohol. Do your research... you can't get 3 hours of bud light and well alcohol anywhere in Orleans Parish for $50 a person... The cheapest we found was $75 and that was with the worst alcohol package and for 3 hours. Again... we had Southport for 5 hours and we had top shelf booze. This was simply too good to pass up. If guys in tuxedos passing around appetizers is a must than go somewhere else but expect to pay an arm and a leg (or your parents retirement). We wanted a longer reception with high quality alcohol and average to quality food. Southport was perfect for that. We then used the money we saved to add some extra decorations and a little outside catering. Our guests loved it. We also recommend having your photographer take pictures of you two outside by the tracks.
---
Southport Music Hall
Reviewed on

6/29/2013
Stacey L
This is not your cookie cutter wedding. You can not possibly get better service for the price. Also, everyone loved the food.
---
Not your typical venue, but awesome!!
Reviewed on

10/23/2011
Katy A
Southport Hall was like no other venue we visited. It's a former old casino turned into a music venue complete with two bars, a stage, dance floor and an awesome staff. The coordinator, Jay, always put me at ease now matter how many questions I asked. The packages started at... Read More $23/person and Jay was very flexible with accommodating any requests we had or additions we needed. They also did (for a very very small fee) our DJ-ing for the reception. It's not a tuxedo sort of place, but I wouldn't have wanted my wedding anywhere else.
---
Awesome venue for any type of event
Reviewed on

10/07/2011
Michelle B
Southport Hall has had a colorful history over the years with a variety of uses. Now it is predominanty a concert venue and can be booked for a variety of events. I booked Southport Hall as the venue for our wedding reception after attending several concerts there and loving... Read More the atmosphere. My husband and I couldn't be happier or more sure that we picked the perfect location. The owner, Jay Bagnetto, is the best for an on-site coordinator. He is extermely accomodating and knows exactly how to handle a wedding reception. He's laid back but also on top of everything that needs to happen. The architecture and decor of the space itself is what drew us to this location, so we didn't add any decorations other than what the venue provides standard. Their event packages are well-priced and include a lot for the money. The food is good and plentiful and the bar is well-stocked. Bartenders available for our reception were fast and courteous, and food was refilled as necessary. The venue consists of a main concert hall with a stage, a more intimate front bar, and a glass enclosed sunroom off of a large wood deck. All around, please consider Southport Hall for your next event, whether it is a wedding, reception, reunion, office party, meeting space, etc. There's plenty of on-site parking available.
---
Meet The Manager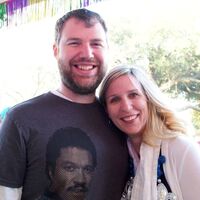 Mark Bagnetto
Family owned business with over 13 years of experience. You can visit our website http://www.southporthall.com for all our Wedding Packages and Prices. No hidden prices or fees. Southport Hall originally opened for business in the early 1900's, operating primarily as a casino. Our venue is rich in New Orleans History and Culture. We have our own Free Parking amenities as well.