Home

Starlight Productions
About this Vendor
...because it's once in a lifetime...
"To think we thought we didn't need a video... were we crazy?" were words echoed by a recent Mother of the Bride - and something we hear quite often - couples who skip a video regret that so much of their day can never be relived. We offer a unique approach that is both cinematic and documentary in scope. Your film will include all the keepsake moments you'll want forever. It will capture the major and obscure parts of your day - skillfully and in an unobtrusive manner. Delivery is on USB, Blu-Ray & DVD, regardless of package - and unlike many vendors, you get the raw footage too. When a past client relates years later that they watch their wedding on each and every anniversary, it makes us happy and proud to be in this craft.
Details
Artistic, Classic, Documentary, Dramatic, Modern, Vintage
Rehearsals + Parties, Wedding
Destination Weddings, Online Proofing, Photo, Second Shooter Available, Social Media Sharing, Full-Length Video, Highlight Video, Video, Photo + Video

Contact Info

Reviewed on

3/02/2018
Kelly M
We were so glad we decided to have a videographer at our wedding and Bill from Starlight Productions was a great choice! He knew our budget was tight and created a custom package for my husband and me. He arrived exactly on time and captured all of the important moments of our... Read More day! Even after the wedding, he was great with communication and delivered our video exactly on time so that we were able to give copies to our parents as Christmas presents! We watched the video on our first New Year's Eve and drank the bottle of champagne Bill so generously gave us. We ran into him at a gig my husband's band was playing and we spoke about some details from our wedding day, which shows that Bill really cares about each wedding he does and takes the time to really get to know the bride and groom. Thank you, Bill!
---
Reviewed on

6/18/2017
Mathilde B
Bill was an absolute pleasure to work with. He was so kind and friendly and very professional. He was very easy to communicate with leading up to the wedding, always available with phone and email and very helpful with timelines and knowing when he should arrive and his hours... Read More etc which was great for us as we needed input on that! He also worked so well with the photographer that we hired and they made sure to coordinate so they were getting every shot but not getting in each others ways. We had a package with 2 videographers which we would highly recommend so you can capture moments in the brides room and the grooms room before the ceremony and then also during the wedding and reception they can capture different moments. He sent us a preview video the day after the wedding that was 2-3 minutes and made us all cry again with happy tears reliving the wedding . Bill really knows what he is doing and how to showcase your wedding. I would highly recommend him!
---
Reviewed on

4/27/2017
LeAnn K
I lovedddd working with Bill. He was so informative and made me feel absolutely comfortable in his ability to capture all of the moments of my special day. He was also amazing at keeping me informed about the editing process and when I would be able to expect my video to be... Read More done. I just watched the video last night with my husband after getting it and was amazed with all of the emotions and memories that came flooding back. The video was so beautifully done and really captured my wedding day so well. For me this was an essential thing to have for my wedding because that day flew by and having the video helped me to not only relive it but to see all the moments I missed. I wouldn't have had this if it wasn't for Bill. I highly highly recommend using him if you are thinking of a videoagrapher. He's the best!!!
---
Reviewed on

1/07/2016
Jamie M
Bill did an amazing job of capturing the smiles, fun, and of course love from our guests as well as us. The video was perfect in every which way. Bill was more then a videographer he got to know us and made sure the video was true to us, our friends, and family. I would... Read More recommend him to anyone!
---
Great Work
Reviewed on

1/10/2015
Janet A
Bill is great. He sent me still shots the day after my wedding. I was truly amazed at the quality of these. He also then has a short 3 minute video sent to me within a week. I received it Christmas Eve. It was incredible to relive those moments since the day flies by! I highly... Read More recommend Bill for your special day!
---
Great Wedding Videographer!
Reviewed on

11/17/2014
Kristen S
We were so thrilled by services provided by Bill Celnick and Starlight Video Productions for our wedding in September 2014. Bill was very professional and has significant experience in filming weddings. He even came to our rehearsal at the church to meet us in-person, speak with... Read More the priest and check out the church. He went completely unnoticed the whole time, but managed to capture all of the major moments. We found their services to be of very high value for the price. We were especially thrilled when we were able to watch a short video a short week after the wedding! It was so special being able to re-live everything without having to wait months for the full package. We would highly recommend Bill for wedding videography.
---
SO HAPPY
Reviewed on

10/10/2014
Alex J
My husband and I went back and forth between the importance of having a videographer for the wedding. We decided on Bill after a recommendation from a co-worker and his very affordable prices. We never met him before the big day and I was a little nervous the day of. Bill was... Read More professional and friendly and eased my stress as soon as I met him. He even knew my photographer from a past wedding. Needless to say it was a decision I am so happy we made. Bill was a joy to work with. You hardly knew he was there. Besides introducing himself I practically forget we had a videographer until a few days after the wedding and he sent us our wedding video preview. I have watched the preview at least 100 times with tears and laughter- its so perfect!! He caught moments I didn't even know existed. A special glance between my father and I as we walked down the aisle, special moments and laughs under the chuppah between my husband and I, even dancing with our 88 year old grandfather. This was only a 2 minute preview---I can't wait to see the whole footage. I am so happy we decided to use Bill as our videographer and would 100% recommend him to any brides. Especially if you are confused about if you need a video---you do! Our wedding video preview: http://www.starlight-productions.biz/la0920.htm
---
Best Vendor!
Reviewed on

1/04/2014
Meghan L
Starlight Productions was our favorite of all of our vendors! They were so wonderful to work with, great price, and amazing finished product. He made time to meet with us before AND after the wedding, which no other vendor did. His passion for what he does is clear through... Read More both his attitude and the quality of his work. When we met to pick up the DVD he had a "goody bag" of multiple copies for parents, uncut versions, and a Blue Ray. Along with that was a bottle of champagne for us to drink while we watched our wedding video for the first time. All in all, such a pleasurable experience and because of Starlight Productions, we have memories to last a lifetime!
---
Memories for a Lifetime!
Reviewed on

6/07/2013
Kristen M
The Starlight Video team actually documented my brother & sister-in-laws wedding up in NY. My entire family absolutely loved the final product, which captured their entire wedding day from start to finish! When I was planning my wedding down in Maryland, there was no doubt in my... Read More mind who I wanted there to capture all the moments of our special day! Bill and his wife are wonderful and they were more than happy to travel to Maryland to work with our family again. In the end, it felt like they were a part of our special day as dear friends! Throughout the entire process (planning, communicating, coordinating the actual wedding weekend and creation of the video), Starlight Video was always very professional as they walked us through the video development, kept us updated on timelines and always answered any question/concern in a very timely manner. When my husband and I watch the final video of our wedding, we were blown away by how much footage Starlight Video was able to fit but at the same time how they were able to make it all flowed beautifully! From baby pictures to couple picture, to the rehearsal to the ceremony to the reception and even pictures from our honeymoon, Starlight Video was able to artistically compact it all. It is so amazing to have all of the special moments and memories from our relationship and wedding weekend captured in one DVD and we will have this to look back upon forever (I cannot even count the number of times I have watched it to date!)!!!
---
Best Vendor Choice
Reviewed on

3/14/2013
Carla F
Bill from Starlight Video Productions was amazing. He was a pleasure to work with throughout the entire process. He is personable, professional and reliable. He produced a quality finished product and for that I am most grateful. He captured every single moment of my special... Read More day. Every time I looked for him, he was right there, but not in my way. He did such a great job my sister hired him for her wedding. Starlight Video is reasonably priced compared to other videographers, but his work supersedes a lot I have seen. Thank you Bill and the Starlight Video Productions team for a wonderful experience and an outstanding wedding video.
---
Wonderful
Reviewed on

12/27/2012
Nancy H
Bill from Starlight Video Productions is very professional and provides excellent service. We have only positive comments; the final video is priceless, capturing wonderful memories that we will cherish forever. Bill is great at what he does, would highly recommend.
---
A true artist and professional!
Reviewed on

11/07/2011
Shanna K
Bill Celnick from Starlight Video is an amazing artist, professional and overall person. He is truly passionate about what he does and it shows in his work and the way he treats you. He treated our wedding with the highest of priority and made us feel like a bride a groom... Read More should feel, #1! He answered all of my questions quickly and I felt that I could go to him with any of my requests or comments. He worked with us from start to finish to create something that was truely unique and special for us. The turnaround time was amazing, we got our wedding video a little over a month after our wedding! I knew I could trust and count on him to deliver a beautiful video to us and he did. We watched it with family and friends and laughed and cried the entire time, he captured everything wonderfully and also delivered to us PERSONALLY the videos, along with a blu-ray version, ipad/ipod version and ALL the raw footage, as well as a thank you gift. You dont get service like that from just anyone these days. Do yourself a favor and book Starlight Video Productions.
---
The "GO-TO" West Point Videographer
Reviewed on

10/26/2011
K C
When planning a wedding from afar it is really important to make sure you REALLY trust your vendors, Bill was exactly the right person for this job. His knowledge and understanding of our venue, The United States Military Academy at West Point, our Chapel and all the specific... Read More regulations with filming in certain chapels and on and around the Academy made ALL the difference in putting our minds at ease. When my future husband and I had only one chance to meet with him before our "big" day he made sure to make the time to meet with us and go out of his way to meet our every expectation of how the day would work. He is fantastic to work with, unintrusive while taping (honestly I did not notice him the whole day) and he captured EVERYTHING and more. A special look from my new husband, my little brother making an impromptu toast in the bridal suite, a laugh or smile he captured it all. His style is timeless, and classic and his video is something that I know my family will enjoy watching for years to come ( I can't wait to show our grandchildren!) The best for last....while we were still on our Honeymoon, Bill had completed our "teaser" Wedding Trailer and it was amazing! Exactly what we wanted to see to remind us of our special day for years to come.
---
Exceptional services...I could not have asked for
Reviewed on

10/19/2011
Ann G
When I initially started planning my wedding, I kept hearing that I should hire a videographer because I would miss so many important moments. I found Starlight Productions online and reviewed some of the videos. I was blown away by the quality and booked Bill and his team... Read More over the phone. Starlight Productions not only provided the videographer services for my wedding, but also worked on a slideshow for my actual wedding. During this entire process I lived quite far away and communicated with Bill on a weekly, if not daily basis. I had so many questions and Bill was so easy to work with, very personable, flexible and just plain easy! He gave me his opinions, which were helpful and always on-point, and tailored the slideshow to exactly what I wanted. He was so responsive and would email me back right away. He was by far one of the most responsive vendors for my wedding. I met Bill and his team for the first time on my actual wedding day. What was really great about Starlight Productions was that Bill and his team fit in perfectly to the wedding ceremony and reception. I did not even notice them there! I received my wedding video and was truly amazed at how beautifully Bill had captured my wedding day...the emotion, the joy, the excitement. He focused precisely on the most important moments while including the fun times as well. After watching the video I felt as if I had relived my wedding day and it brought back so many memories. I also saw so much that I had missed! Starlight Productions went above and beyond, they made everything so seamless and simple! I could not have asked for more!!
---
Artistry and Enthusiasm at a Great Price!
Reviewed on

10/19/2011
Kimberlea K
From our first meeting with Bill we knew Starlight was the right choice for our wedding. He was genuinely excited to celebrate our union and totally got our vision. His reel showed us that he was able to capture the emotion of the day without all the cheesy graphics and music we... Read More had seen in other wedding videos. Bill gave us an amazing deal and never tried to up-sell or pressure us into add-ons. On the day of our wedding Bill and his wife were professional and non-intrusive. We felt so comfortable having them around all day, it was like they were long-time friends who just happened to have video cameras. The day after our wedding Bill sent us a trailer of our wedding video to come. We couldn't believe how quickly he did it and how beautifully executed it was. After we shared it with friends and family, we had three other couples ask us for Starlight's contact info for their weddings. We are so excited to receive our final video and to share it with family who could not attend! I highly recommend Starlight to any couple looking for artistry and enthusiasm in a wedding videographer. We were initially unsure of whether or not to hire a videographer, but now we know it was the best money we spent on our wedding. We can't thank Bill and Barbara enough for capturing our wedding day with love and care in a way we will cherish for a lifetime. It is also worth mentioning that we are a lesbian couple and that Starlight is a gay-friendly business.
---
Nothing short of Amazing!!!
Reviewed on

2/14/2011
Jennie M
When we were first planning our wedding, we were both really torn about the idea of a videographer. We wanted a video of our wedding but in the past, a videographer was equated with bright lights, chronicling bad dancing moves and just generally documenting events that might be... Read More better off forgotten. A friend of a friend used Starlight Productions one year prior and I was intrigued after I saw part of their wedding video. Starlight Productions seemed different than all the rest. Then my good friend used them and I had the opportunity to meet Bill at their wedding. After seeing him in action at the wedding and seeing how truly unobtrusive he was, we convinced my parents that a video was necessary. Since my parents (footing the entire bill for the wedding) considered the videographer an "extra" for the wedding, the fact that Bill's prices are very reasonable made it that much easier to convince them. Upon making our contract with Starlight, we found that not only was Bill extremely accommodating but he answered all of our questions promptly and professionally. We could immediately tell he was really passionate his business and also is extremely knowledgable. We knew we wouldn't have to worry about him missing a beat on our wedding day. About four months to our wedding day, we discussed timeline and he was able to tailor one of his packages to be more in line with what we desired for our wedding day without a problem. On the day of the wedding, we were unaware of his presence with the camera. Not only this, but 3, yes, that's right, 3 days later, we received the most beautiful, heartwarming, made us want to re-live our wedding day over and over again, 2 minute long trailer. It was done so professionally our family members were sending it out to everyone to boast about the beautiful masterpiece Bill had complied during his busiest season (in 3 days, none the less). Over the next few months, we stayed in contact with Bill. Many times he would write to inquire about how we'd like this or that for our completed video. He gave us so many choices - some we decided on our own, but others we left up to Starlight's professional opinion. When the video was ready (about 9 weeks after our wedding date), Bill sent a copy to both our parents and to us. We live overseas so it took a bit longer to get to us. Our parents had already watched it and just raved and raved over the amazing job Bill did documenting our wedding day in such a classy way. Our parents wrote Bill to tell him what a wonderful job he did. In turn, he wrote us saying that he hoped that by the time we watched it, it lived up to our expectations. Our video arrived a few days later (thank goodness for quick mail delivery :)) and my husband and I painfully decided to wait until the weekend when we could enjoy the video without having to worry about work the next day. We made it a fun date night at home, on the couch with a bottle of Veuve. To say that we loved the video is absolutely an understatement. We both spent the evening crying and laughing while listening to the most suiting music for each scene and re-living our wedding day by "being guests at our own wedding" as Bill put it. We genuinely could not have asked for a better way to document our most special day. Bill, you are simply amazing. If anyone is questioning whether or not to get a videographer or which company, do not question anymore, just book Starligh
---
great
Reviewed on

10/30/2010
mary jane F
They give you bang for your buck!
---
Review for Starlight Video Productions
Reviewed on

5/10/2010
Laura M. B
The clip I've seen so far is very nice.;It's been 3 months and we don't have the final video yet. I haven't heard from him in at least 1 month...
---
Review for Starlight Video Productions
Reviewed on

8/26/2007
Cory G
very easy to work with
---
Meet The Owner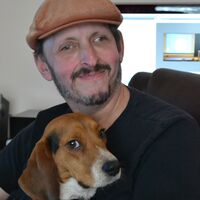 Bill Celnick
The passion for Wedding Films began as search for moments in time that took place well before my birth. I wished I could have experienced the sights and sounds of my grandparent's weddings; would have loved to seen video of those long gone, and those who I remember in old age as they were in their prime I shot my first wedding in 1991 for family. Helped out immensely by their photographer, he gave me his business card at night's end and told me that if I ever decided to do this professionally to give him a call. The idea took root and I learned my craft. The rest as they say is history.