Home

The Old Field Club
About this Vendor
"Private" one-event at a time...
Rustic, Elegant, "Barn Style" venue. Stunning photo opportunities on our beautiful waterfront property. Personalized attention from our caring and supportive team; to customize your special day! Great food, too!
Amenities + Details
Amenities
Bridal Suite

Handicap Accessible

Liability Insurance
For more details about amenities, please message the Venue.
Bar + Drinks, Cakes + Desserts, Food + Catering
Contact Info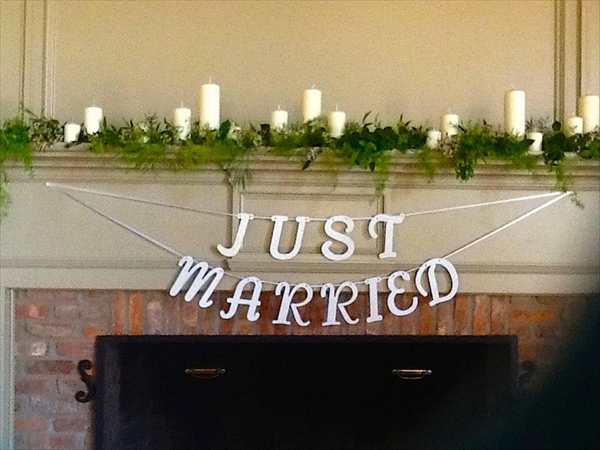 86 West Meadow Rd, Setauket, NY
A Dream Come True
Reviewed on

1/10/2015
Megan C
I always imagined my wedding day being an intimate, yet spacious, occasion with a great deal of elegance and class. The Old Field Club was exactly that! From our first visit, to the night of our wedding, we were blown away by the professionalism, attention, and kindness of the entire staff. Both our photographer (North Island) and our band (Arcadia,) had great things to say about the OFC and they both had all positive experiences dealing with them over the years. My husband and I tried to think of one thing that was less than perfect, and we couldn't! Every single detail of our wedding at the OFC was pure perfection. Our guests are STILL raving about the food (definitely add the Filet Mignon…..TOTALLY worth it!) Deb was amazing through the planning process and Ben the Maitre d' was the most attentive, kind, creative person and is absolutely amazing. He has a way of keeping people very calm and stress-free! Sabine was so helpful at making sure the night went perfectly. Chris the chef was unbelievable! We got to meet him at the tasting and he gave us some great advice and really took the time out to make our menu perfect. All of the servers, bartenders, valet workers, etc. were AWESOME! And the best part of the entire experience is that it was the first time that the majority of our guests had ever been there! They were saying all night, "how did you guys find this place? It's awesome!" Talk about a GREAT first impression! The Old Field Club is a little hidden gem that is different than the other typical catering halls on Long Island. I highly recommend the Old Field Club and we are so happy to have our dream wedding become a reality! Thank you for being spectacular OFC! My husband and I want to do it all over again. Can't we have a re-do? The night went too fast! ;) ~Megan and Charles Jensen, married on 12.27.14
---
The Old Field Club
Reviewed on

12/03/2014
Jessica S
OFC is Beautiful, Warm, Intimate. Set on a small inlet on the North Shore of LI. Deb, Ben, & Marilyn were the staff I dealt with primarily. Always Professional, Prompt, Helpful, either by phone or email.(you decide). I am the M.O.B. My daughter's crazy schedule required me to handle most of the organizing and details. The staff was always kind and more than willing to offer advice when asked or when they felt we were in need of it. (Greatly appreciated). They couldn't have been more accommodating. The food was excellent, Many of the guests said it was the best food they have ever had at an affair, others offered it was restaurant quality. The day was perfect. The Old Field Club is not for large parties of 200. As I stated, it is intimate and charming, probably best suited for 150 or less. I Highly recommend.
---
Amazing!
Reviewed on

5/19/2014
tory s
The old field club was the perfect venue for our wedding! The staff was such a pleasure to work with. I couldn't have asked for a better planning process Ben is the best! He is easy going and attentive. They perfectly accommodated the 134 guests that we had. Our guests are raving how good the food was! They had no issues helping me achieve the day that I dreamed of and allowing me to personalize the menu and the beer selection.
---
Reviewed on

7/30/2015
Jaclyn M
My husband and I got married on July 11th, 2015 at the Old Field Club. IT WAS AMAZING!! From start to end, OFC was attentive, caring, and helped us with everything to personalize our wedding day. We had our ceremony on their grounds and it was insanely gorgeous! The OFC also has a private beach with quaint, beautiful cabanas where we were allowed to take pictures. The pictures are stunning!! Ben, the maître-d was amazing, as well as Kara, who is in charge of staff. My husband and I felt so catered to. Ben and Kara were a constant presence – informing us of timing, next steps, and constantly asking of us if we needed anything. My vegan needs were met, and when my husband was losing steam, Kara was right there giving him espresso! What is even more special is that guests were complimenting how beautiful the OFC was, and how amazingly attentive and wonderful the entire staff was. I would recommend the OFC to anybody who wants a beautiful, unique wedding with an incredible water-backdrop, and stunning ballroom. It does not feel like a typical catering hall. My parents are still talking about our wedding every day, and are beaming with joy. We feel confident saying that our wedding could not have been more beautiful and special!!
---
Reviewed on

7/07/2015
Daniela P
Everything was amazing at the Old Field Club! Ben, the maitre 'd made sure of it! From the atmosphere to the drinks to the food, everything was top notch. I would recommend the venue to anyone looking for a classically rustic venue for an intimate wedding. It was beautiful!
---
Reviewed on

6/28/2015
Katie D
We just had our daughter's wedding at Old Field Club and it was perfect. My daughter and her fiance were looking for a venue that showed off Long Island's beauty in a romantic, classy rustic setting. They got that and so much more. The setting is gorgeous (they were married on site), the venue sets up beautifully, and the food was really good. Many people commented on the food. Deb and Ben were wonderful to work with, and really accommodating to all of our ideas The even ran so smoothly, and our guests are still saying what a great wedding it was. Thanks, OFC for helping my daughter create her dream wedding!
---
Perfect Venue, Absolutely Perfect!
Reviewed on

10/09/2014
Jillian D
My best friend recommended Old Field Club and honestly I was a little hesitant because I thought our dream wedding would be at the vineyards but we just couldn't swing it. As soon as we went there, the entire staff was wonderful. Sabine our wedding coordinator was professional, helpful and really sweet. From start to finish the whole process was seamless and fun they way it should be. The whole reception was perfect and I felt like a total queen the entire day with my king. I would recommend Old Field to anyone and everyone if they want a seamless, beautiful experience!
---
BEST WEDDING VENUE ON LONG ISLAND!
Reviewed on

9/29/2014
Kelly A
OFC is hands down the best wedding venue on Long Island. It is not your typical "wedding factory." The venue itself is gorgeous overlooking the water with picturesque views, hard wood floors, and a gorgeous fire place. If you are looking for a rustic cozy place to get married, you've found it. The food was wonderful. There were so many options to chose from. The service was impeccable. Ben the maitre'd was fabulous in every single way. He was so attentive and made sure everything was going smoothly. The entire OFC staff was so friendly and efficient. Our wedding day went off with out a hitch. I would recommend the Old Field Club to any couple!!!
---
Absolutely Awesome
Reviewed on

9/01/2014
Mary L
I got married a few weeks ago at The Old Field Club, and it was everything I could have wanted from a wedding venue and more! My guests (most of whom are from Chicago) were all blown away at how beautiful the venue was. The cocktail hour out on the back deck looking over the water was perfect! I almost wish our cocktail hour could have lasted for two or three hours; that's how awesome it was. The ballroom is stunning, and everything went according to plan. Ben, the maitre de, was perfect. He was so helpful and had everything running smoothly all night long. I cannot recommend the Old Field Club enough! The only negative I can see (which luckily wasn't a negative for me!) is that the main ballroom can get a little cramped. They say the max is 175 people. We wound up having 140, and it was probably the most I would have wanted there. If you're planning on around this number of people, you will 100% not regret having your wedding at the Old Field Club. It literally was the best night of my life.
---
BEST.
Reviewed on

6/23/2014
Meg W
As a local Setauket girl, the Old Field Club was simply the perfect choice in venue. I almost don't want anyone not from around here to find out about it because it truly is a little slice of heaven down there on the creek. From the awesome food to the beautiful view to the amazing team working the events and helping plan them, everything was on point and wonderful. They were on board with everything we wanted to do and every one of our guests said it was the BEST wedding ever...and it was!
---
Class, Elegance, impeccable service.
Reviewed on

4/03/2014
Sarah B
My husband and I were married on 8/24/13... The Old Field Club was the first and only venue we looked at. I love elegant, beautiful things and loath the typical Long Island gaud... so the minute we walked into OFC I had no doubt this was the absolutely perfect place, people and setting. It has a simple, beautiful elegance and air about it that, which to me is the epitome of North Shore Long Island, and as another reviewer mentioned, allows the bride to do anything visually... I choose endless candlelight and flowers through out the room, as the night wore on it was just more and more stunning. We had about 80 people, the room was perfect... cocktail hour on the deck was a wonderful way to start the evening watching the sun go down... gorgeous. Dennis the manager was extremely down to earth, honest and helpful... I enjoy people who don't kiss my ass for a sale and can tell me directly how we can get things done... and this was Dennis... he was extremely kind, well informed and accommodating and I adored his demeanor. We signed the contract that very day. Ben took over from there and took care of every detail I could dream up or worry about over the next six months, he answered every email (many!) within 24 hours, if not sooner and was patient, calming and reassuring all throughout... A girl needs a calm voice when planning her wedding! Ben was it, and a real sweetie to boot. He took care of every single detail, down to polishing the cake stand for me (because I am neurotic enough to have asked him to do this). My napkins were folded exactly as I wanted, the candles displayed perfectly... the vision I created in my mind came to fruition and my day was perfect. Thank you Ben and Dennis for all your attention to detail, patience and kindness throughout. And Dennis, thank you for your additional suggestions on the candles, everything was perfect and some of the most beautiful pictures I have are because of your candle suggestions! I can't say enough about Old Field, not only is it the most gorgeous place, but the food and service was amazing. We did our cake through their suggested vendor, La Bon and it was amazing! I loved the venue so much we are currently considering it for my daughters Sweet 16... :) If you are looking for a cookie cutter caterer, this is NOT it. But if you are looking for gorgeous wedding day bliss... this is the place. Thank you Dennis and Ben for doing everything you could to make it perfect! Hugs! Sarah & Tim
---
Wedding of my DREAMS!
Reviewed on

11/14/2013
Cristan N
Once I started looking at wedding venues on Long Island, I quickly realized how hard it was going to be to find one that felt like 'us' or who we are as a couple. I was thrown off by many other venues - the big [usually dark] catering halls with stained old carpet, acoustic ceilings and mirrored walls as far as the eye can see. I was thrown off by the many MANY MANY over the top cocktail displays and ice sculptures I was seeing on my search. After touring SO many venues, walking into the Old Field Club was truly a breath of fresh air! There was not one gilded cherub or fluted plaster column to be found - FINALLY! The clean architecture and history of the building with it's tall pitched ceiling, chandeliers, beams - and the gorgeous mantle, I knew we would fit right in and we would be happy whether we were to hold the ceremony outside near the water [weather permitting] or in front of the monumental mantle. The simple decor makes it MUCH easier for you to personalize with your own decor. The food was Outstanding - SO many guests were raving. The staff was accommodating and were able to execute my incredibly detailed decor scheme - making our wedding day perfect. If you are looking for a beautiful venue without all of the tacky, outdated and over the top bells and whistles - look no further!
---
Beautiful venue
Reviewed on

11/05/2013
Joanna N
I was married at Old Field Club on 10/6/13. I searched everywhere for a venue like OFC on Long Island, something without gaudy carpeting, etc. It is a beautiful venue, gorgeous fireplace, lighting and right on the water. The staff is lovely and make sure to take care of you on your big day. We were to get married outside by the water but unfortunately it was rainy, the staff was quick and made sure the ceremony was set up inside. It ended up looking great as if it was meant to be there all along. Everyone is still talking about the amazing food!
---
Amazing Venue!
Reviewed on

7/17/2013
Melissa F
What a beautiful wedding Old Field Club gave us! I'm pretty sure no one even knew it was pouring rain outside! Ben the Maitre'd went above and beyond. From setting up my decorations better than I could've imagined and helping us be where we needed to be throughout the night. Also, every single one of my guests raved about the food. Great place! I hope my friends have their weddings there so I can enjoy it again!
---
Amazing
Reviewed on

3/13/2013
Vanessa B
I fell in love with this venue as soon as I walked inside. The staff and food was amazing. I would like to thank Ben for making everything perfect for my wedding day! You were on top of everything and made it very easy to breath. Everything came out exactly how pictured it. Thank you!
---
Everything I Imagined...
Reviewed on

11/19/2012
Rozanne P
My husband and I got married here at the end of August. It was the only place we looked at because I absolutely fell in love with the venue. The beautiful reception room (with those unique high vaulted ceilings!) and lovely views for our outside ceremony were everything that we were looking for...and that's before I even knew the high level of service that we would receive. From the tasting to the Big Day, Old Field Club exceeded all of our expectations. Ben was our maitre'd and he absolutely took care of us the entire night and couldn't have been sweeter. The staff was amazing and helpful (even making another centerpiece for me because I didn't order enough!) and always kept our drinks full! All of our guests couldn't say enough about the delicious food and how beautiful everything was. The bar being right on the dance floor was great, because it kept all the guests together and encouraged people to dance that wouldn't have otherwise! I couldn't have imagined getting married anywhere else, and there's nothing that I would ever have changed. Old Field is a real GEM and I am so glad I found it!!
---
Old Field Club
Reviewed on

9/29/2012
Abbie L
We loved the venue. The food and site were amazing. Our only small complaint was that the air conditioning did not keep the room uniformly cool. The dinner room was cool, but the dance floor was very warm. Our party dealt with it by spilling over to the porch. Overall Id recommend the site highly!
---
Outstanding!!!!
Reviewed on

9/17/2012
Jennifer S
This place was georgeous!!! It gave us that romantic feeling which was exactly what we were looking for. It started to rain right before my ceremony which was outside...brought everything in and my ceremony was beautiful!! More then we could have asked for.
---
Loved it!
Reviewed on

8/29/2012
KERRI S
Everything was amazing! They did everything I asked. I was a little surprised that the maitre D's first words when she helped me out of the limo were "a lot of cleavage", inappropriate! Some if the bridesmaids remarked that they were not happy with some things she said. My husband and I attended cocktail hour and did not stay in the bridal suite so there weren't any cocktails or hors d'ouvres served in there which the wedding party was disappointed about they only brought some in when the groomsmen asked for food and drinks for the flowergirls and ring bearers. Last, they need a bridal attendant!! Other then those small things everything was great, food, drinks, and service!
---
Amazing wedding venue
Reviewed on

7/28/2012
Jillian S
We had our wedding at the Old Field Club a few weeks ago, and everything was perfect. The venue was gorgeous and the staff were all incredibly nice and helpful. We could not imagine a more beautiful place to get married. If you are looking for simple elegance and a location right on the water, there is no place better!
---
Perfect Wedding
Reviewed on

6/15/2012
Kelly H
My wedding was this past May at The Old Field Club. I wanted something different then the standard Long Island Catering Hall and OFC more then delivered. The Grounds: OFC is on the water and the grounds are stunning. It offers a relaxed but elegant backdrop for your wedding. The cocktail hour is inside/outside. The Reception is held in the main room with a magificant fireplace, vaulted ceilings and beautiful large windows with views to the water. Food: The food was NOT your typical wedding food. The food was actually REALLY REALLY good. They were very accomodating and worked with us on our menu and helped us stay within our budget while getting all of our must haves. Drinks: They created a signature drink for our wedding day and had all of the top shelf spirits available for guests. Service: The cook is amazing and the wait staff was amazing and the bartenders knew how to make excellent drinks! I absoluetley loved The Old Field Club and can't picture having my wedding anywhere else.
---
Exactly what I was looking for
Reviewed on

6/05/2012
Jennifer T
We wanted a venue with a waterfront and outside ceremony and cocktail area space, that was a bit simpler than most venues I had seen. Old Field Club was great for us; the space is simple and classic, nothing is over the top but all our guests were impressed with the space, food and service. Its a small staff, so at times it may be difficult to get a quick response from them, but in the end everything was taken care of and done well.
---
Amazing!
Reviewed on

11/02/2011
Kristen G
Our wedding was simply amazing!! We feel in love with the Old Field Club the moment we stepped inside. It was exactly what we were looking for, the grounds are beautiful and the main room is breathtaking. It is not a typical catering hall in more ways than one; they do not push all these unneeded extras on you. Matt and Mary were easy to work with they always responded to my emails and phone calls. I couldn't ask for better people to work with, they made our day perfect. Last but not least the food; it was amazing!! I've never had food at a wedding that tasted so good, and I'm not just saying that because it was my wedding. They food was so flavorful and cooked to perfection! It really was everything we dreamed it would be. I hope one of our friends gets married there so we can go back!
---
BRIDE
Reviewed on

10/29/2011
Jennifer T
FROM THE VERY BEGINNING IT WAS A WONDERFUL EXPERIENCE. EVERYONE OF THE STAFF MEMEBERS WERE SO HELPFUL WITH THE PLANNING AND SETTING UP, NEVER HAD A PROBLEM WHEN I CAME BY TO ASK QUESTIONS OR EVEN JUST TO LOOK AROUND. THE DAY OF THE WEDDING WAS ABSOLUTLEY AMAZING, EVERYONE WAS SO HELPFUL AND THEY DECORATED THE HALL EXCACTLY THE WAY I WANTED AND IT LOOKED AMAZING!!! THIS TRULY WAS THE BEST PLACE TO WORK WITH, NOT ONE PROBLEM THE ENTIRE DAY.
---
Great
Reviewed on

10/16/2011
Mia S
The Old Field Club was the perfect venue for a intimate wedding. Our guests are still talking about how beautiful the atmosphere was and how great the food was. The staff was wonderful, anything I needed they were on it. The only downside was the manager Matt never directly returns phone calls - When we booked with him we were told we could speak with him with any questions - each time we had a question we got a voicemail and someone other than Matt would return our call. Other than that I'd say it was wonderful.
---
Send Message