Home

Ultrapom Event Rental
About this Vendor
We Love to Share!
Ultrapom Event Rental is your source for wedding rentals. From Chiavari chairs, to folding tables, sequin tablecloths to dishes, Ultrapom has what you are looking for to make your event stand out from the rest! We want to be your rental partner for your wedding, and can provide you with a complete package of rental items. Check out our easy-to-use website, with online ordering and an inspiration-filled blog!
Details
Lighting, Dinnerware, Draping, Flatware, Glassware, Linens, On-Site Delivery + Setup, Stages, Dining Tables, Tables, Tear Down, Rentals + Equipment



Contact Info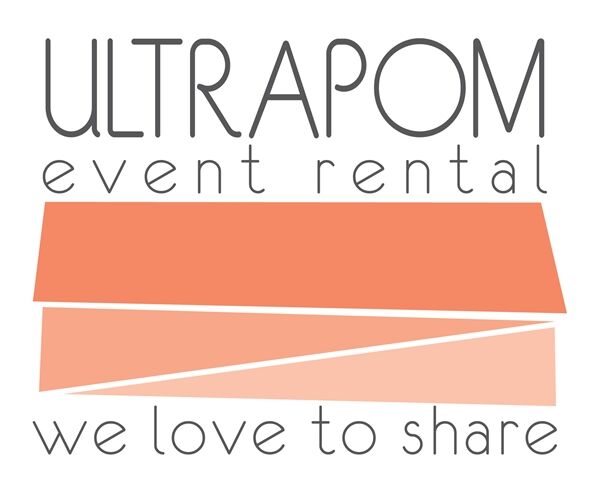 Reviewed on

7/10/2017
Chelsey O
We used Ultrapom for our daughter's wedding and are so glad we did! They were so professional and pleasant to work with. The team came in on Friday before the wedding and put everything in place. They worked like a well oiled machine. In no time, everything was set up and... Read More ready to go. Everything was so beautiful and really made the reception look amazing!! From the tables to the china, everything was just gorgeous. After the wedding, they came back on Sunday and broke everything down and were so pleasant to work with. LOVE them and would not hesitate to recommend them to anyone. They helped make our daughter's wedding the day of her dreams. As a mother, that is priceless!
---
Reviewed on

6/17/2017
Adrian P
We rented all of our wedding linens, dishes and some decor items from Ultrapom. They made the entire process so easy! They have a great selection of items, too. You can really create whatever look you're going for with their stuff and the pricing is very reasonable. Their team... Read More was pleasant to work with and very accommodating. We would highly recommend using Ultrapom.
---
Reviewed on

5/23/2017
Lindsay H
I used Ultrapom for my table rentals, dishware, flatware, linens, a few decorations, and... the giant gold horse :D They were very professional and easy to work with. I would use them again in a heartbeat! (BTW, everyone should have a giant gold horse at their wedding because... Read More it's a blast to take pictures with!!!)
---
Reviewed on

12/11/2017
Megan M
I cannot say enough good things about Brooke and her team at Ultrapom. We had to rent everythingggggg for our empty venue and had a tight budget. She was able to make all of our dreams come true and made it happen as CONVENIENTLY as decorating an entire venue, could be. Thank... Read More you, Ultrapom, for taking our vision, making it look amazing, and most of all, for being such a pleasure to work with! I cannot recommend you all enough!
---
Reviewed on

11/08/2017
Jenna W
When starting to plan my wedding I had no idea renting decorations, linens, napkins, etc. were possible. It just never crossed my mind. But everything we rented added something very special. Ultrapom saved the day when it came to my ceremony décor. I had come to accept that the... Read More church I was getting married in was not going to have the elegant theme I wanted it to have. My wedding planner suggested renting a few things to give the church a more elegant feel. Ultrapom actually came to the ceremony site to help brainstorm some ideas and the final product was PERFECT. Just with some simple pipe and drape and a beautiful chandelier the church not only had the sentimental significance but also the beauty and elegance that I really wanted. The accent linens used on the sweetheart table and cake table popped perfectly. It was such a pleasant experience to work with Ultrapom and even though they all worked behind the scenes, the products we rented made the wedding and reception perfect.
---
Reviewed on

9/10/2017
P. A
We hired Ultrapom for our summer wedding. The morning of our wedding, all of our items were delivered to our venue except for 200 lilac linen napkins to be placed on our guest tables. Because of this, we were forced to use paper napkins and it took away from the overall vision I... Read More had for my decor. When I reached out after the wedding, Ultrapom insisted that they did indeed deliver the napkins even though I ensured them that my mother, bridesmaids and I checked every box in the building and never saw them. I was then informed later that the napkins were actually missing from their inventory; however they still insisted that they were delivered and even suggested that one of my guests or other vendors may have taken them. I requested a refund and was ignored for several weeks as they said they wanted to find the napkins first and then decide. I was extremely disappointed in the customer service and feel the situation was handled poorly. I would not recommend Ultrapom for other brides and/or wedding planners. Although their items are beautiful, the process was a headache and not worth the extra stress.
---
Reviewed on

7/08/2017
Sheila A
Before the wedding they came out to our church and helped us envision what could be done. Worked well with our other service partners. Their installation and tear down was completed very professionally. They have so much to offer and very creative! Sheila A., mother of the... Read More bride
---
Reviewed on

5/10/2017
Annie B
We rented our specialty linens from UltraPom at the last minute, and they were so helpful and willing to provide for us on a short time line. Their velvet tablecloths were so luscious, perfect for our sweetheart table. I would definitely recommend working with them!
---
Reviewed on

4/24/2017
Sara K
I used Ultrapom to rent several items for our wedding including cocktail tables, table cloths, and a birch arch for our ceremony. The staff were easy to work with and delivered and set up everything on time. Returning the items was a breeze as well. Thank you, Ultrapom!
---
Reviewed on

1/31/2017
Emily W
We used Ultrapom for our gold candelabras and tufted chairs. The chairs really added a special touch for my husband and I. Everything was simply beautiful and looked so elegant!
---
Reviewed on

1/03/2017
Elizabeth K
Great unique rentals!
---
Reviewed on

12/21/2016
Abby R
Loved everything we rented from ultrapom! They were friendly and easy to work with! Very responsive to all my emails and all my silly questions! Thanks!
---
Reviewed on

12/05/2016
Aubrey D
I got married on 10.29.2016. We used Ultrapom for some of our decorations throughout the wedding and reception. It was wonderful working with Ultrapom, as they communicated with our wedding venue and coordinators throughout the process. [I truly recommend using vendors that have... Read More worked together in the past, it really helps with communication!] Every piece envisioned was brought to life by Ultrapom. We had a beautiful backdrop for the wedding/reception, and used gorgeous, glittery table cloths. Everything looked elegant, nothing looked cheap. Great services!
---
Reviewed on

11/13/2016
Erin C
Great selection and VERY easy to work with. I used Ultrapom for my wedding and would definitely use them again for another event.
---
Reviewed on

10/24/2016
Rachel E
Everything was delivered on time and perfect, and great customer service. Would recommend this rental company to anyone!
---
Reviewed on

10/12/2016
Katy W
When you need extra decor to celebrate your occasion, choose Ultrapom. I had a couple of questions about tablecloths and chandeliers and they graciously let me visit the showroom even as they were in the midst of moving to a new space. They were so welcoming and answered all... Read More my questions putting me a ease in the rental process. The items we rented were clean, pressed and polished to a shine! Thank you Ultrapom for helping to bring our reception space from beautiful to magical with a few extra accessories!
---
Reviewed on

10/07/2016
Kelly D
Ultrapom was reasonably prices and the customer service is phenomenal. I had to change a few things last minute and then had an issue with sending back my rental and they were incredibly helpful and accomodating!! And the votives were perfect - exactly as pictured.
---
Reviewed on

9/13/2016
Melissa Q
Ultrapom was an absolute delight to work with when planning our wedding day. They have a great variety of items that you can see online or in their KC location. Lauren was amazing and was always quick to respond to my emails. She was extremely patient and understanding when I... Read More would make changes or ask her opinion on what might look best to get our overall "look". Ultrapom provided delivery and same night pick up for (what I felt was) a fair fee. My venue was so happy to have the space totally cleared so quickly as we rented several linens, chiavari chairs, etc. Our items arrived in a timely manner and looked gorgeous. Ultrapom Rentals gave us the decor we needed to help transform our spaces into the beautiful vision that started in our heads. They worked great with the other vendors, and I would recommend them to anyone having a wedding or other event in the future! Big thank you to everyone at Ultrapom...especially Lauren!
---
Reviewed on

8/25/2016
Alyssa P
Ultrapom was wonderful to work with, and their wide selection of styles and offerings was fantastic. I highly recommend using them for your rental needs. Lauren was so helpful!
---
Reviewed on

8/25/2016
Carrie S
Don't look for rentals anywhere else but Ultrapom! Their rentals really helped bring our day together for our romantic garden party-esque theme. Lauren was so responsive and made planning a wedding from afar a breeze. Not to mention, she has amazing hand-lettering skills to... Read More offer up, which you won't want to pass up! She worked her magic on Ultrapom's sandwich board sign, which we used at the entrance of our ceremony site, and it was perfect. Thank you so much Ultrapom, for helping making our wedding day even more beautiful than we could have imagined!
---
Reviewed on

8/17/2016
Britt F
Ultrapom is such an absolute delight to work with! They make everything from designing and ordering to delivery and drop-off, super simple! They will help your Pinterest-perfect vision truly come to life!
---
Reviewed on

8/10/2016
Jennifer F
Very kind staff and easy to work with!! A huge help to have them deliver, set up and take down chairs on the top of the western auto building!! Highly recommend them!
---
Reviewed on

8/03/2016
Lauren B
Where to start? Ultrapom went above and beyond to make our day perfect. They are so accommodating and knowledgeable. They work with other vendors and figure out the best solution for you. They have so many options to add so much extra oomph to your day. Lauren does STUNNING... Read More calligraphy! They are awesome, I cant say enough about their work!!!!
---
Reviewed on

7/27/2016
Julie B
Ultrapom Lauren and the team at Ultrapom paid attention to every detail of our order and went above and beyond in service. The mirror that we wanted was not in stock so Lauren offered to have the text we wanted written on our mirror and it looked perfect. The Ultrapom Team... Read More build a Farm Table for the Bar and we were the first to use it. The style of the Bar was a good fit for the Barn at Mildale Farm. Lauren and the staff were friendly and eager to find ways to meet our expectations for the linens and decorations. A Big Thanks to All from the Bride, Groom & Mother-of-the-Bride!
---
Reviewed on

6/10/2016
Hope J
This is the best event rental ever. Their selection is gorgeous, impeccable, and top-notch. We rented items for our entire wedding and our guests still comment on how amazing our place settings and signage were. The staff/designers are amazing, professional, creative, and fun.... Read More Slightly higher price point, but you are not going to find their type of inventory anywhere else.
---
Meet The Owner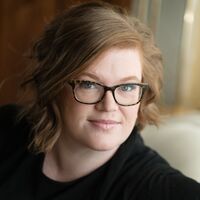 Carolyn Campbell Schwartz
A Kansas City native, I adventured around the world in my twenties, only to land back in my beloved hometown for my thirties. With a background in architecture and urban design, I worked on massive city-level strategic and design projects in Sydney, Australia, But I was ready for a change in my work life, loved sourcing decor for my friends' weddings, and thought "I wish I could rent this instead of buy this." And thus Ultrapom was born. It started in the second bedroom of my little house in Overland Park, and has expanded year on year to become an all in one rental company.