Home

Watanabe Floral, Inc.
About this Vendor
Making Wedding Dreams Come True...........
Voted Hawaii's Best Florist 11 years running, we are Hawaii's largest retail floral operation with designers assembled from all over the world ready to help you. We have the ability to source flowers globally, but never forget that YOU come first! You are our priority!
Details
Centerpieces, Vases, Wedding Arch, Decorations + Accents, Bouquet Wraps, Bouquets, Boutonnieres, Corsages, Flower Arrangements
Contact Info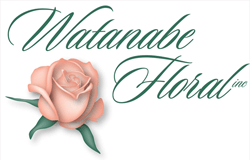 1618 N Nimitz Hwy, Honolulu, HI
DIY wedding
Reviewed on

2/10/2013
Marina T
Watanabe can help make your centerpieces and decorate with you, but i wanted to everything myself. It was fun shopping in the big refrigerator full of flowers. Extremely affordable! AND i got our leis here too. I ordered a pikake lei ahead of time and they came through with a beautiful fresh five strand lei. :-)
---
Florist
Reviewed on

1/09/2013
Kim G
Rona at Watanabe was the best to work with. I met with her with some vague ideas of colors and styles and a very fixed budget!! She helped to bring my ideas to life while advising me on how to cut costs so that I could have the look I was going for without overspending. I REALLY appreciated this aspect of her service. She kept in constant touch with me and made changes where necessary and the flowers were gorgeous! On a side note - Costco offers discounted gift cards for Watanabe and you can use them to pay for your entire order. This saved me 20% on flowers!!! Excellent service and value.
---
SIMPLY GORGOUS
Reviewed on

9/22/2012
Cynthia T
My bouquet, bridesmaids bouquets and centerpieces were more beautiful than I expected. Danielle from Watanabe Floral was very professional, she knew exactly what I wanted and used all the colors that I wanted in my bouquet. Thanks to Watanabe Floral for delivering such beautiful flowers. Sincerely, Jesse and Cindy Garcia
---
Good
Reviewed on

10/08/2014
Ariel C
We used Watanabe Floral for our bridal party floral. Since it was a destination wedding, everything had to be done over email/phone. We were very impressed with their prompt responses, and willingness to give quotes, suggestions and help. Unfortunately, a flower in my bouquet ended up staining my dress, so I would hope they be more careful with dyes in the future. Their rates are quite standard for Hawaii.
---
Great but a little on the pricey side
Reviewed on

8/03/2014
Marita P
Dana was phenomenal and worked with me to create a special, customized look. While I was very happy with all of our flower arrangements, it was a little on the pricey side.
---
Great florist!
Reviewed on

7/22/2014
Leiana K
Watanabe were great to work with--as a bride who wasn't quite sure what she wanted for the flowers, it was nice to have Dani and her team to bounce ideas off of. In the end I loved the centerpieces and the other flowers and Lei they provided. When one of the flowers arrived in a different color than what we had ordered they contacted me immediately to discuss our options and after the fact they offered me a discount on my order. They were very responsive and the flowers ended up being beautiful! I really appreciated working with a vendor that genuinely cared about my big day!
---
Watanabe Floral
Reviewed on

7/15/2014
Ka'Lena C
I got married outdoors at Turtle Bay and had my reception at Waimea Valley, so I knew I didn't need to spend much money on flowers. I just wanted leis, bridesmaids bouquets, and a bridal bouquet, as well as centerpiece flowers. However, I was on a budget with flowers, and the leis and centerpiece flowers were too expensive. So, I ended up buying the centerpiece flowers at Home Depot (so much cheaper, and the flowers were just as beautiful!), and the leis at the airport Again, it was much more affordable and just as nice; the only problem with getting flowers myself was having to deal with transporting the flowers in a cooler/ storing them in a fridge overnight, which took up a lot of space and was a hassle, as well as transporting them to the wedding without them dying. Anyway, I told the woman I worked with at Watanabe that I didn't want to spend more than $100 on a bridal bouquet, which I know is low, but she was totally willing to work with that. I emailed her some pictures of my ideas and we went from there, whereas with other florists I felt judged for my low budget. Watanabe made me a small but beautiful purple and white rose bouquet with orchids, and made a white rose bouquet for my 5 bridesmaids. They were wrapped and pinned perfectly, and I didn't mind that they were small because we were all wearing leis. The only thing was that my bouquet was browning a little on the edges by the end of the night when the photographer wanted to take a picture of the rings in the bouquet, but I don't fault that on Watanabe-- my other had been transporting the bouquet and they were passed along a few hands on their way upstairs to our hotel room before the ceremony; in addition, I'd done the bouquet toss and had been dancing and photographing with it all day and night, and it was only at the very end of the night did it brown a little, which I didn't mind because I didn't plan on preserving it anyway. Professional, fast, and quality service! I also appreciated that Watanabe worked with me on a tight timeline, about 2 weeks before the wedding-- I wasn't kidding when I said I couldn't find anyone to work within my budget, but Watanabe did!
---
Beautiful
Reviewed on

6/17/2014
Alena S
We ordered all of our flowers through Watanabe for our wedding, including several Maile Leis. Everything came out perfect. They delivered everything and set it all up the day of the wedding. Our bouquets and centerpieces were stunning; guests were asking to take them home (which of course was fine by us)! This was one of the easiest vendors we worked with and dollar for dollar they are by far the best on Oahu.
---
Quality and Value!
Reviewed on

5/11/2014
Charity M
Watanabe Florals came to my rescue! With my initial florist backing out, I needed a florist ASAP. Dayna was very helpful and spent a good amount of time with me in figuring out what I really wanted for the wedding. She answered all my questions, even gave suggestions which was great. Even down to the wire, I had requested some changes to the bouquets due to my budget, which she easily accommodated and made everything work out.
---
Good service
Reviewed on

3/04/2014
Juhye K
My mom was florist but we just ordered flowers here. Flowers got in time, nothing missed. Service was good
---
Wholesale flowers
Reviewed on

2/01/2014
Angela C
Watanabe Florist was the only place on the island that I was able to find that sold wholesale flowers. This was great for me because a friend of mine had agreed to help arrange the flowers for my wedding. They had a wide variety of flowers (though unfortunately most were not local) and they were able to deliver everything just as promised. Highly recommend!
---
Amazing Florist!
Reviewed on

11/03/2013
Abby W
I had a destination wedding on Oahu, and was planning it myself from Colorado. I had to work with the florist strictly over the phone and email and they were wonderful. I only gave them my wedding colors and the specific flowers that I wanted in my bridal bouquet, otherwise I trusted them to design the floral arrangements and I was so incredibly happy with the result! Everything from the bouquets, table arrangements, and lei's were beautiful and perfect! I gave them my budget, and they were actually able to do everything for a little under that!
---
Great!
Reviewed on

10/31/2013
Karissa K
Watanabe was so easy to work with! I bought my flowers from them, but arranged them myself. They did a great job with recommending different flowers if some weren't in season. If some blooms weren't in season they did their best to get the closest bloom. I ordered mums in white and off white, but they were only able to bring in white. They did a good job at giving us different options since we did not get our first choice of off white mums. Overall, they were very helpful and a pleasure to work with!
---
Great Price & Beautiful Flowers
Reviewed on

9/19/2013
Naomi J
Watanabe created a beautiful aisle design out of rose petals, decorated the bamboo arch, created all of our bouquets, leis, and centerpieces. Everything turned out absolutely beautiful. One of the main reasons I chose them was for the price. By buying Watanabe gift cards at Costco, I immediately saved 20%, then by showing a UH ticket stub, I got another 10% off. My only complaint would be that my bridal bouquet ended up on the small side (same size as the bridesmaid bouquet). But that was a minor issue.
---
Great Florist
Reviewed on

9/16/2013
Midori S
Our coordinator was very helpful. She showed us many flowers and ideas, and tried to stay within our budget. My bouquet, headband, centerpiece, and flowers that were for the flower arch were great.
---
Excellent!
Reviewed on

6/01/2013
Candace C
We ordered my bridal bouquet and 12 leis from Watanabe. Dani was very helpful from our first consultation when we visited Hawaii for our vendor scouting trip. She kept in touch with me through the entire planning process and emailed me pictures of different ideas that we could do. She was very responsive to all my emails and was able to help me pick a bouquet and leis that would keep us under our flower budget. I would recommend Watanabe to other Hawaii brides.
---
Florist
Reviewed on

3/21/2013
Michele C
I scheduled an appointment with the consultant whom to me appeared very young. We discussed some elements I might want but she did not bring any flowers in for me to see. I never received a phone call with a quote so I ended up looking elsewhere.
---
Service wasn't too good
Reviewed on

9/19/2012
Lani D
Flowers looked great, but the arrangement wasn't what I wanted.
---
Beautiful flower lei
Reviewed on

8/16/2012
Allison H
I used Watanabe Floral for floral lei for special family and the wedding party. Of the other florists that I checked out, Watanabe Floral had the best price for the product. All the lei were beautiful and ready for pick up when we asked for them.
---
Loved My flowers
Reviewed on

7/16/2012
Shari B
I loved my flowers. Being a destination bride I had know Idea what my flowers would look like when I ordred them, but when they were delived they were exactly as I had described over the phone. Everything I ordered was perfect.
---
Calla Lilies For Bridesmaid Bouquets
Reviewed on

6/25/2012
Dana M
I ordered Calla Lilies from Watanabe. We made the bridesmaid's bouquets ourselves, so I just ordered loose flowers. The price was okay and it was easy to order, and the flowers were ready on time and were of good quality. The staff was courteous, but no one went above and beyond to help me. I had a few questions about what the best flowers to use would be and I didn't get the best answers. I felt like the staff didn't really care to help me out if I wasn't having them make the bouquets. All in all though, the flowers were of pretty good quality, and okay price, and they were ready on time.
---
Florists
Reviewed on

5/24/2012
Jae A
Flowers came out beautifully, better than I imagined. A little pricey for us and the service needs to respond quicker. I called to inquire about an extra lei and they didn't get back to me until 1 week later.
---
Great Flowers/ Service!
Reviewed on

5/24/2012
Kayla P
My wedding was on mother's day weekend in Oahu and I could not find any florists that would take on a large order. I went into Watanabe the day after I arrived on Oahu (3 days before the wedding) and had no idea what I wanted. The nicest girl who worked there totally helped us out. Even though they couldn't make the bouquets for us (one of my bridesmaids was really good with flowers) she totally talked to me about what would and wouldn't work. She had cute style and totally knew what I wanted. I got a lot of babies breath, snowball mums, white orchids and Eucalyptus. For about $600 I had 13 centerpieces and 8 bouquets and bootineers as well as 10 nice leis. We picked them up the night before the wedding and all my bridesmaids sat around and helped make bouquets and talk wedding. Very fun and cheap!
---
Best price for flowers
Reviewed on

5/16/2012
Alisa C
I spoke to several vendors about flowers and watanabe was by far the cheapest. It took several attempts and going back and forth to get the colors that I wanted, but after all of that they made beautiful arrangements and bouquets and they stuck to my budget of $2000 ($55 per centerpiece)!
---
Stunning bouquets!
Reviewed on

4/23/2012
Hiwalani B
I'm so glad I went with Watanabe Floral to create my bouquet, as well as bouquets/boutineers for my bridal party. From my consultation, I was able to choose from hundreds of flowers to create my special bouquets. They color matched ribbons to perfectly match my bridesmaids dresses. This attention to detail is astounding, very much appreciated.
---
Send Message