Home

Weddings and Dreams
About this Vendor
Your Dream Wedding Starts Here!
Weddings and Dreams is here to help create the magical experience of finding your dream wedding dress! Visit our showroom in Fremont CA.
Details
Bridesmaid Dresses, Mother of the Bride Dresses, Shower + Party Dresses, Wedding Dresses, Dresses, Bridal Stylists, Dry Cleaning + Preservation, Group Discounts, Plus Size Available, Fashion Services, Fashion
Contact Info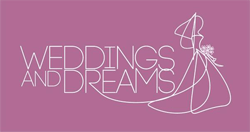 Reviewed on

1/09/2016
My mother-in-law and I came here in October of 2013 to get my dress for my wedding coming in February of 2014, and this place was my first and last dress shop! I found my perfect dress for way less than I ever could have imagined. The lady that helped me with my fitting couldn't... Read More have been any nicer or more understanding of what I was looking for! They also offered my dress a free cleaning right before my wedding day! I would recommend this place over and over again!
---
Best bridal store ever!
Reviewed on

10/04/2015
Izabela S
My sister and law found Weddings & Dreams on yelp and I went there just to check the store out of my list. I had no high expectations and I was a little discouraged since all the popular stores in my area didn't have the wedding dress I was dreaming of. The store is simple but... Read More right when you walk in you can see some of the beautiful gowls! My budget was $1000 but I went above that and it was worth it, I got the most perfect dress and did a lot of alterations. Maegan and Arnold were amazing through out the whole process. The seamstress is so sweet and she can pretty much do anything you ask her. I'm so glad I made that appointment at Weddings & Dreams and found the most beautiful dress to wear on my wedding day! Weddings & Dreams thank you so much for being there for me every step of the way during a crazy and special time in my life, you guys are the best!
---
Reviewed on

6/10/2017
Johanna W
There are not enough words for me to describe how wonderful my experience was at Weddings & Dreams. The customer service of Arnold and his team is tremendous. It's rare to find such great customer service and I am so happy I found this shop. Here are a little more details about... Read More my experience: I was torn between a dress I tried on at Weddings & Dreams and a dress at another bridal shop and Arnold found the other dress and brought it in to the store so I could try them on side-by-side. He and the team really went above and beyond to make sure I found THE dress and they were so patient and understanding when I was indecisive. I genuinely felt that they wanted me to leave happy with a dress that I loved versus treating me just like another sale.
---
Reviewed on

3/19/2017
Sarah C
I just picked up my dress today and the whole process has been a nightmare - I highly recommend avoiding this bridal shop! They make mistakes which they are unapologetic about, including shipping my wedding dress in the WRONG SIZE right before my wedding! 1) After purchasing my... Read More dress, I asked when it was going to come in and they quoted me dates (5 - 8 months, which was much longer than other bridal shops I had visited), half of which fell PAST my wedding date. They knew when my wedding date was, but did not mention that there was a high chance my wedding dress would arrive after my wedding date. They tried to assure me that my particular dress generally comes in between 5 - 7 months, which still meant there was a chance it would arrive after my wedding / would leave no time for alterations. I had to talk with three people before I got a hold of the manager and he promised to rush the shipping. 2) When I arrived to pick up the dress, I noticed it was one size larger than what I ordered! When I confronted the front desk, she tried to tell me I was wrong. She finally pulled out the purchase order and realized that it was indeed the wrong size. Her solution was "well, it seems like it fit" (I hadn't actually tried it on all the way since it was a corset style)."When I pressed about what if it doesn't fit, her response was "Once you walk out of here, you can't return it." She said I could also see if I can get the correct size ordered. I asked her how long that would take and she just shrugged and said she would call on Monday. It is WAY too risky to try and order another dress a month and a half before the wedding when I know it needs alterations. There was not a single apology or attempt to remedy their mistake and I had no choice but to sign and walk out or risk having no dress for the wedding. 3) Not a big deal, but prepare to walk in and pick up your paid-in-full dress and then have to pay $25 for a cheaply made garment bag, or otherwise walk out with the wedding dress dragging in the dirt. I understand people make mistakes, but the lack of attention and responsibility - not to mention they made two huge errors that could have ended horribly - is mortifying and unprofessional. I was very dissatisfied with their service and attention.
---
Nice People but not fulfilling
Reviewed on

12/14/2015
Tara O
Dress took longer than promised to come in. I ordered extra pieces for a jacket when ordering the dress, however they forgot to order them, therefore when my dress did come in I couldn't work with the alterations lady to get that piece made until 1 week before my wedding. She... Read More rushed to make it, therefore when I went to put it on at my wedding, the snaps didnt work, therefore the jacket kept popping off. When I returned the dress to get it cleaned the owner, Arnold wasnt there so I asked the ladies to have him give me a call. After waiting 3 weeks, I never heard from Arnold, so I called him to explain my disappointment, and he promised to send me $50 back. It has been 3 months now, I have yet to receive my reimbursement and the whole experience now has just left a bitter taste and I wont refer them to other brides.
---
Things Worked Out in The End
Reviewed on

9/24/2015
Rebecca M
So the first few times we came in here without an appointment and they were very accomodating and helpful. The price is reasonable and the suits all looked great. My only complaint is that at the appointment for the final fitting, 3 out of 4 of the tuxes did not fit,... Read More including the groom's. I am not sure what they ordered! Some of them came from out of state and sent in exact measurements and they provided the shirts in a different size than what was on the measurements. In the end, they provided all of the correct sizes and everyone looked great, but it was definitely a bit stressful worrying about whether my groom would have a tux to wear the day of!
---
Barongs, Suits, and Bridal Gowns
Reviewed on

5/17/2015
Christina D
At first glance, this store definitely has a huge variety of wedding dresses. There are also suit options to browse through as well, but my main reason for coming here was for a "barong" or basically a formal dress shirt from the Filipino culture. Luckily, we found Weddings and... Read More Dreams and they were very helpful throughout the entire process./ The best part of getting a barong from them is the customization. You definitely need to plan months in advance for this, but they do have standard barongs on the rack if you need them right away. As the groom, I really wanted to stand out and the barong I received through them achieved that. It was measured accordingly to my size, the material was custom chosen, and the design for the collar, the buttons, and the embroidered design were customized just for me./ The measurements were done about six months or more in advance so definitely plan early if you would like to have this level of customization. This provides Weddings and Dreams time to measure, time to order, time for the tailor to make the product, and for the item to come back to the store./ Throughout the entire process, I worked with many members of their staff. They were all very helpful, but the people who helped the most were Megan, Arnold, and Pricelle. When it came to the design of the barong, I really trusted Arnold's suggestions and input. He helped guide us through each step and he also helped us figure out our final outfit with the barong. When it finally came time to pick up the barong and take it home, Megan and Pricelle also spent extra time on our barongs double checking the designs and stitching to make sure the quality was at its best and they definitely delivered./ We ordered seven barongs from Weddings and Dreams. We were able to choose the material and design for each one and each one was a custom fit for all seven of us men. My fiancée at the time (now my wife) worked with Arnold in choosing a specific material and design for the best man, the ring bearer, and ensured the material and design differed from the remaining groomsmen. My father-in-law's barong also was included in this order and Arnold made sure the design did not match or clash with my own./ Overall, I was very satisfied with my own barong. I ordered a higher quality material of barong which is called "piña". I was happy that this material helped me stand out as the groom and you could definitely see the workmanship and detail as this type of attire is handmade. I was even complimented by one of my older uncles because he knew the level of quality and time it took to make a barong made of pure piña. Megan and Pricelle definitely spent extra time on my barong and I'm very appreciative. The design, buttons and layout, and the overall fit really made me feel like the groom that day. It was very comfortable, and I had no issues wearing it the entire time. My bride and I also had a choreographed first dance, and the barong did not feel restrictive at all during the dance./ Weddings and Dreams was definitely a one-stop shop for us. In addition to their other selections, we were also able to purchase our wedding cord and secondary veil at the store for use in our wedding ceremony. We are very happy with the service Weddings and Dreams provided to us and we hope they're business continues to grow and prosper.
---
Wedding and Dreams
Reviewed on

6/25/2014
Cristina D
They provided great customer service with no pressure. Always helped even after their closing time. I got my dress and all my bridemaid dresses and my future husband's tux and all his bestmen. Loved it!
---
Loved my dress
Reviewed on

10/10/2012
Irene M
I loved my dress. Tried it on the first session, but was not sure how I felt. I could not help but go back to weddings and dreams and try it on again. When I did, there was no going back. I loved that they knew me by name and steamed my dress for me before the wedding. My... Read More only complaint is that the bag in which they gave me my dress had a few holes and I don't believe it is the original bag that came with my dress when I ordered it.
---
beautiful gowns and handsome barongs
Reviewed on

7/18/2011
Christine C
Went here to purchase a barong for my then fiancee for our wedding. The man who helped us was friendly, helpful, and not pushy. Answered all our questions about barongs and gave helpful tips (i.e. wearing a red shirt underneath to match my red Chinese dress).... Read More  We found a style of barong we liked for my fiancee but it did not come in his size.  We didn't have time to order it in my fiancee's size since our wedding was in 4 days.  Fortunately they knew a good tailor who they brought the barong to and had it altered and ready in time for our wedding.   The cost of the alteration was very reasonable. Before coming here I checked 3 other stores that carried barongs, all of them had a smaller selection and were more expensive.  Even with the alteration, our  barong still cost less than the other stores.  My now husband looked handsome in his barong, it fit perfectly!  I even found a fabulous pair of earrings that complimented my white wedding dress! They also seem to have a beautiful selection of dresses.  If I knew about this place earlier I would have also browsed through their dresses. Much better service and selection than the nearby Wedding Gown Superstore (which honestly had the worst service I've ever encountered, but that's another story).  I'd recommend this place to anyone looking for formal occasion clothing. Service: 5 stars! Selection: 5 stars p. s. - The place is a little hard to find.  Park in the parking lot of Payless Furniture, the walk around the corner from Payless Furniture, the store faces Albrae Street.
---